Reportage photo sur le concert pour le 3ème anniversaire des Iketeru Hearts
Junjou no Afilia's sister group Iketeru Hearts put up quite a celebration for their 3rd anniversary on September 7th at Shibuya TSUTAYA O-WEST! This day was also quite special as it was the first official day for the group with their brand new formation, adding four new members and getting new stakeholders involved in their careers. We were there for celebrate with them!
Le groupe soeur des Junjou no Afilia, Iketeru Hearts, ont offert un superbe spectacle pour leur troisième anniversaire, le 7 Septembre dernier, sur la scène du Shibuya TSUTAYA O-WEST ! Ce jour était également spécial puisqu'il s'agissait du premier jour officiel du groupe avec quatre nouvelles recrues et une nouvelle équipe de production aux commandes de leur carrière. Nous étions sur place pour célébrer cet anniversaire !
As all 11 current members of the group showed up on stage in their white dresses covered in flowers, they opened the show with their summer tour's anthem, "Dreaming love", and fan-favorite 2nd single "Sekai he habatake!". The group paused quickly to introduce themselves one by one, with a specific emphasis on all four fresh faces who were making their official debut this day! Aki Imai, Risako Aise, Leia Shiroki and Shiika Koizumi are the four new members of the group from now on, and all also work at the Afilia branch cafes on the side.
Alors que les 11 membres actuelles du groupe apparaissent sur scène vêtues de leurs robes blanches à fleurs, le spectacle commence avec l'hymne de leur tournée estivale, "Dreaming love", et une des chansons préférées des fans et second single "Sekai he habatake!". Le groupe s'arrête alors rapidement pour se présenter une par une, avec une emphase particulière sur les quatre nouveaux visages du groupe, faisant leurs débuts officiels ce jour-là. Aki Imai, Risako Aise, Leia Shiroki et Shiika Koizumi sont les nouvelles recrues des Iketeru Hearts, et travaillent toutes à temps partiel dans différentes branches des cafés Afilia.
The second generation of Iketeru Hearts members then disappeared to let their seven elders take the stage, performing the cool "Shihin kakutei", then moving onto their three most energetic and happily upbeat songs, "GIRL, Me", "Otomegokoro" and "Shrimp Girl", the fans excitedly yelling "ebi ebi! (shrimp shrimp)" for the calls on this last song's bridge.
La seconde génération du groupe disparaît alors pour laisser leur sept aînées prendre possession de la scène, avec le dramatique "Shihin kakutei", puis trois de leurs chansons les plus énergiques et les plus joyeuses, "GIRL, Me", "Otomegokoro" et "Shrimp Girl", les fans pouvant alors hurler des "ebi ebi (shrimp/crevette)" pendant le pont de cette dernière chanson.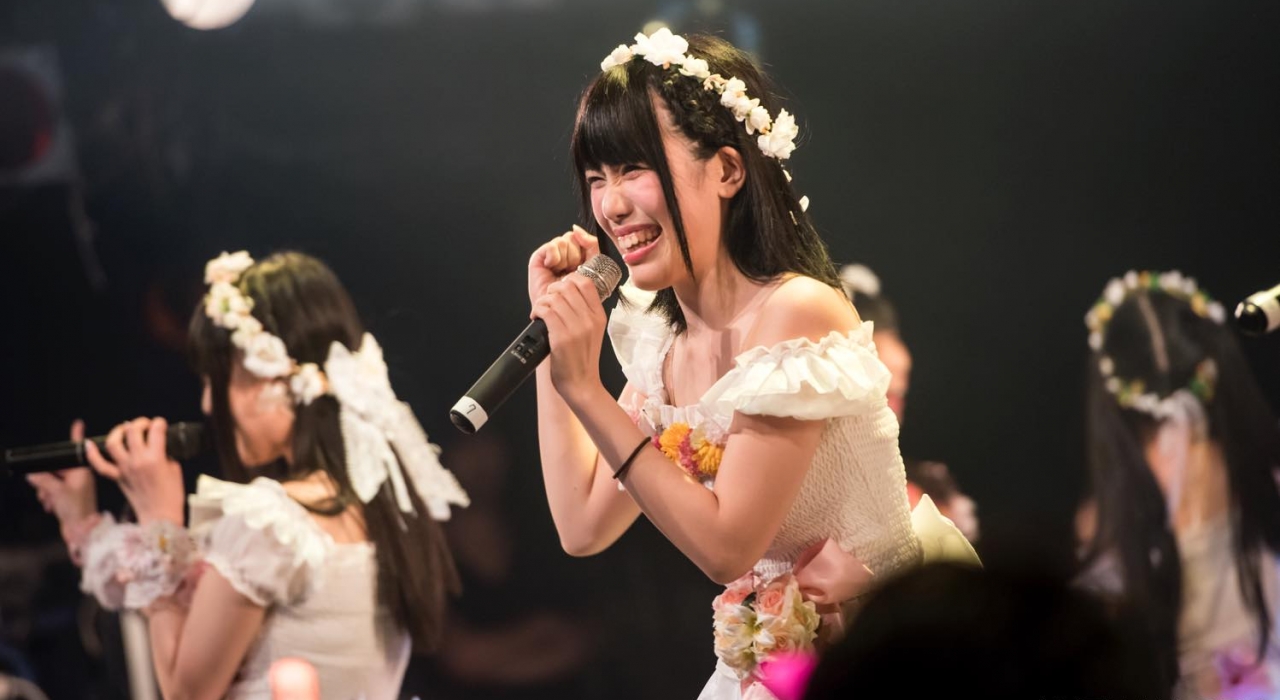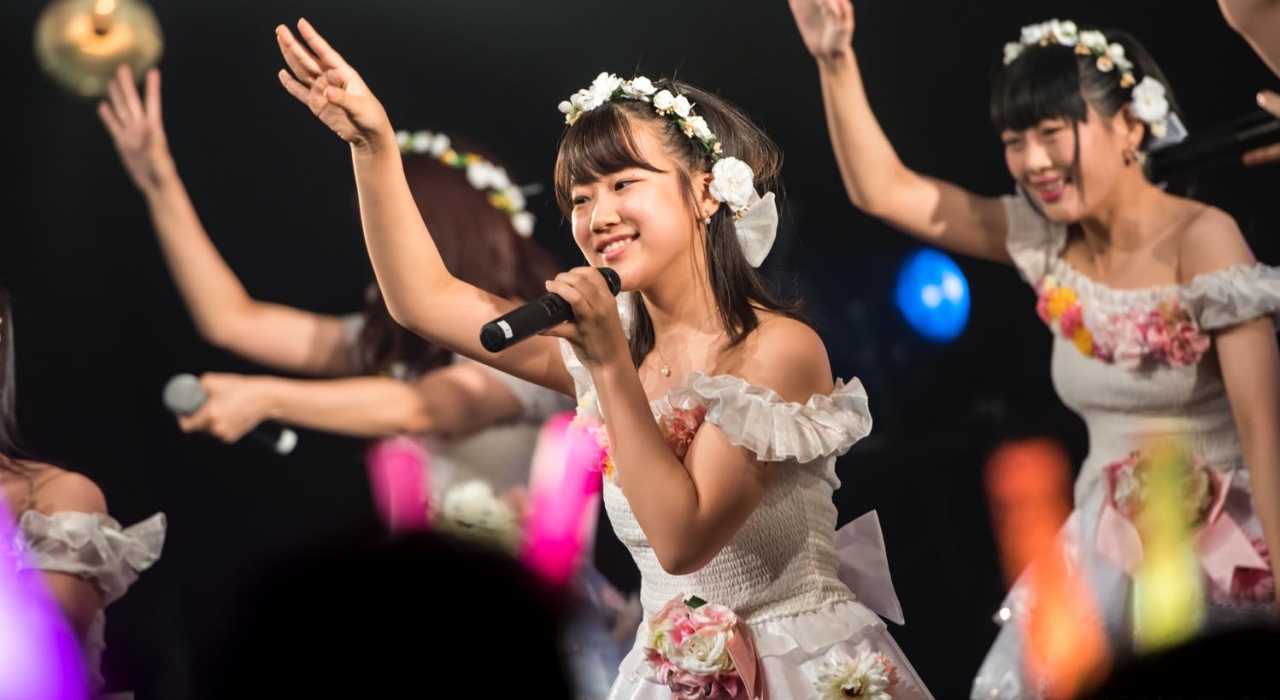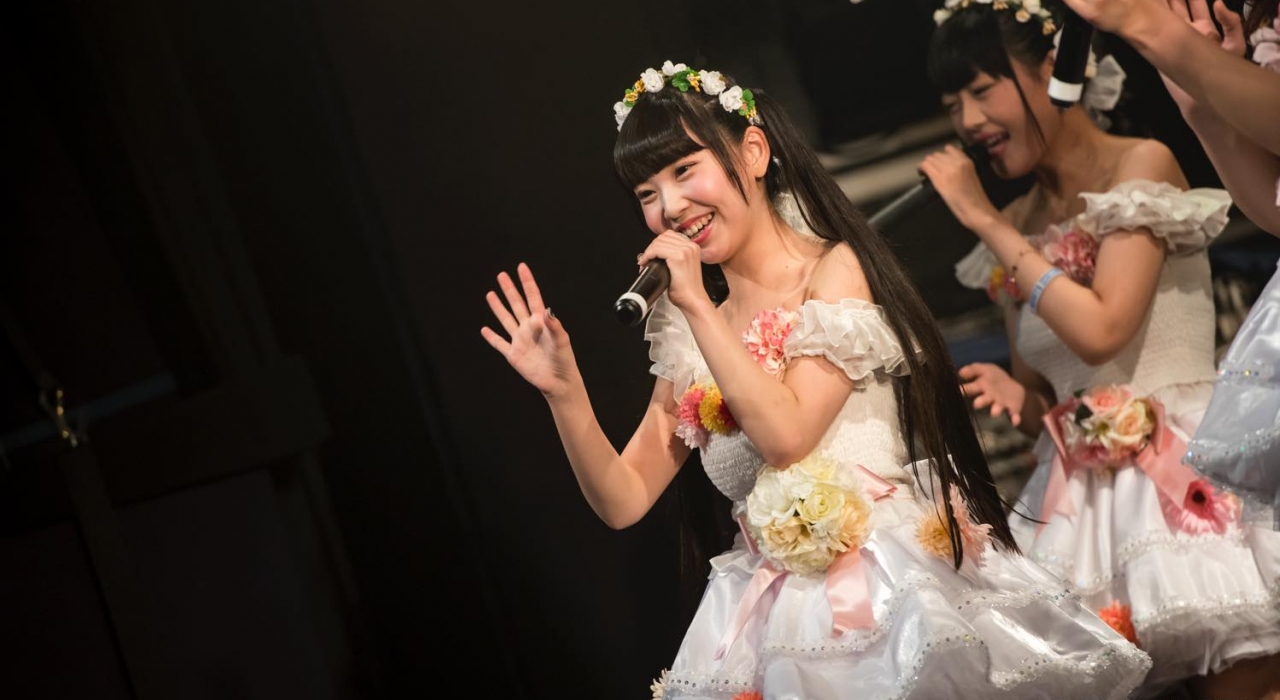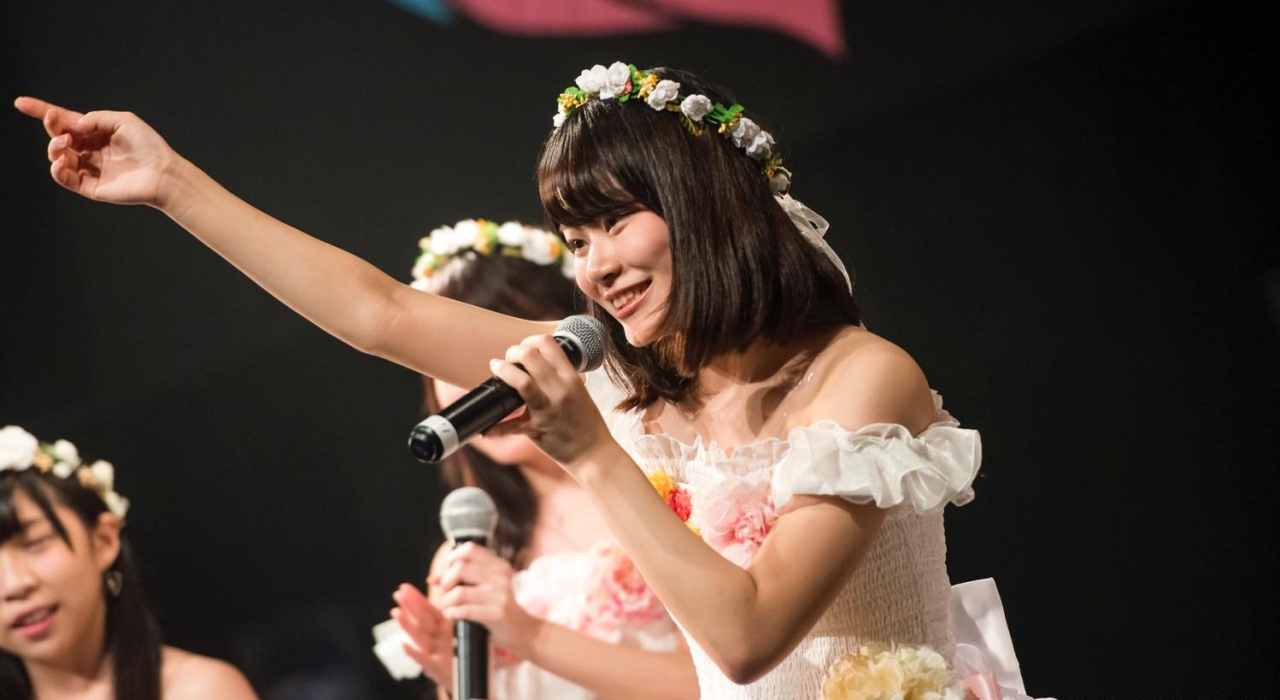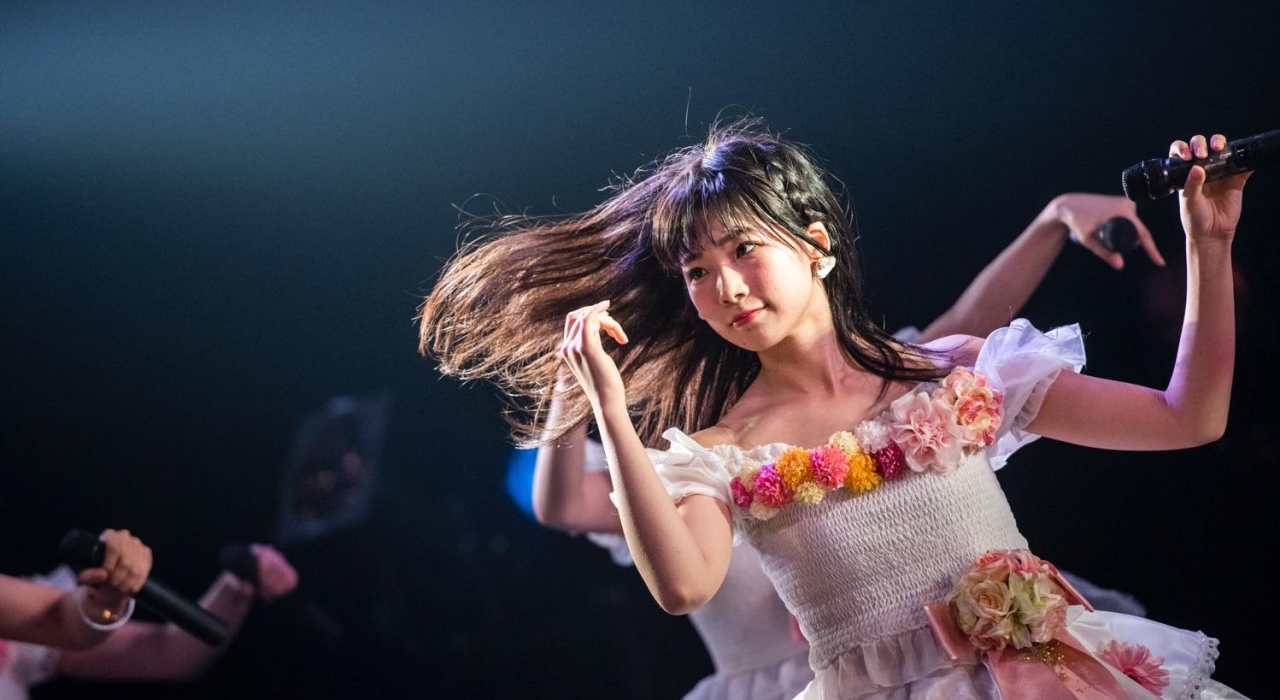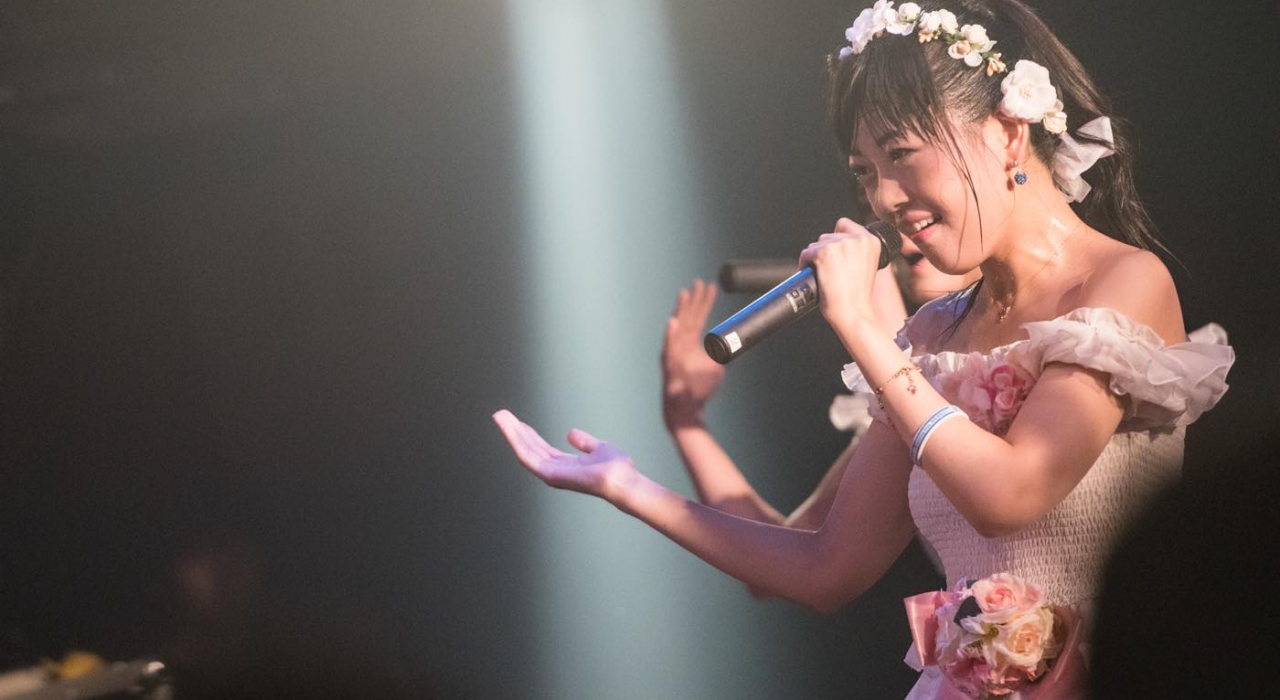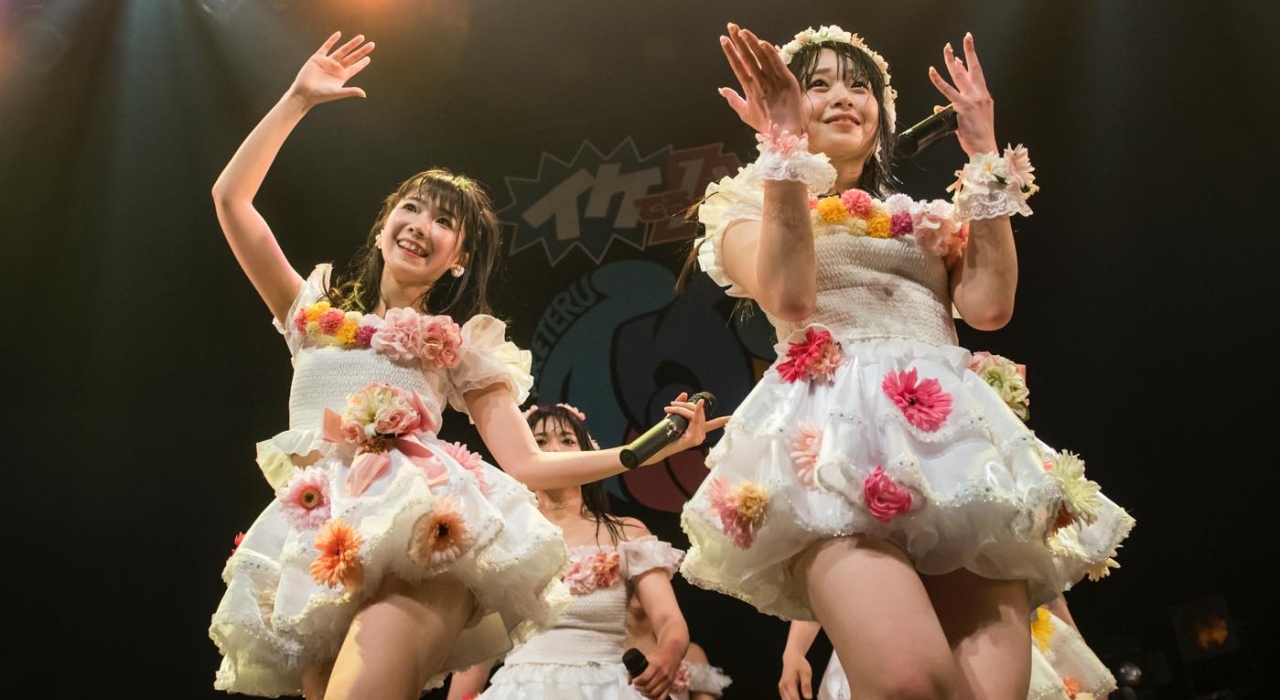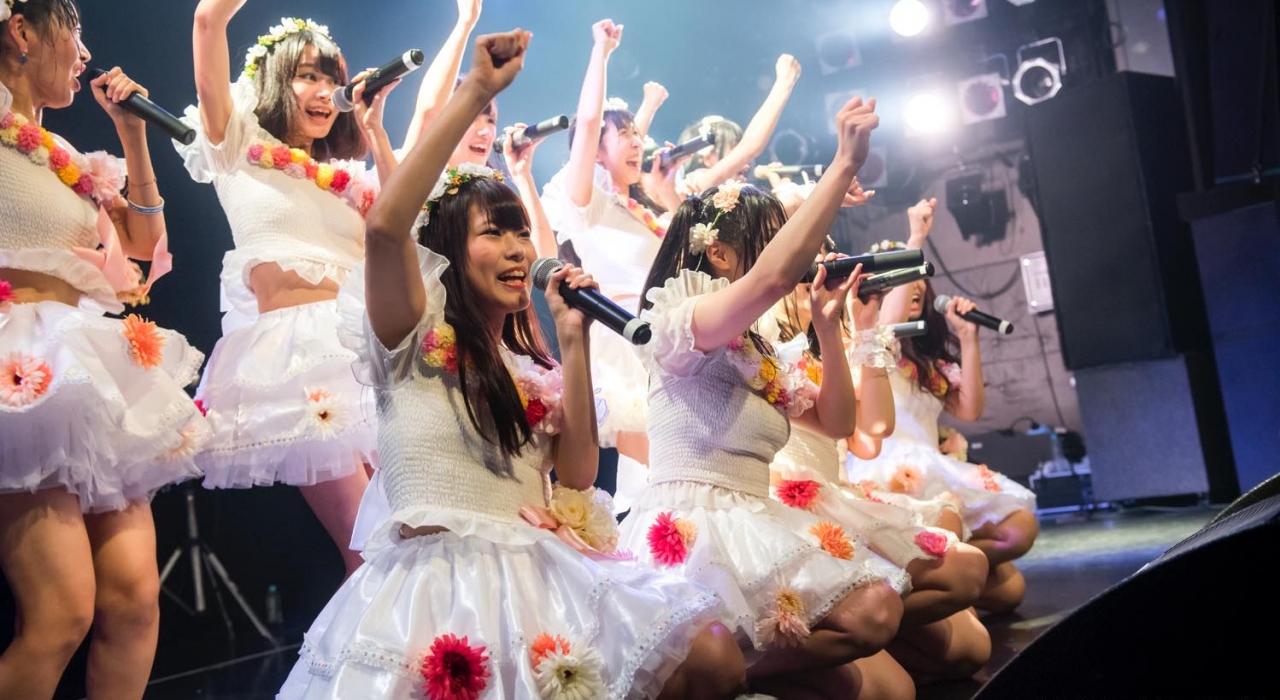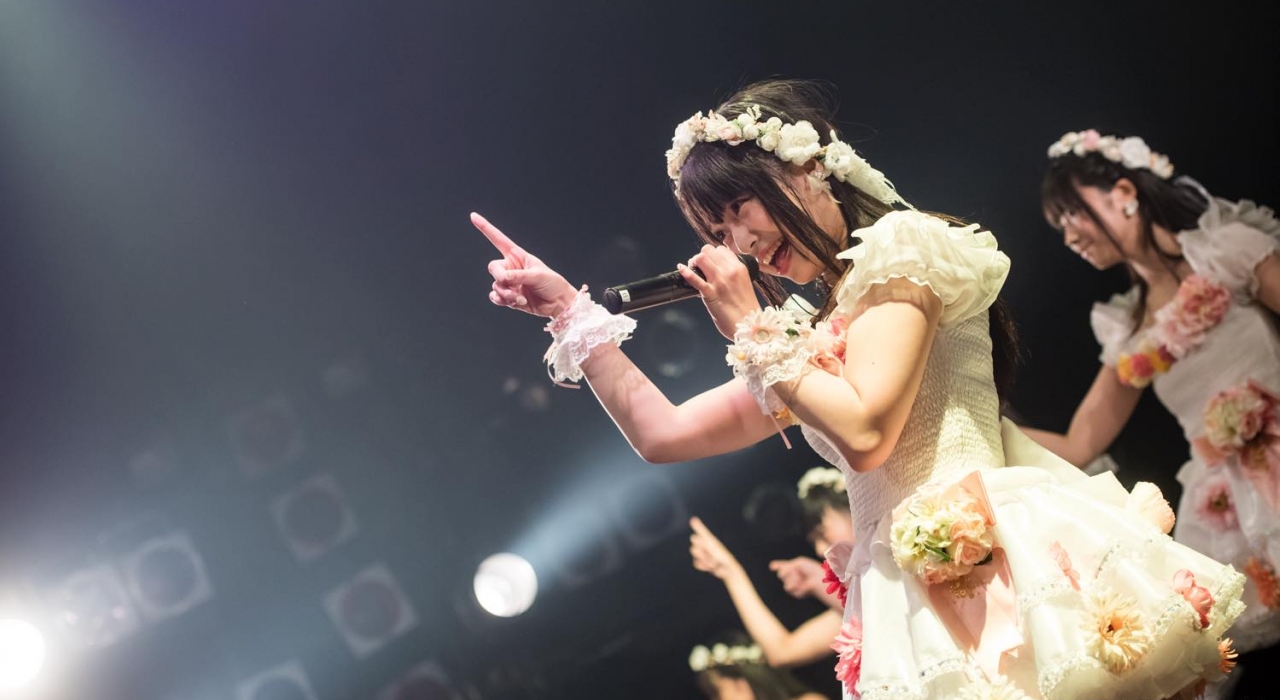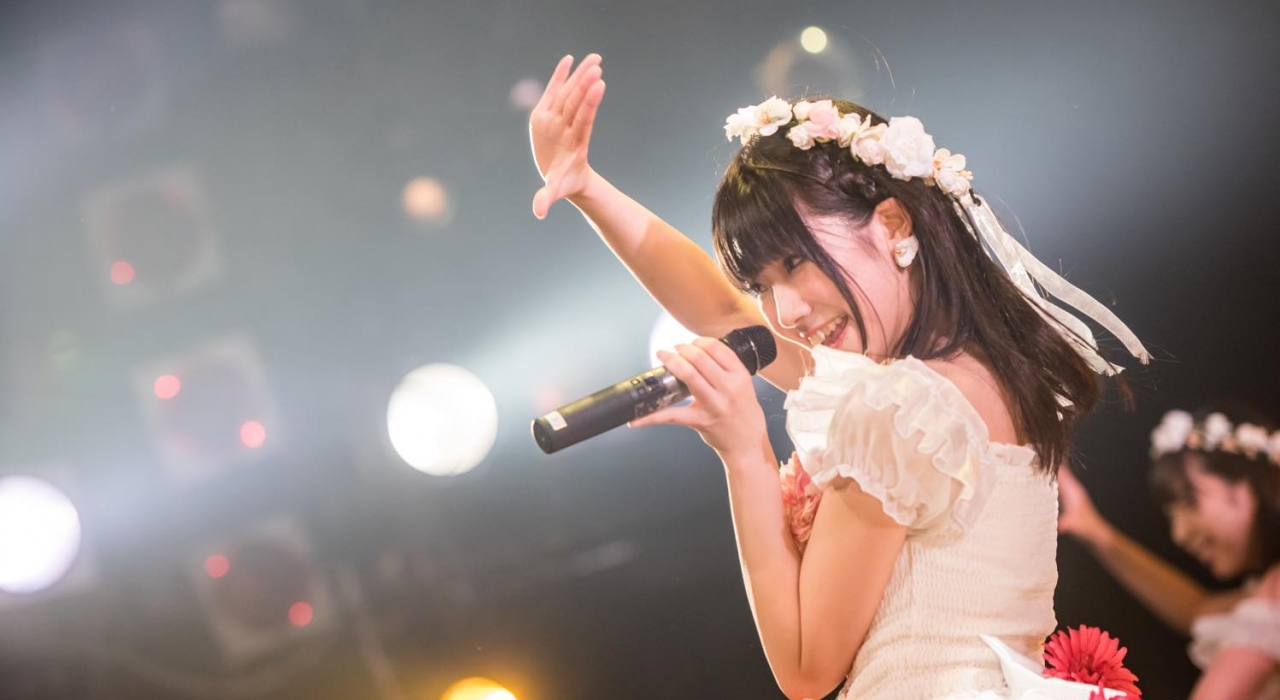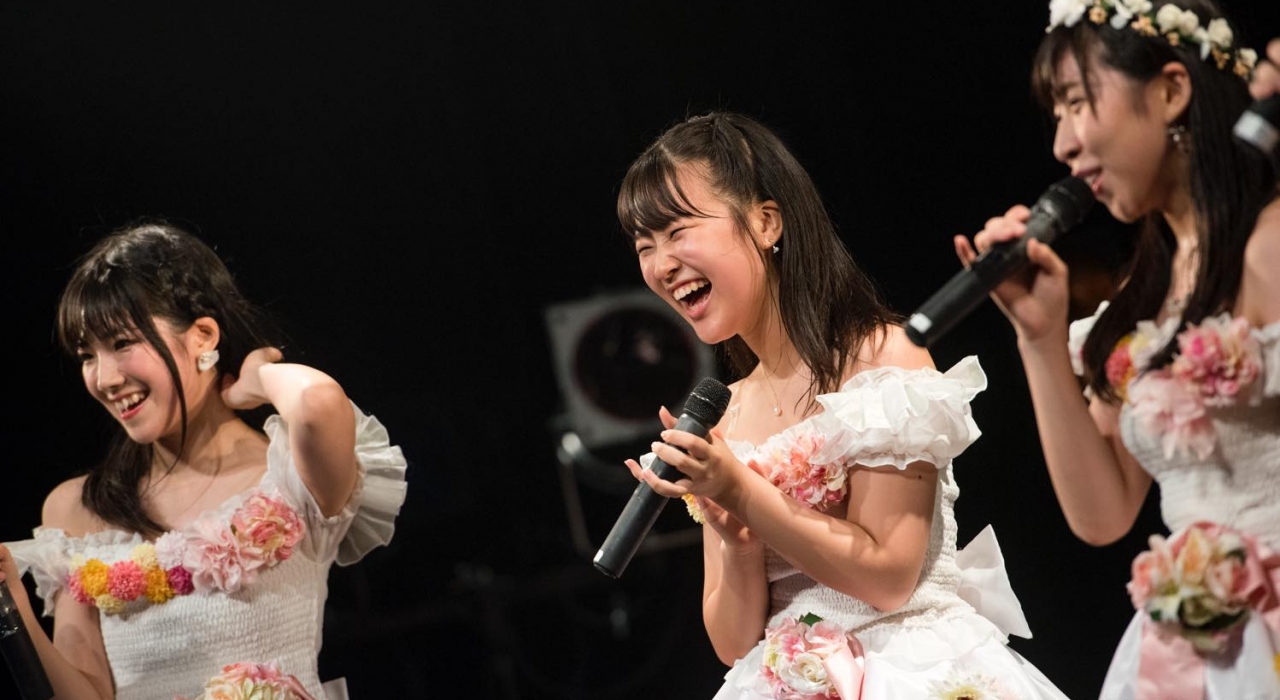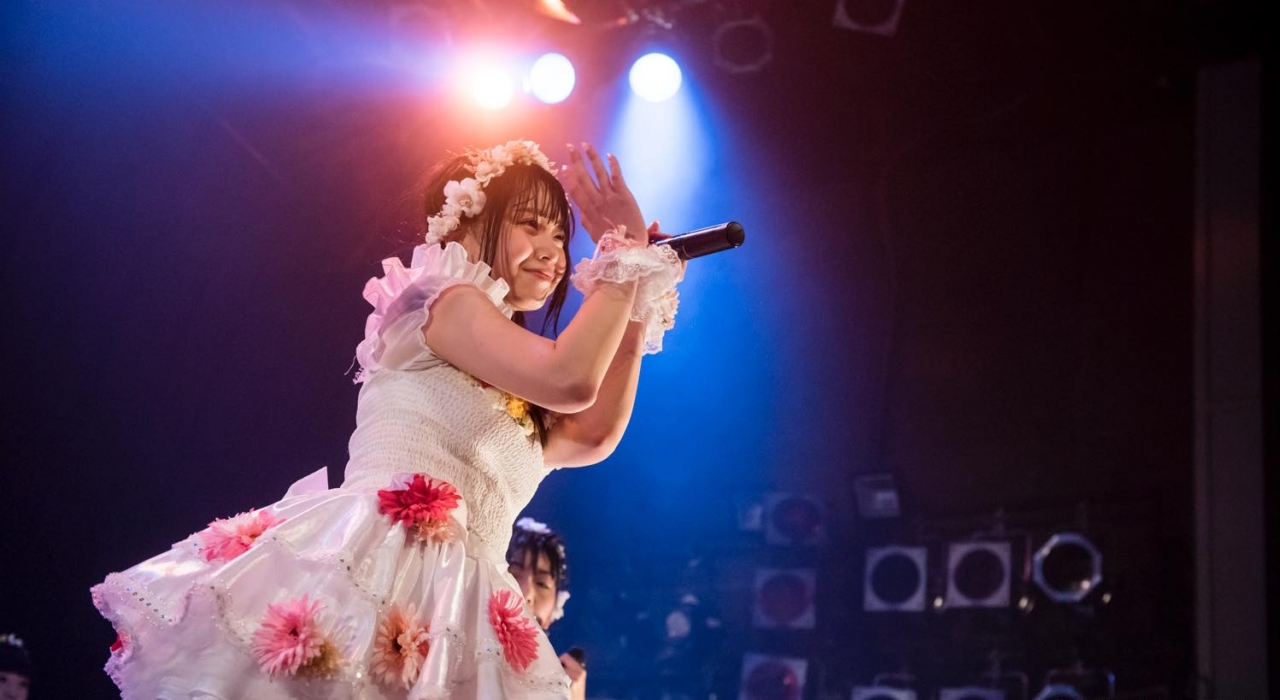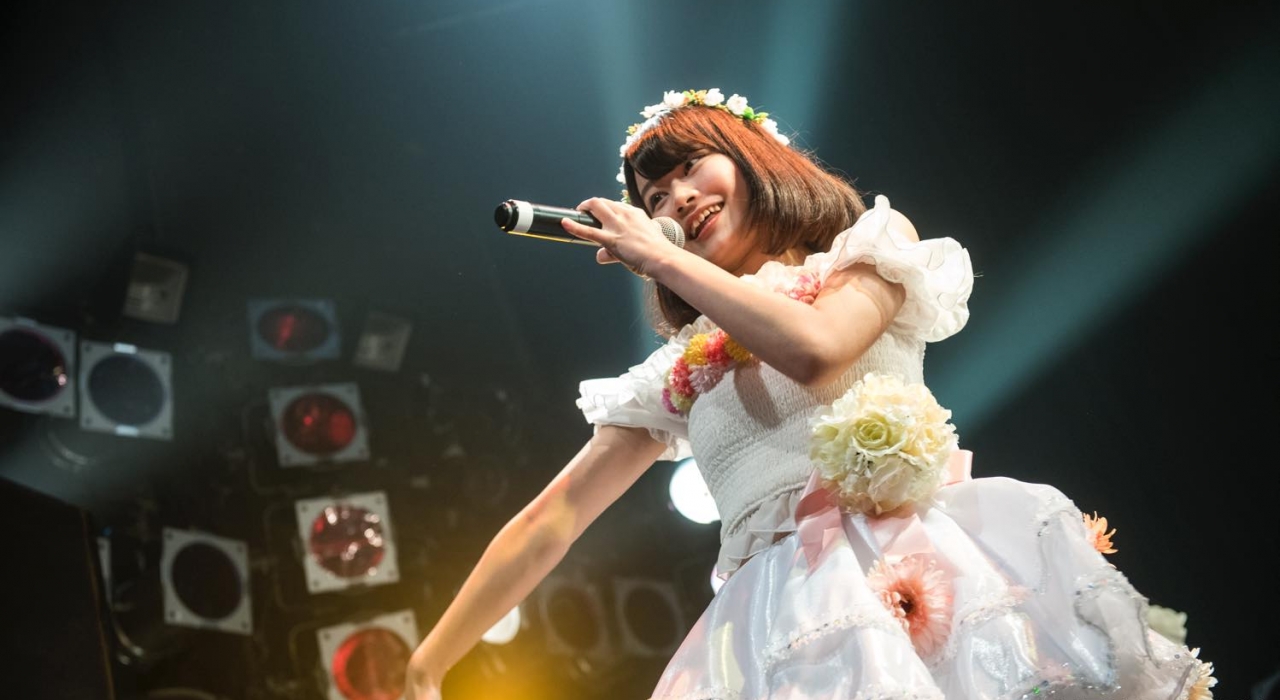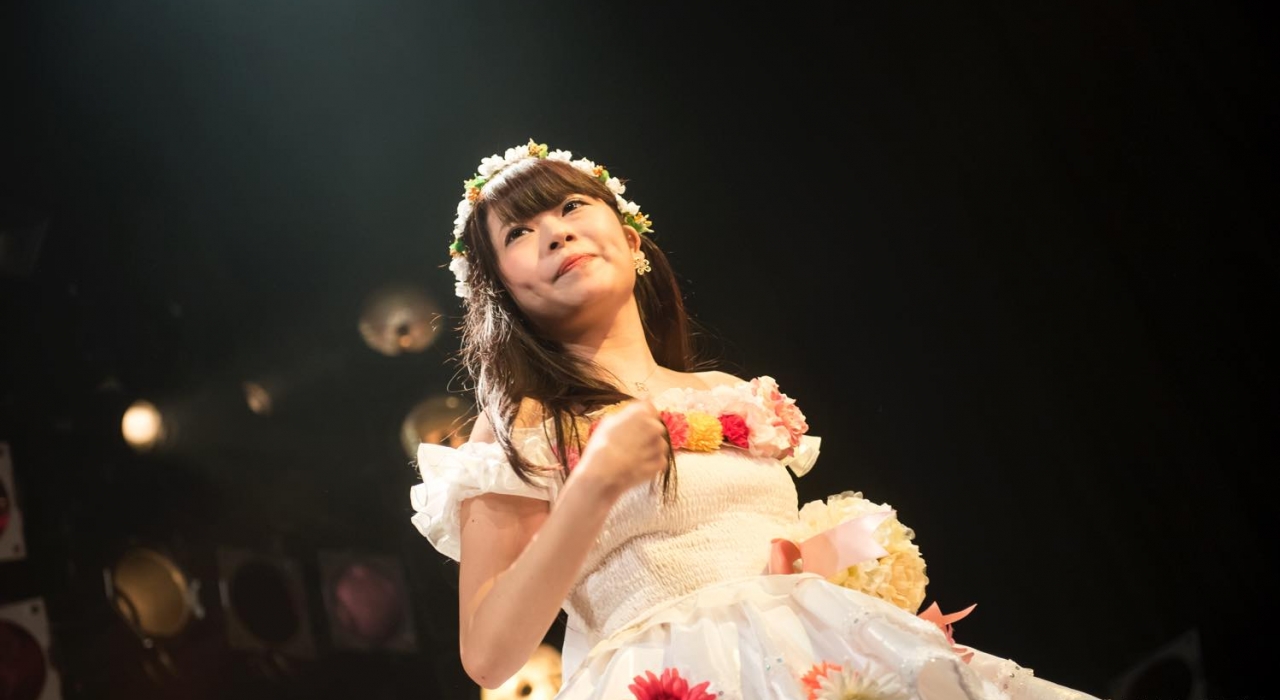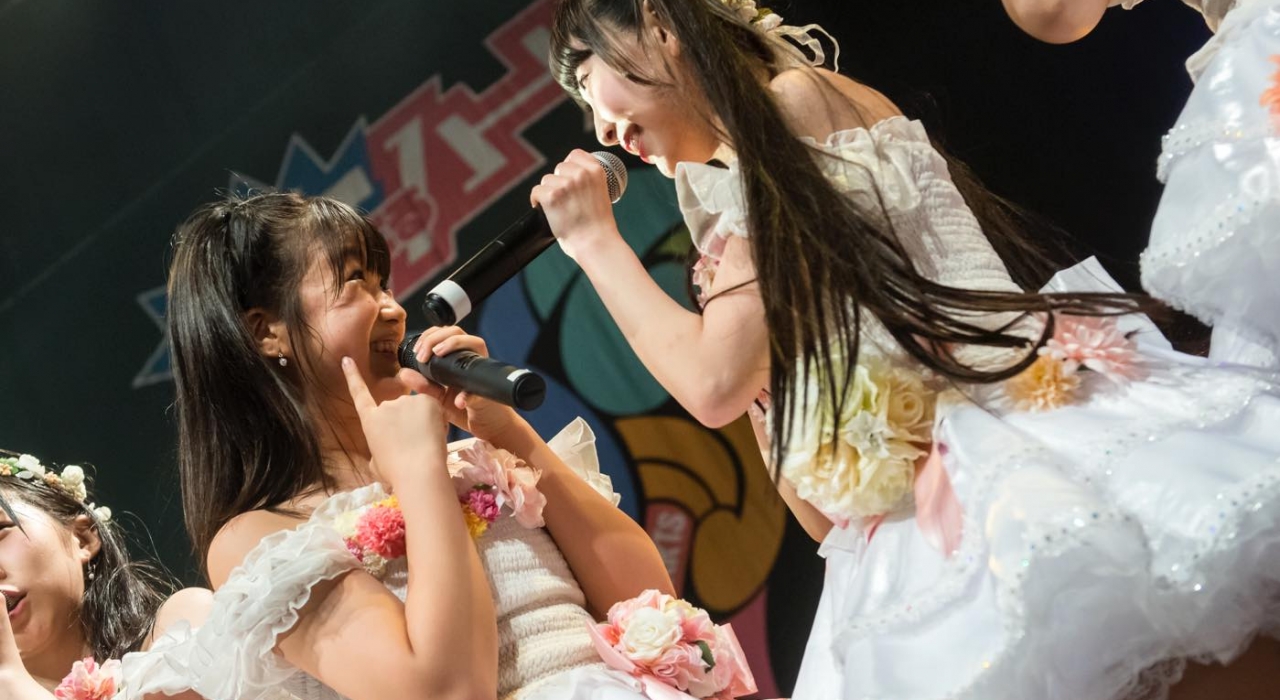 All seven members of the first generation then paused again, to take some time to remember some of the key moments from their three years being active as idols. Youngest member Nijika pointed out that she was actually still in her last year of elementary school when they started! "You were so small!" said Kazune Manami, to which Nijika replied that she was around 130cm tall at this time, and now reaches 156cm. Yuyu Arata added that until their first anniversary, they used to only perform covers ; this was the perfect introduction to the next segment of the show, made of their best song covers from their trainee days! Funny detail was seeing Yuyu mistakenly positioning herself for the first song's formation, causing a hysterical laughter for Kazune Manami who rolled on the floor as Arata was apologizing.
Les sept membres de la première génération prennent alors une nouvelle pause, pour prendre le temps de se souvenir de moments mémorables de ces trois années en tant qu'idoles. La cadette, Nijika, fait alors remarquer qu'elle mesurait à peu près 1 mètre 30 à ses débuts, et mesure désormais 1 mètre 56 ! Yuyu Arata ajoute alors que jusqu'à leur premier anniversaire, elles ne dansaient et chantaient que des reprises ; ce fut alors l'introducion parfaite pour la partie suivante du spectacle, constituée des reprises en question du temps de leurs jours en tant que débutantes ! Il fut amusant d'observer alors Yuyu faire une erreur quant à sa position pour le début de la première chanson, causant un fou rire chez Kazune Manami qui roula alors sur le sol, hilare, pendant les excuses de Yuyu.
This cover songs marathon was the occasion for them to perform a series of their dark and cool tracks, from "Triangle Wave" to "Soukoku no Spica", including the now-rarely performed "Tenbu no mai, akatsuki no mon". They then performed Afilia Saga's "NEXT STAGE!" and "Opera Fantasia", and finally ended the segment with their debut single "Let's Stand Up!", almost reenacting their first year as "Stand Up! Hearts" in just a few minutes on stage.
Ce marathon de reprises fut l'occasion pour le groupe de chanter toutes les chansons les plus sombres et matures de leur répertoire, de "Triangle Wave" à "Soukoku no Spica", le très rare "Tenbu no mai, akatsuki no mon" inclus. Elles chantent ensuite "NEXT STAGE!" et "Opera Fantasia" de leur groupe soeur aîné Afilia Saga (désormais Junjou no Afilia), et cette partie se termine alors sur leur premier single "Let's Stand Up!", reproduisant leur première année en tant que "Stand Up! Hearts" en quelques minutes.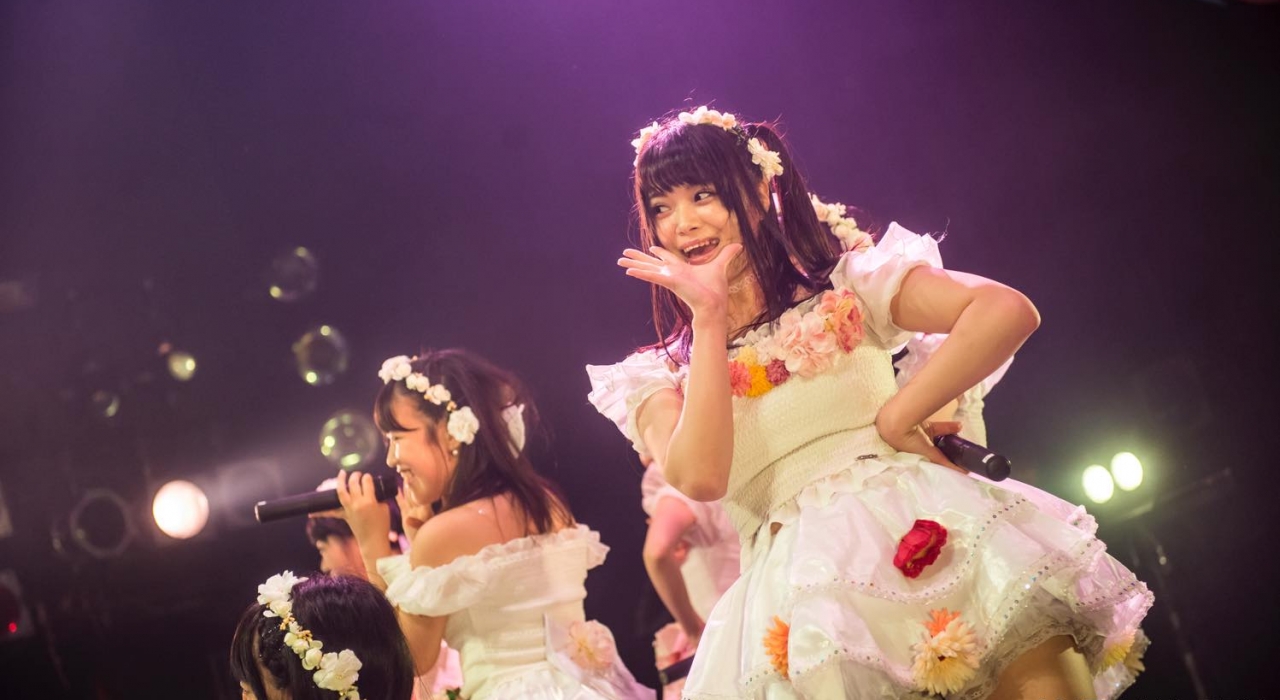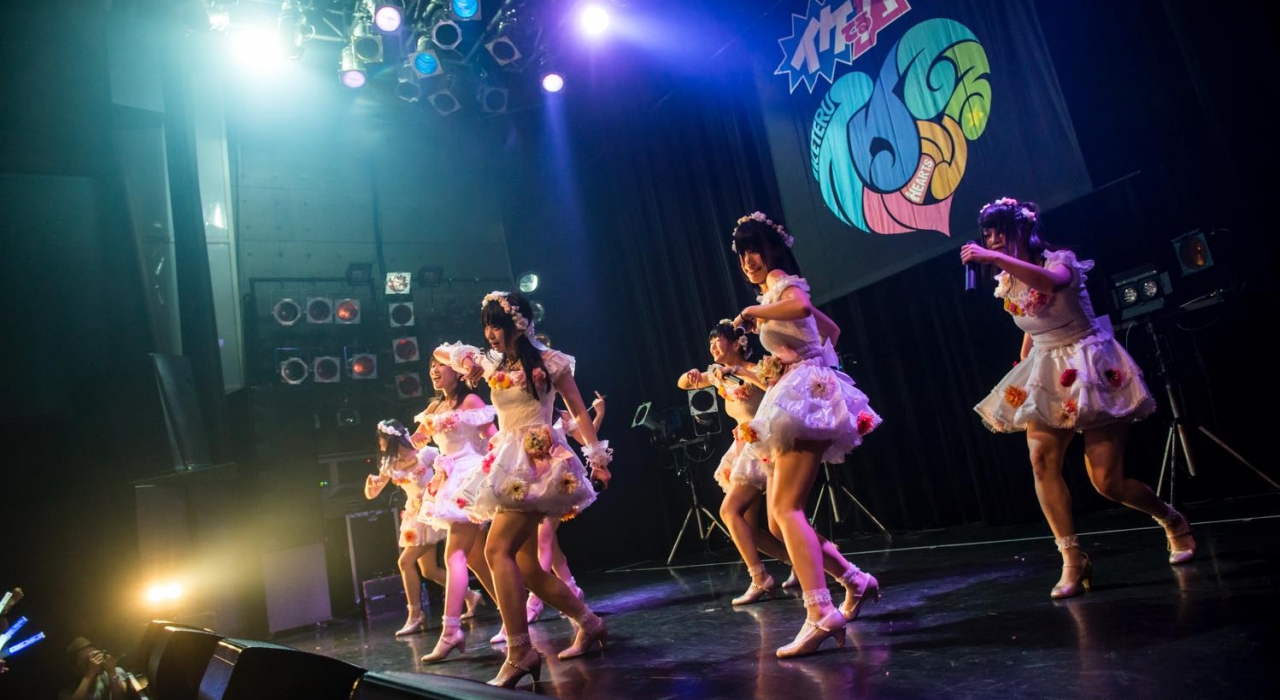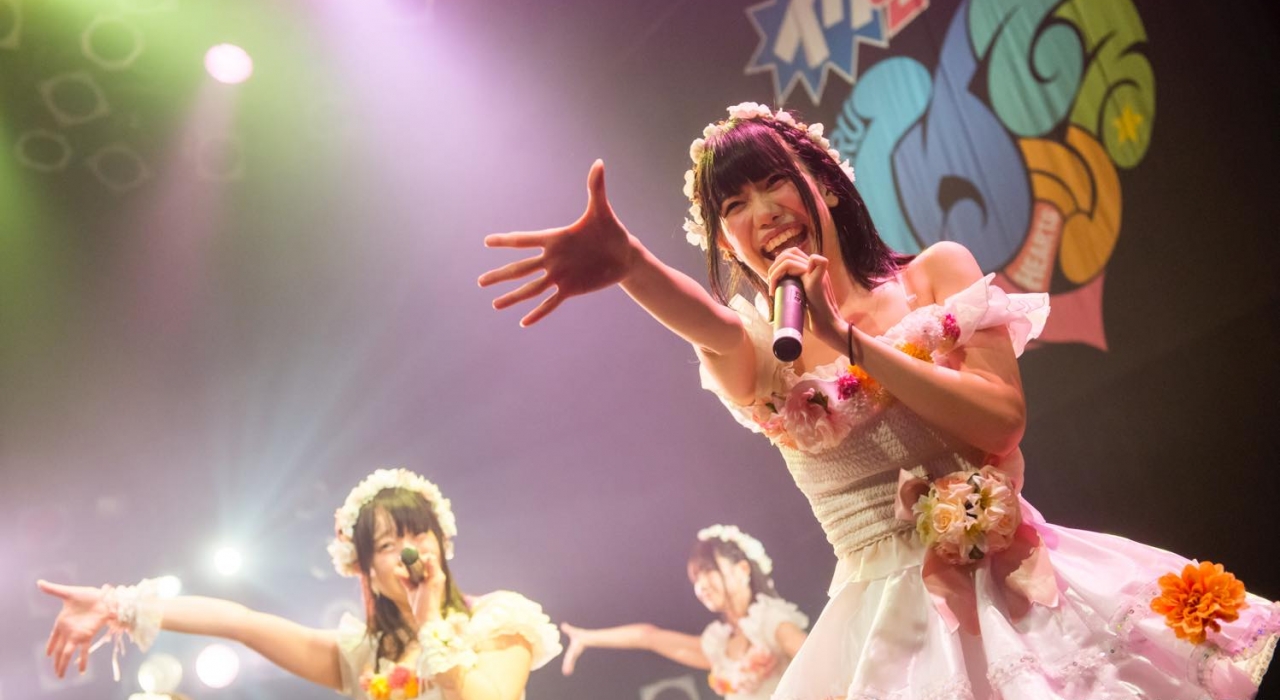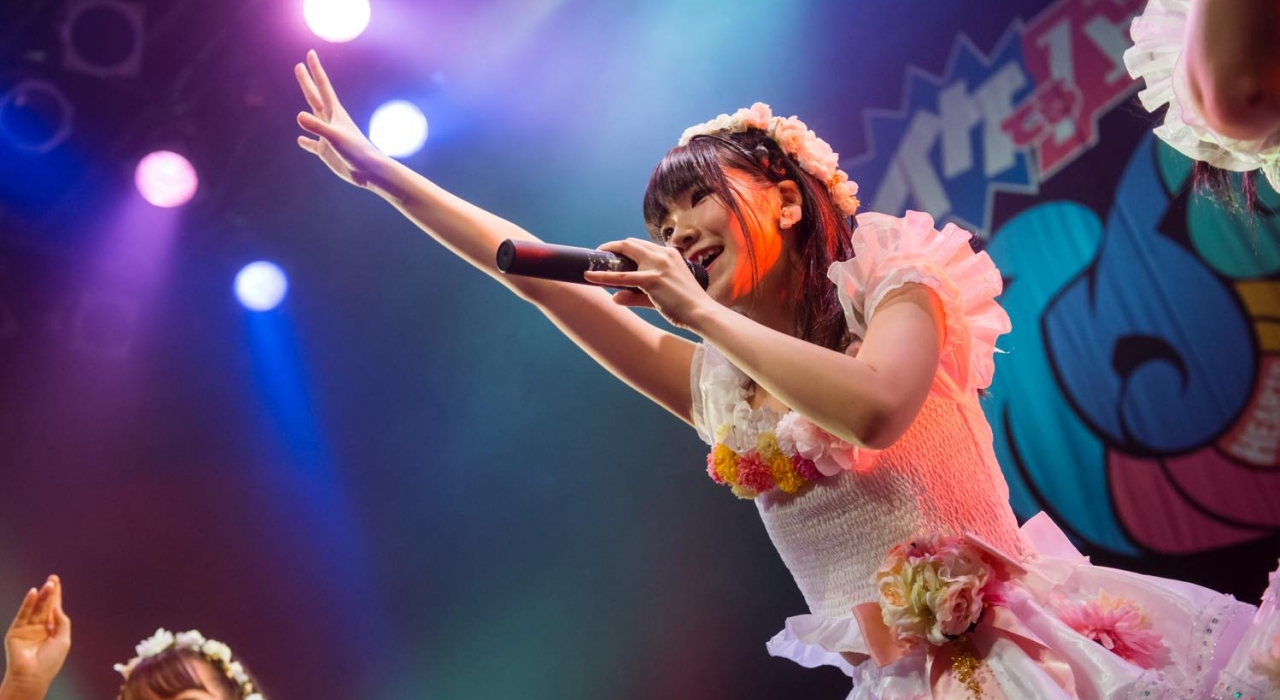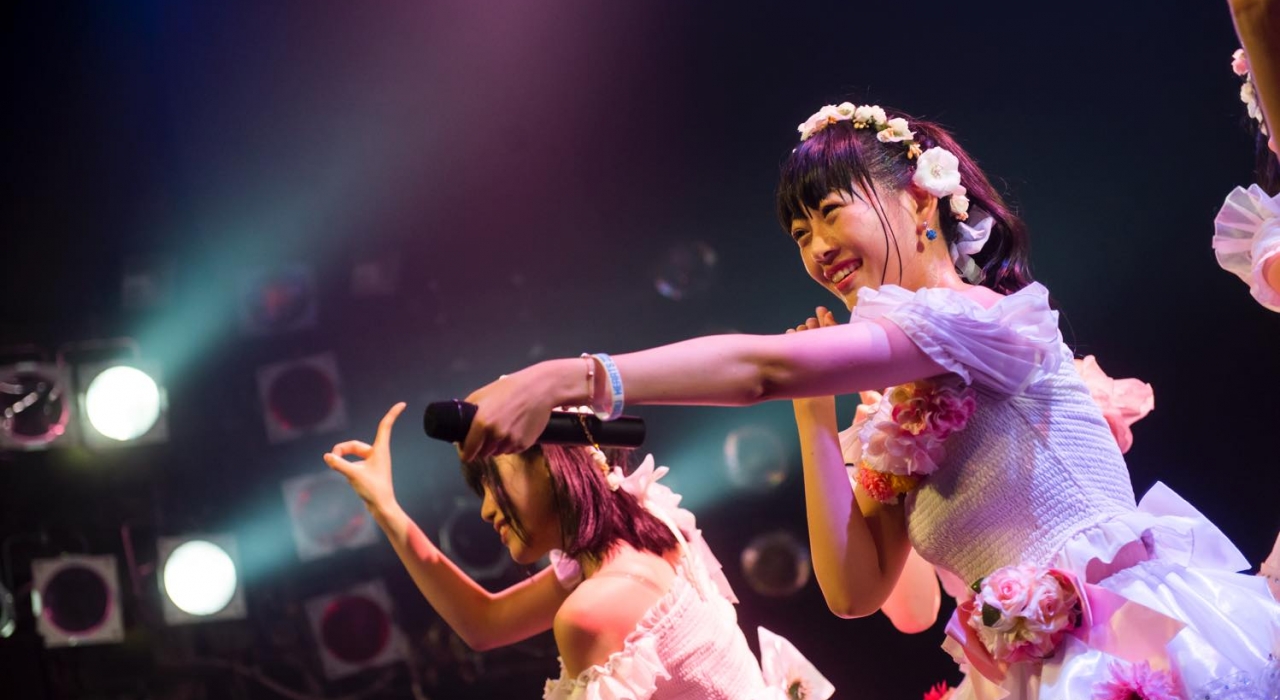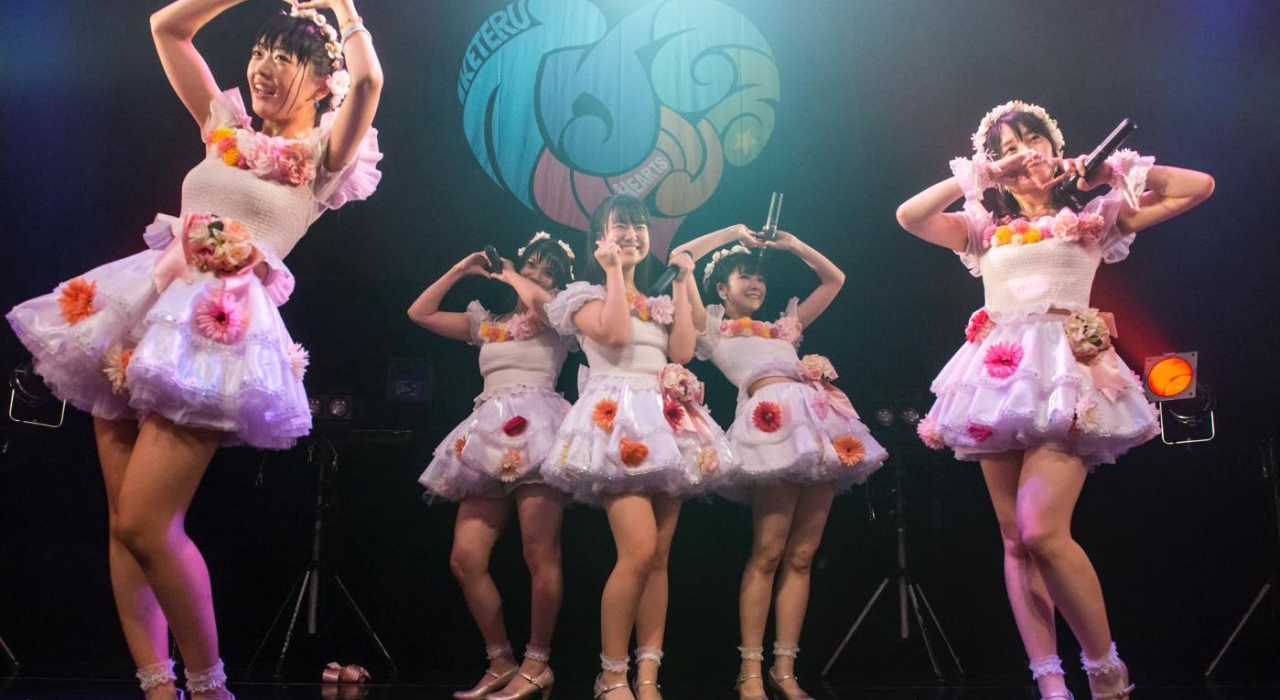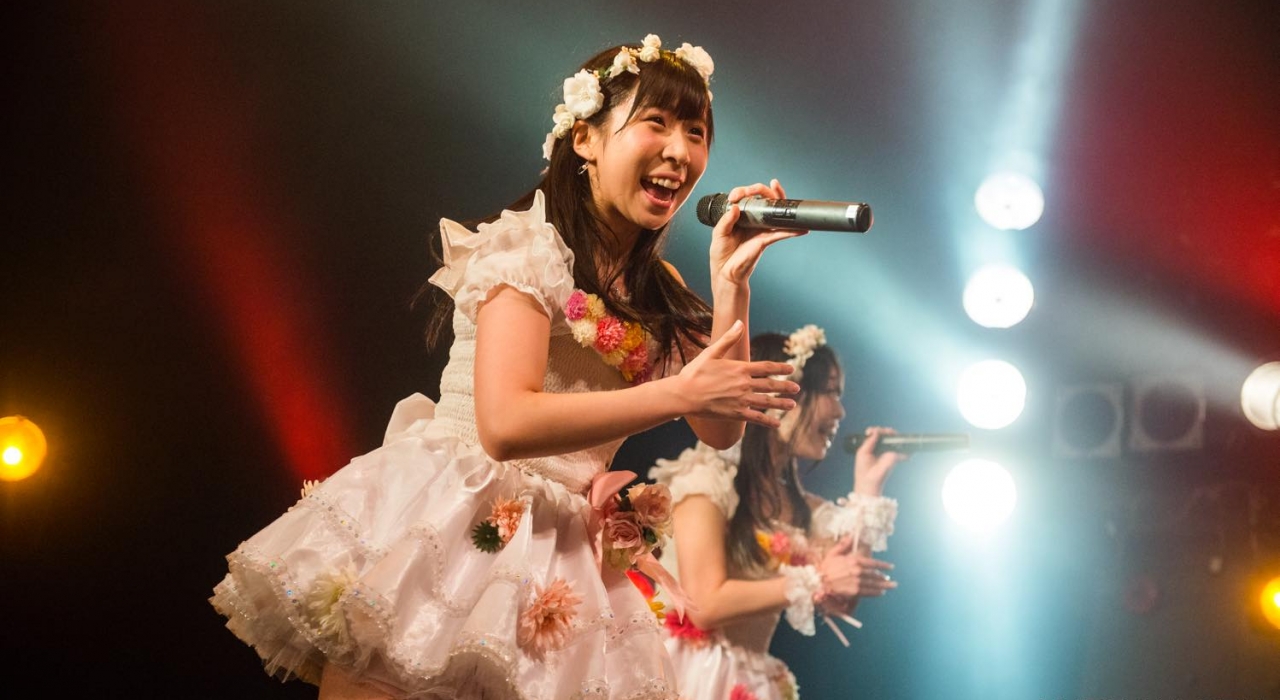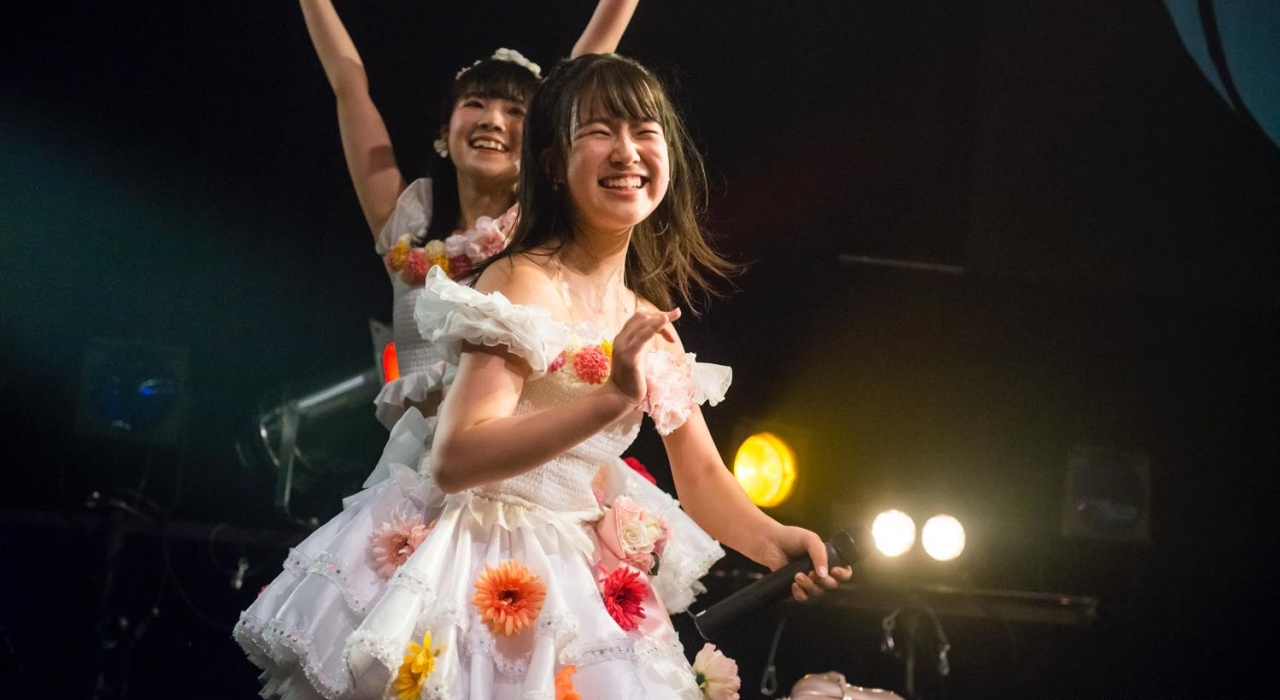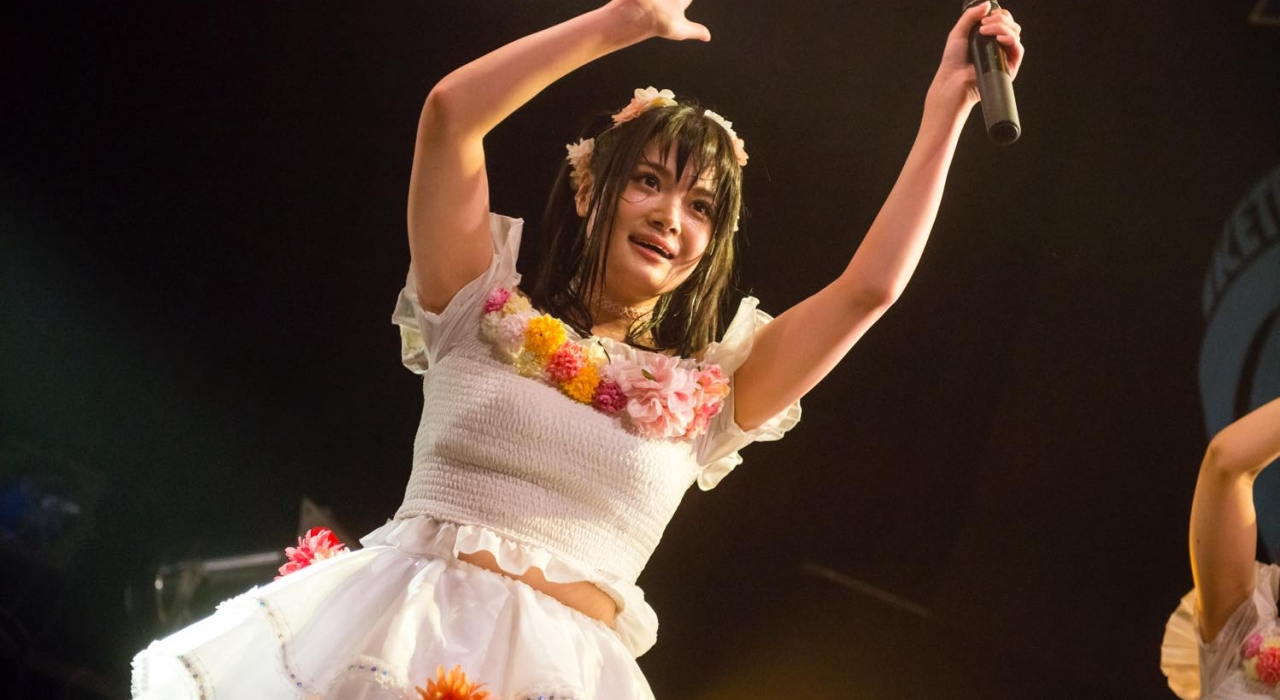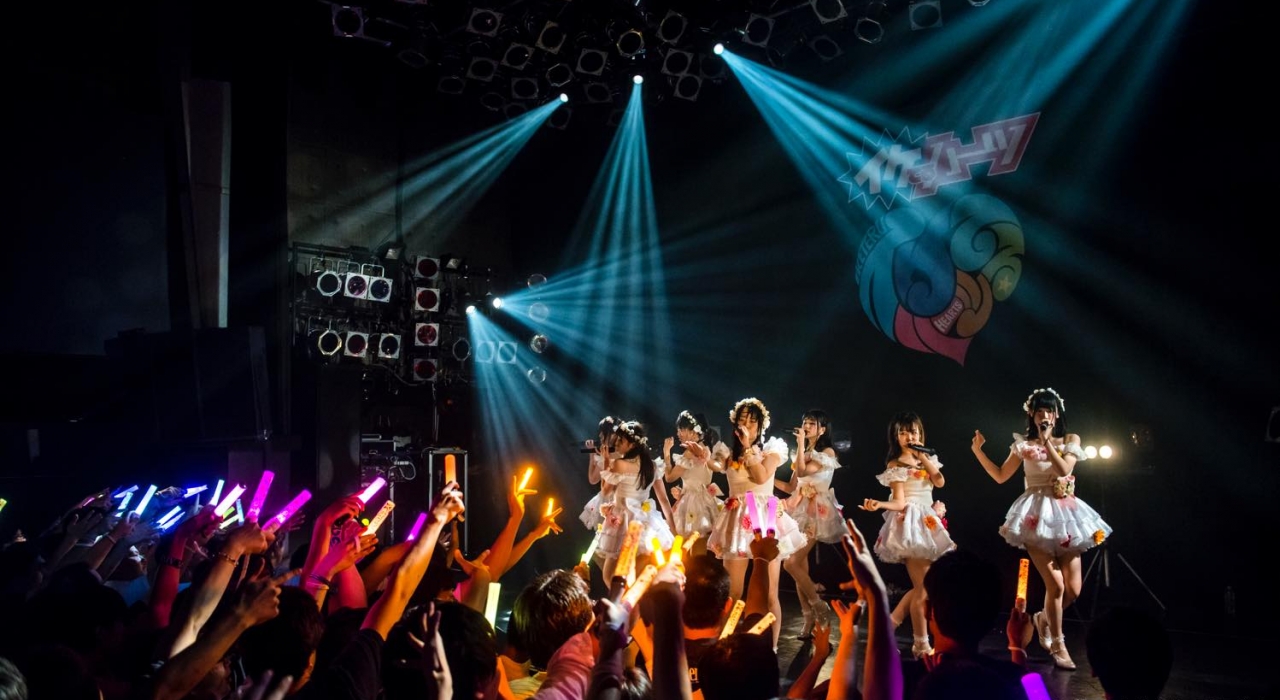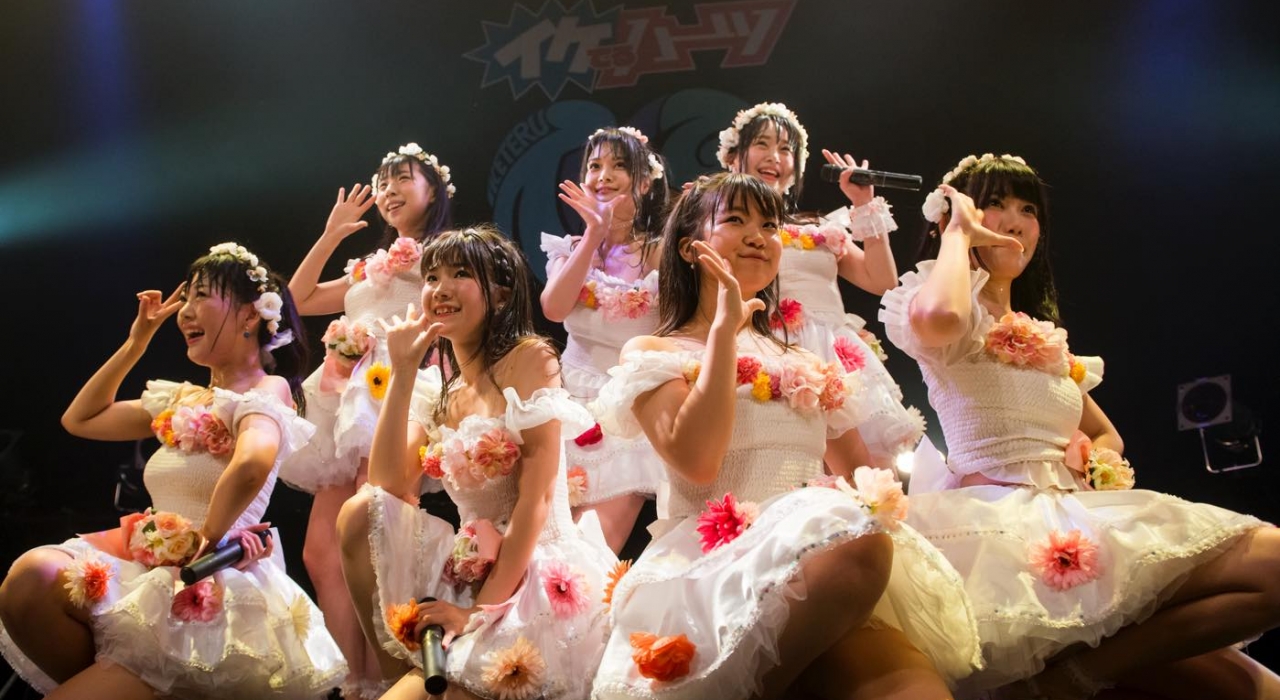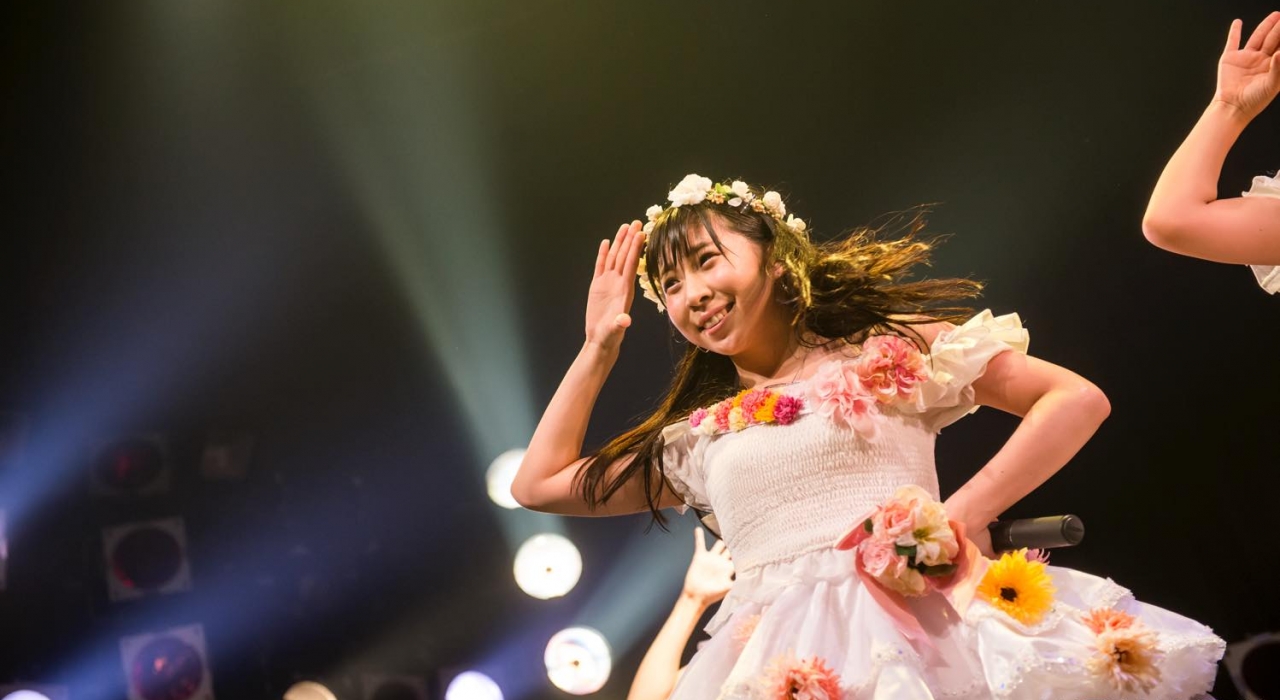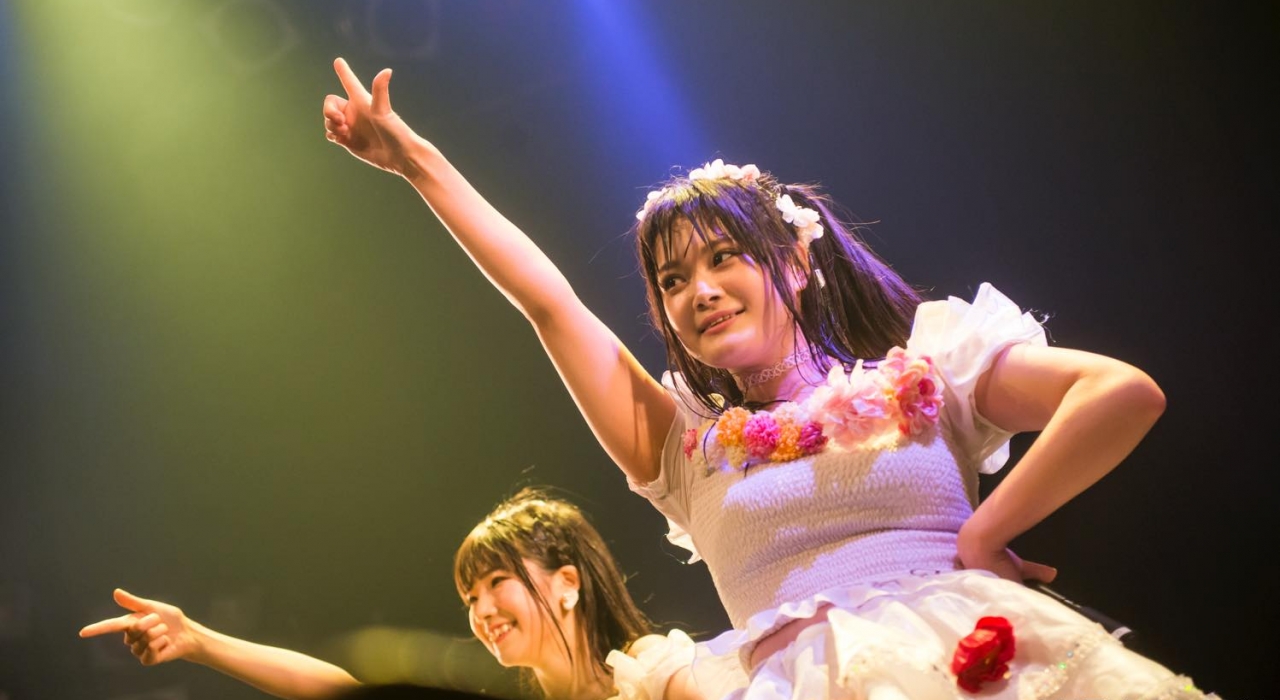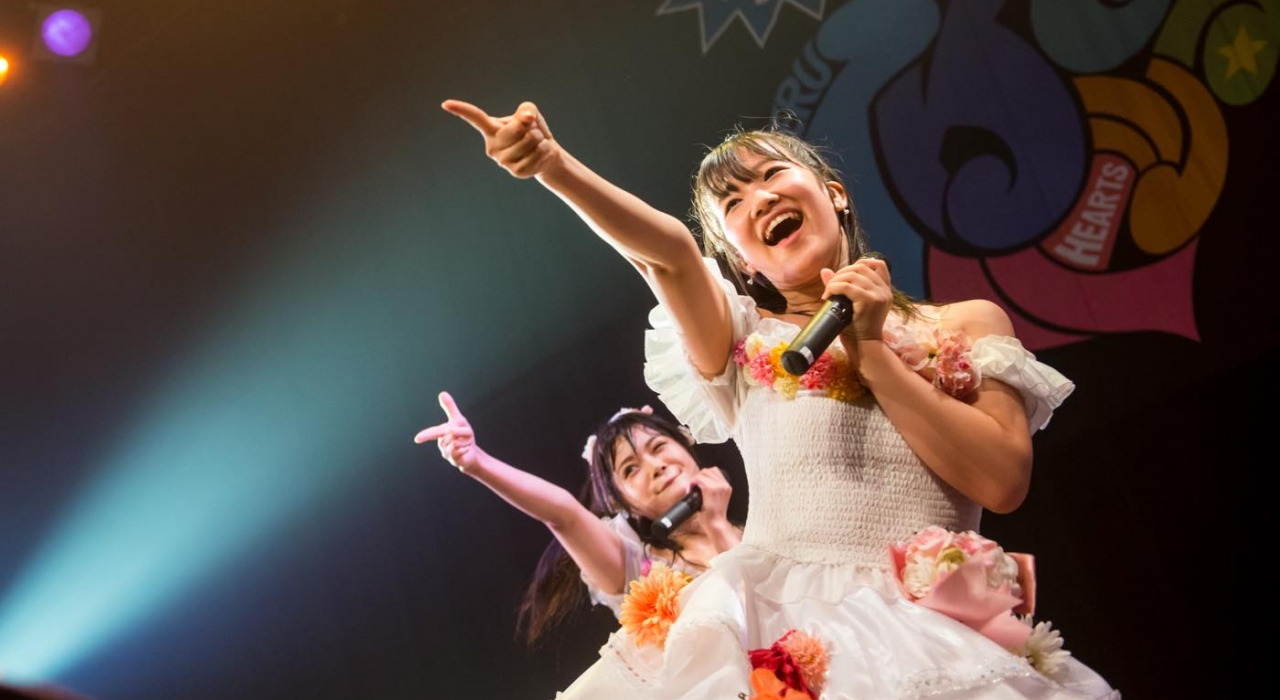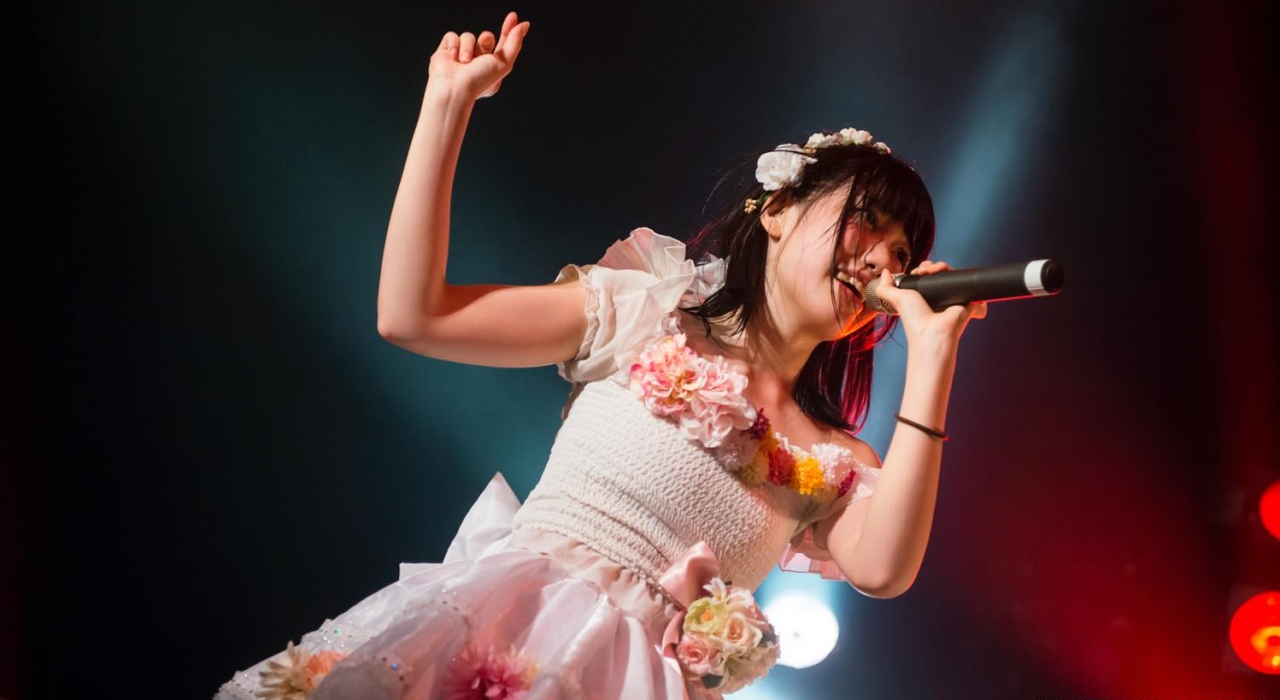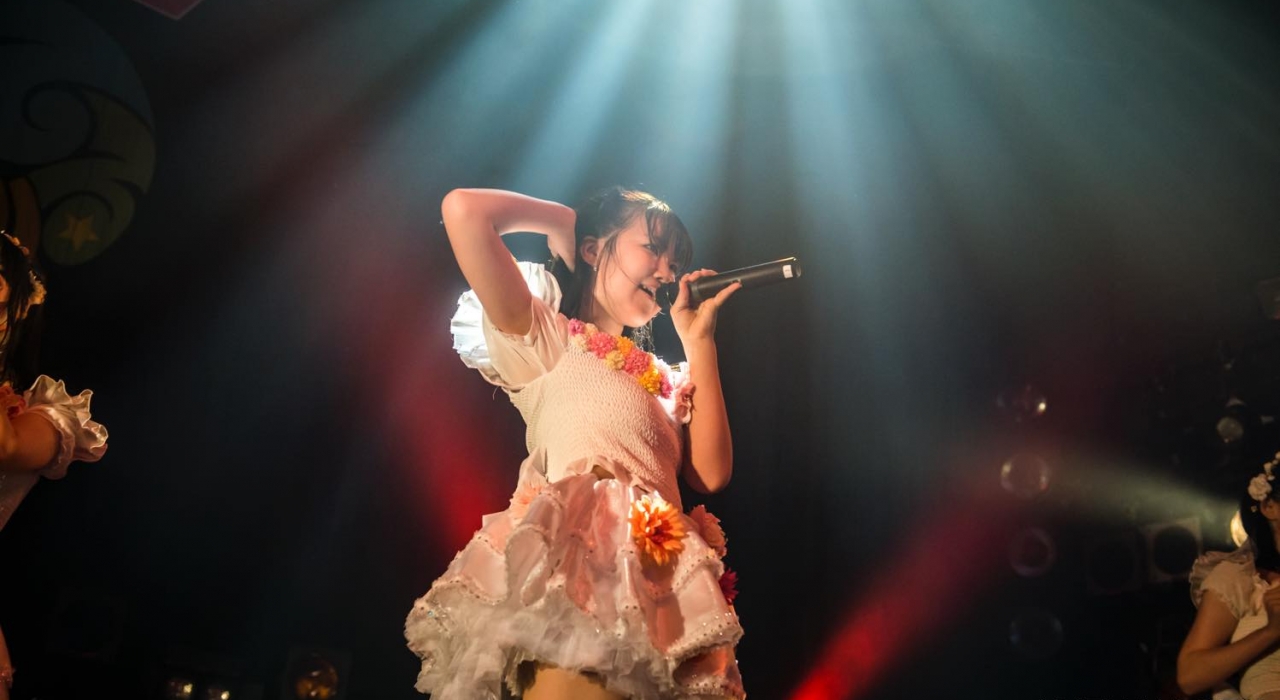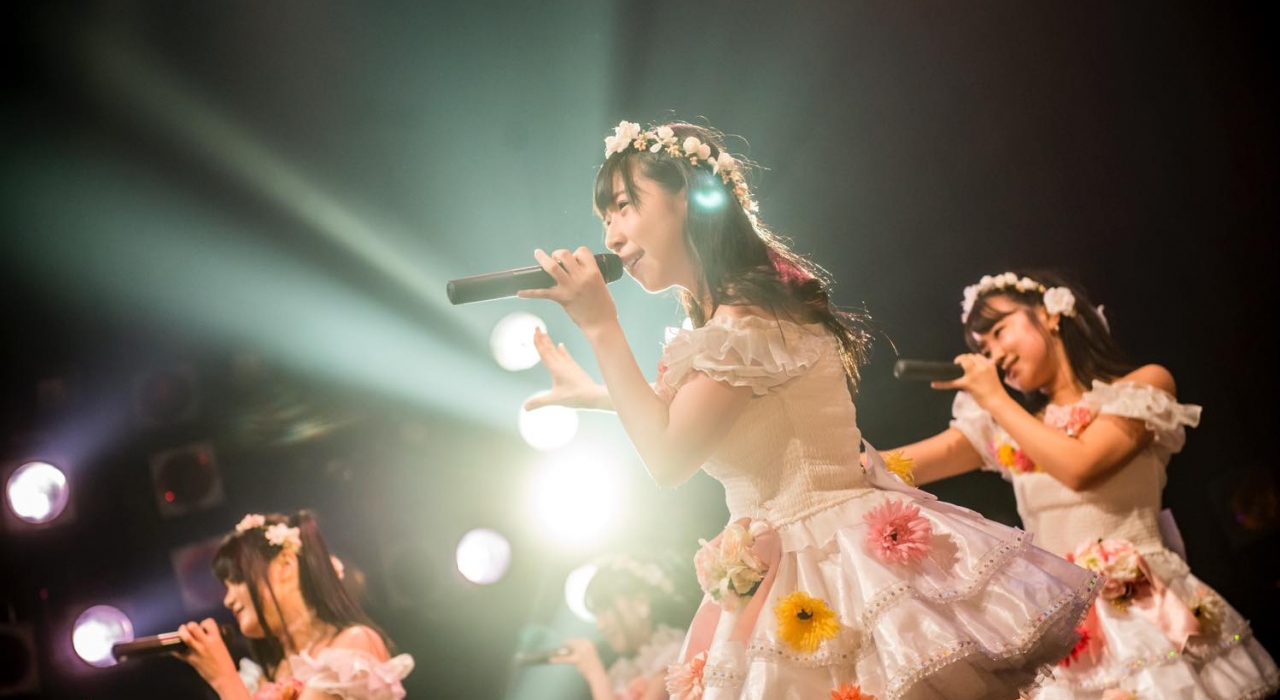 The four new members joined again as the girls were remembering how "NEXT STAGE!" was their very first song to perform. The MC was cut short as they took position for the final segment of the show with all 11 members of the group; from "ORIGAMI", they then performed iconic cover "Drawing again", then their popular single tracks, "Zaishyou no Lucifer" and "Lumica Jane". This part ended with the cheerful "Happy End", and the group waved excitedly at their fans until they disappeared from the stage.
Les quatre nouvelles recrues les rejoignent alors à nouveau, alors que la première génération se rappelle de "NEXT STAGE!" comme leur toute première chanson. La discussion se termine rapidement alors qu'elles prennent position pour la dernière partie du spectacle à 11 ; après "ORIGAMI", il fut temps alors pour une de leurs reprises les plus populaires, "Drawing again", puis leurs singles "Zaishyou no Lucifer" et "Lumica Jane". Cette partie se termine alors sur le joyeux "Happy End", et le groupe quitte la scène en saluant leurs fans avec de larges sourires.
All the fans then called their idols to come back on stage the loudest they could, and all 11 members reappeared wearing the group's official tee-shirt over their dresses.
Tous les fans ont alors appelé leurs idoles pour les faire revenir, le plus fort possible, et tout le groupe réapparaît, portant les tee-shirts officiels des Iketeru Hearts par dessus leurs robes.
Karin Ochi gave a long heartfelt speech, in which she confessed her mixed feelings towards all the changes in the group. "To be honest, at first, I did not want to accept having four new members with us," she said, before explaining her words. "It felt like adding four members meant that the 7 of us were not good enough, or were not trying hard enough. But then I had a long talk with our new producer, Yukafin (note: former member of Afilia Saga Yukafin Doll), and she explained what this meant. She said that by becoming our producer, she wants to take the group to new places and make us face new challenges to grow, and that adding new personalities to the group was just a way for us to take this new step." Everyone got teary-eyed as Karin did her best to convey her feelings, before concluding. "Now, I can say that I am very happy that Aki, Risako, Leia and Shiika joined us," she confessed, before adding one more thing. "I just turned 19 and I thought about it a lot, but the main reason why I am still an idol now is because I love Iketeru Hearts and every single one of its members so much!". Her speech was followed by a huge salve of applause, as both fans and members congratulated her for finding the strength to confess all of her purest feelings.
Karin Ochi en profite pour donner alors un long discours plein d'émotions, lors duquel elle confesse sa position délicate quant aux changements opérés au sein du groupe. "Pour être honnête, au début, je ne voulais pas accepter l'idée d'avoir de nouvelles membres avec nous," dit-elle, avant de préciser sa pensée. "J'avais l'impression que rajouter des membres signifiait que nous n'étions pas assez douées, ou que nous ne travaillions pas assez dur. Et puis j'ai pu discuter avec notre nouvelle productrice, Yukafin (note : anciennement Yukafin Doll des Afilia Saga), et elle m'a expliqué ce que cela signifiait. Elle m'a dit qu'en devenant notre productrice, elle voulait nous pousser plus loin et nous faire endurer des défis pour pouvoir grandir, et que ajouter de nouveaux visages et nouvelles personnalités au groupe était juste un moyen pour nous de passer à cette nouvelle étape." Tout le monde semblait ému de ces paroles, et Karin faisait alors de son mieux pour transmettre ses émotions profondes, avant de conclure. "Maintenant, je peux fire que je suis vraiment heureuse que Aki, Risako, Leia et Shiika nous ont rejointes," confesse-t-elle, ajoutant ensuite : "Je viens d'avoir 19 ans et j'y ai beaucoup réfléchi, mais la raison principale pour laquelle je suis encore idole est parce que j'aime Iketeru Hearts et chacune d'entre vous du fond de mon coeur !". Son discours est alors suivi par une grande salve d'applaudissements, les fans et les membres la félicitant d'avoir trouvé la force de s'exprimer aussi sincèrement.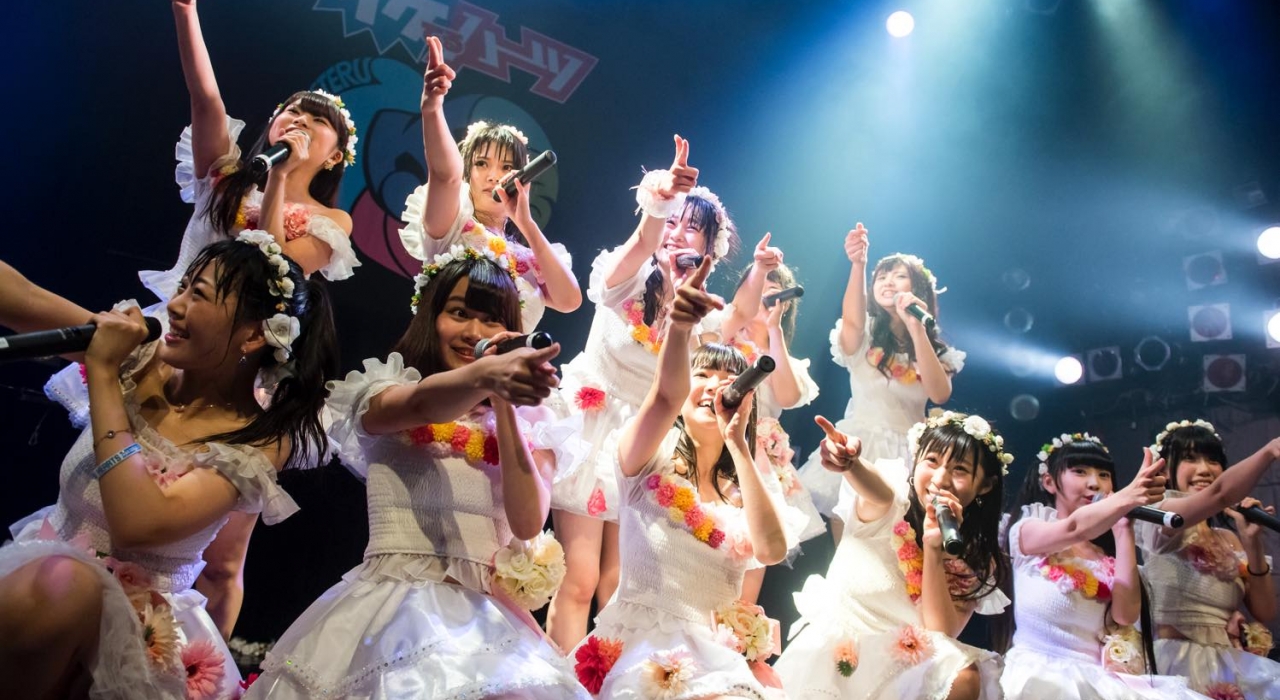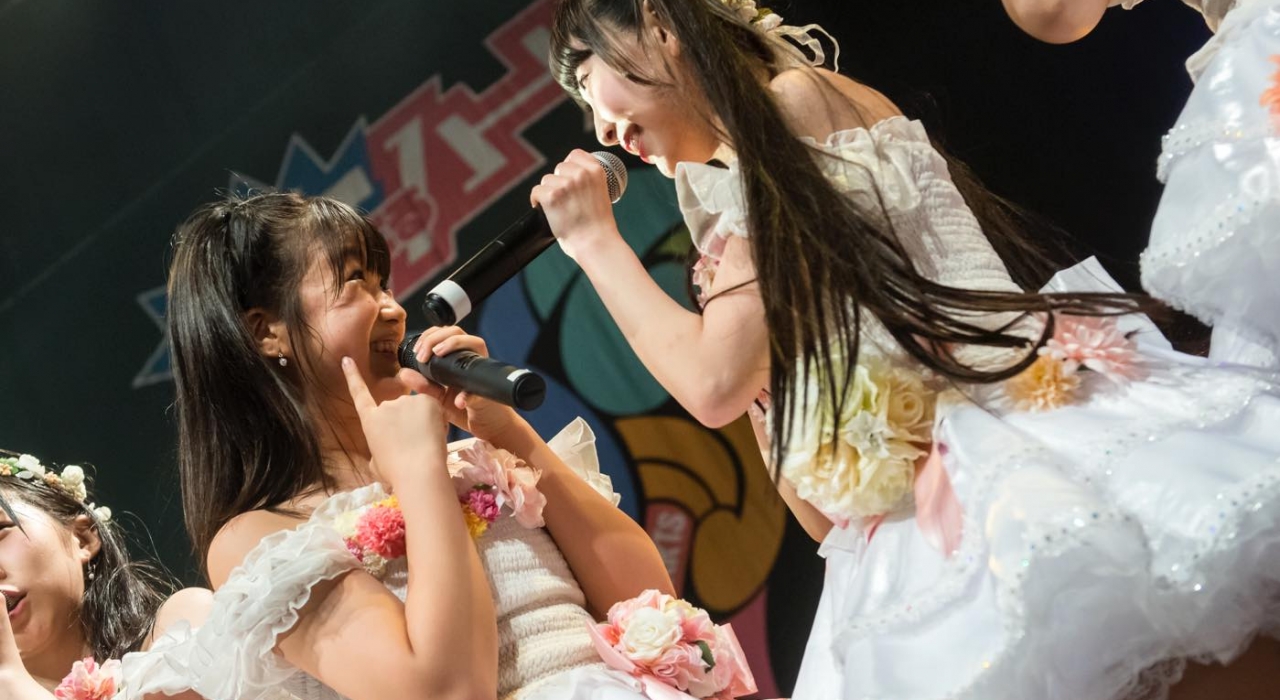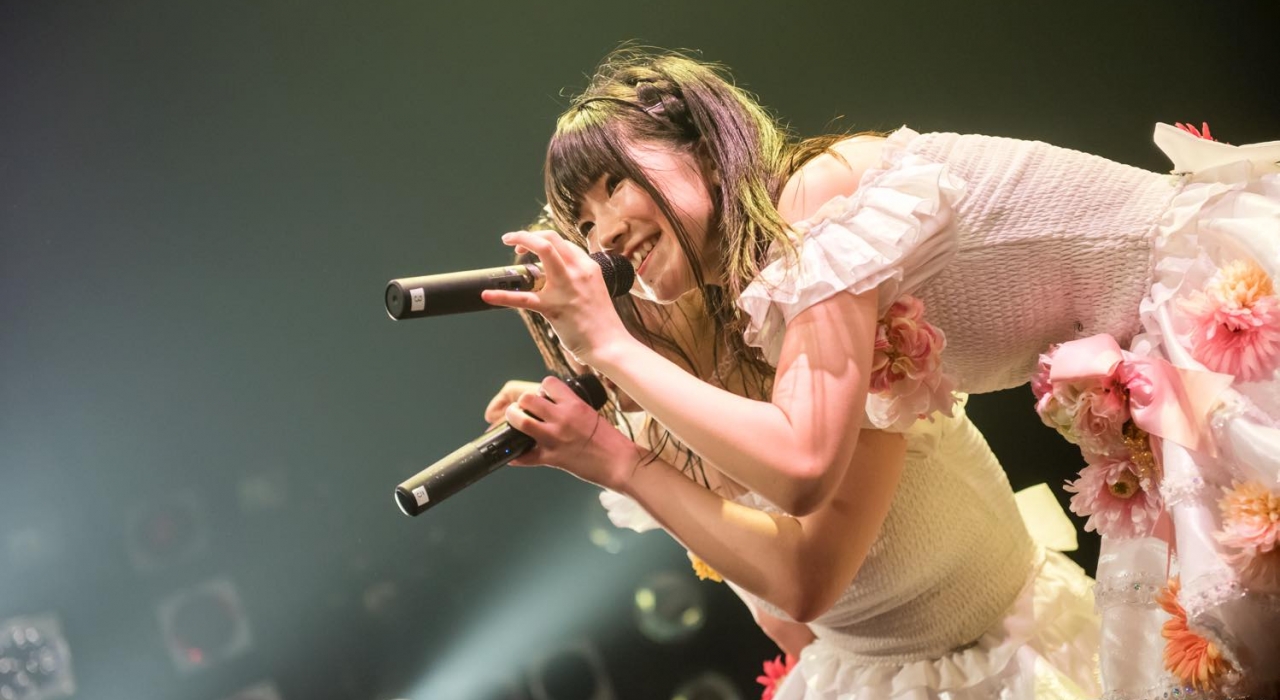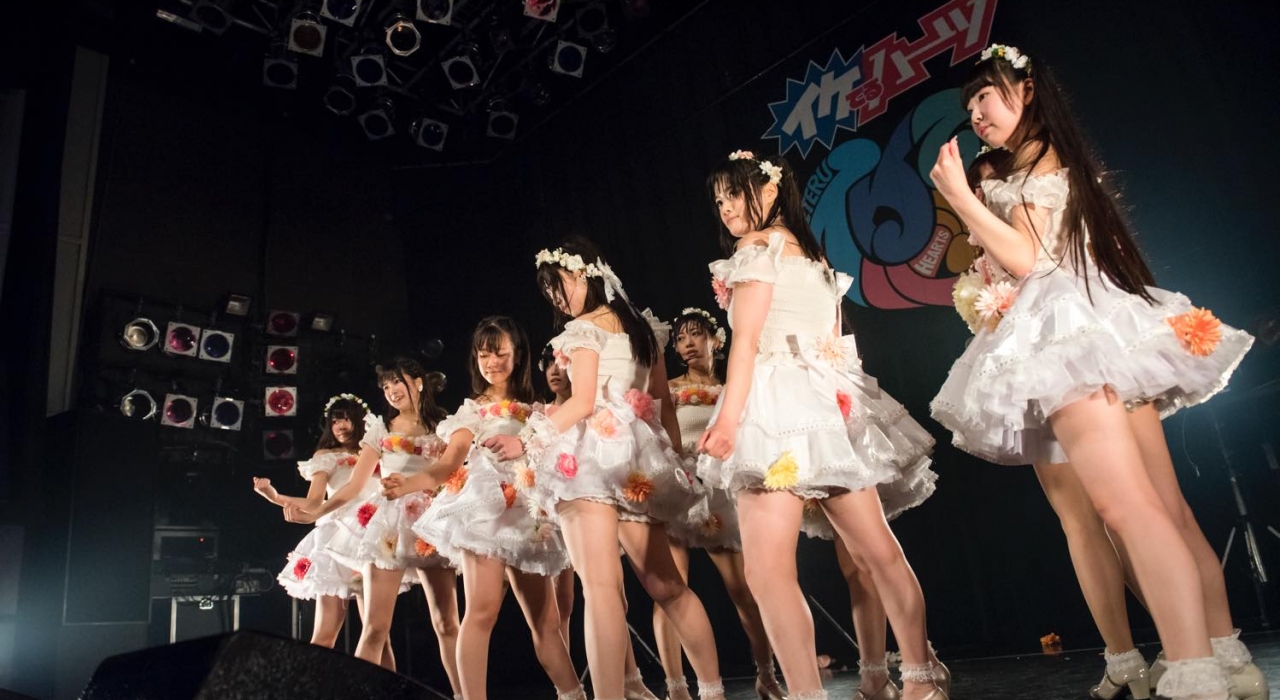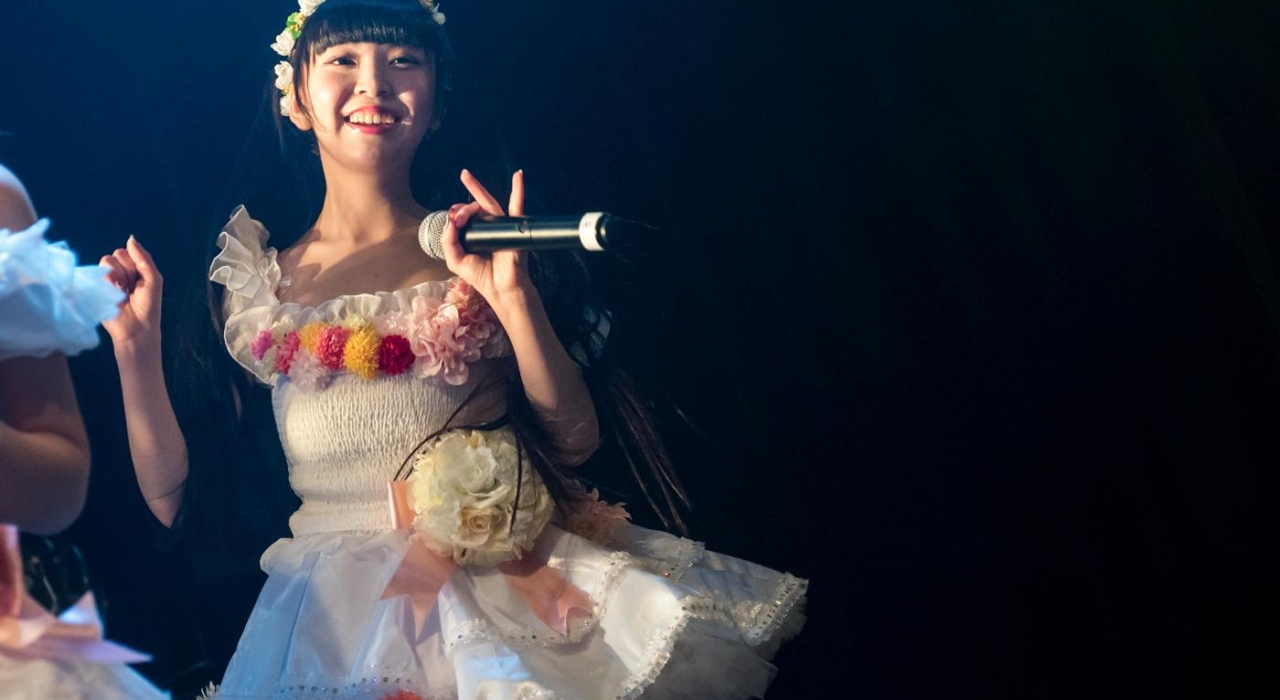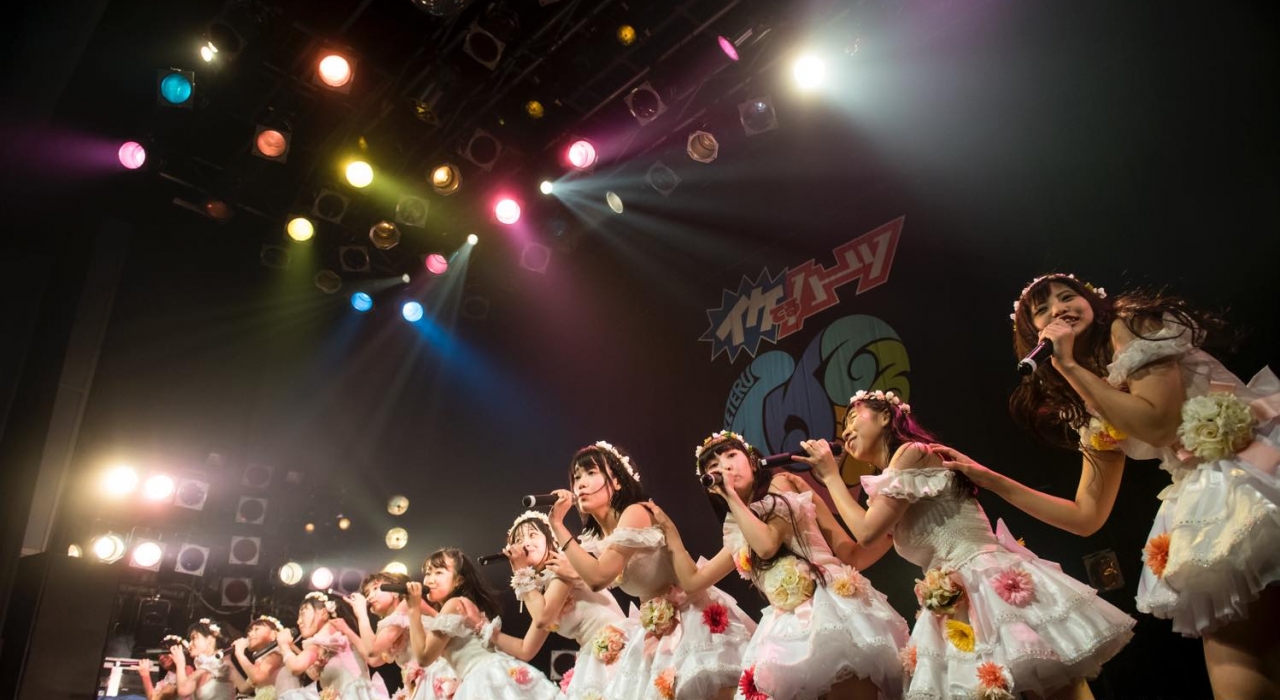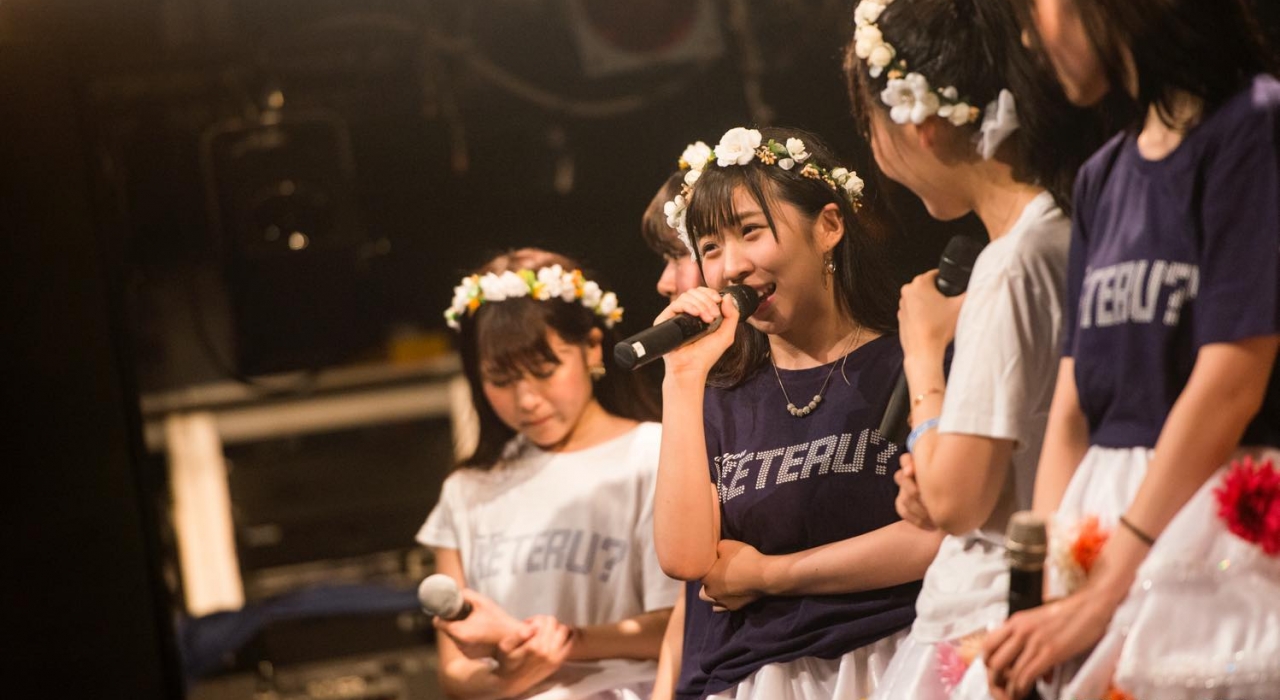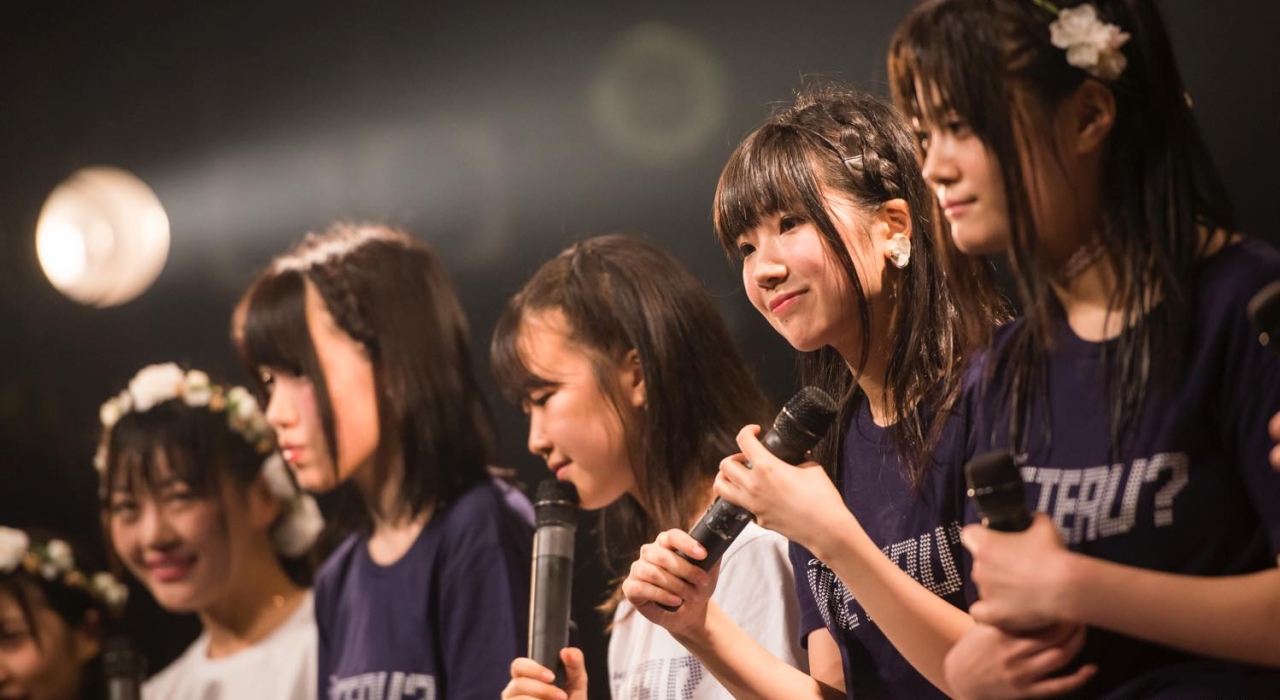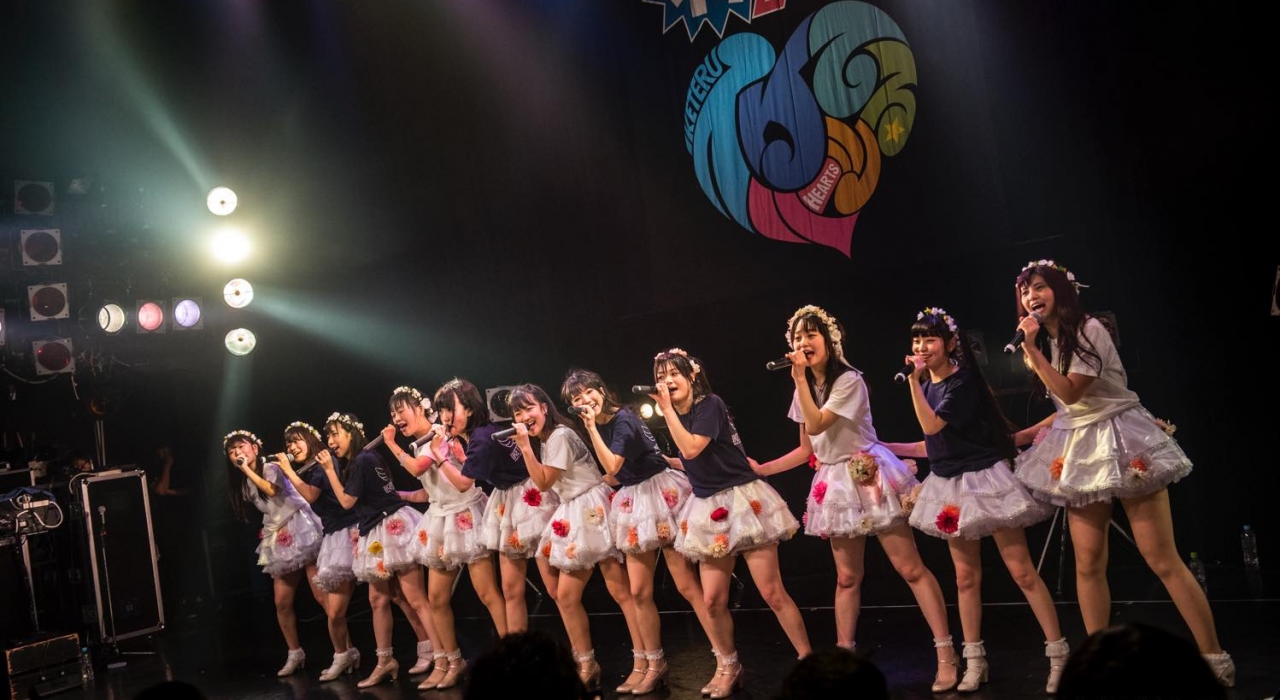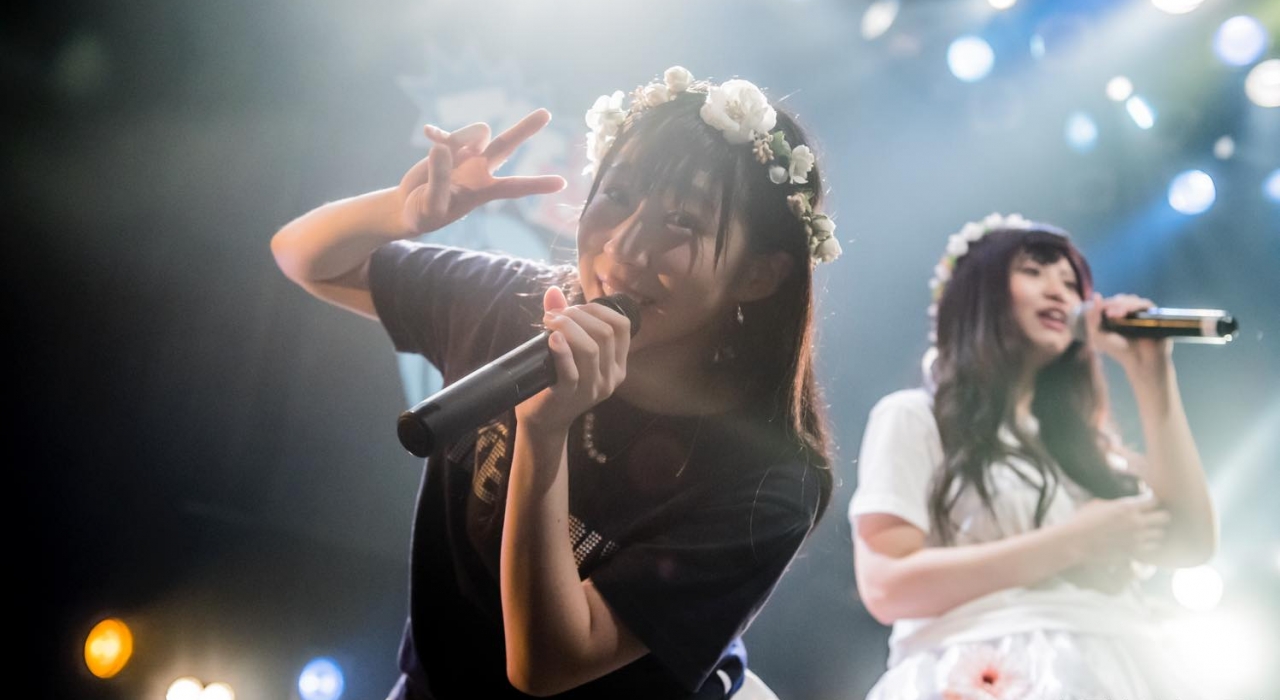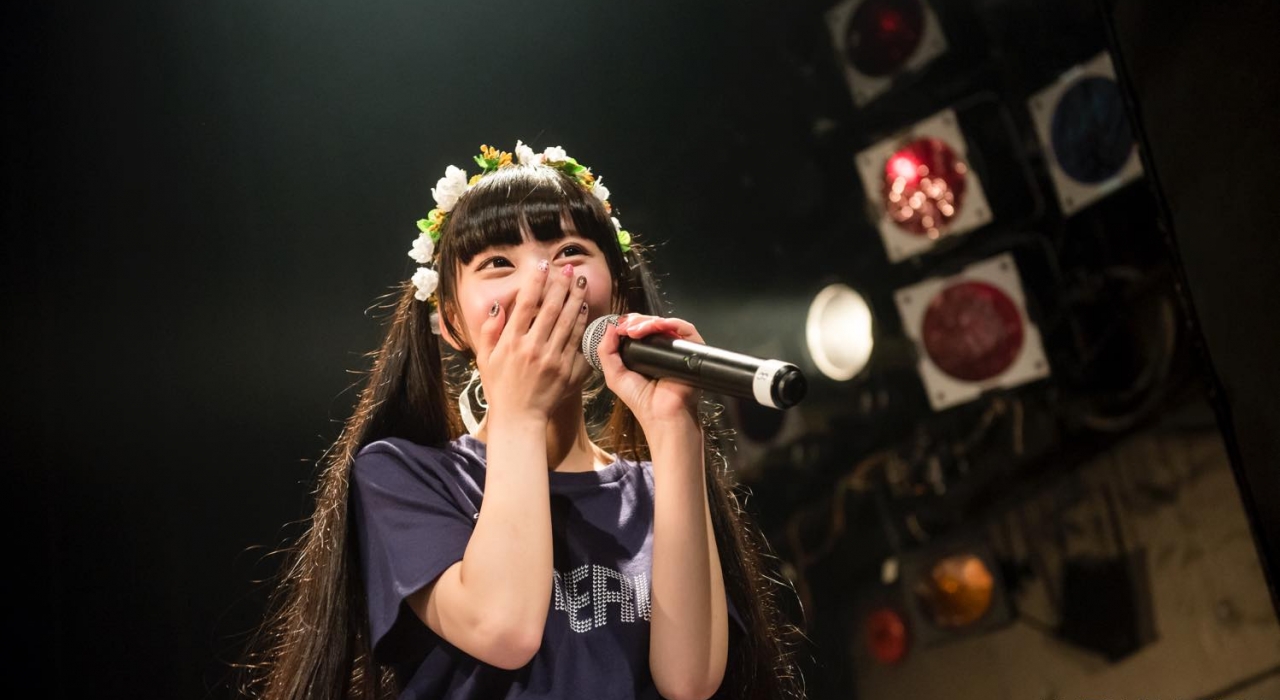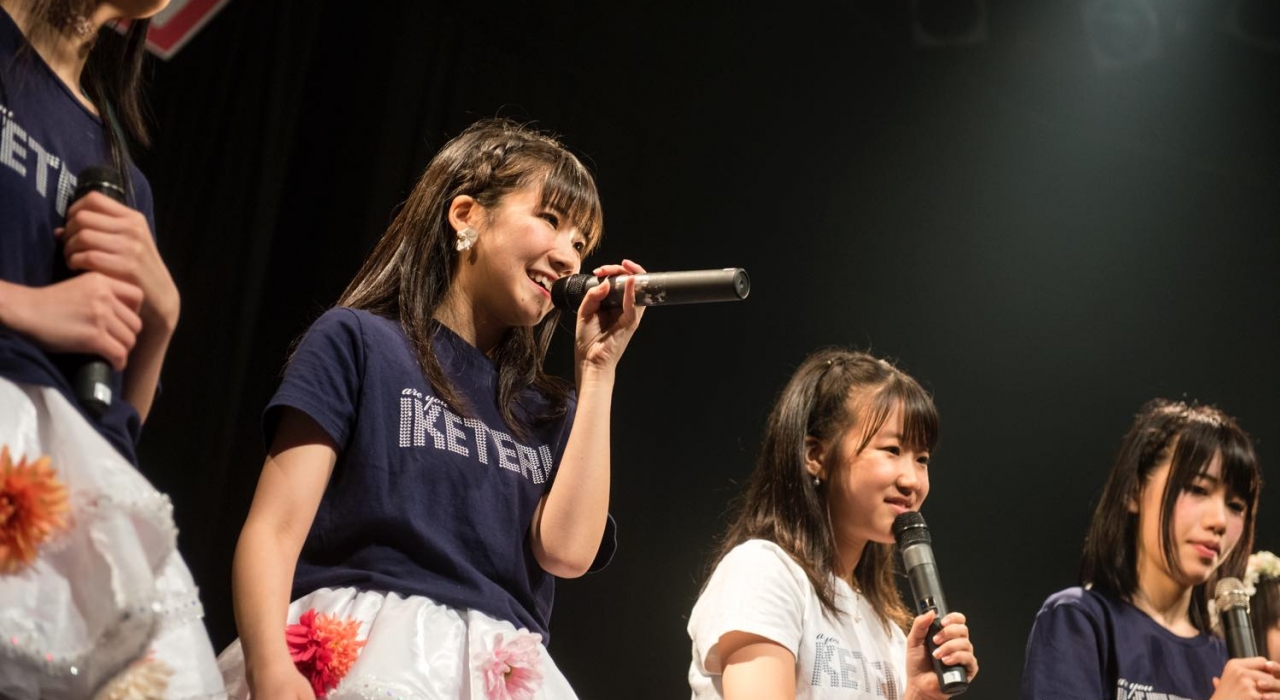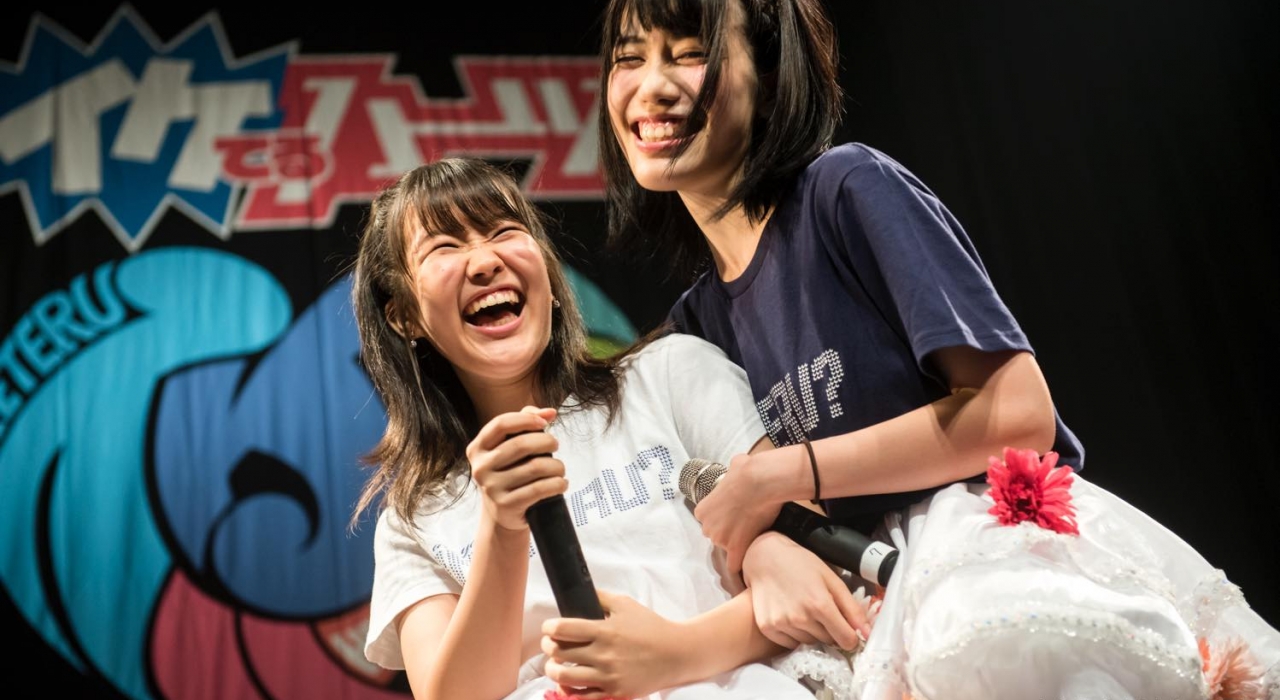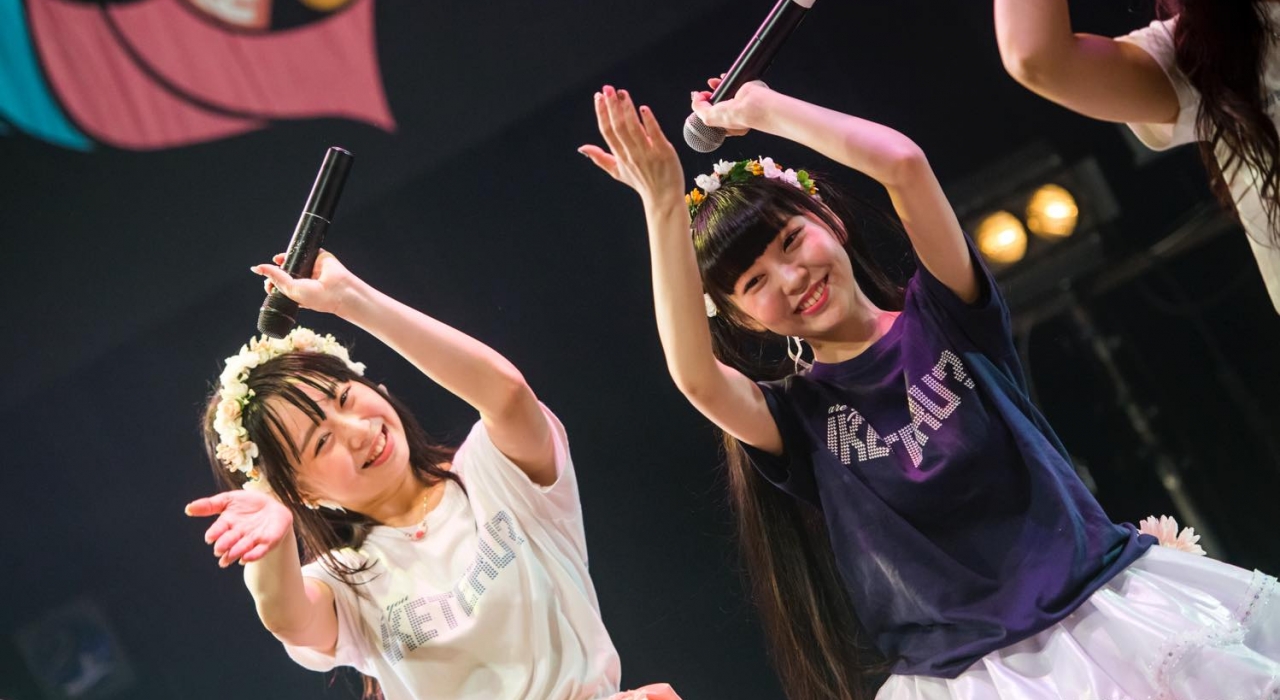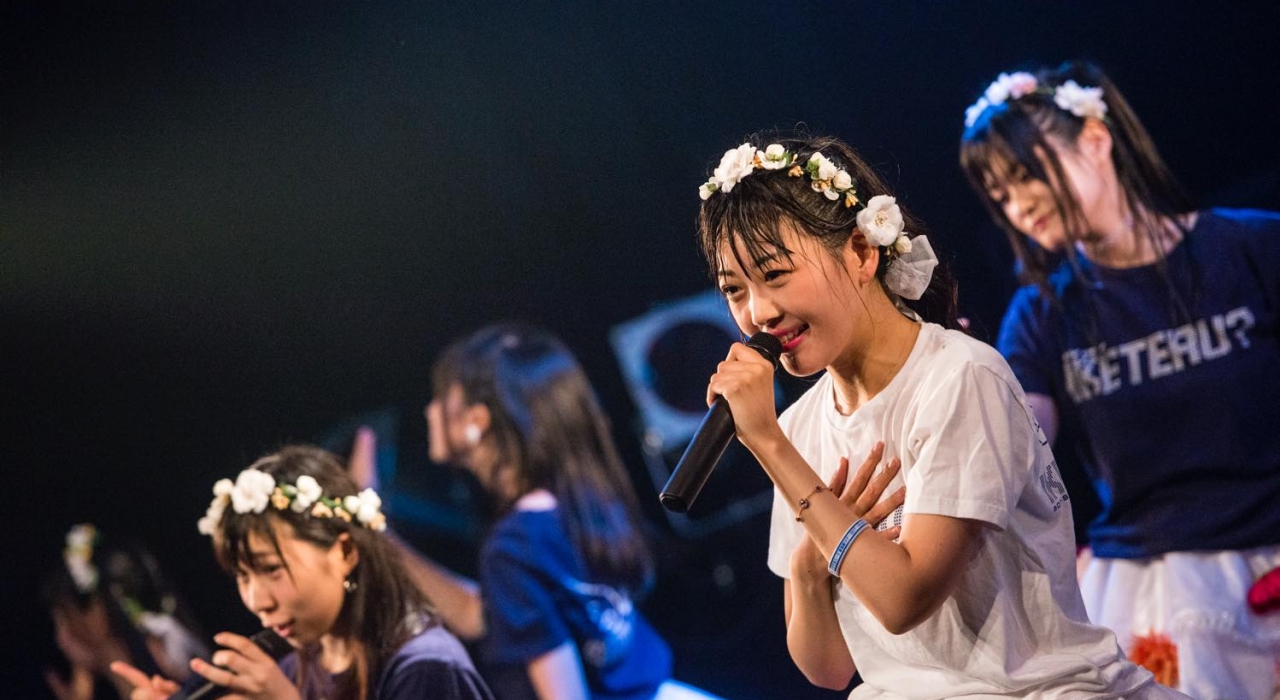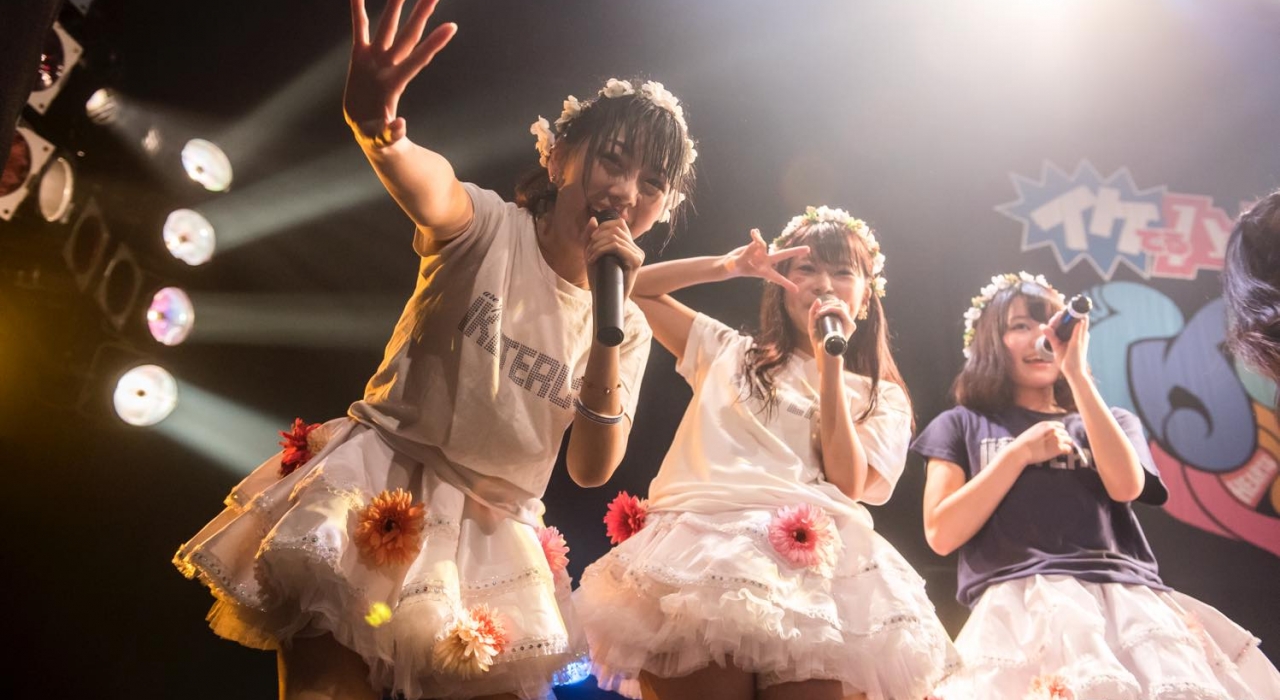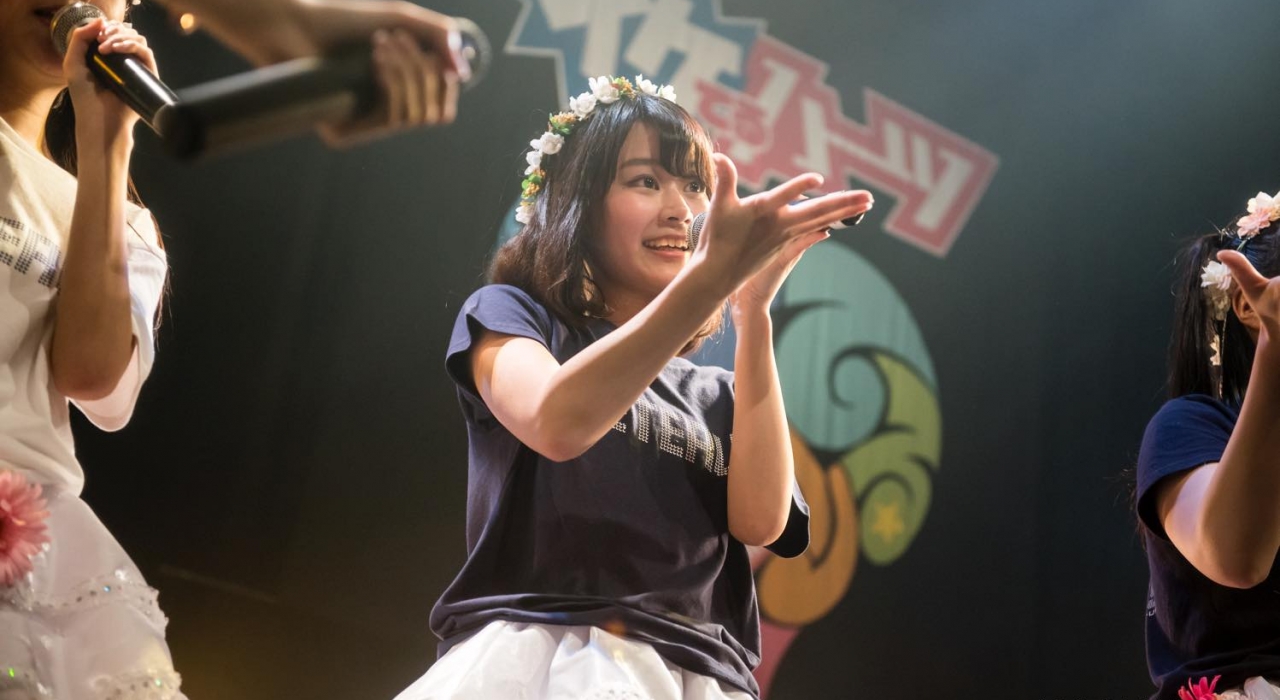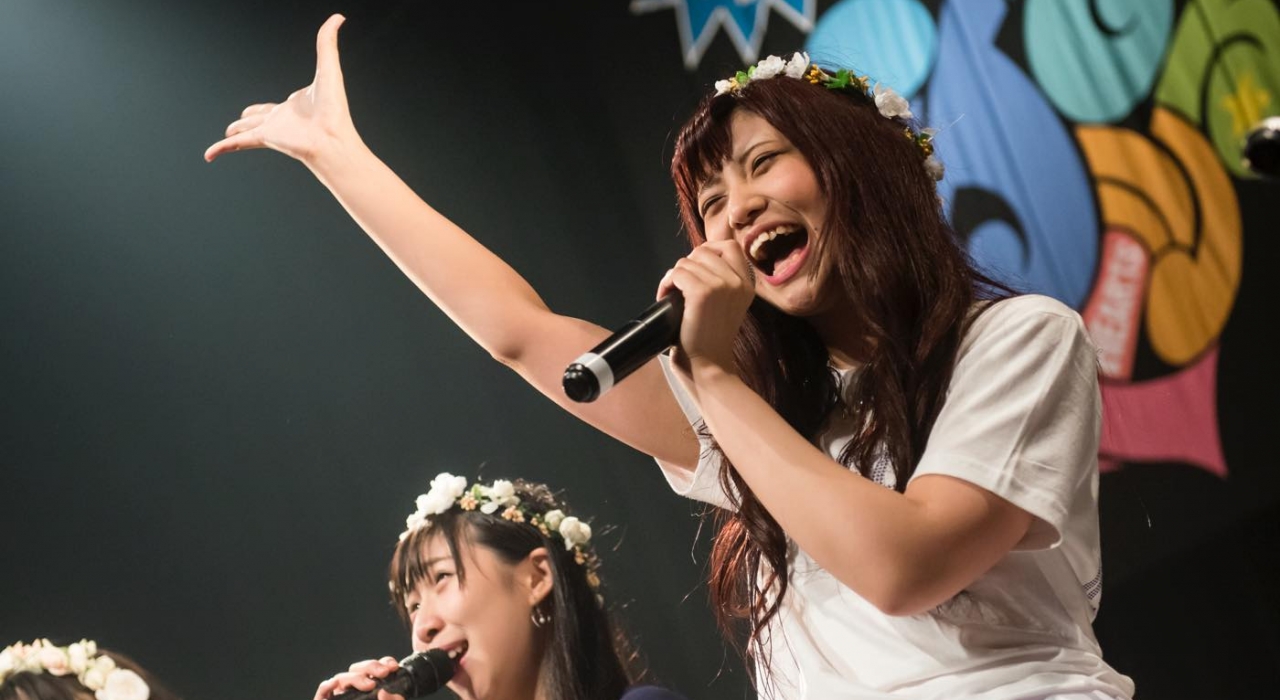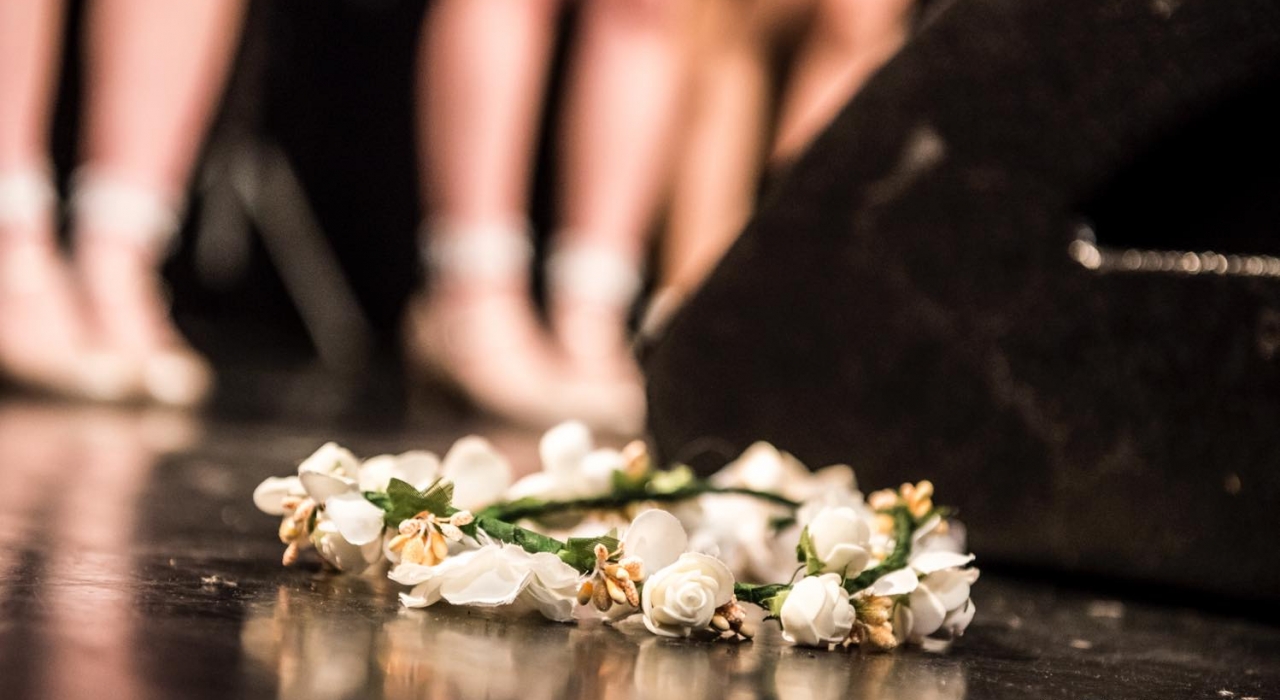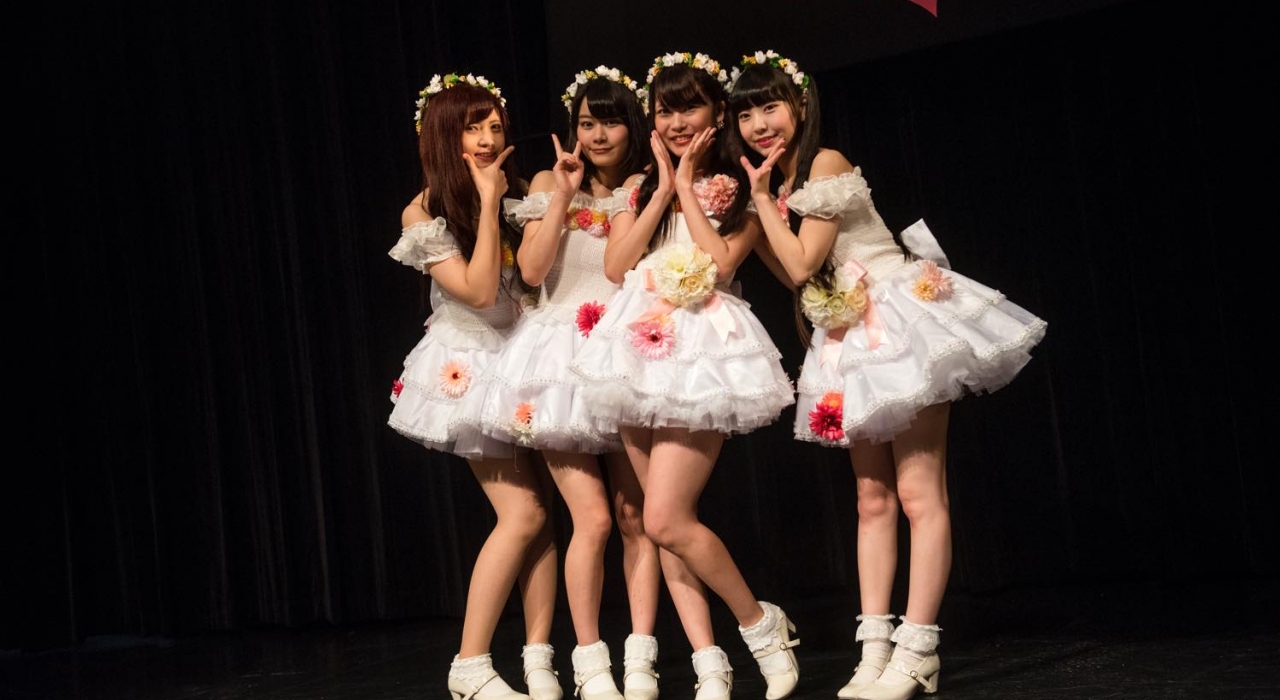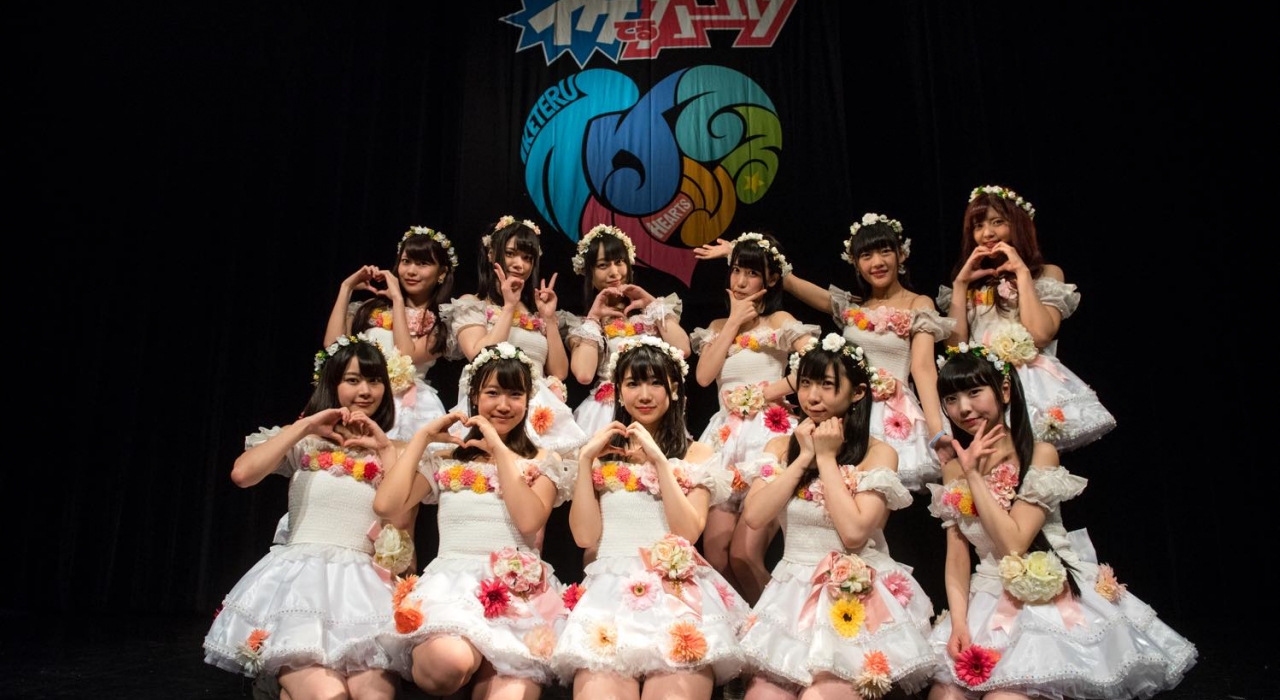 Yuyu Arata and Kazune Manami then took advantage of everyone's high spirits to announce some news about their upcoming 5th single! To be released on October 25th, the single will be produced by their new creative director Chiyomaru Shikura, and is titled "Karma Stripe"! To which Rie Tachibana tried to tease the fans a little more by hinting towards a very cute costume – and, maybe, knee-high socks?!
Yuyu Arata et Kazume Manami profitent alors de l'ambiance chaleureuse pour annoncer quelques nouveautés quant à leur cinquième single ! Sortie prévue le 25 Octobre, le single sera produit par leur nouveau directeur créatif Chiyomaru Shikura, et sera intitulé "Karma Stripe"! Ce à quoi Rie Tachibana essaie alors d'ajouter quelques surprises pour les fans, mentionnant un possible costume particulièrement adorable – et, peut-être, de longues chaussettes d'écolière ?!
The show ended with a repeat of their tour song "Dreaming love", then the very fitting "Believe in my dreams", and after everyone gave each other a tight hug stating how happy they were to be 11 members in the family now, Iketeru Hearts left the stage. But this is just a brand new beginning for the slowly-rising group!
Le spectacle se finit sur un bis repetita de "Dreaming love", puis sur le très pertinent "Believe in my dreams", et une fois tout le monde ayant échangé des accolades chaleureuses, exprimant leur joie de voir cette nouvelle formation prendre vie, la famille des Iketeru Hearts quitte alors la scène. Mais ce n'est que le début d'une longue histoire pour le groupe qui gagne lentement mais sûrement une certaine popularité !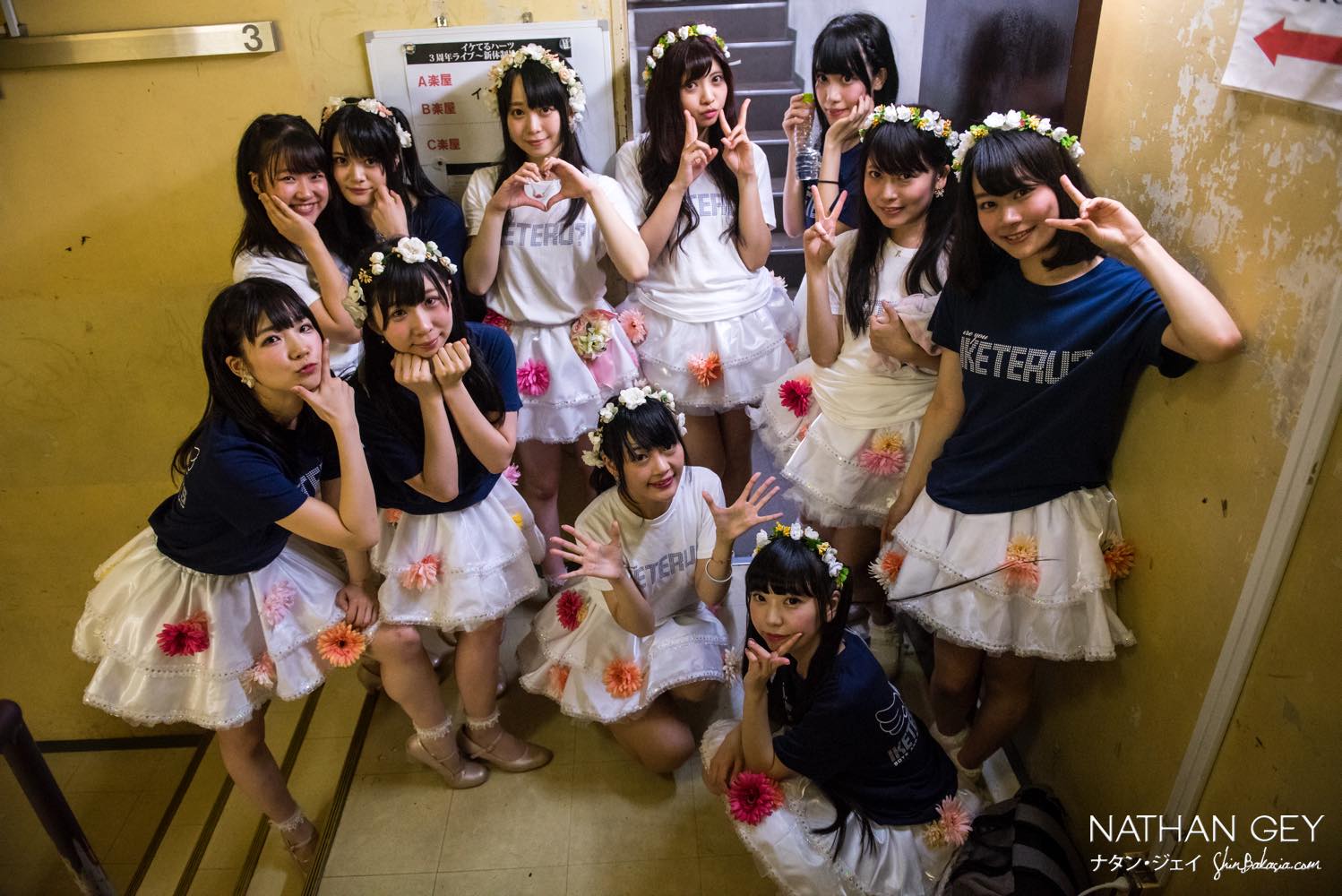 ---
Setlist
01. Dreaming love
02. Sekai he habatake! (世界へはばたけ!)
— MC —
03. Shishin kakutei (私信確定 – 1st generation)
04. GIRL, Me♥ (1st generation)
05. Otomegokoro (オトメゴコロ – 1st generation)
06. Shrimp Girl (シュリンプガール – 1st generation)
— MC —
07. Triangle Wave (1st generation)
08. Tenbu no mai, akatsuki no mon (天部の舞、暁の門 – 1st generation)
09. Soukoku no Spica (蒼黒のスピカ – 1st generation)
10. NEXT STAGE! (1st generation)
11. Opera Fantasia (オペラファンタジア – 1st generation)
12. Let's Stand Up! (1st generation)
— MC —
13. ORIGAMI
14. Drawing again
15. Zaishyou no Lucifer (罪証のルシファー)
16. Lumica Jane (ルミカジェーン)
17. Happy End (ハッピーエンド)
— Encore call —
EN01. Dreaming love
EN02. Believe in my dreams
---
About the artist
Iketeru Hearts was originally the trainees unit of agency Stand Up! Records under the name « Stand Up! Hearts », and started their activities in September 2014. They officially debuted as a full-time idol group in September 2015, changing the group's name to « Iketeru Hearts » a few months later, making it the official little sister group of the famous Afilia Saga. Iketeru Hearts had their major debut in February 2016 with first single « Let's Stand Up! », produced by Hello!Project leader Tsunku. The group counts now eleven members.
Iketeru Hearts fut à l'origine le groupe de débutantes de l'agence Stand Up! Records, sous le nom « Stand Up! Hearts », et commence leurs activités en Septembre 2014. Elles débutent officiellement en tant que groupe d'idols à part entière en Septembre 2015, changeant le nom du groupe pour « Iketeru Hearts » quelques mois plus tard, devenant le groupe soeur officiel des célèbres Afilia Saga. Iketeru Hearts débute en major en Février 2016 avec leur premier single « Let's Stand Up! », produit par le leader du Hello!Project, Tsunku. Le groupe compte aujourd'hui 11 membres.
---
Full gallery
---
Article & Translation by Melody
Photography by Nathan Gey
Special thanks to Stand-Up! Records staff and Yamamoto-san for inviting us to the filming and letting us take pictures of Iketeru Hearts.