Destination: Wonderland! Chubbiness 2nd one-man live report
Elite marshmallow-body idol unit Chubbiness turned Shibuya Duo into a massive party! March 10th was their long-awaited second one-man live, and the title already set up the mood from the very first day it was announced. We were there to dance along and will tell you everything about our trip to wonderland!
The night started with a blast, as all the girls appeared on stage wearing their brand new wonderland-themed costumes. Designed by yellow member Horikawa Ami, she revealed on the group's blog after the live all the references she used to create her comrade's outfits, each one of them sporting their assigned color. The girls performed the cutesy "Purun♫tto Heart", then jumped around on second official release "Motto HOTTO! ga motto", before disappearing all of sudden…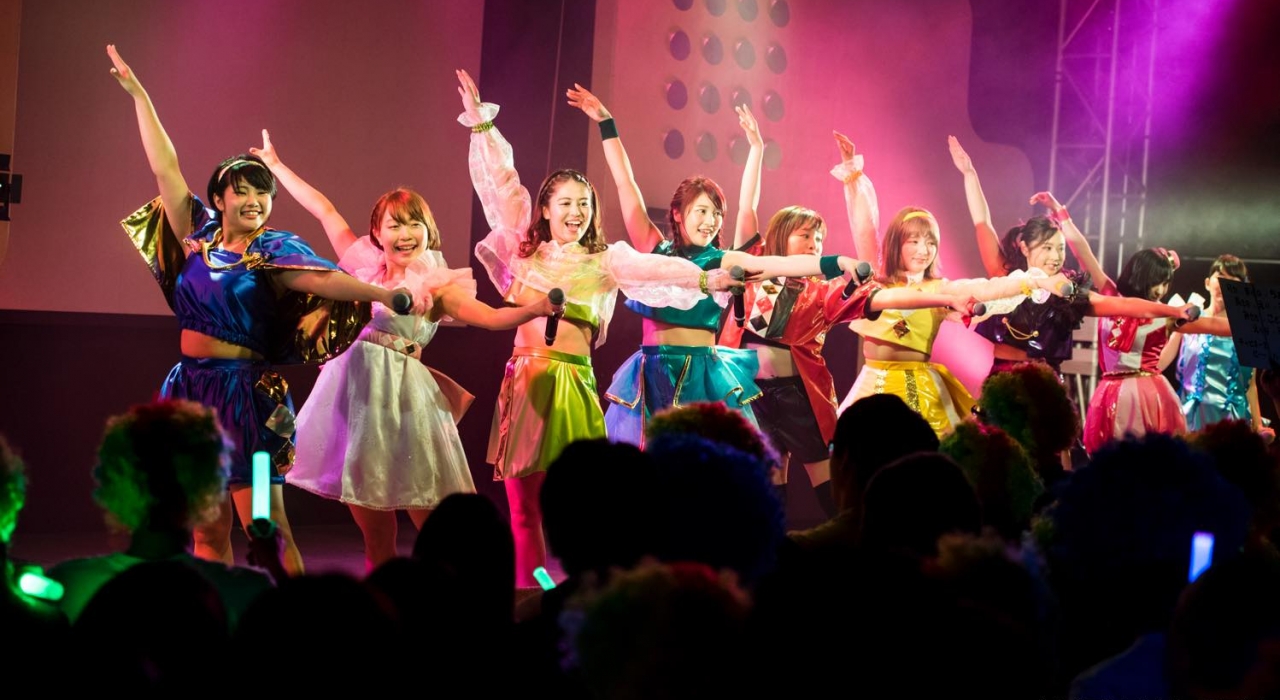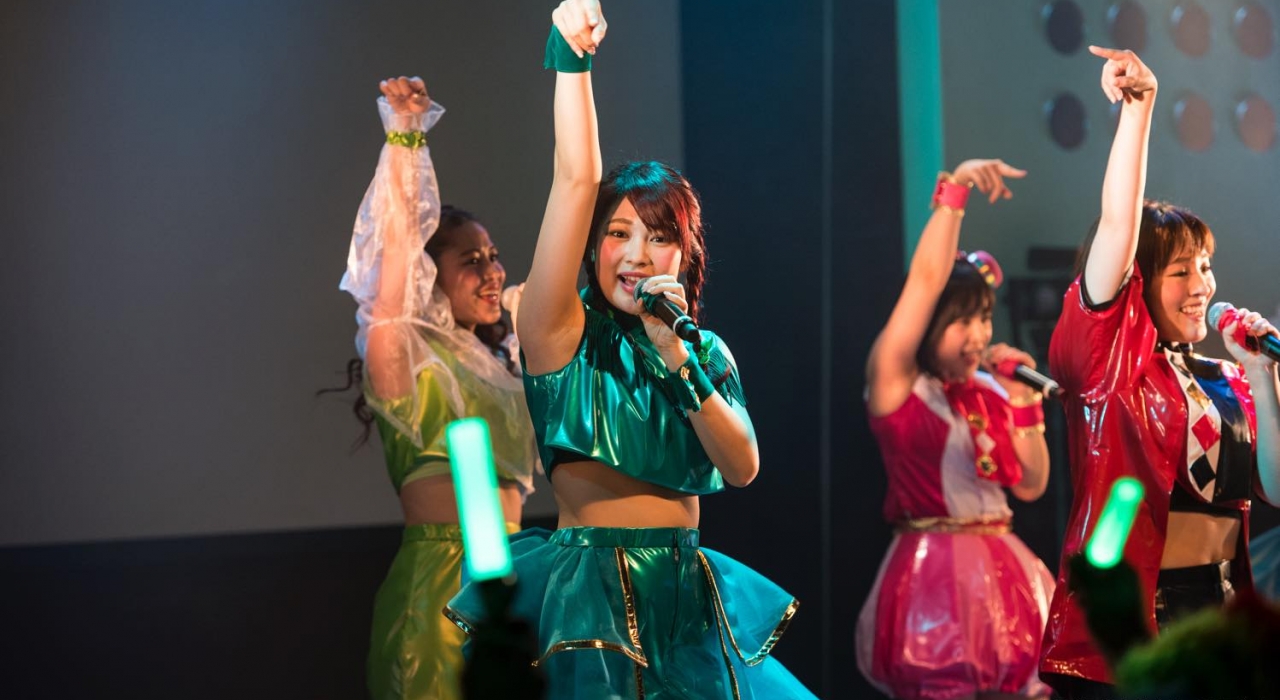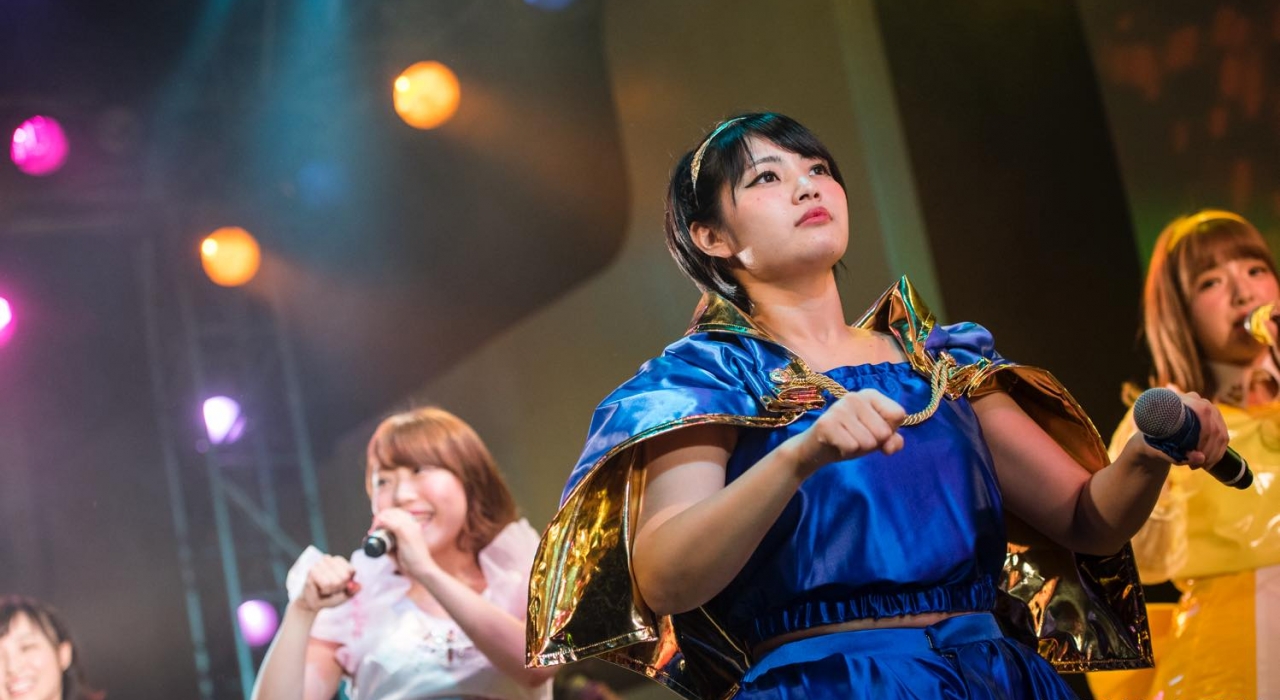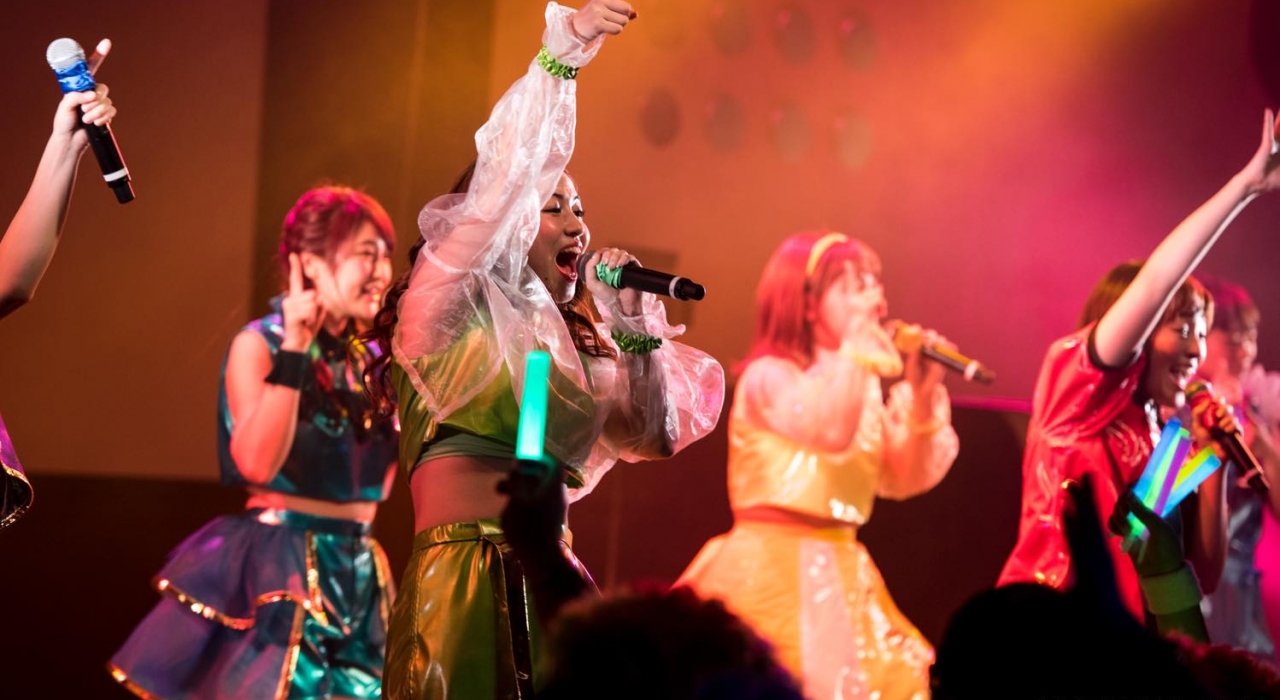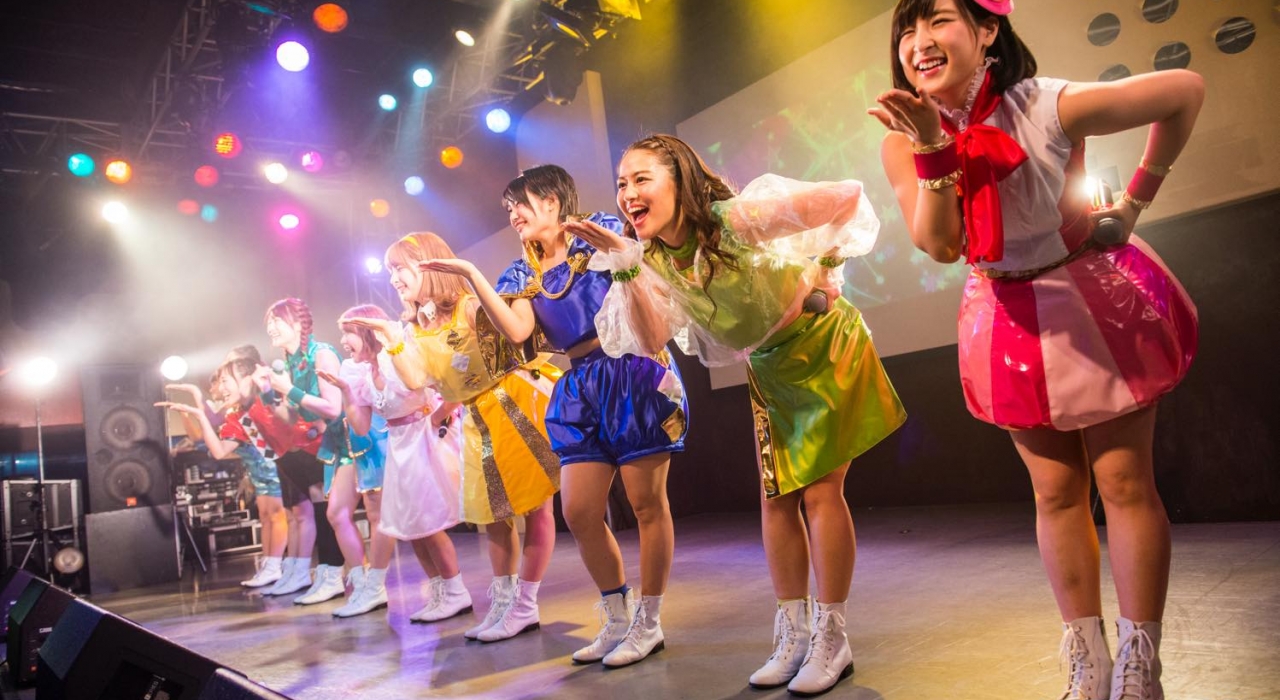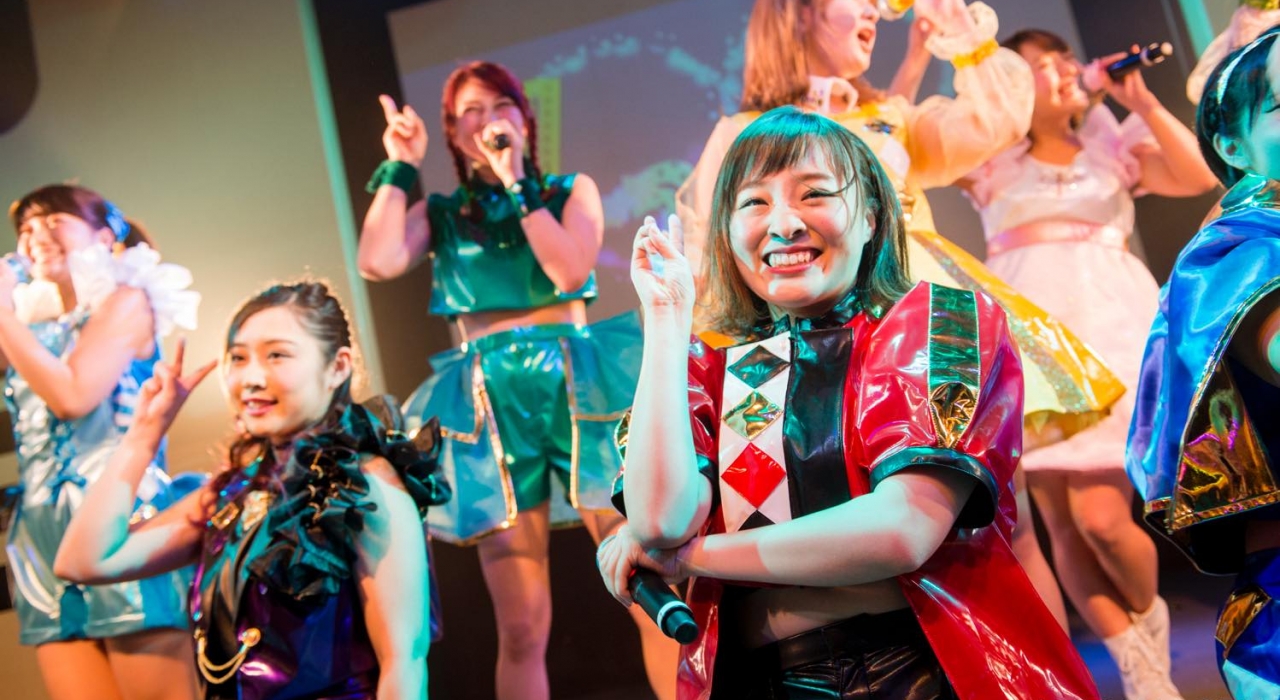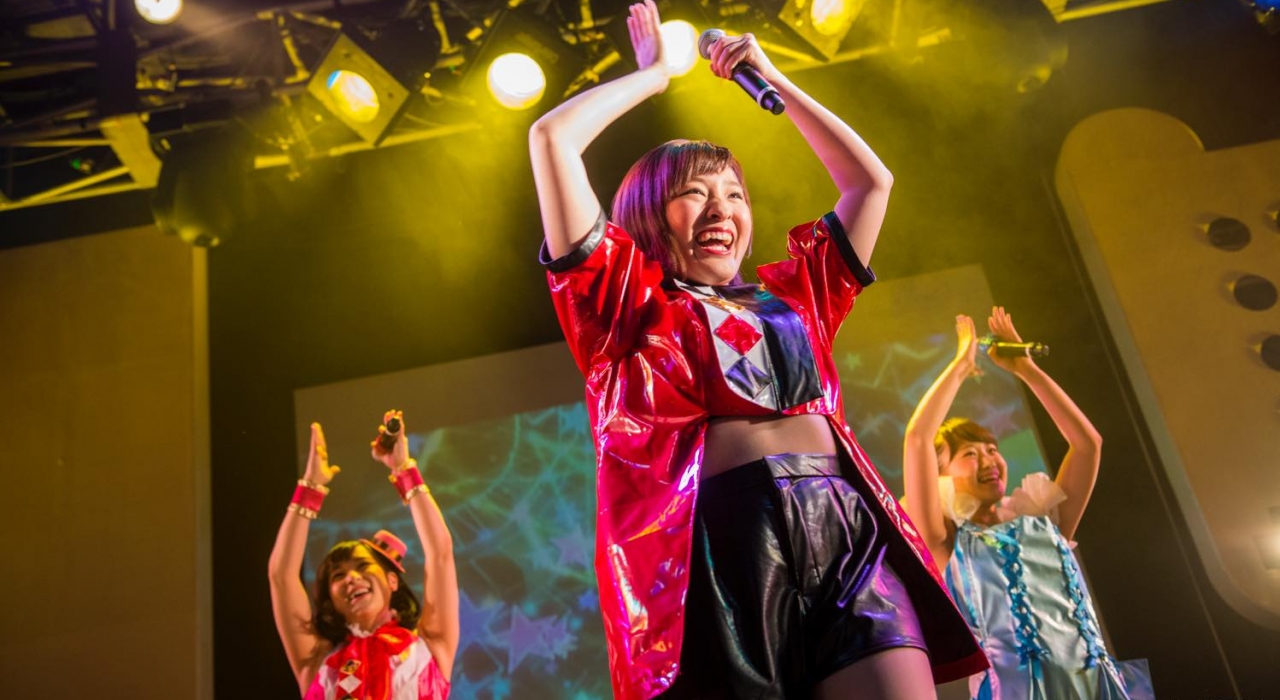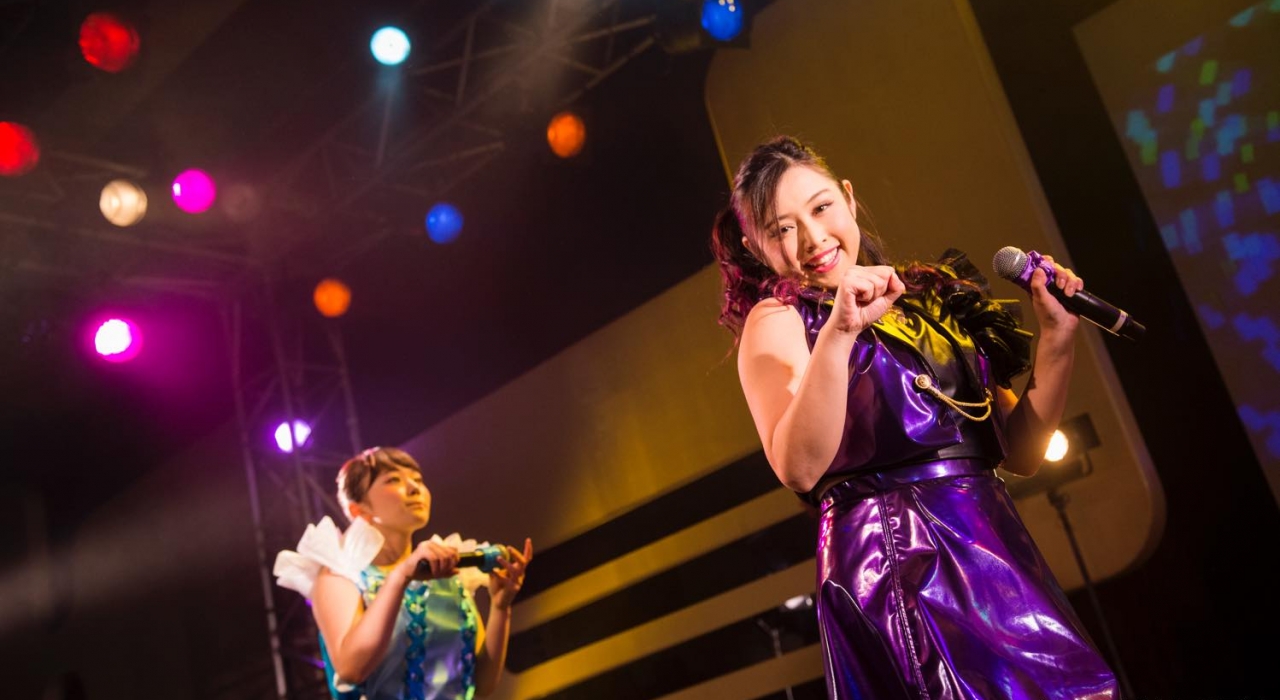 A music box-like chime resonated in Shibuya Duo, and a very familiar Disney theme song led the way for red member Yaegashi Kotomi, wearing her Alice in Wonderland-inspired outfit, to show up by herself. In a solo dance part, Kotomi discovered a mysterious magic wand, that seemed to make people turn into dolls or back to human beings… after testing her newfound powers on her comrades, who joined her on stage, and the group delivering a sleek robotic dance performance, they all finally became human again to reveal the title of their latest song, "Alleluia Wonderland", in a short introduction MC! It seemed to be the group's brand new happy anthem after the graduation of orange member Asakawa Misaki in February.
The concert kept going, with their very first song "Manmadeiya!" and the fans yelling in response during the chorus. The atmosphere mellowed down a little bit and the girls performed then the sweet "Nijiiro Flavor", produced by avex senior boy group Da-iCE's leader Kudo Taiki. This segment ended with a more mature and cool tone, with "Gomen ne… watashi, kekkou moterunda wa.", and sexy member Kawai Akina-centered "Koi no Emotion".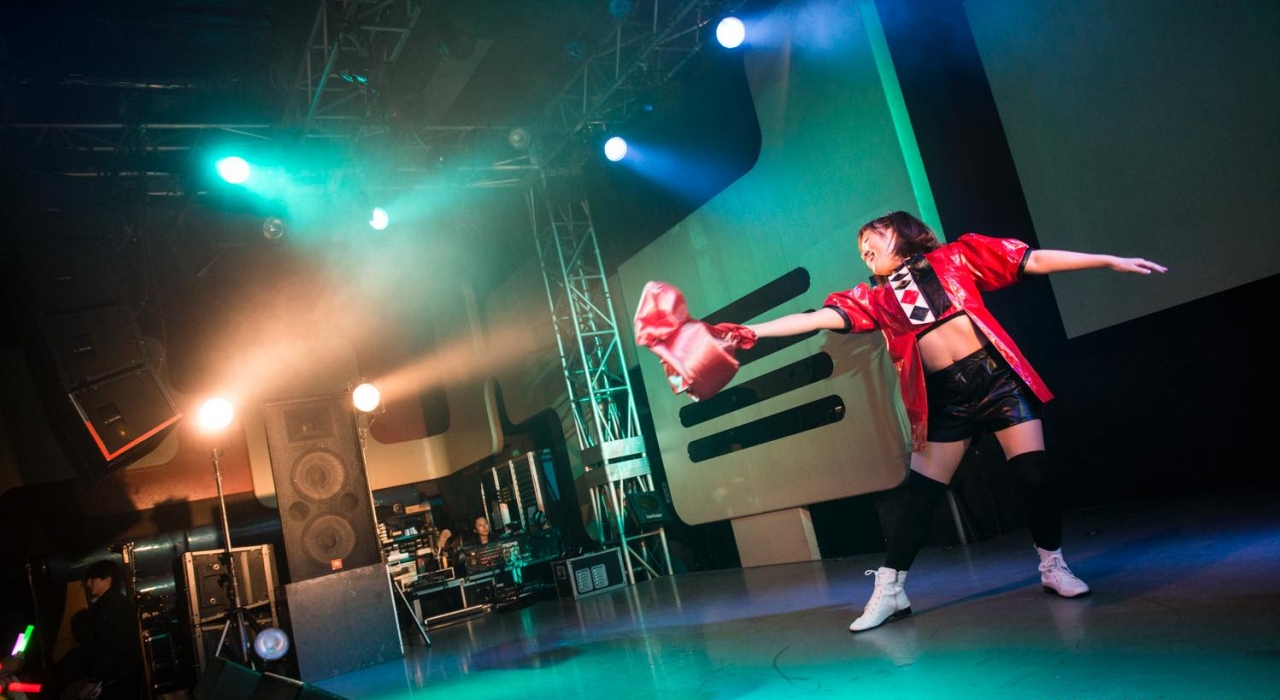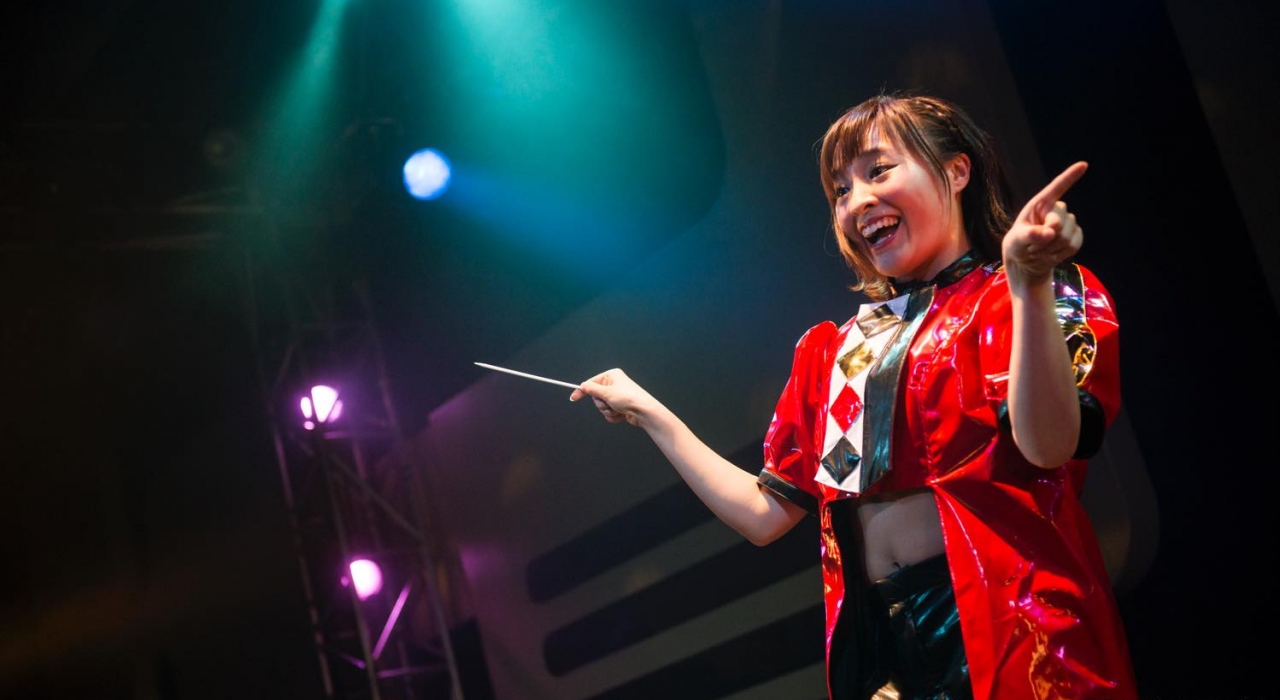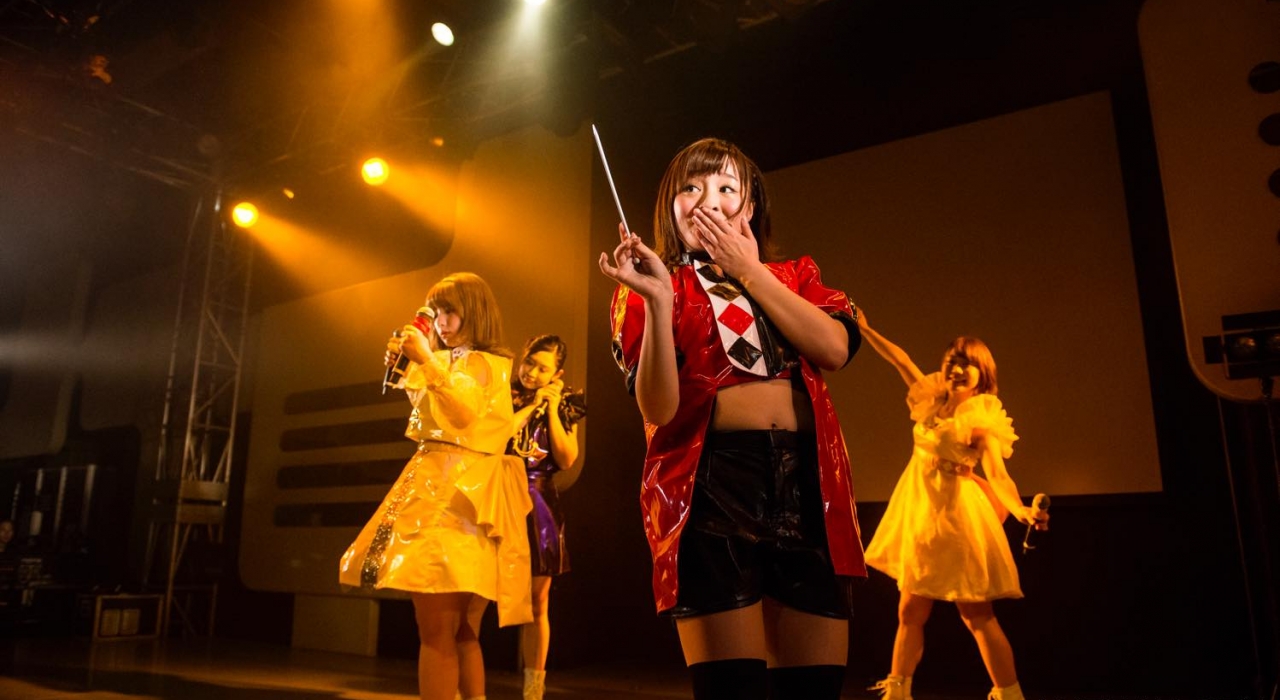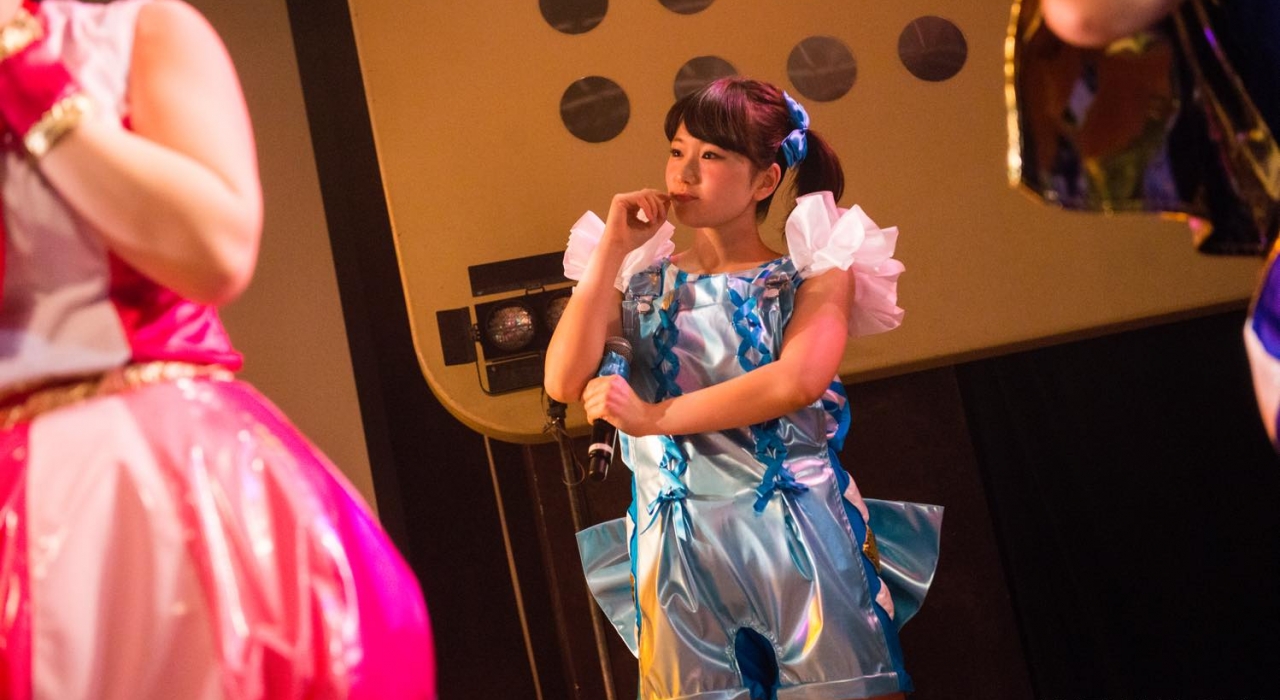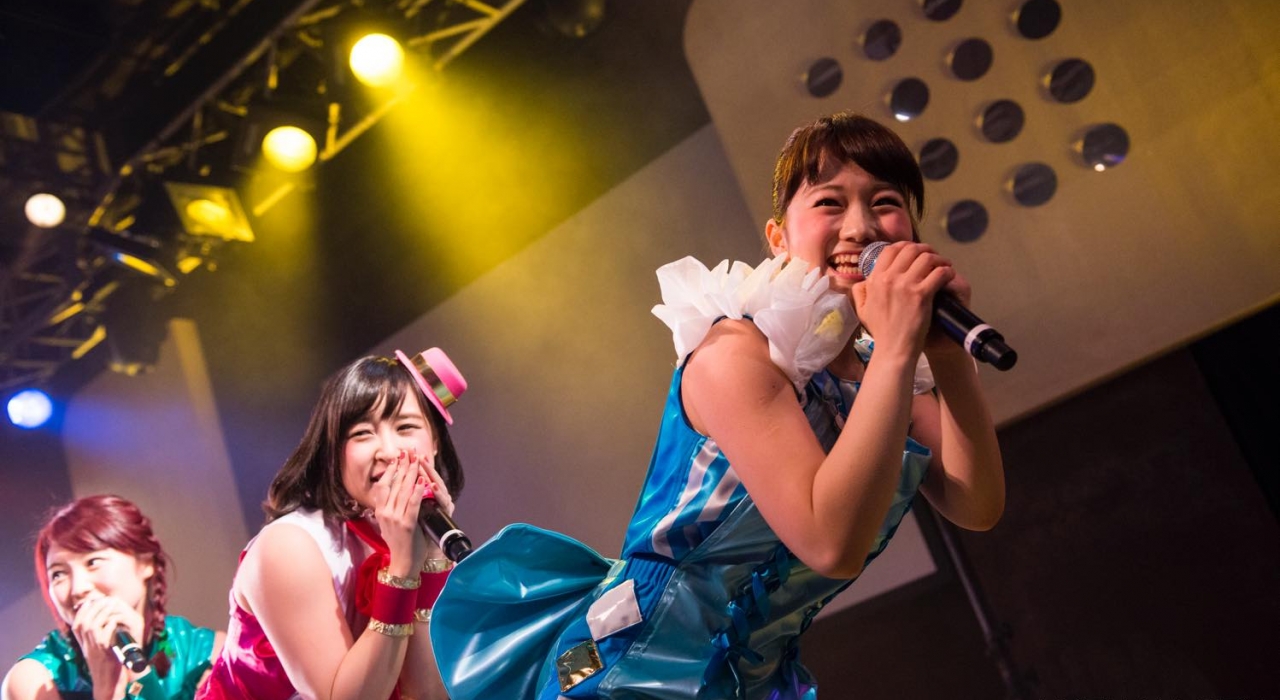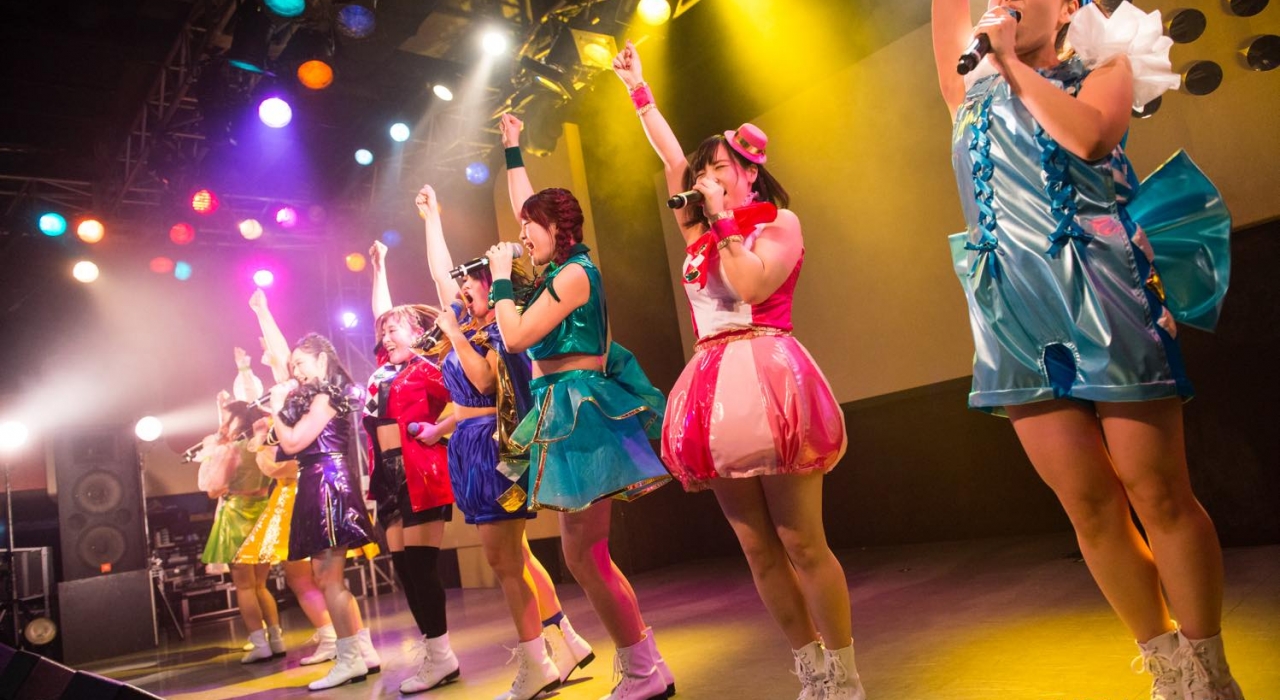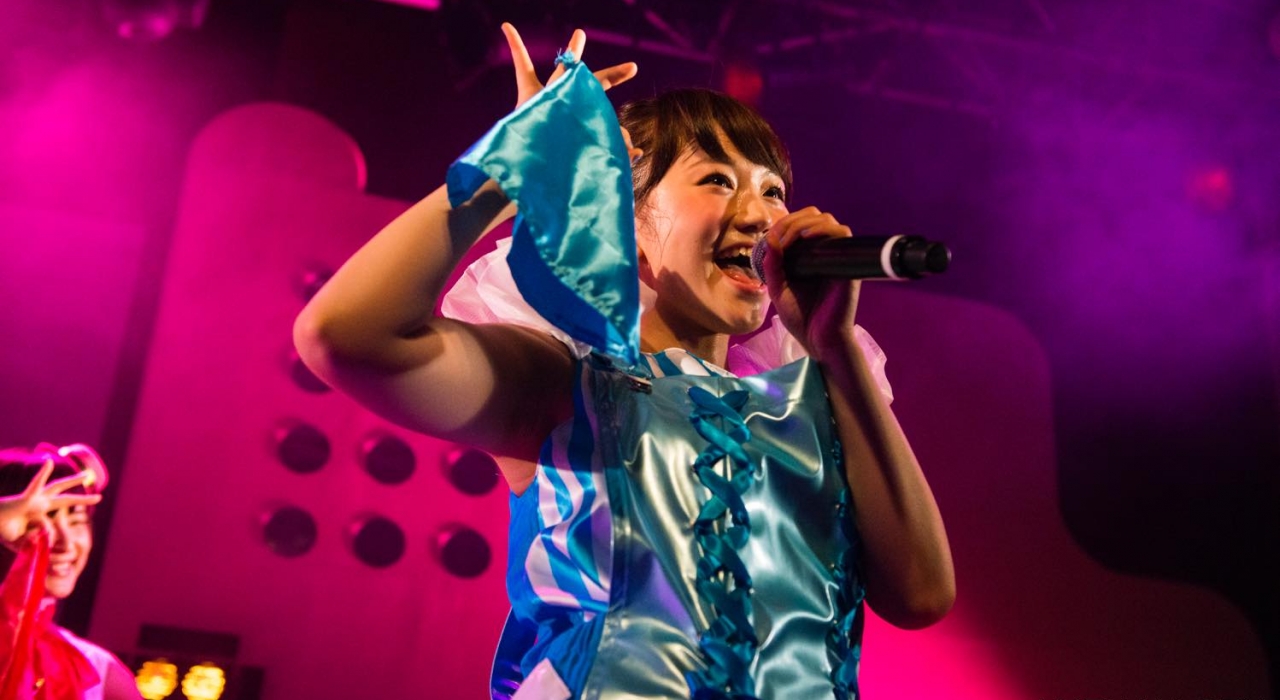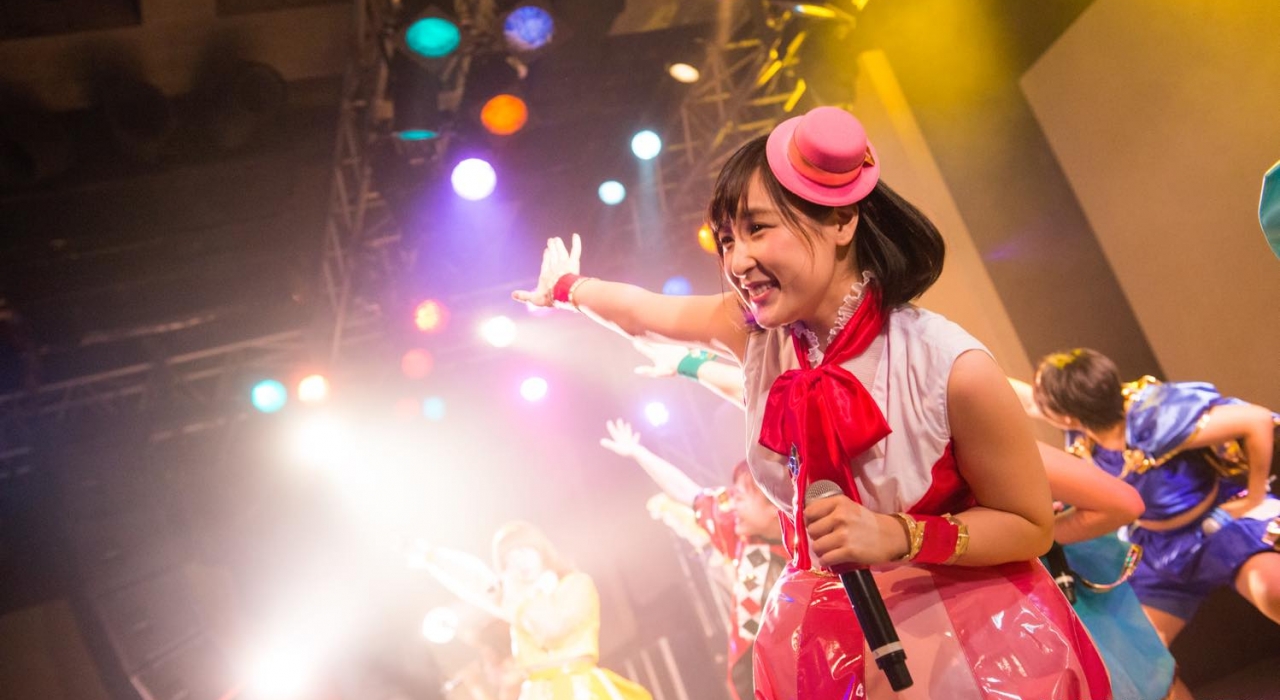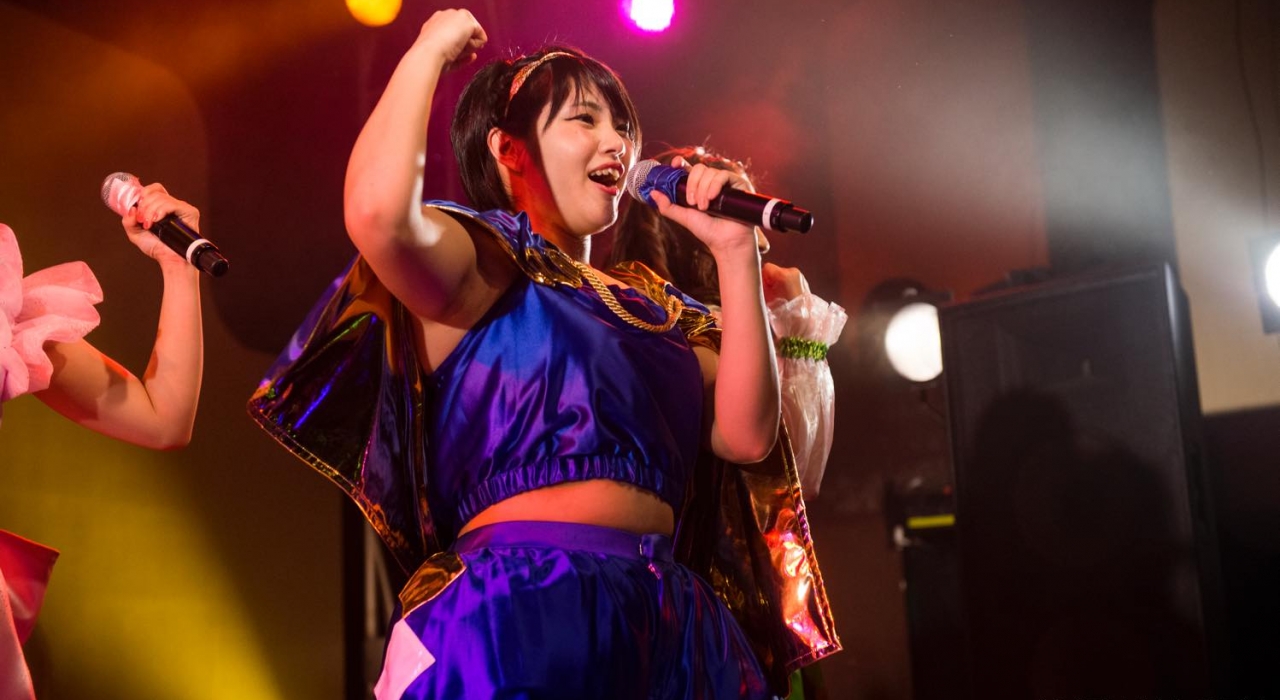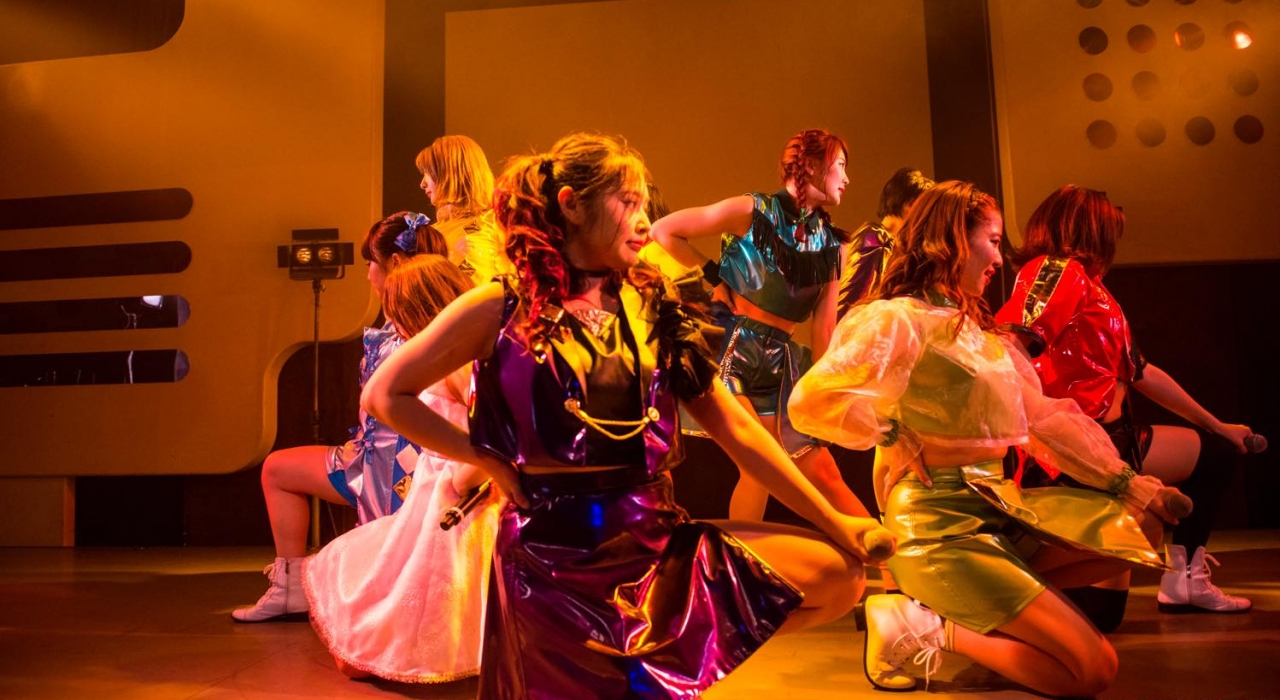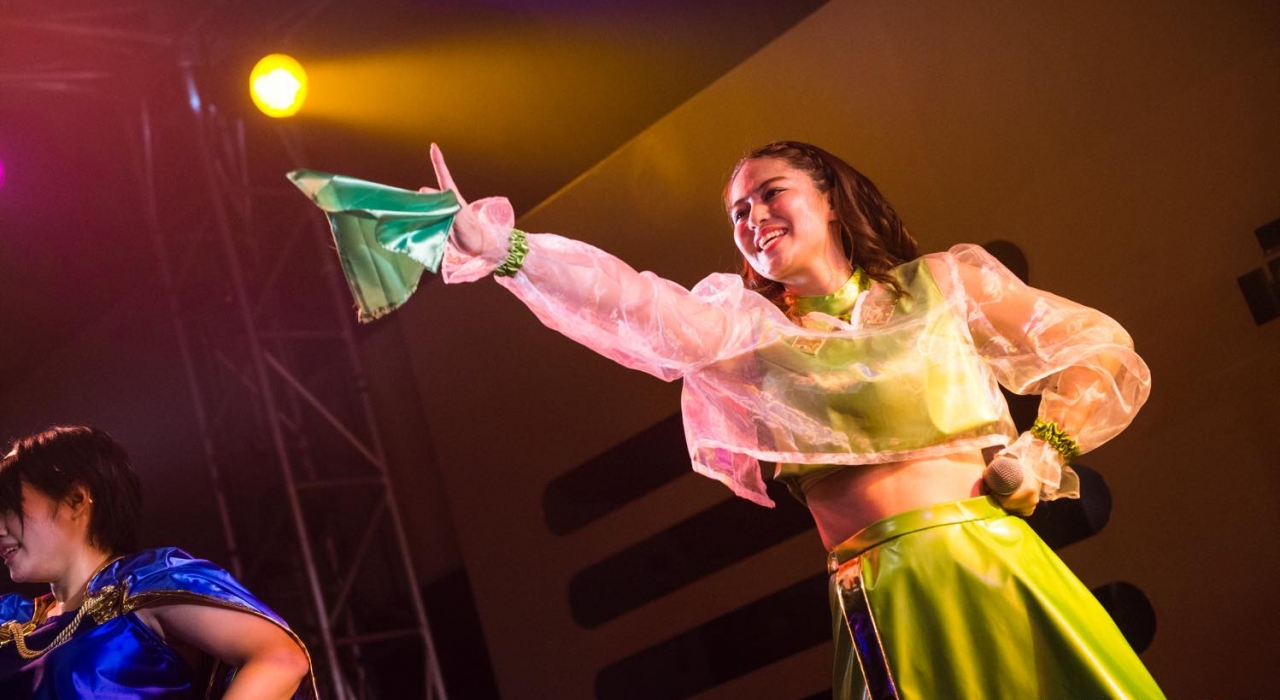 As the girls disappeared again, a warning alert sound shook Shibuya Duo, with a message blinking in fat red letters on the big screen, asking all fans to wear the multicolored afro wigs they were given upon entering the venue…
That mysterious announcement made sense when the girls showed up again wearing not only the same clown-like wigs, but also animal-print and colored fur outfits. They indeed all designed and wore the exact same costumes the Monday before this night, as they had the opportunity to be the official backdancers for now world-famous Pikotaro's concert at Nippon Budoukan! Chubbiness offered their own version of "I like OJ", with hilarious expressions during the talking parts, and turning the venue into a giant nightclub at every chorus.
It was obvious that the next song to be performed would be "Odoru Ah!Hooo", composed and written by Kosaka Daimaou, spotted in the guest area this night. Kosaka happens to also be Pikotaro's producer, and "Odoru Ah! Hooo" immediately became a fans' favorite during live performances as soon as it was made official over Summer 2016.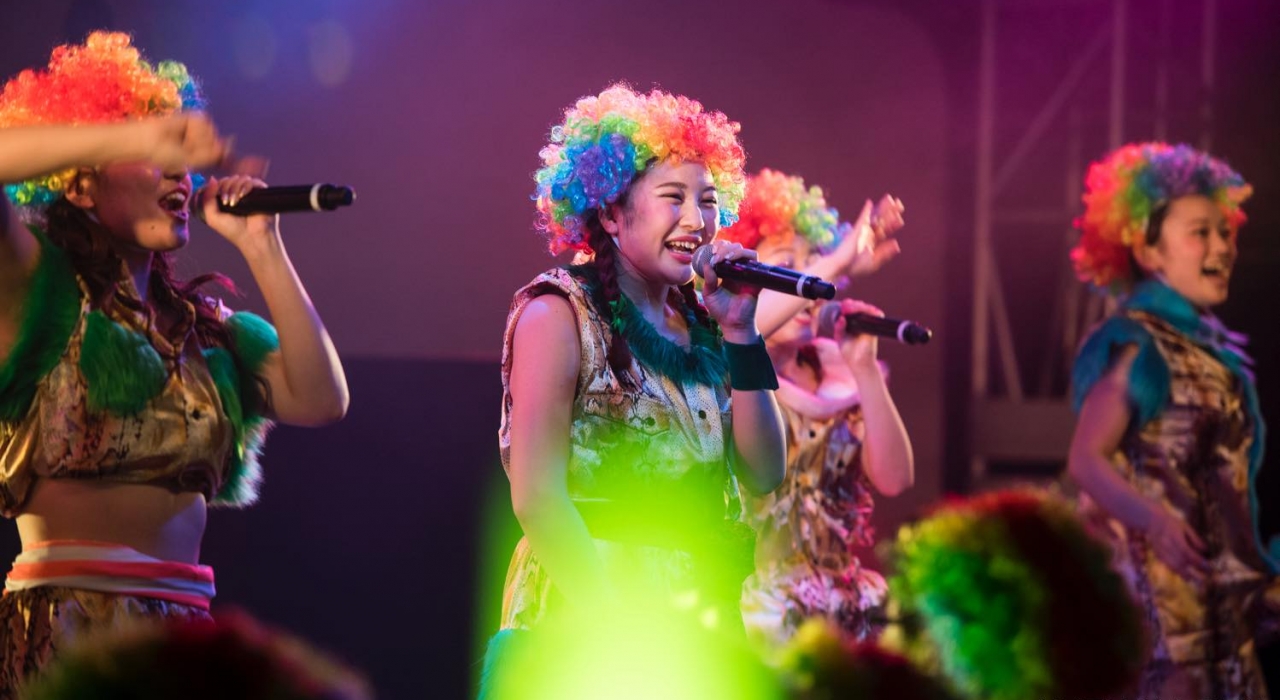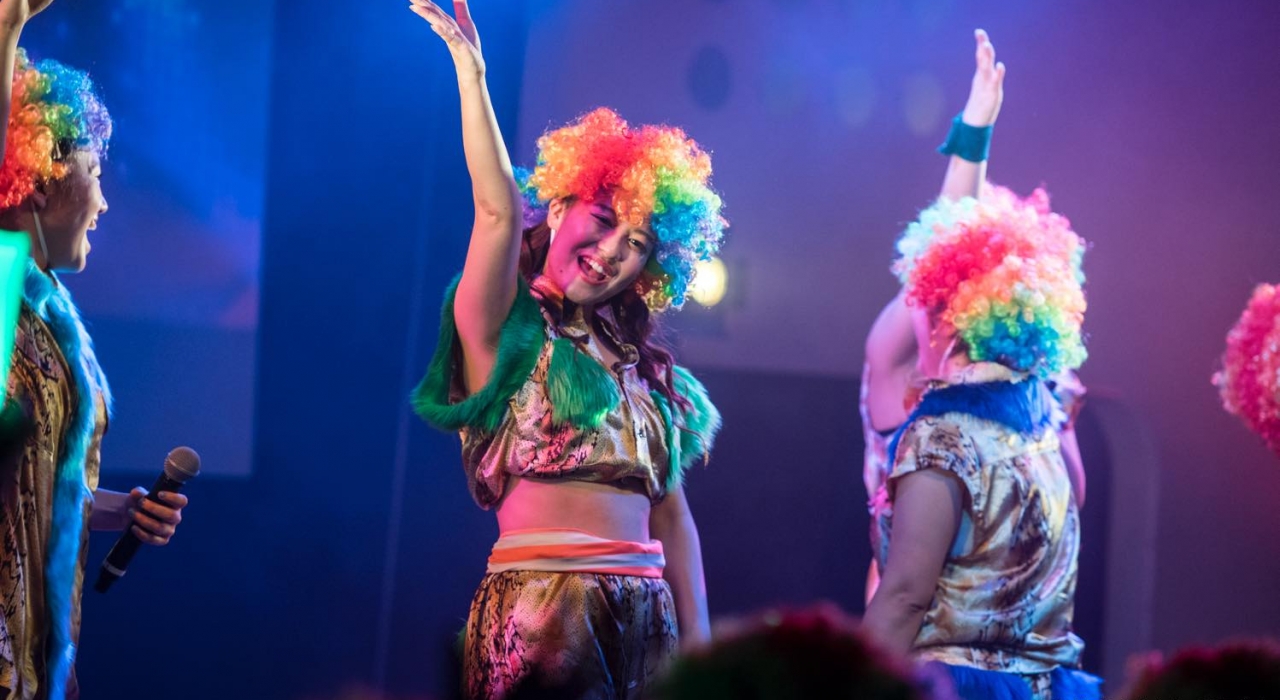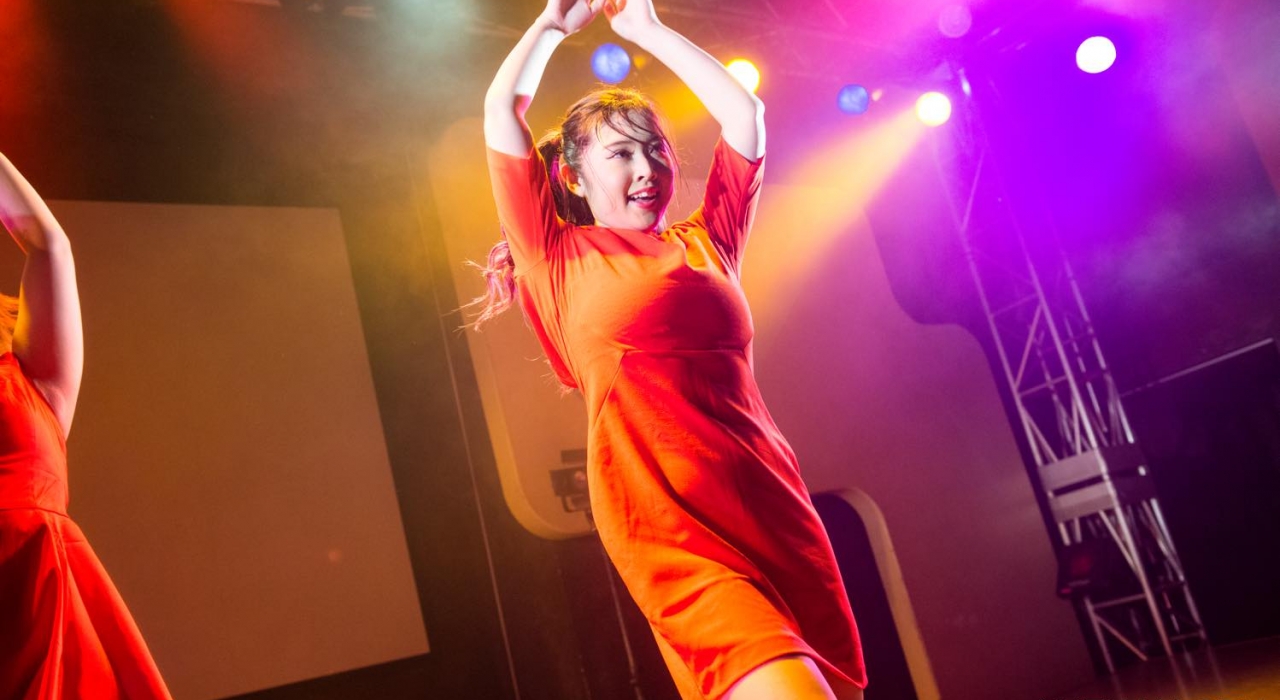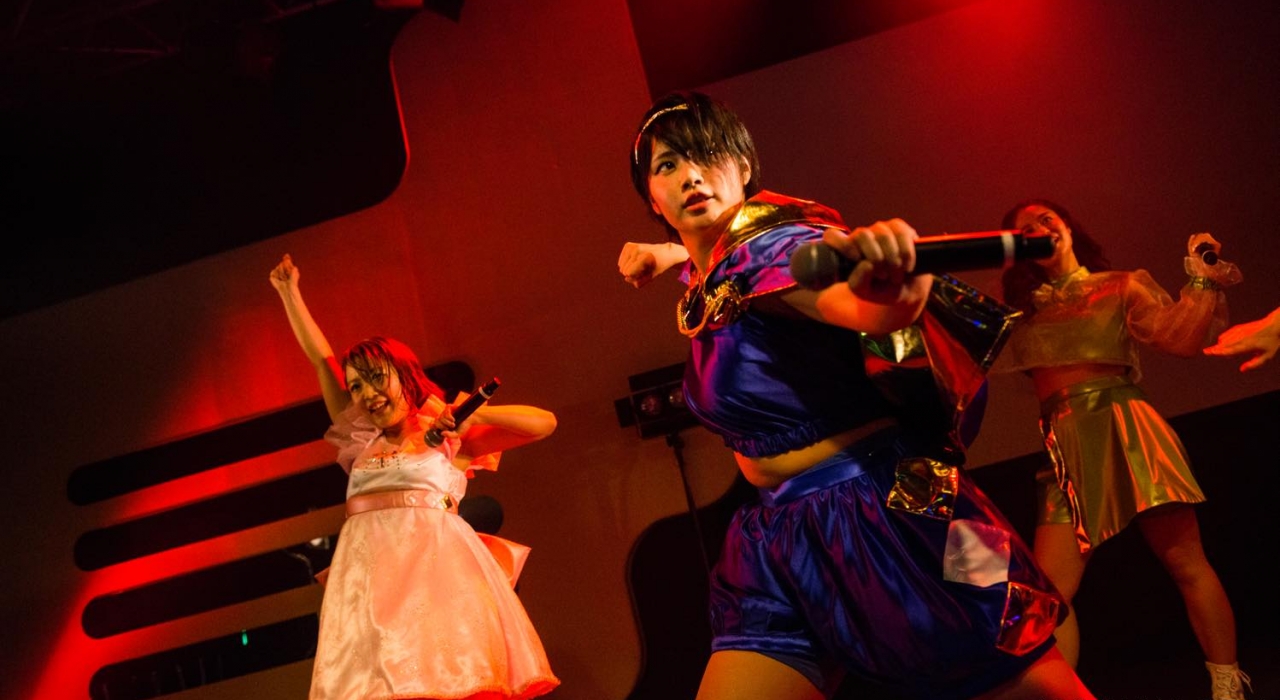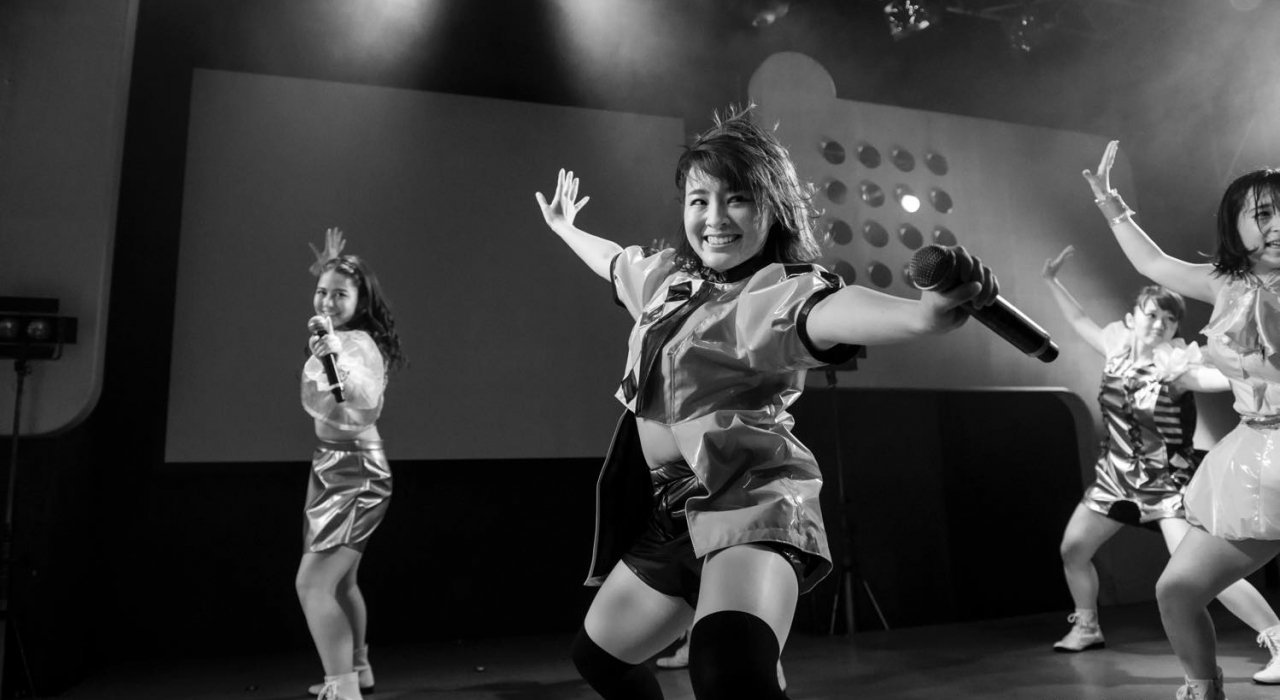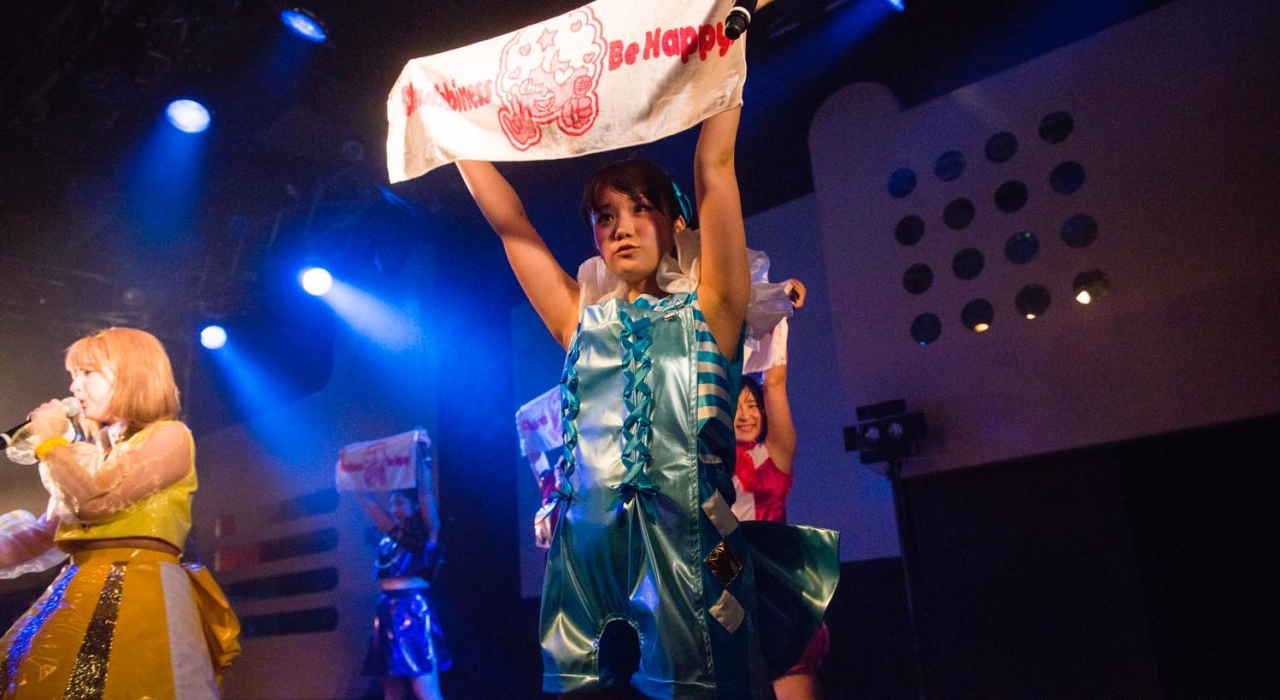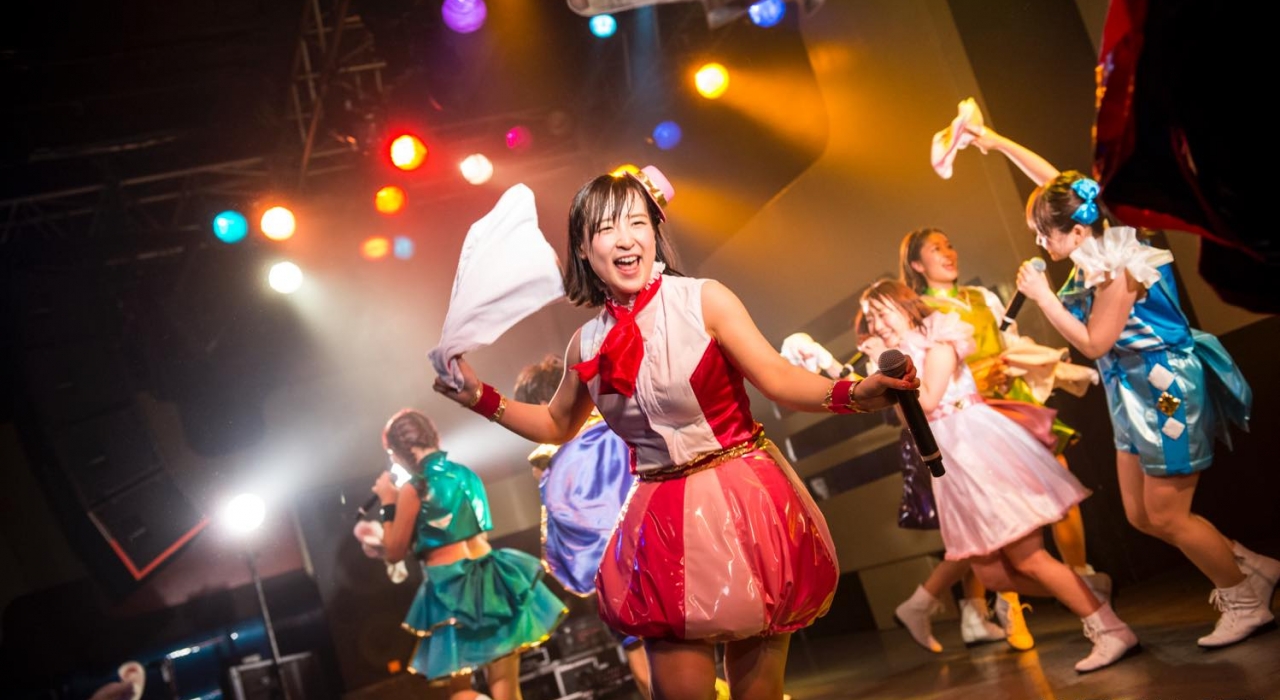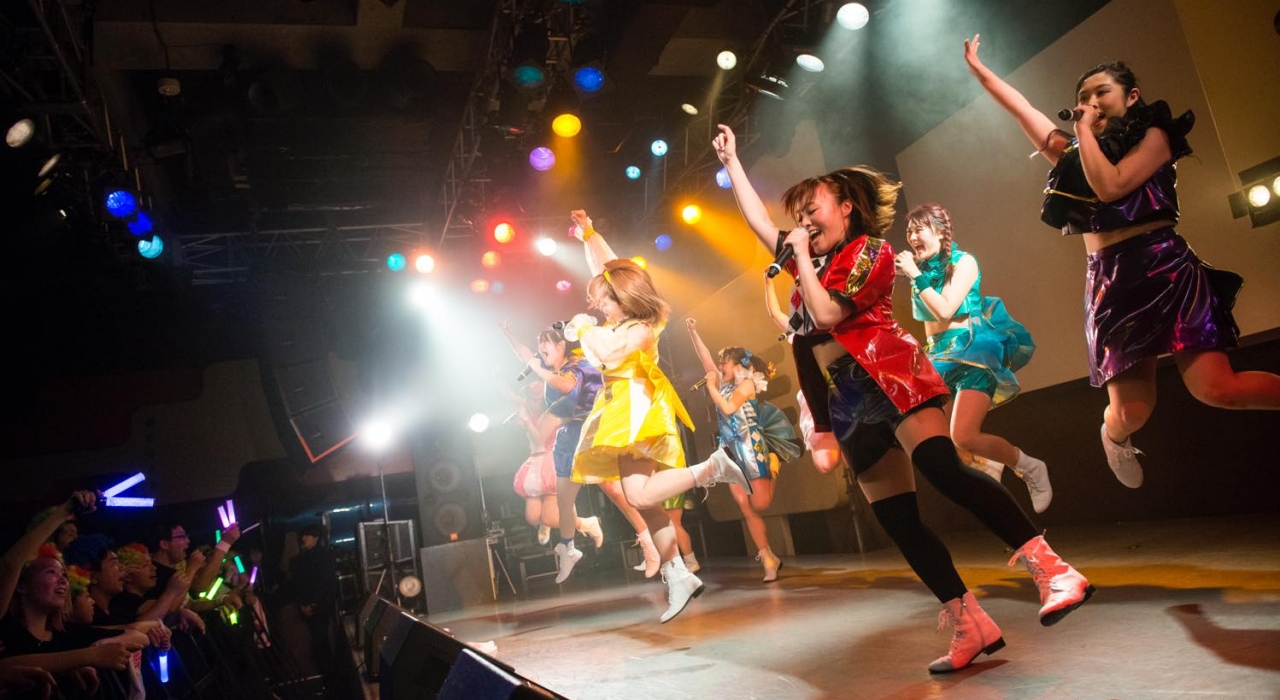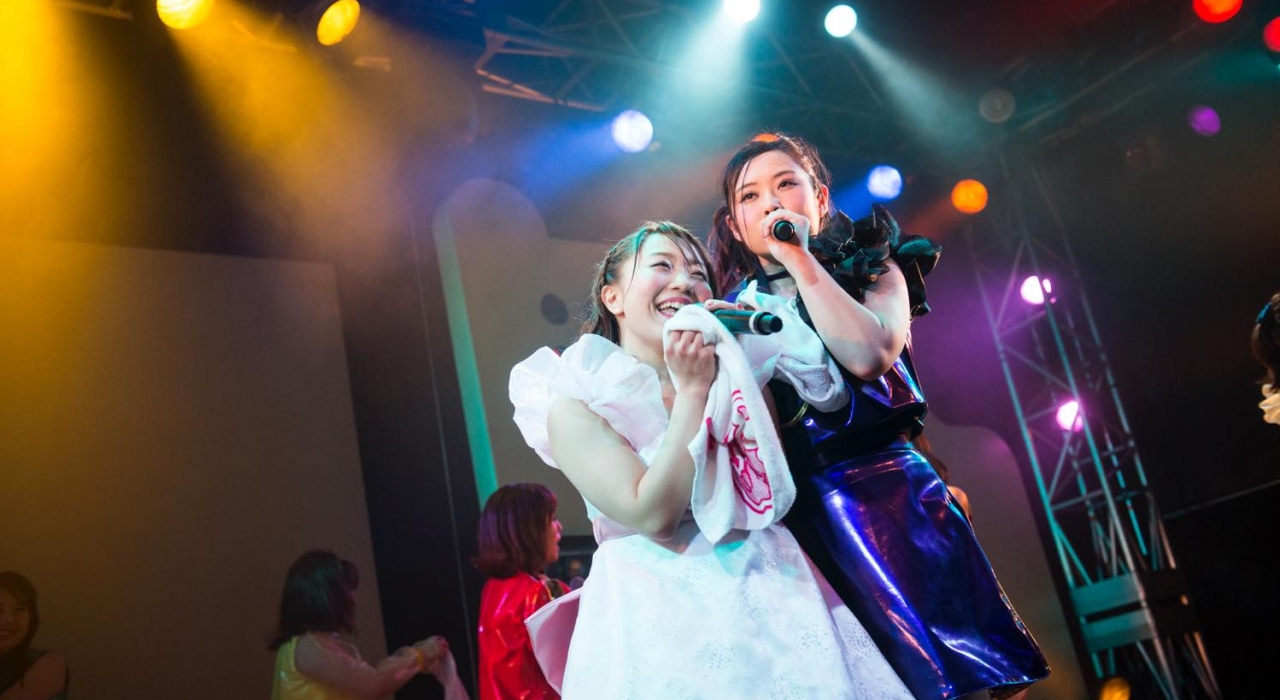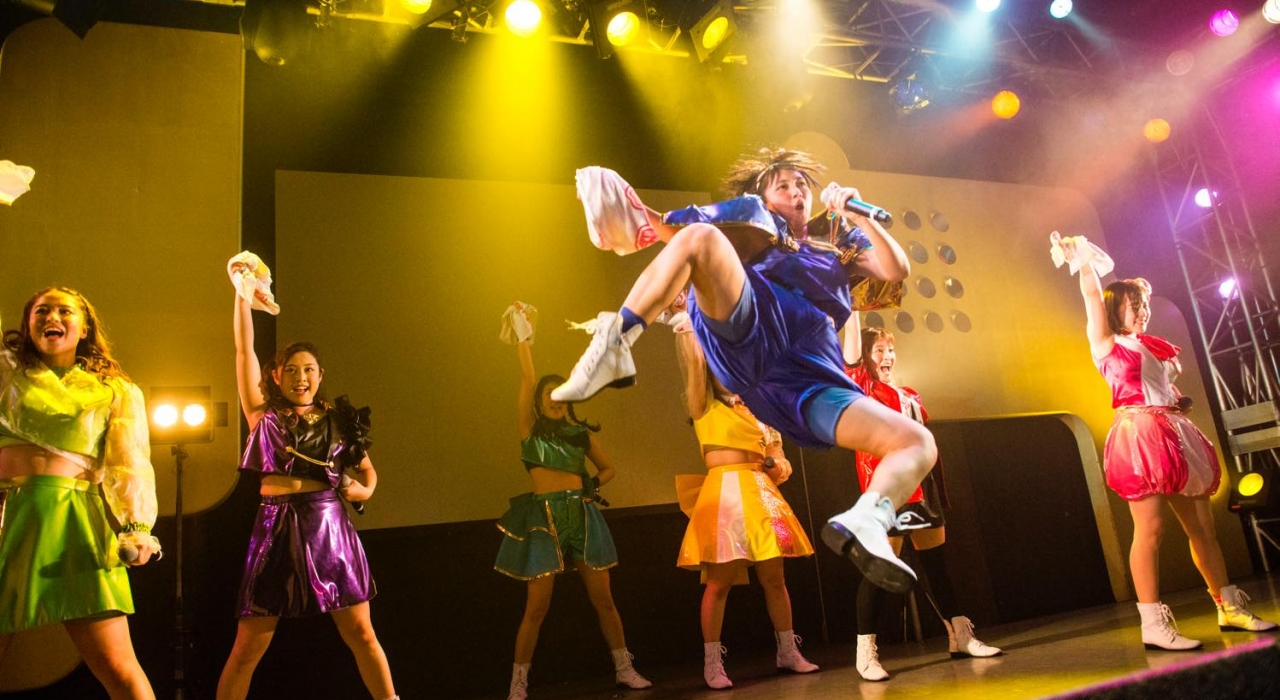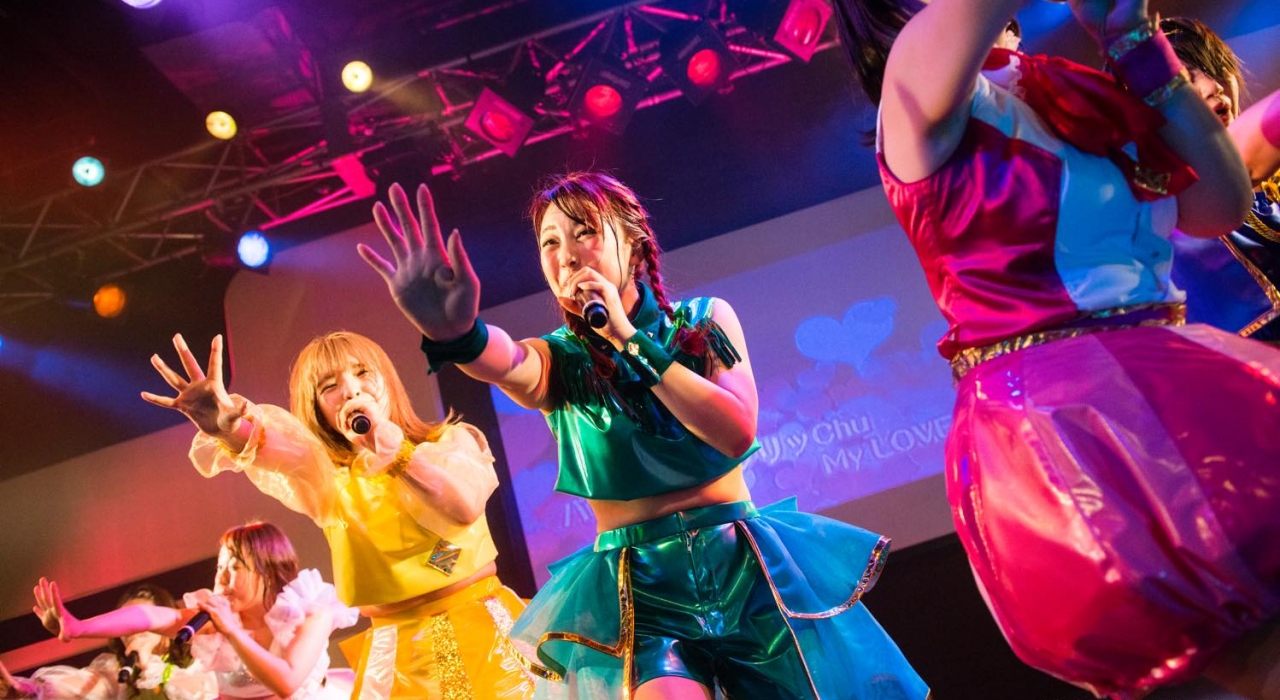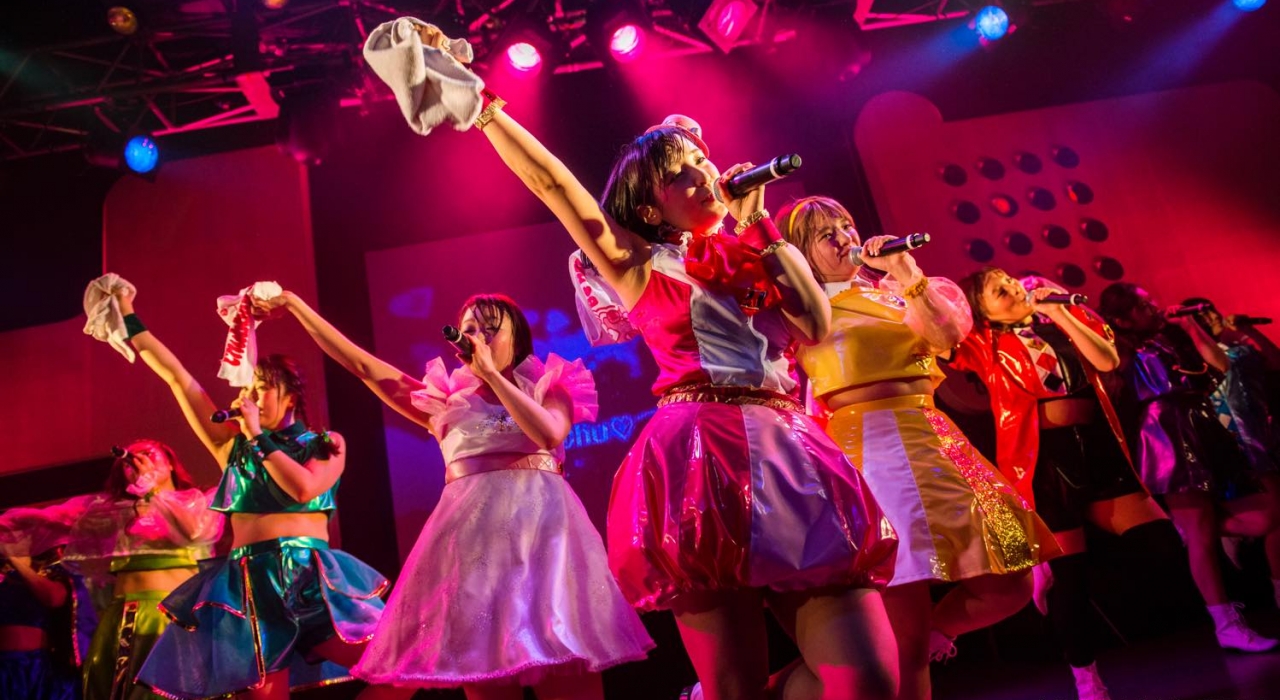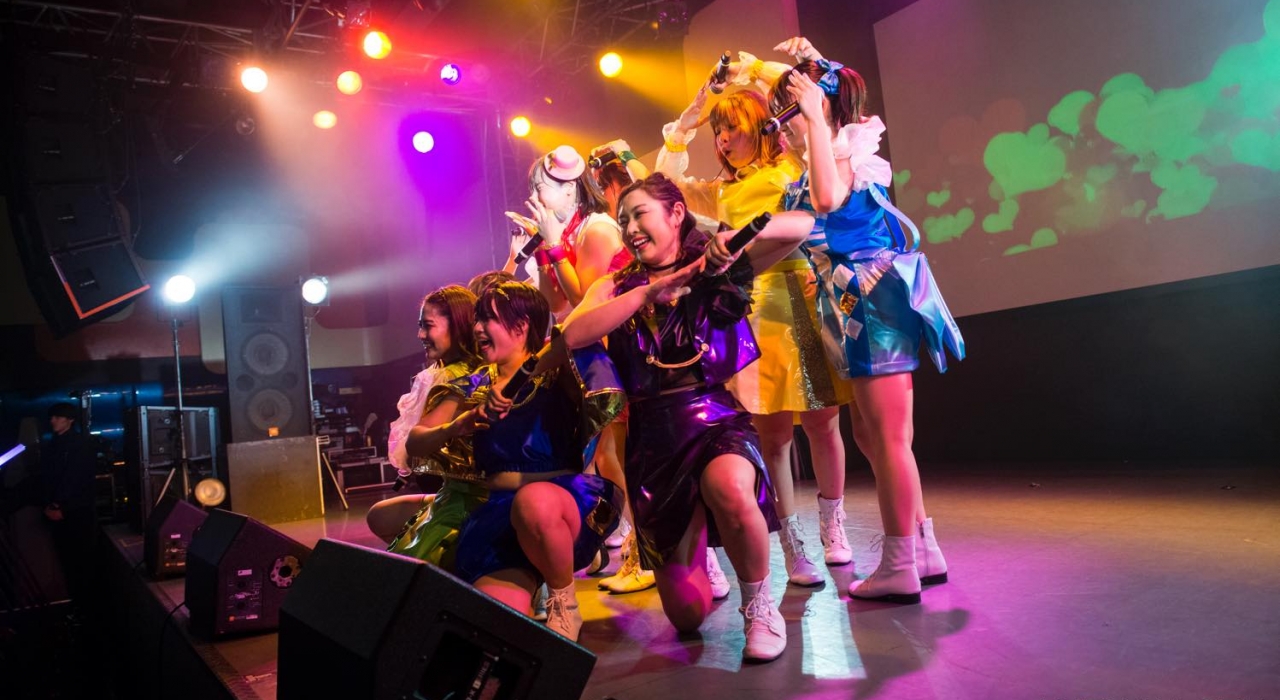 A little interlude gave some time for most of the girls to change back into their wonderland outfits, during which Kawai Akina and Horikawa Ami, wearing red dresses and high-heels, offered a classy jazz dance performance. They had some time to change themselves after this during "Ittareiya!", performed as a 7-members unit this time.
It was soon time for the main show to end, first with the anime song-like and Saihara Marino-centered "Let's BANG!". Idols and fans threw their towels up in the air on "DRY YOUR TOWEL ~kawakase taoru~", and this segment closed on one of the newest songs and Nakazaki Erina-centered "Paricchu♡Puricchu", making sure everyone would keep this tune stuck in their heads on the way back!
But the show wasn't over yet!
The fans had more planned for the encore call than just screaming for their idols to come back on stage. In a neat organization, the members of the fanclub split the audience in nine rows and handed out glowsticks, to create a perfect rainbow once the girls showed up again!
Chubbiness traded their wonderland outfits for denim, everyone wearing the one-man live tee-shirt. Each of the girls had it customized their own way, adding accessories to show their given colors. They launched the encore part with another "Purun♫tto Heart", before actually pausing a little longer, to announced some of the good news 2017 have in store for the group! Chubbiness' second mini-album and very first physical CD, "Chubbiness Wonderland", will be released on April 19th. As a consequence, it was announced that night that the girls would go on a nationwide release event tour to promote their CD debut and meet their fans from outside of Tokyo!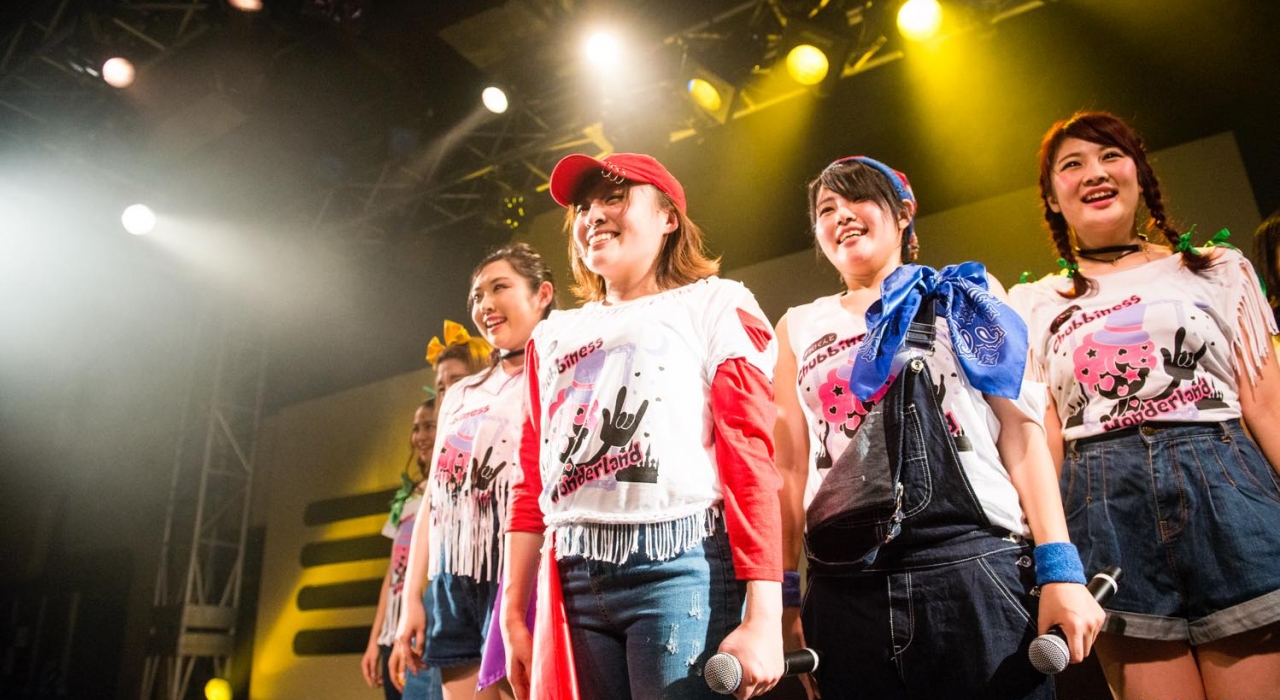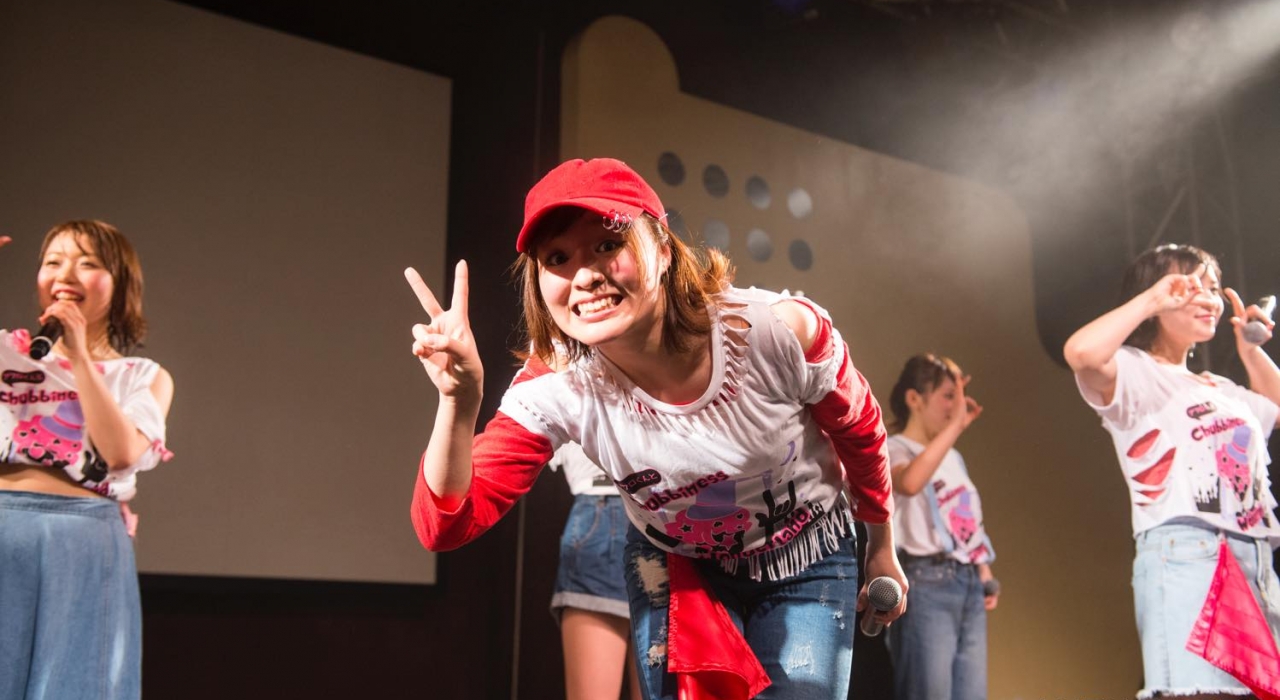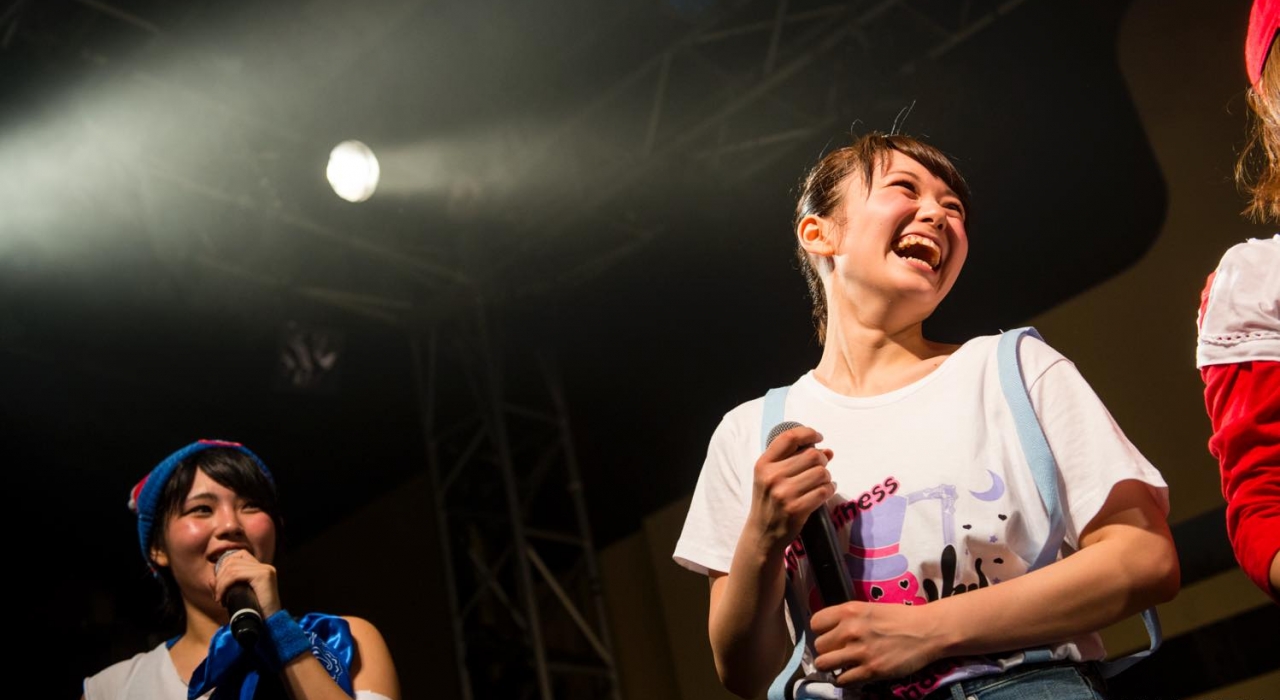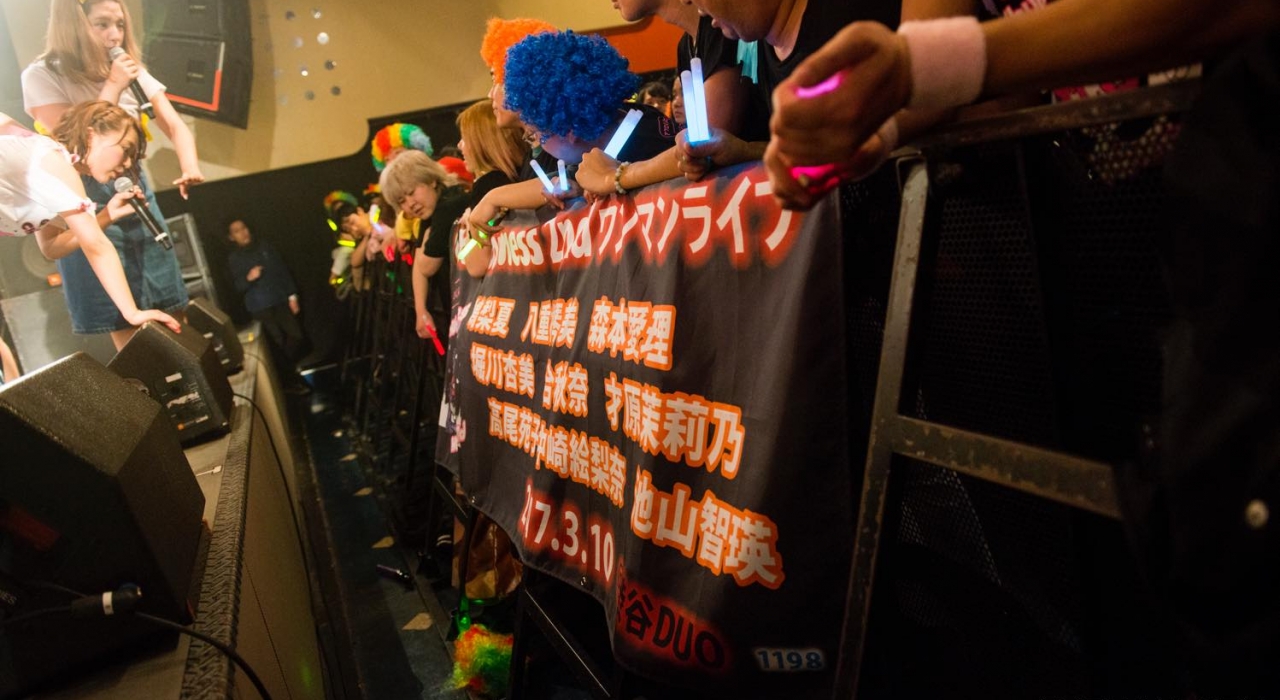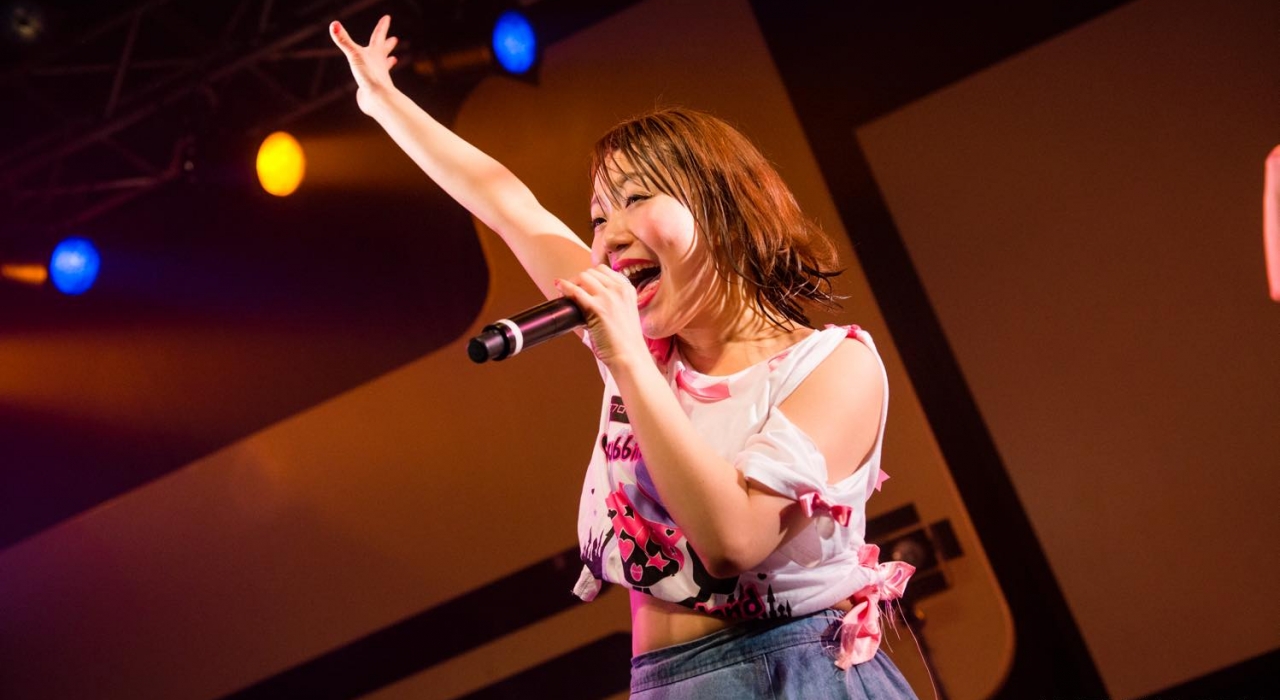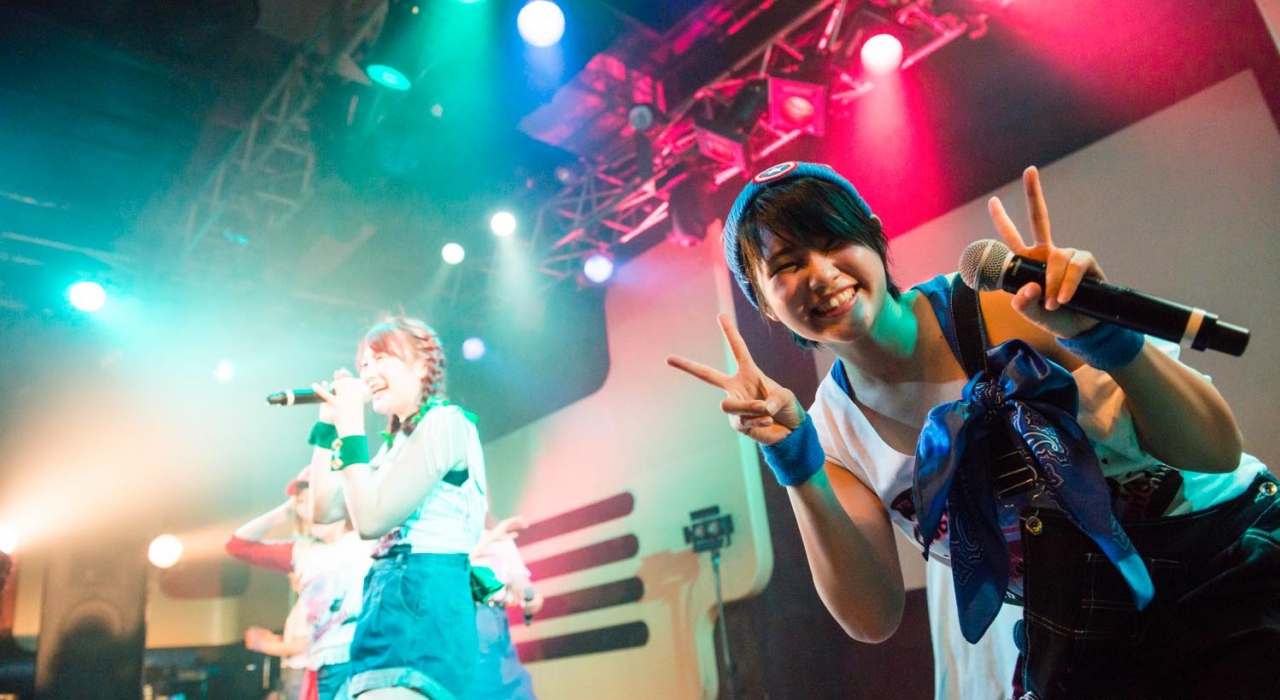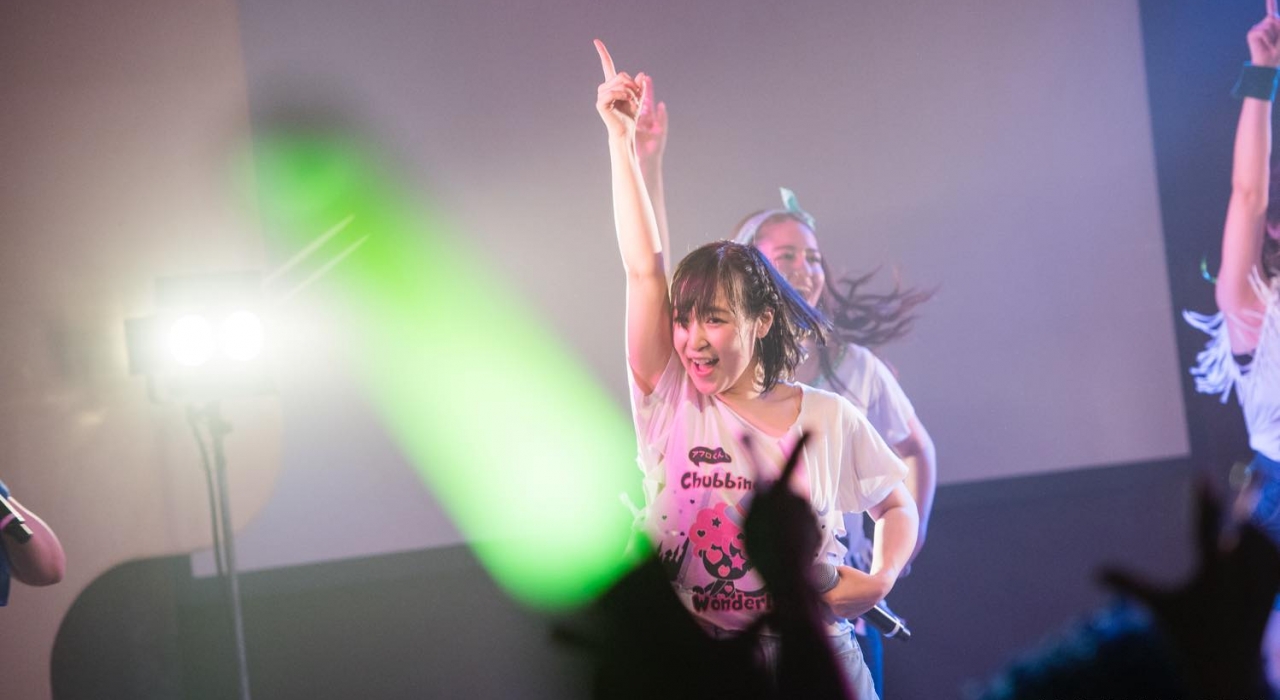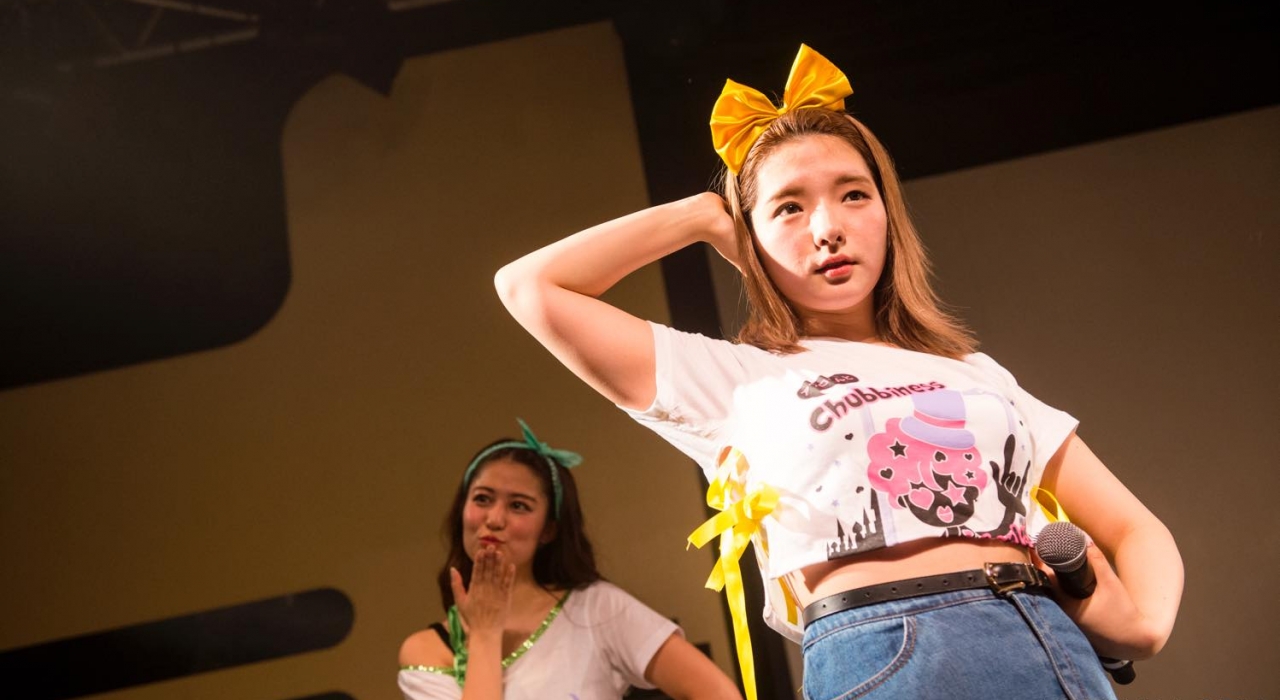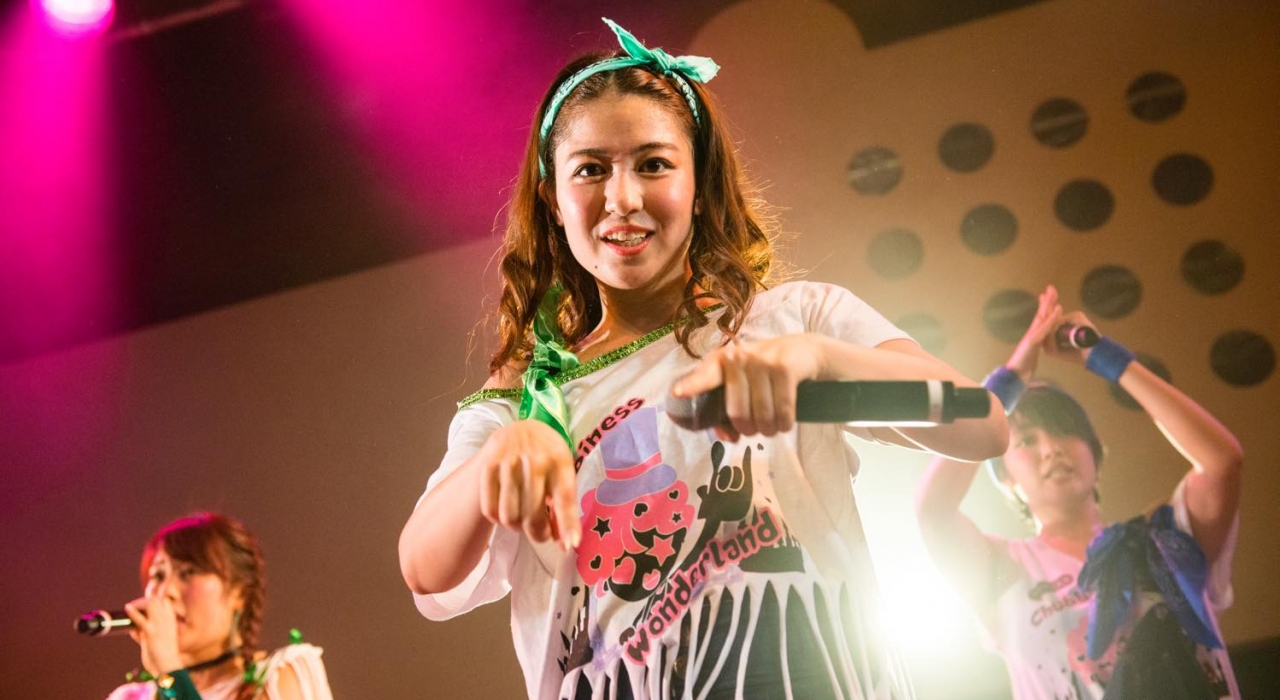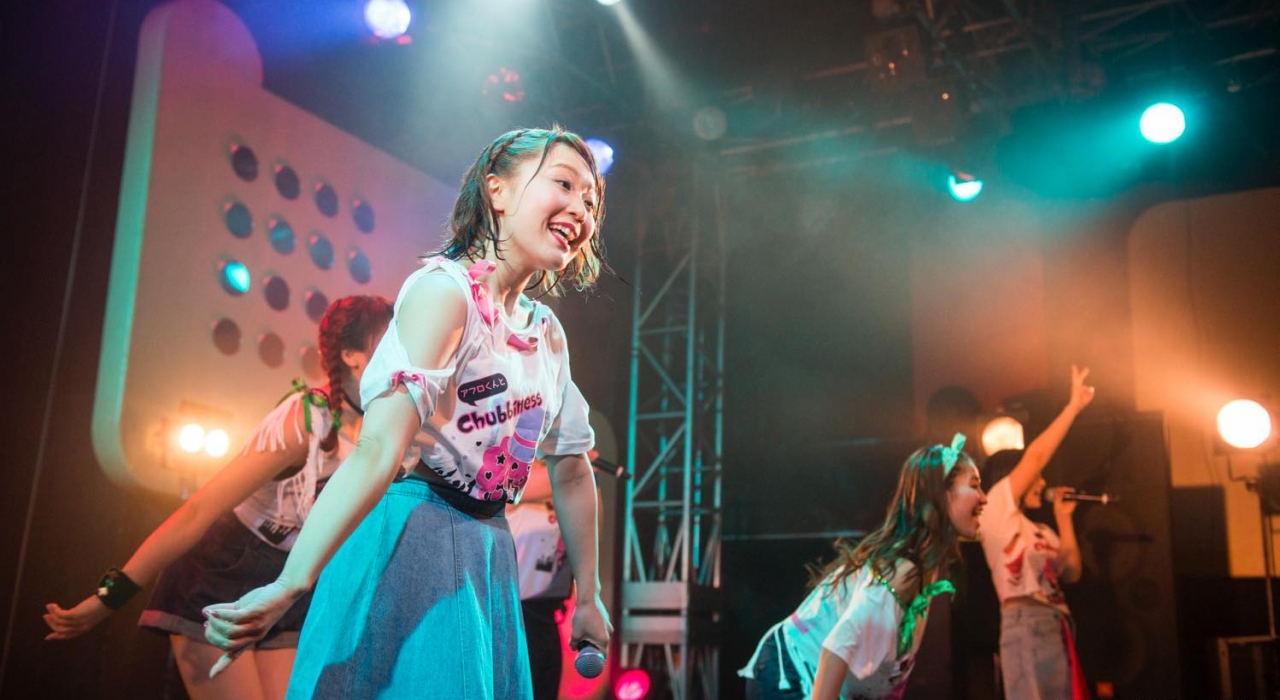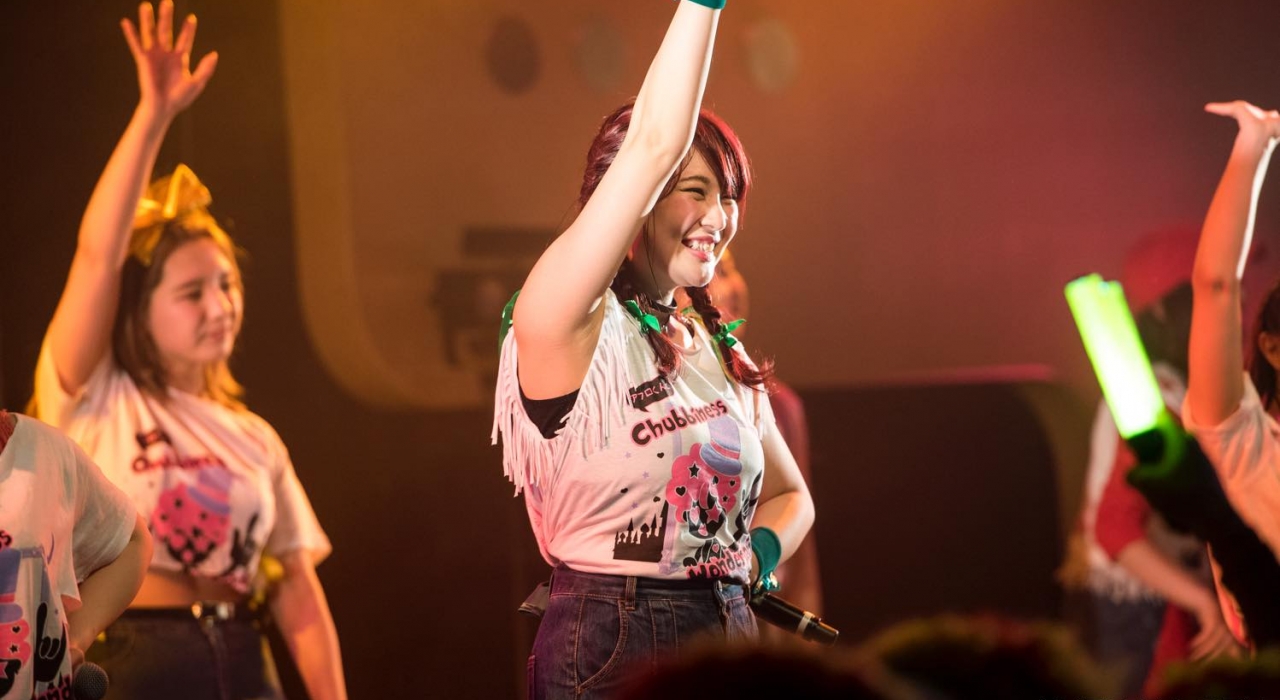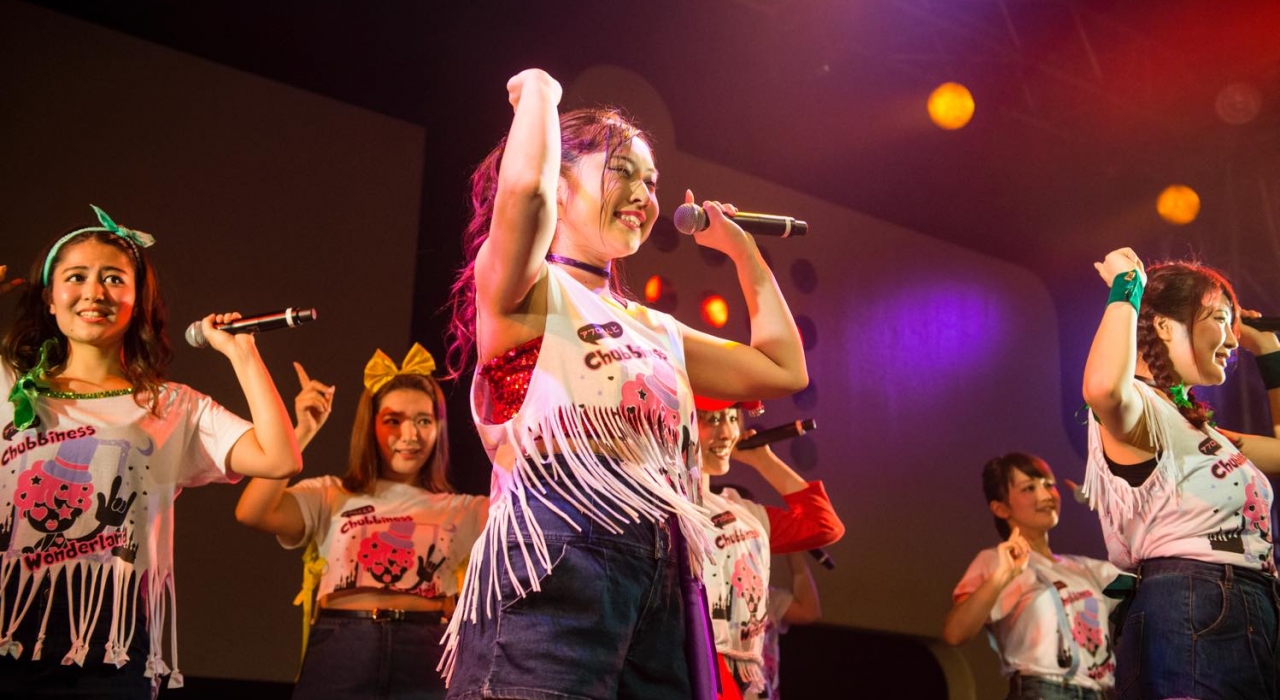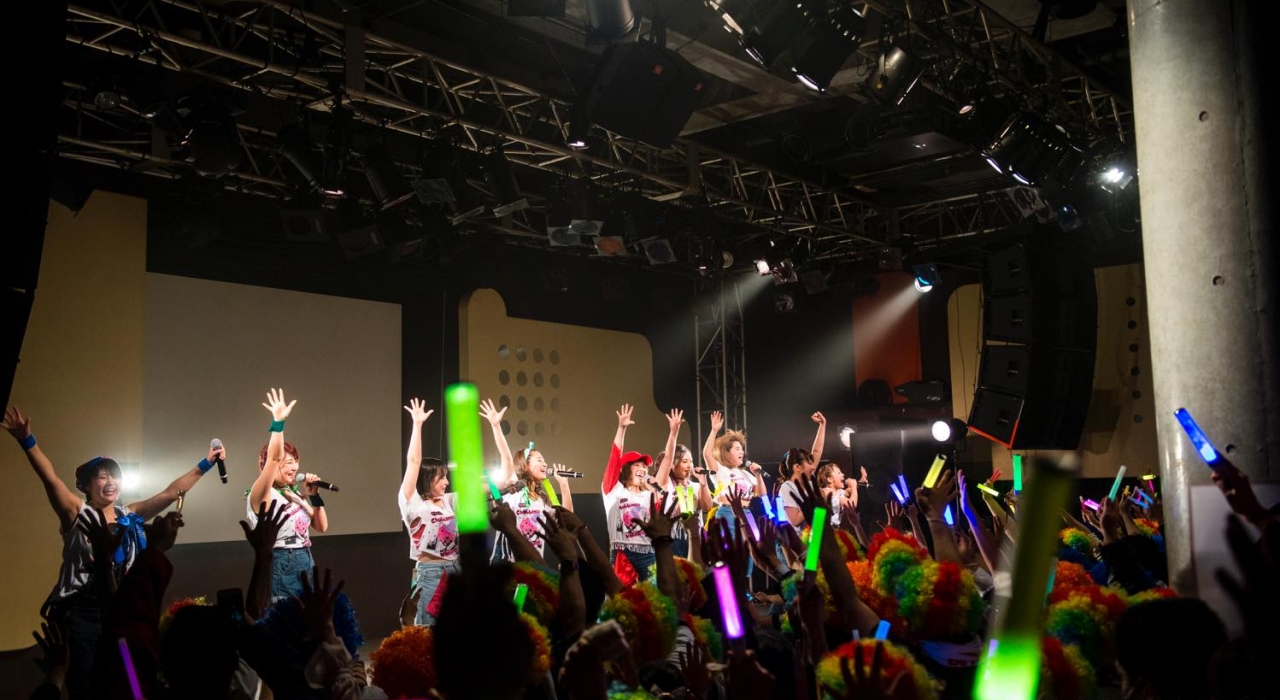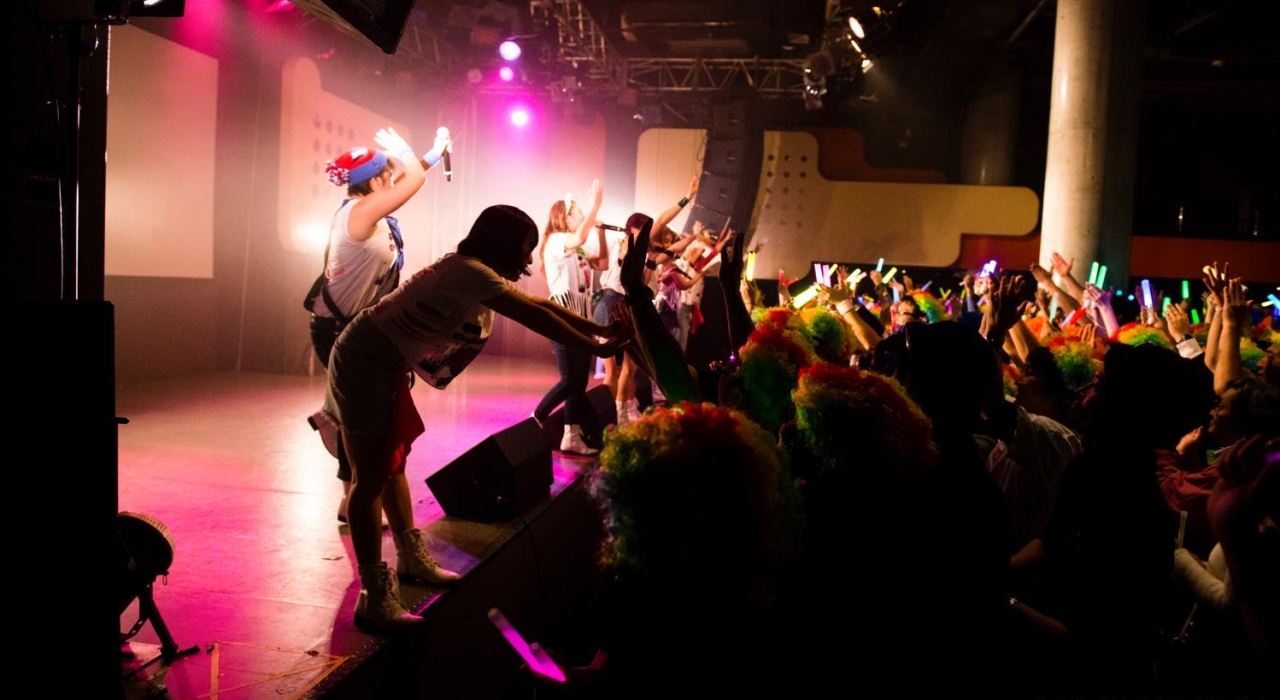 Aside from producer Kosaka Daimaou or Da-iCE's Kudo Taiki, a numerous amount of guests were spotted that night, like Idol Channel MC and comedy duo Canary, or actress Hata Mizuho and Saeki Kaori from idol group Hajirai Rescue JPN, currently working with Ikeyama Chiaki on theatrical play "PIRATES OF THE DESERT 3". A big flower stand from Rednose Corporation CEO and Kozuki Serena's manager Noguchi Shohei was even spotted outside of the venue, along with bouquets from both Kosaka and Pikotaro himself, and from the fanclub.
This one-man live screamed "Chubbiness" all over it, as the mood fit the group perfectly: happy, energetic, colorful, family-friendly. With such an exciting string of events for the first half of 2017, we cannot wait to see what will happen for the group this year!
---
Setlist
01. Purun♫tto Heart (ぷるん♫っとハート)
02. Motto, HOT! ga motto! (もっと、HOT!がモットー!)
— Wonderland theme intro —
Yaegashi Kotomi solo dance, everyone else shows up for the robot dolls dance
— Introduction short MC —
03. Alleluia Wonderland (ハレルヤWonderland)
04. Manmadeiya! (マンマデイーヤ!)
05. Nijiiro Flavor (虹色Flavor)
06. Gomen ne… watashi, kekkou moterunda wa (ごめんね…私、結構モテるんだわ。)
07. Koi no Emotion (恋のエモーション)
— Afro alert! —
— Changed to Pikotaro Budoukan outfits —
08. I like OJ (originally by Pikotaro, with a VTR)
09. Odoru Ah! Hooo (踊るAh!Hooo)
— Dance interlude —
Jazz dance routine by Kawai Akina and Horikawa Ami
10. Ittareiya! (without Kawai Akina and Horikawa Ami, changing outfits) (イッタレェイヤァー)
11. Let's BANG!
12. DRY YOUR TOWEL ~kawakase taoru~ (DRY YOUR TOWEL ~乾かせ!タオル~)
13. Paricchu♡Puricchu (パリッChu♡プリッChu)
ENCORE CALL
W01. Purun♫tto Heart (ぷるん♫っとハート)
— Announcement: April 19th Mini-album "Chubbiness Wonderland" release and release event nationwide tour —
W02. Alleluia Wonderland (ハレルヤWonderland)
W03. Odoru Ah! Hooo (踊るAh!Hooo)
---
About the artist
Chubbiness is an idol group, describing itself as a « elite marshmallow-body idol unit ». The group was created in 2013 after a joint nationwide audition from fashion magazine CanCam and entertainment label avex, and the 10 founding members of the group were chosen from 3500 applicants. The group motto is « Gaining too much weight is bad, but losing too much is bad too! » and the girls all keep a BMI between 21 and 24. Chubbiness is produced by Kosaka Daimaou, made famous for being behind the world-famous phenomenon Pikotaro. After Asakawa Misaki's graduation in February 2017, the group is now made of 9 members.
Chubbiness est un groupe d'idols, se décrivant comme « groupe composé des plus jolies filles rondes ». Le groupe est créé en 2013 après une audition nationale organisée par le magazine de mode CanCam et l'agence de talents avex, et les 10 membres originales du groupes furent sélectionnées parmi plus de 3500 candidates. Le slogan du groupe est « Prendre trop de poids est proscrit, mais perdre trop est également interdit ! » et les membres maintiennent toutes un IMC compris entre 21 et 24. Chubbiness est produit par Daimaou Kosaka, rendu célèbre pour être derrière le phénomène mondial Pikotaro. Après la graduation de Misaki Asakawa en Février 2017, le groupe est désormais composé de 9 membres.
---
Full gallery
---
Special thanks to Kato Saki-san, the rest of the staff and avex for allowing us to write this report and take pictures of Chubbiness during this live.