Reportage sur le concert de ULTRAGIRL du 27 Janvier 2017: "Un pas de plus vers un brillant avenir"
January 27th 2017 was not only Cute Allies of Justice idol group ULTRAGIRL's latest one-man concert, but it was also the final performance for all three remaning original members of the line-up: Hirose Miyuu, Kawasaki Serina, and beloved leader Asou Tomoyo.

Le 27 Janvier 2017 n'était pas seulement le dernier concert solo en date des plus mignonnes Alliées de la Justice, ULTRAGIRL, mais était également la performance finale des trois dernières membres de leur line-up original : Miyuu Hirose, Serina Kawasaki, et leur leader adorée, Tomoyo Asou.
Numerous idol guests were spotted in the audience, such as idol groups SPIRAL GIRLS, #Dollchu and Namennayo Harajuku. Aoyama Ruri from Himeniwa (Princess Garden) was also present, as well as three of ULTRAGIRL's former members.
De nombreuses autres idols invitées étaient là pour les soutenir dans le public, comme les groupes SPIRAL GIRLS, #Dollchu et Namennayo Harajuku. Ruri Aoyama du groupe Himeniwa (Princess Garden) était également présente, ainsi que trois anciennes membres d'ULTRAGIRL.
All five idols stepped on stage wearing their black and member colors outfits, starting with a blast performing their latest single, "Ano saka no ue made ~kirari namida koete~". With no introduction word for the audience, their single was followed by the energetic "Kimi! Hero ni natte". The members were then able to showcase their mature side with the very sharp and cool "Toki no Kakera", before disappearing off the stage.
Les cinq idols sont entrées en scène vêtues de leurs costumes noirs et colorés, ouvrant le bal dans une explosion sur leur dernier single, "Ano saka no ue made ~kirari namida koete~". Sans aucune présentation ou mot pour le public, ce dernier fut suivi de l'énergique "Kimi! Hero ni natte".
Les stars de la soirée ont ensuite pu montrer leur côté plus mature grâce à la chorégraphie rythmée de "Toki no Kakera", pour ensuite disparaître subitement de la scène.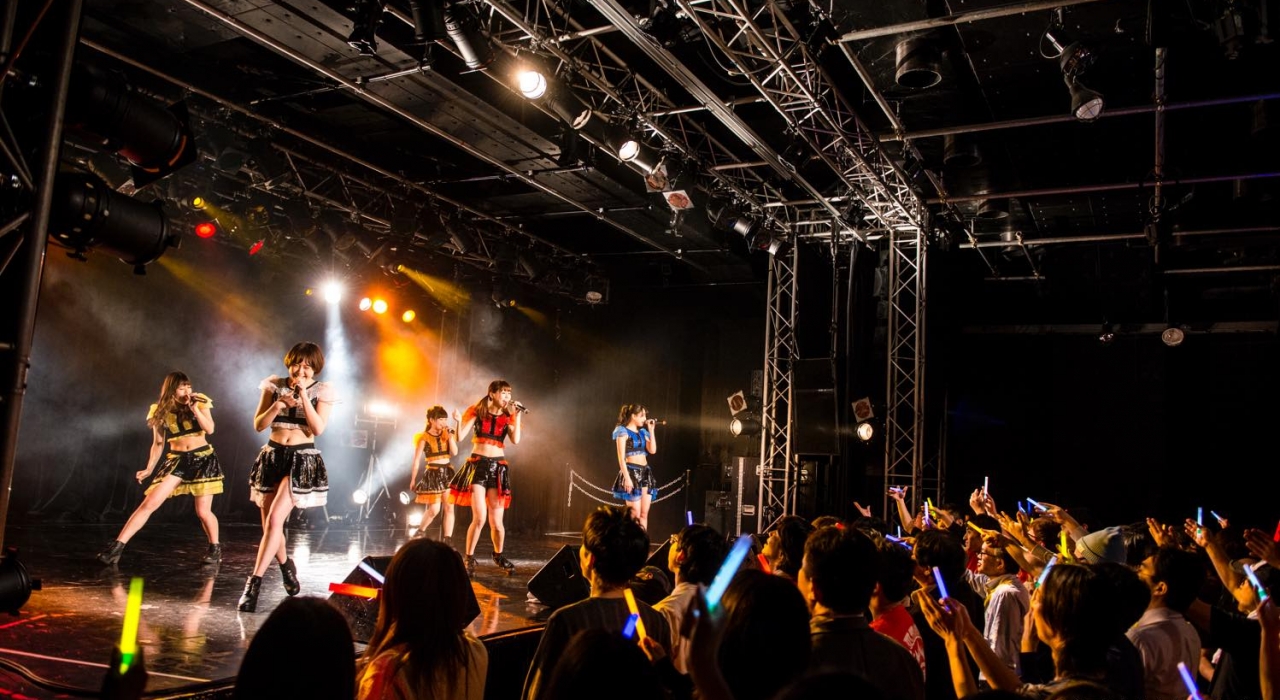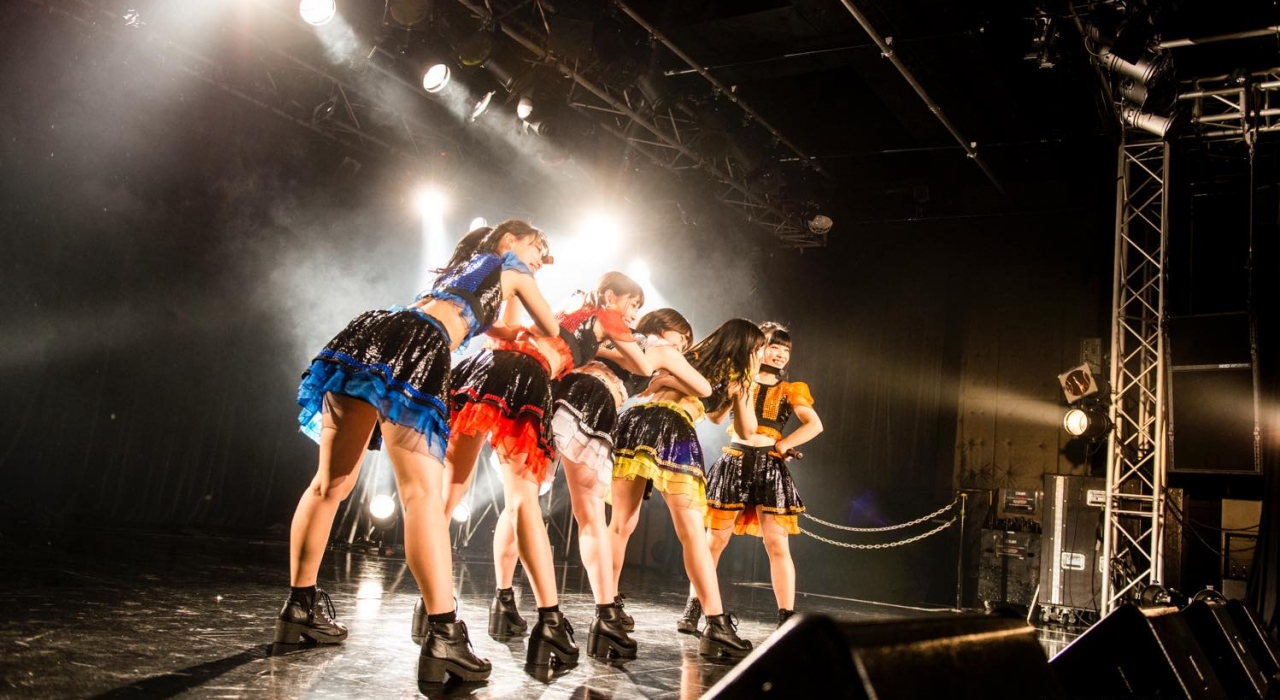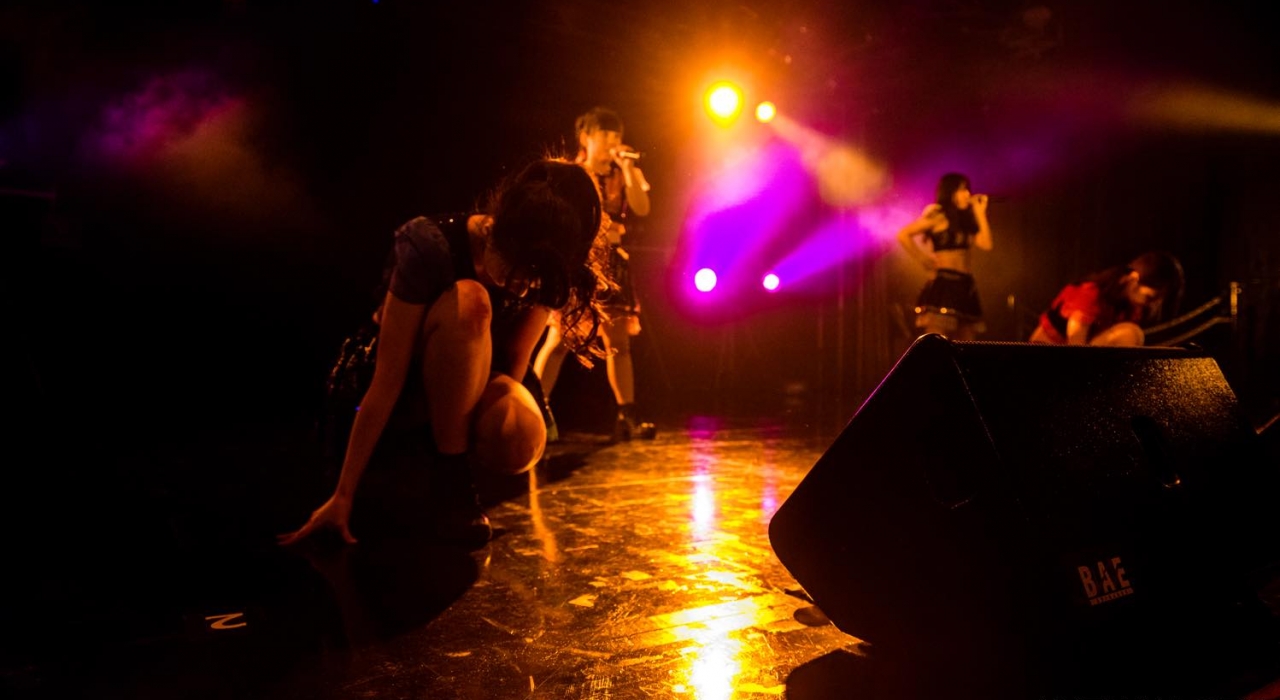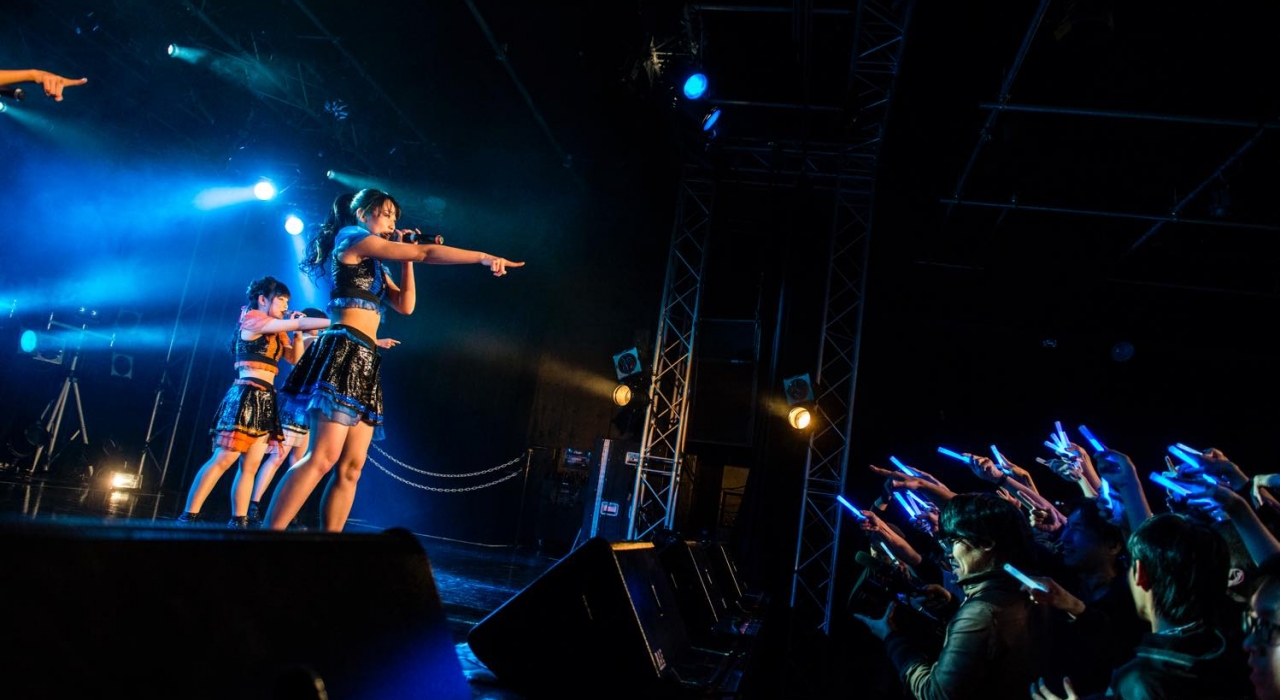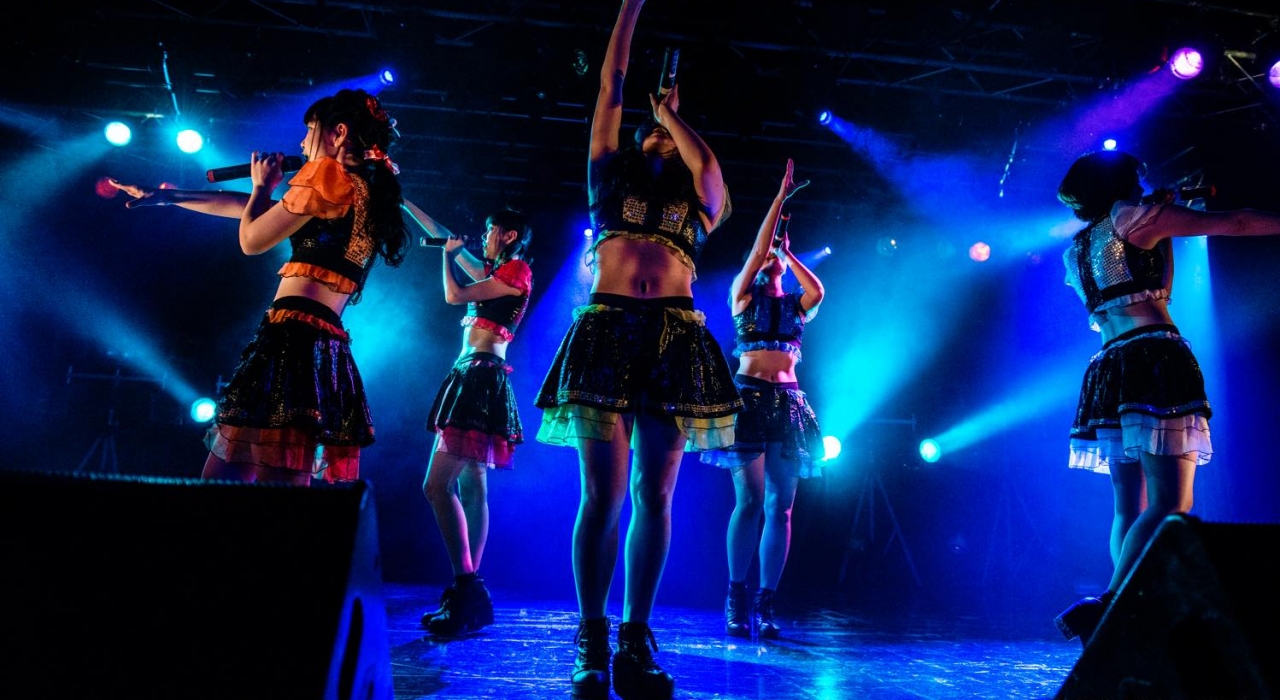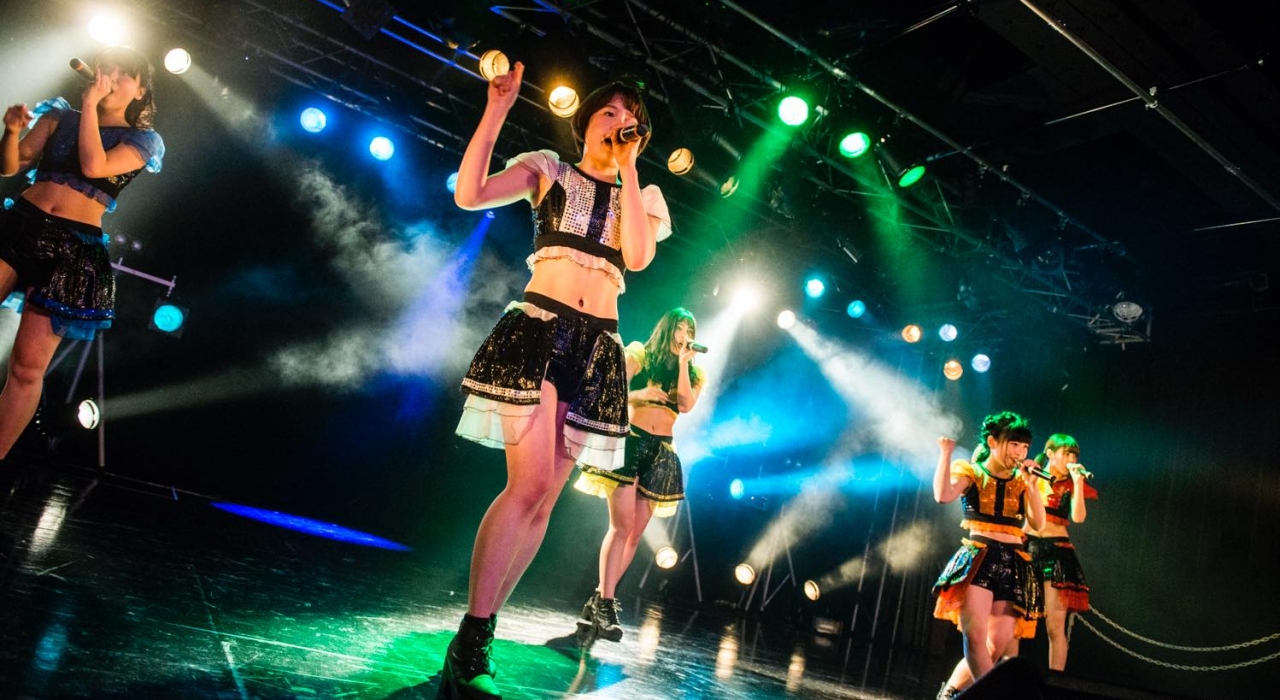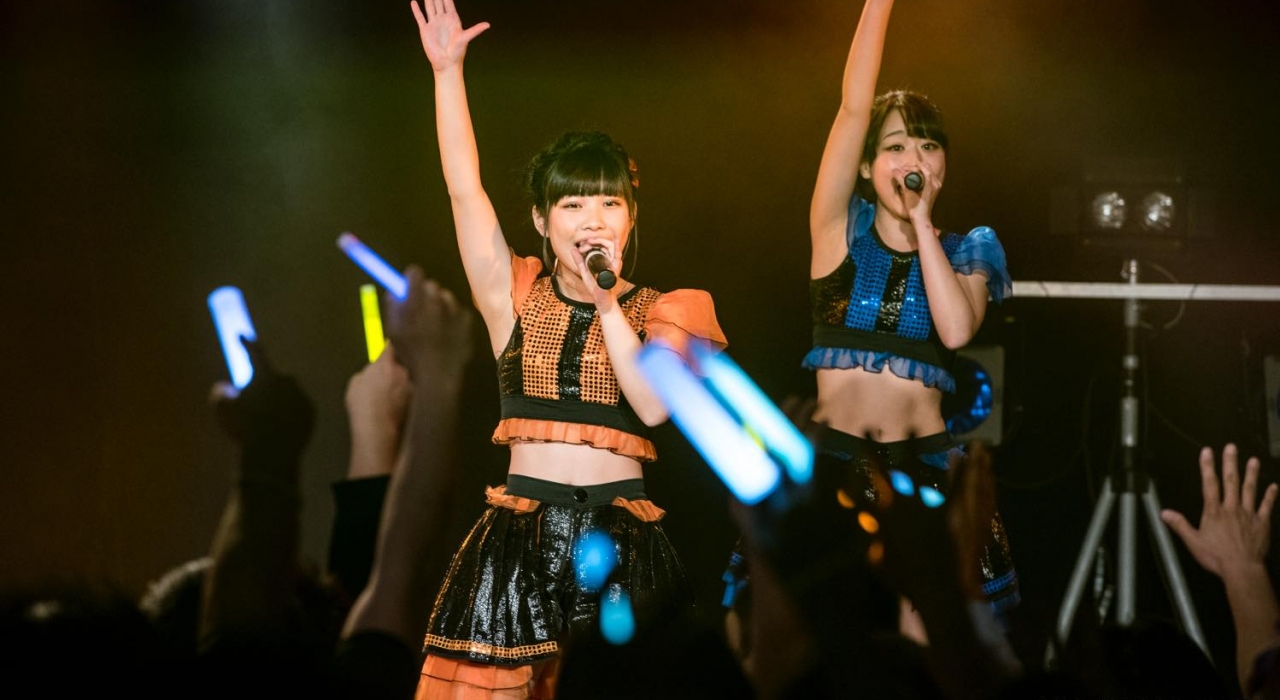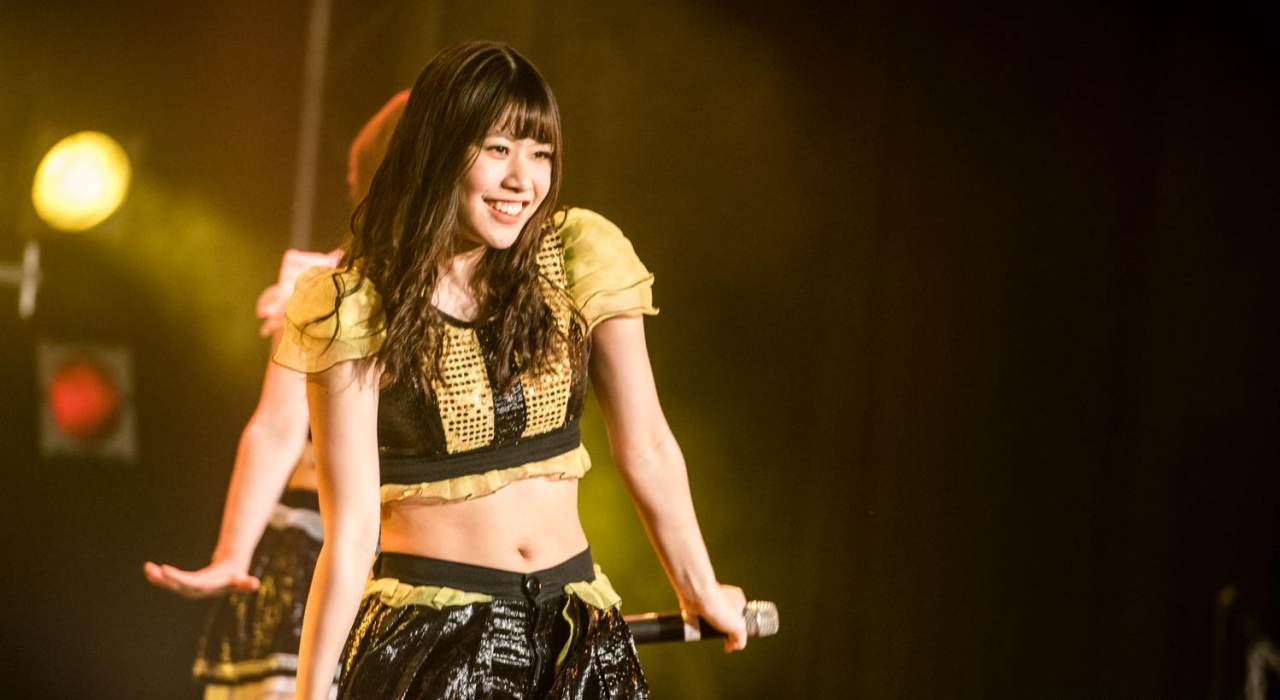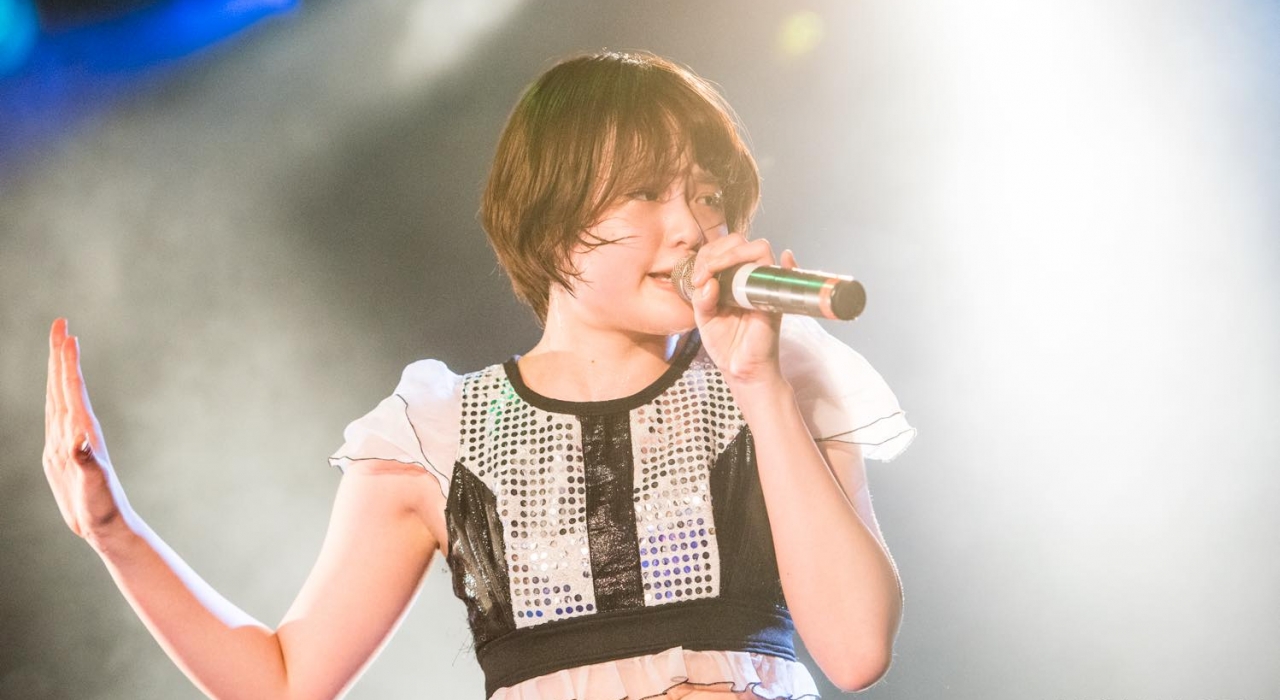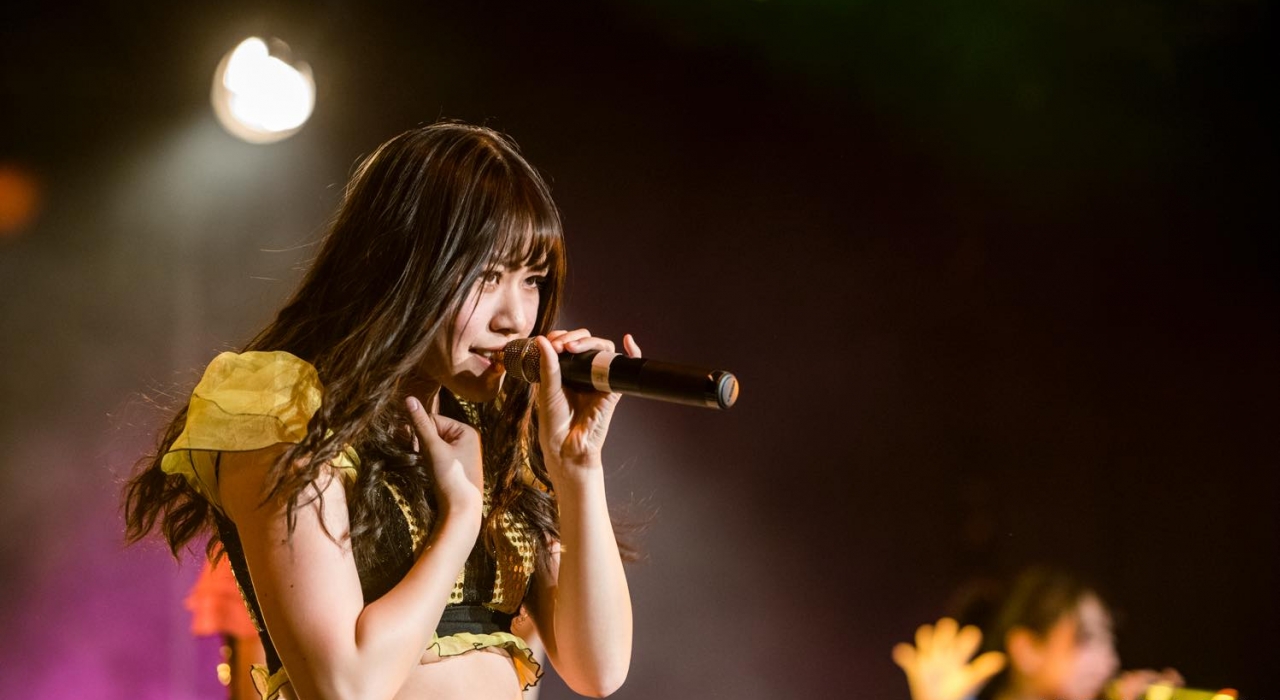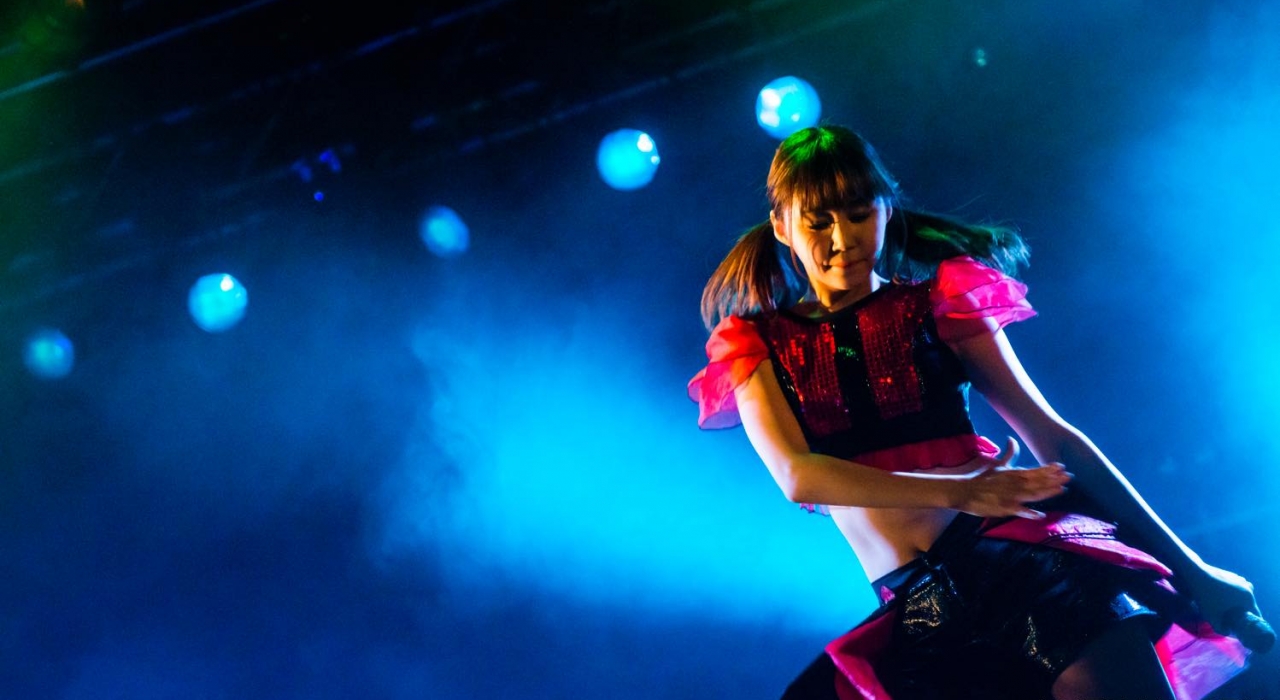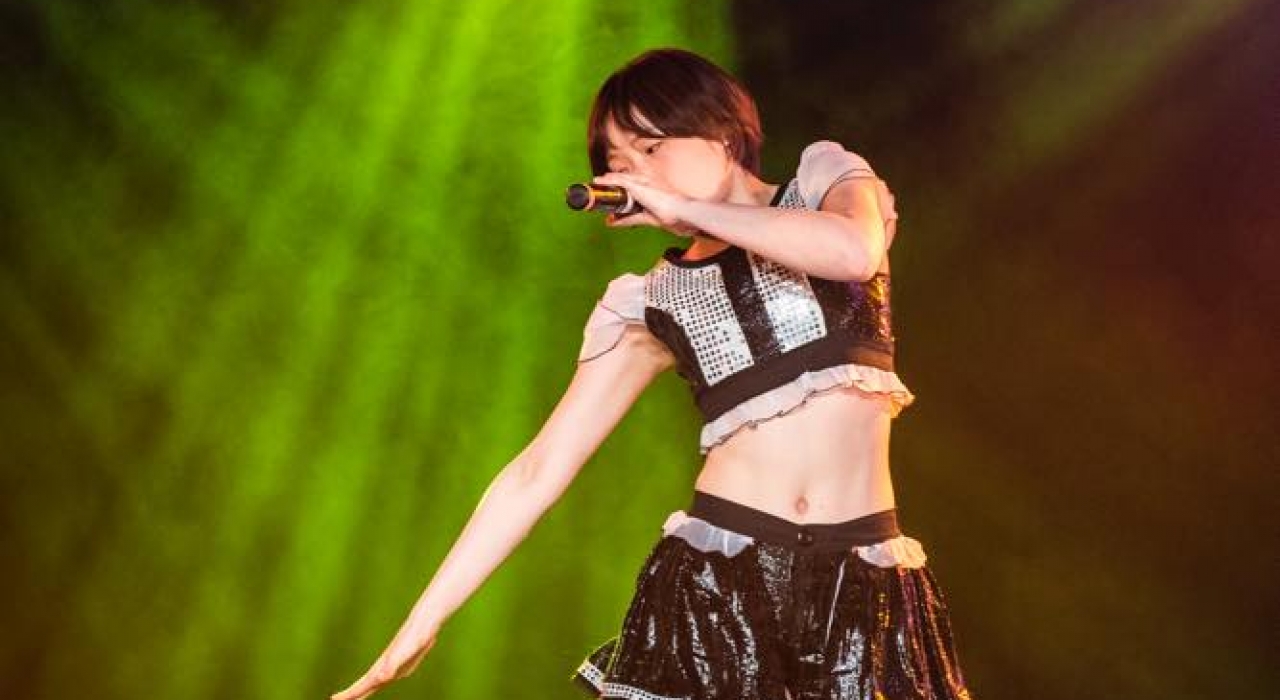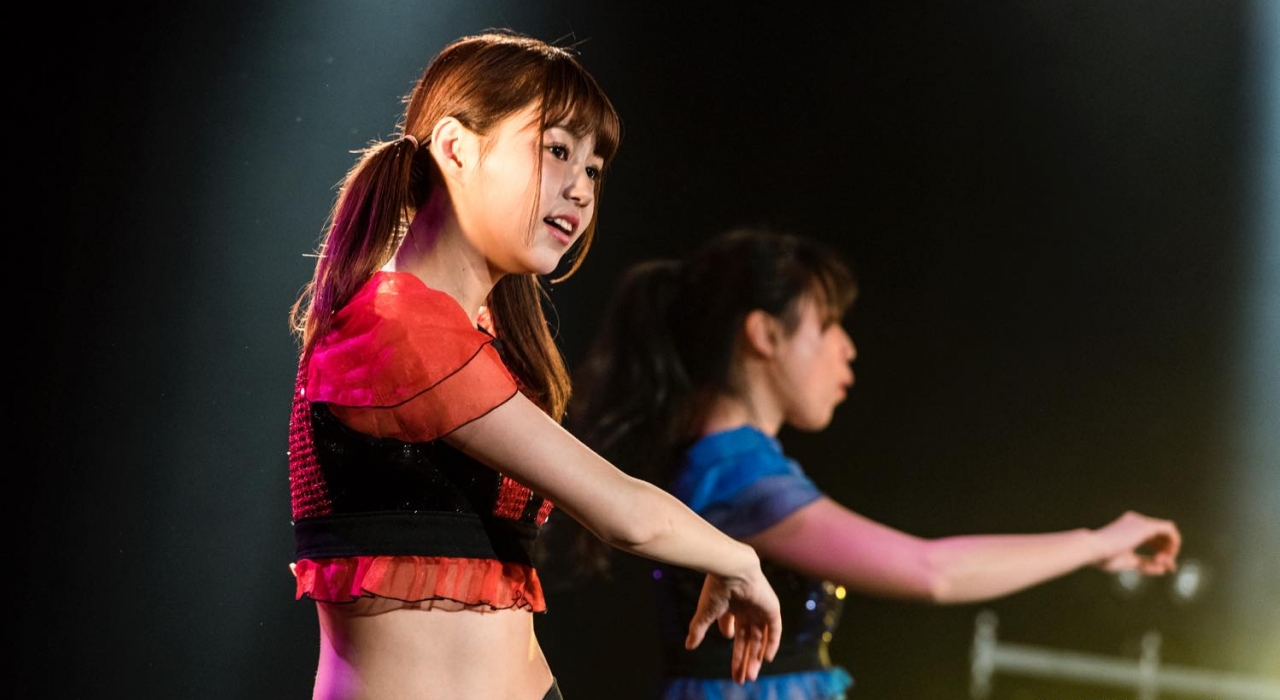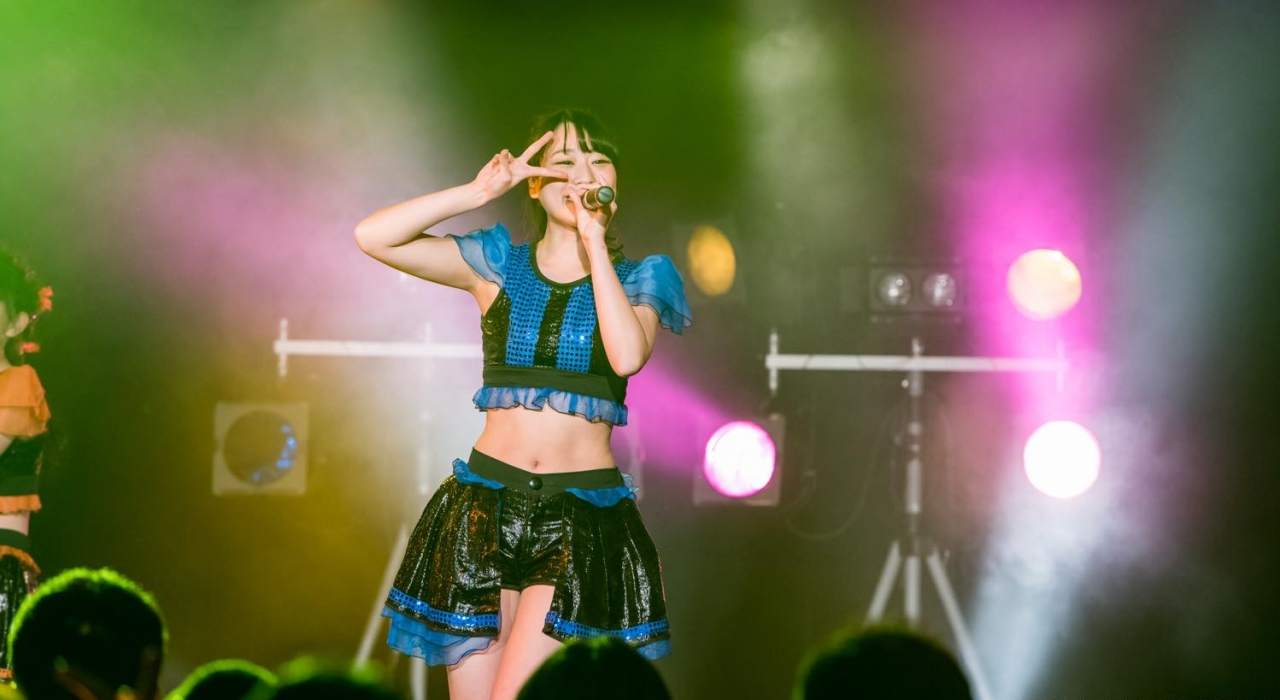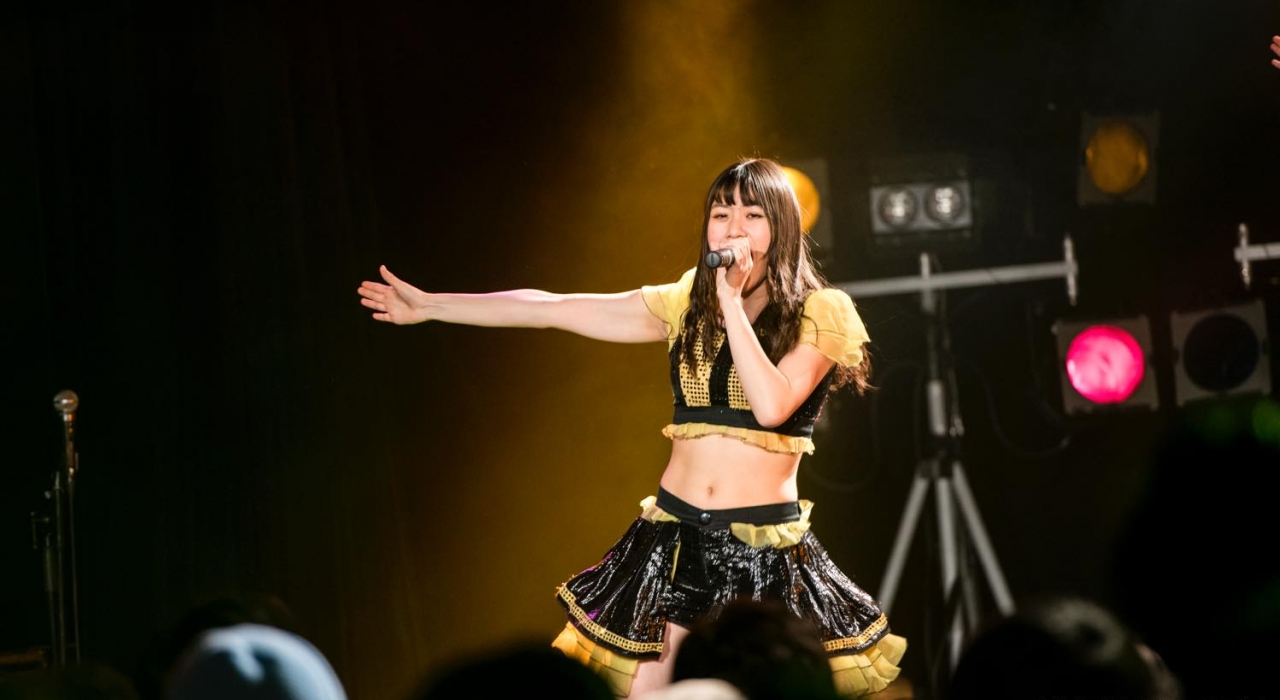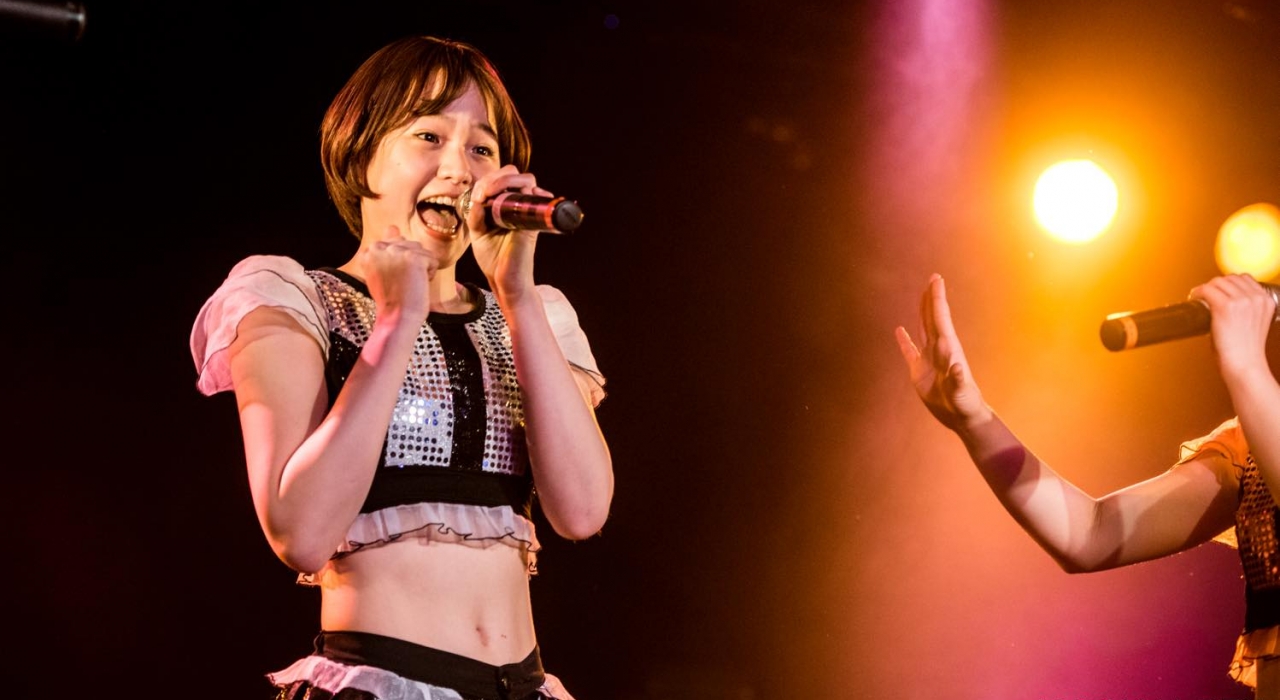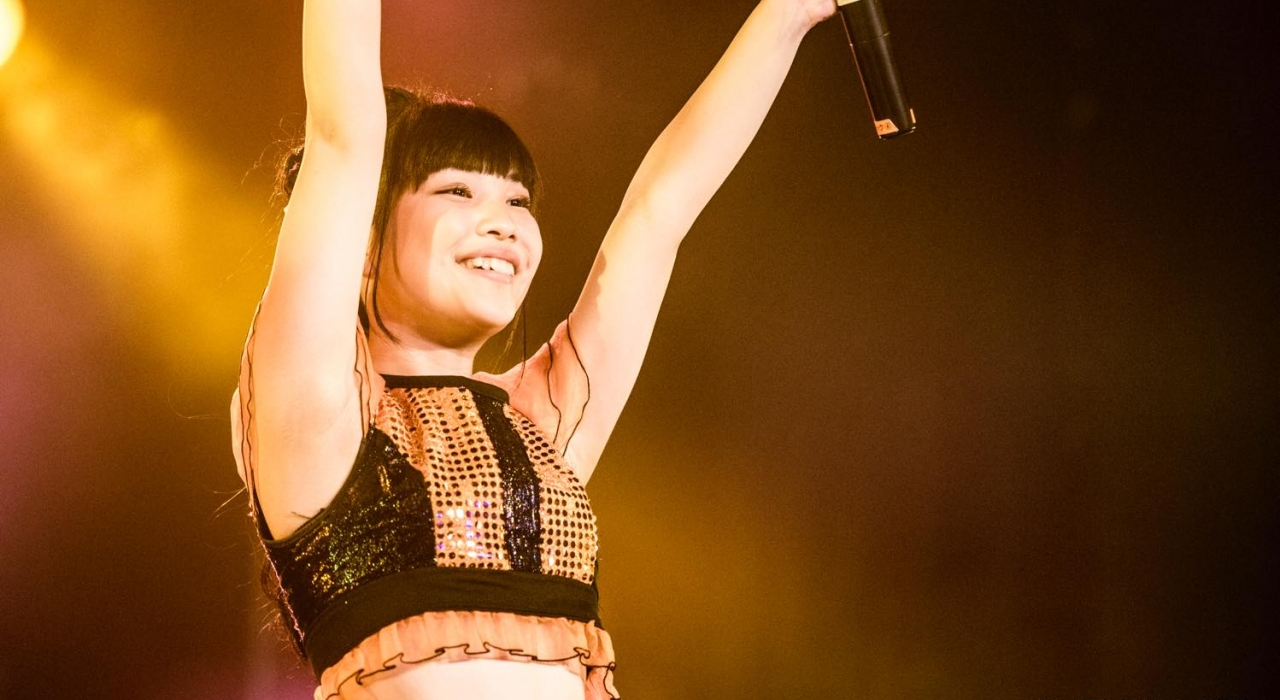 As Shinjuku Blaze turned pitch black, a VTR then started, going through five years of backstage and practice footage of the group, mainly focusing on all three soon-to-graduate.
This emotion-filled video was the introduction to what was next for the concert: in collaboration with actress idol group Pika☆Mai, a short play started, titled "Our Life Calendar" (Watashitachi no Jinsei Calendar). Members of Pika☆Mai narrated the ULTRAGIRL story from leader Asou Tomoyo's point of view, rhythmed by small acts by the members themselves. All three soon-to-graduate member wore gakuran (boy school uniforms), as Rukawa Runa and Sasazawa Mayuka wore seifuku (girl school uniforms). It was a very intense moment, and all the members gave all their heart and energy in conveying their feelings. As they finished the play, Pika☆Mai joined ULTRAGIRL for an uplifting "Ultra Ouenka", ULTRAGIRL's most iconic song, led by Tomoron.
A peine la salle fut-elle plongée dans le noir qu'une projection commence alors, retraçant cinq ans de vidéos des coulisses et des répétitions du groupe, se focalisant principalement sur les trois futures diplômées.
Cette anthologie pleine d'émotion était l'introduction de la suite du concert: une pièce de théâtre courte intitulée "Le Calendrier de notre Vie" (Watashitachi no Jinsei Calendar), en collaboration avec le groupe d'idols-comédiennes Pika☆Mai. Les membres de Pika☆Mai jouaient le rôle des narratrices, racontant l'histoire de ULTRAGIRL du point de vue de leur leader, Tomoyo Asou. Leurs temps de parole étaient rythmés par des interventions jouées par les membres du groupe elles-mêmes, les trois futures diplômées vêtues de gakuran (uniformes scolaires masculins), et Runa Rukawa et Mayuka Sasazawa habillées de seifuku (uniformes scolaires féminins). Ce fut un moment intense, toutes les membres d'ULTRAGIRL y mettant tout leur coeur et leurs émotions. Une fois la pièce terminée, Pika☆Mai a alors rejoint ULTRAGIRL pour "Ultra Ouenka", la chanson phare du groupe, Tomoron en tête.
The venue went pitch black again, and the credits started rolling, in a making of VTR of the play rehearsals.
ULTRAGIRL members showed up again right after, in their latest red and white outfits, for a late introduction MC, then joined by Pika☆Mai. Both groups seemed to get along extremely well, remembering the most fun moments of their acting practice. "They're very loud, but they're very nice and super funny!" Sasazawa Mayuka said, asking the audience to support Pika☆Mai as well.
La salle est à nouveau plongée dans le noir, et une projection d'un générique commence, sous la forme d'un making-of de la pièce. Les membres de ULTRAGIRL ont alors réapparu, dans leurs costumes rouge et blanc, pour un MC de présentation bien mérité, rejointes ensuite par Pika☆Mai. Les deux groupes semblent s'entendre à merveilles, et se sont alors rappelé les moments les plus drôles de leurs répétitions. « Elles parlent fort, mais elles sont très gentilles et très drôles ! » précise Mayuka Sasazawa, demandant ensuite au public de soutenir Pika☆Mai.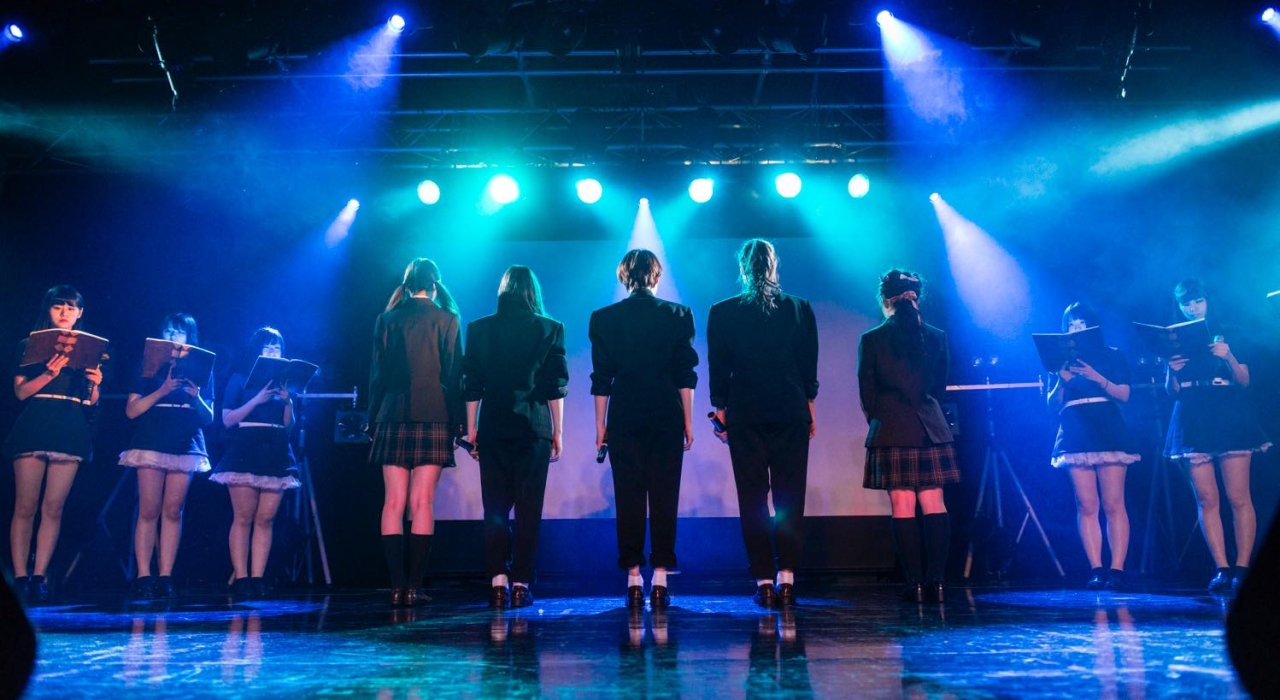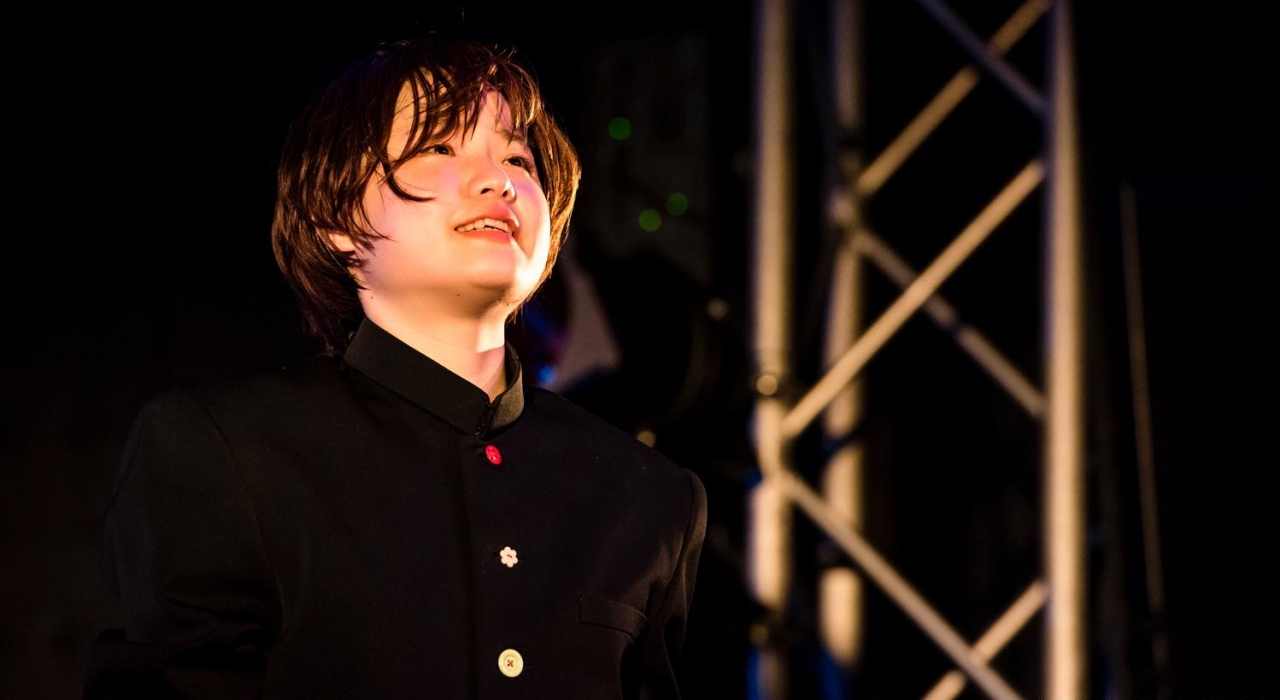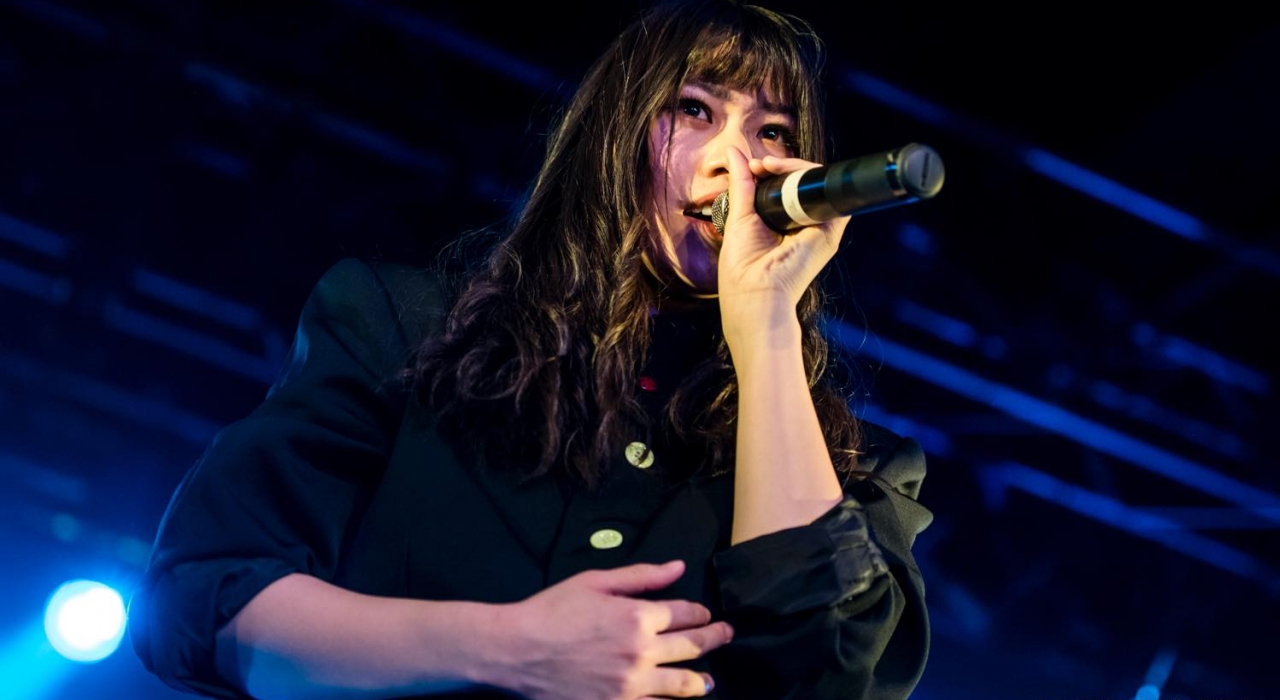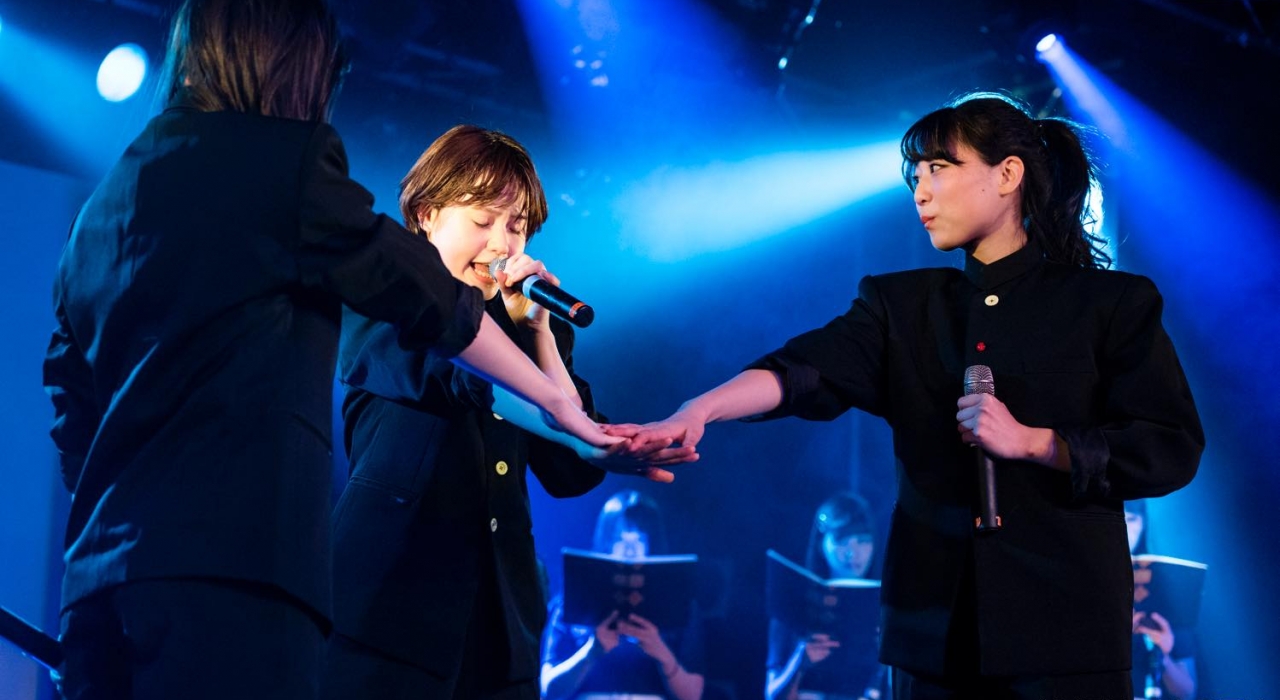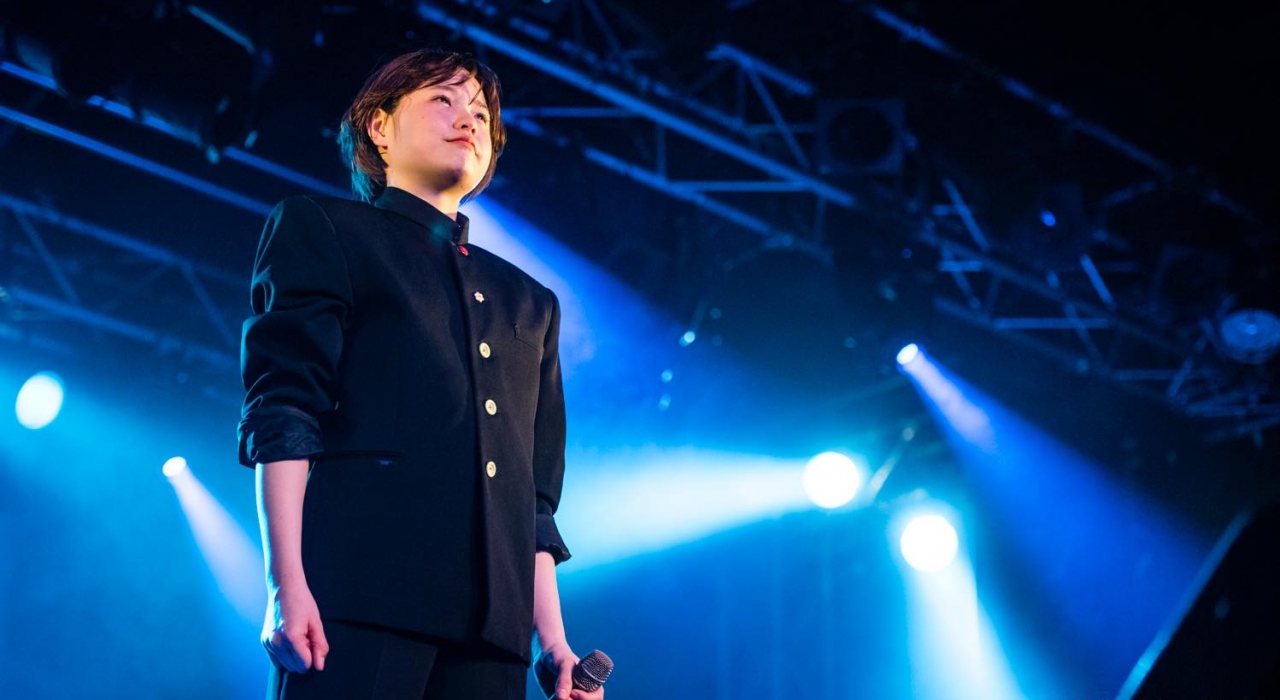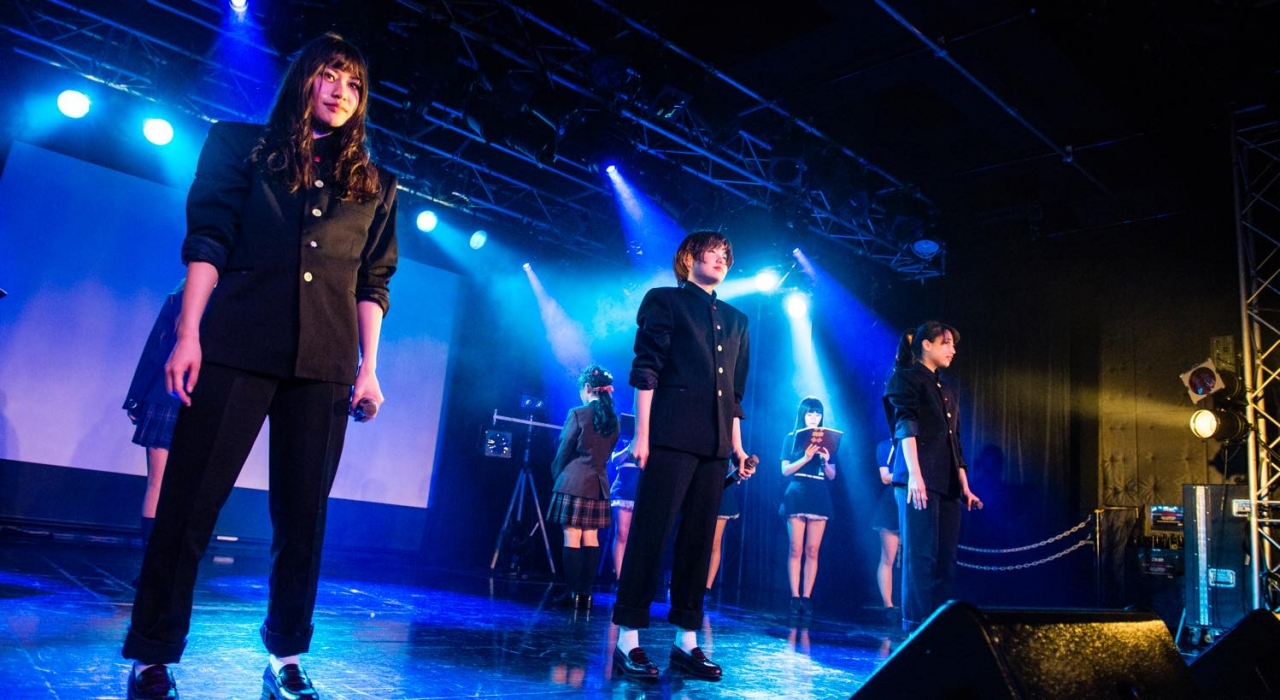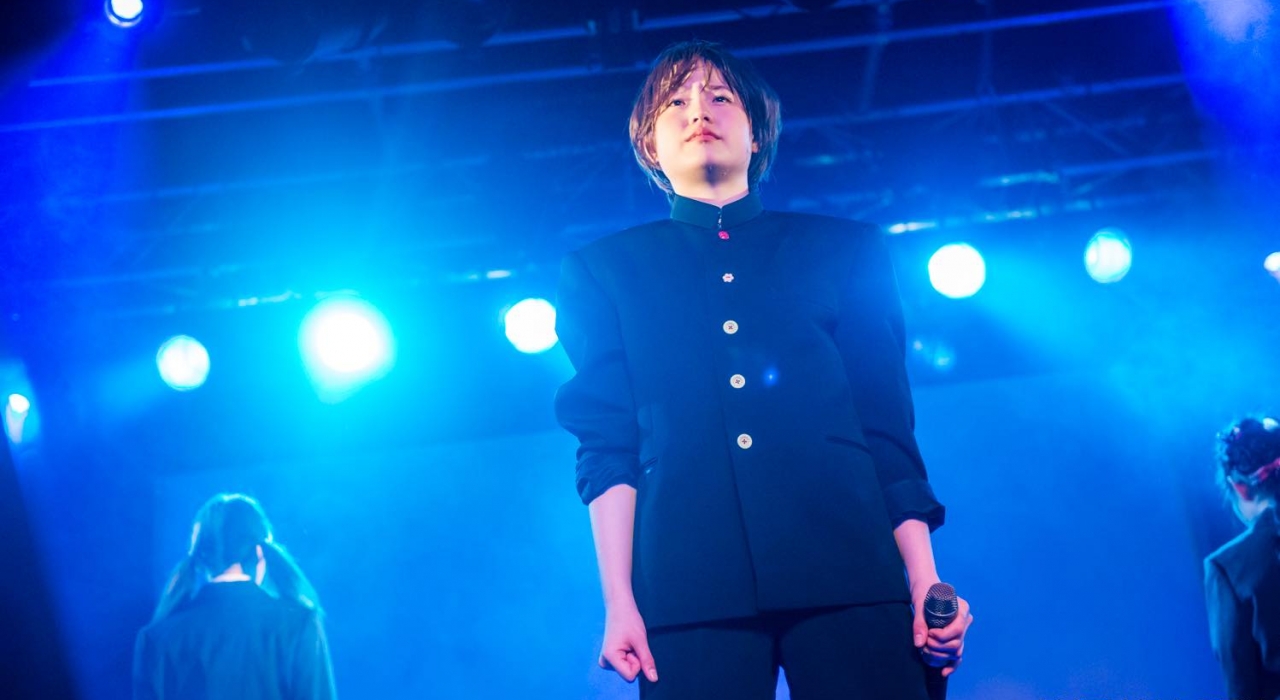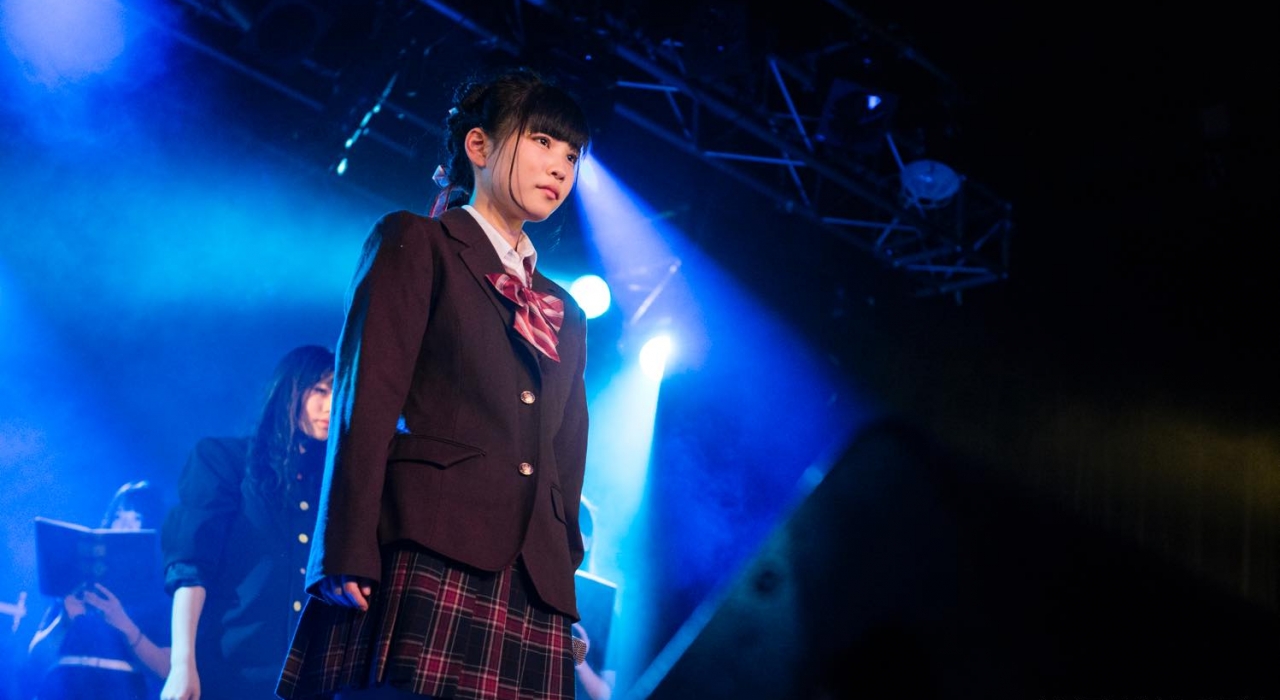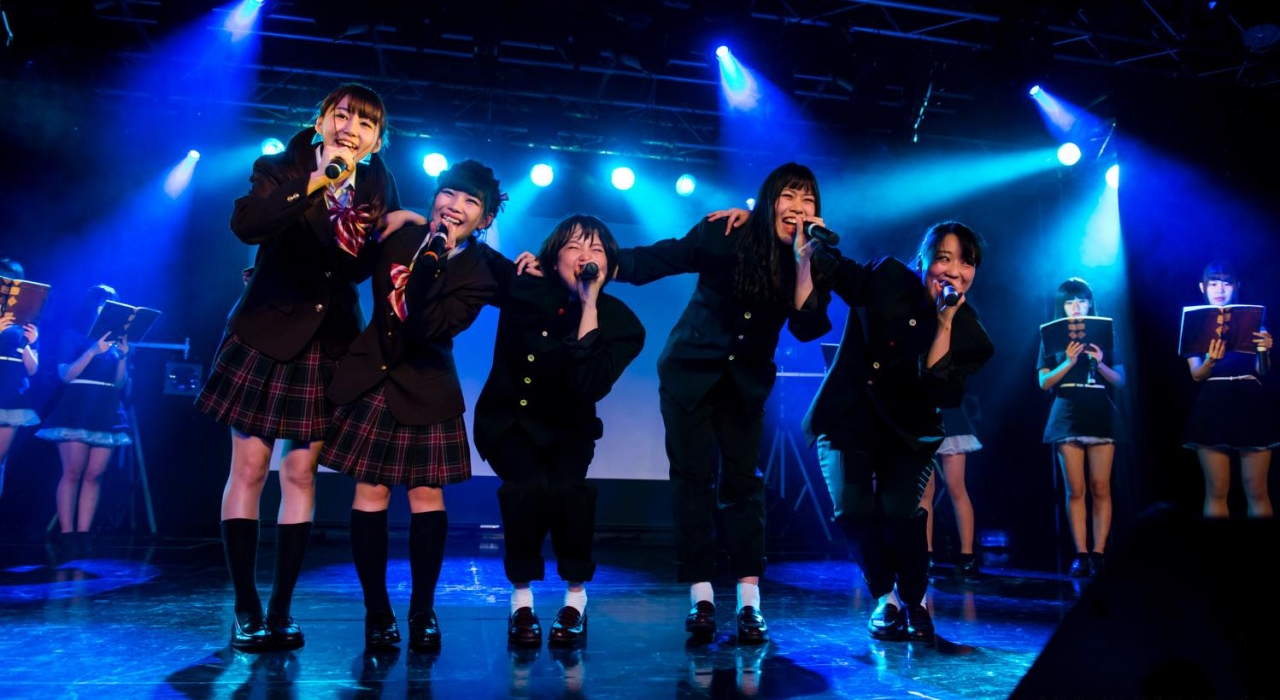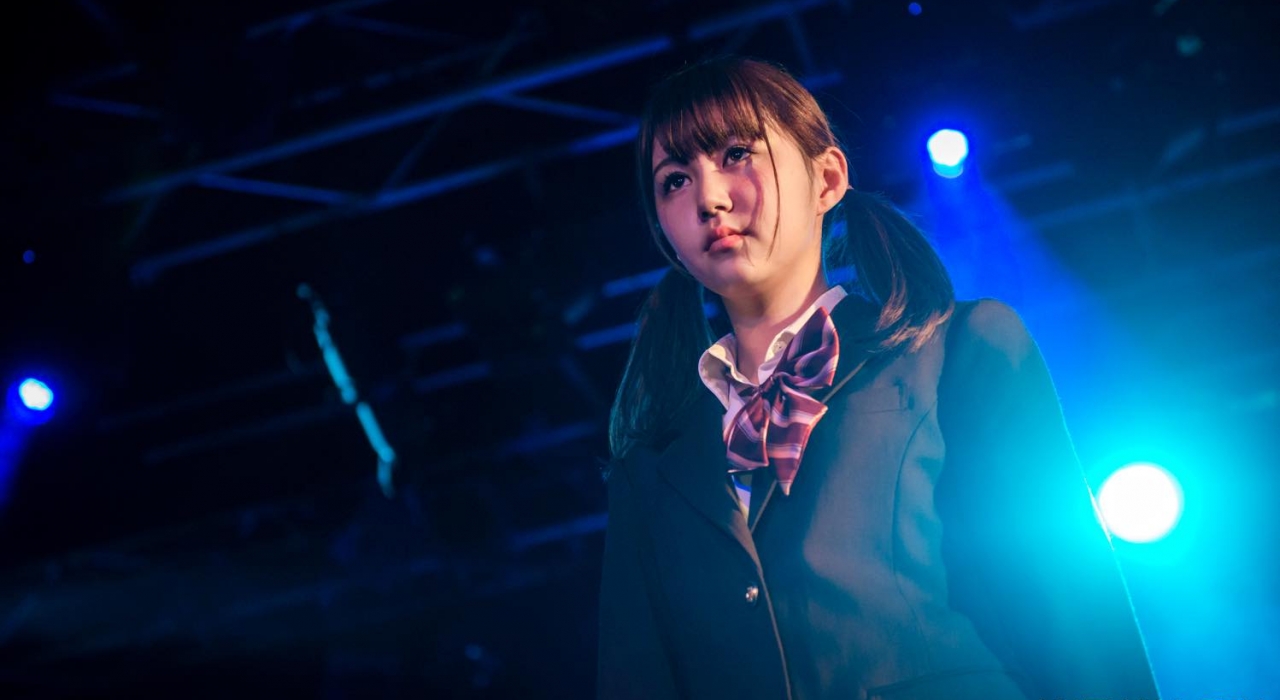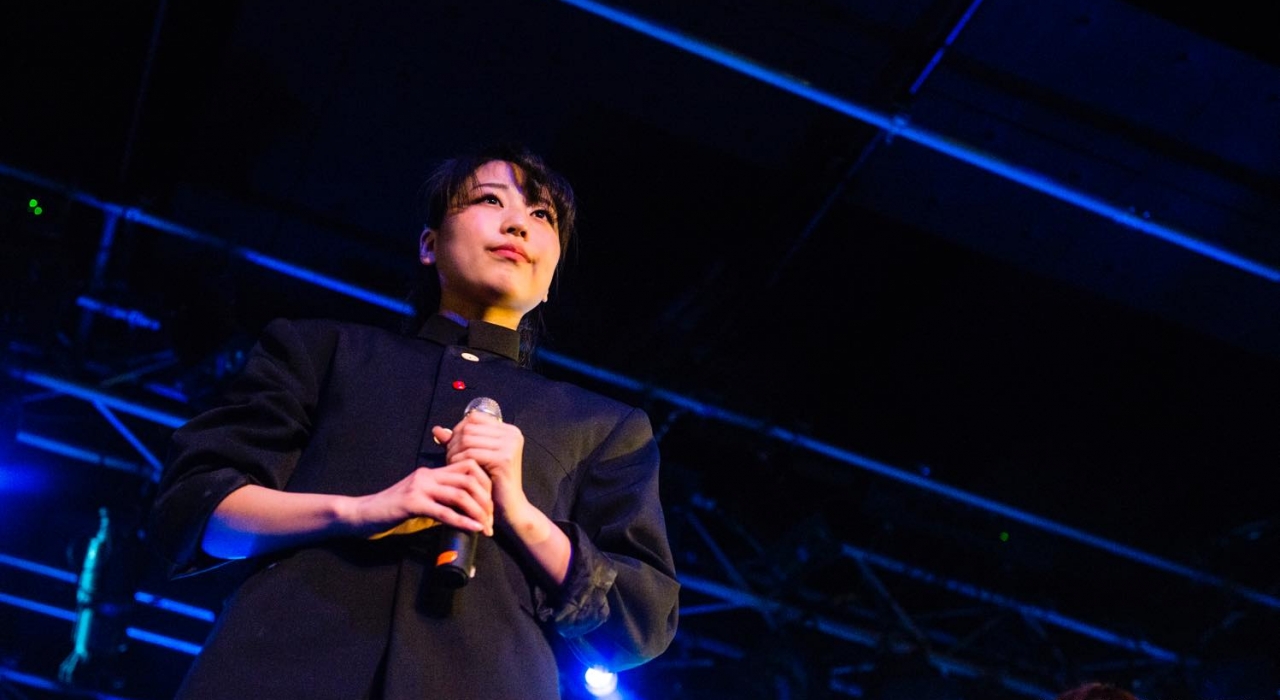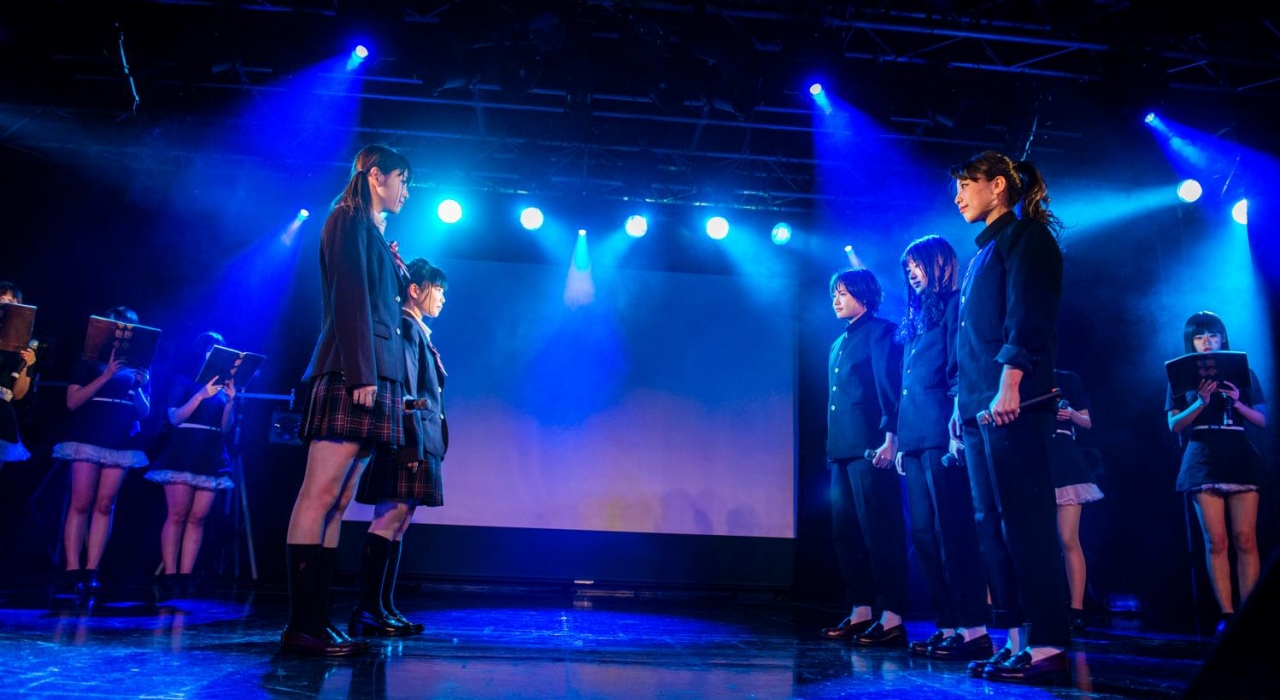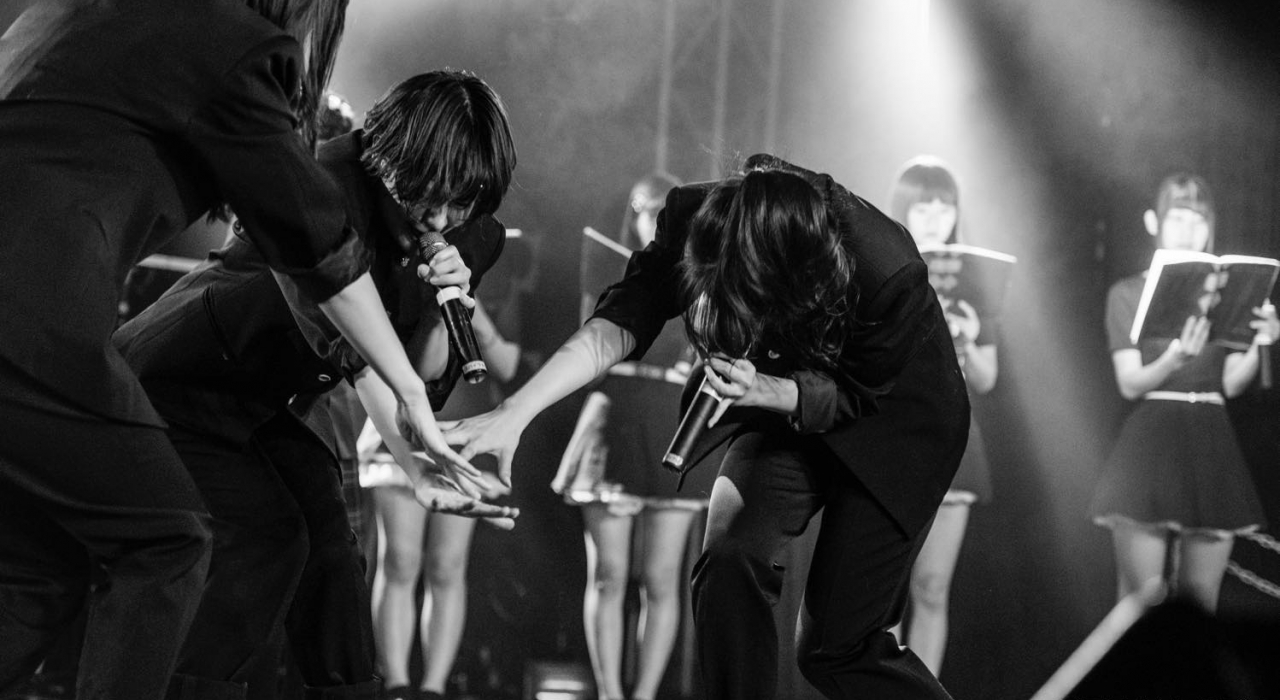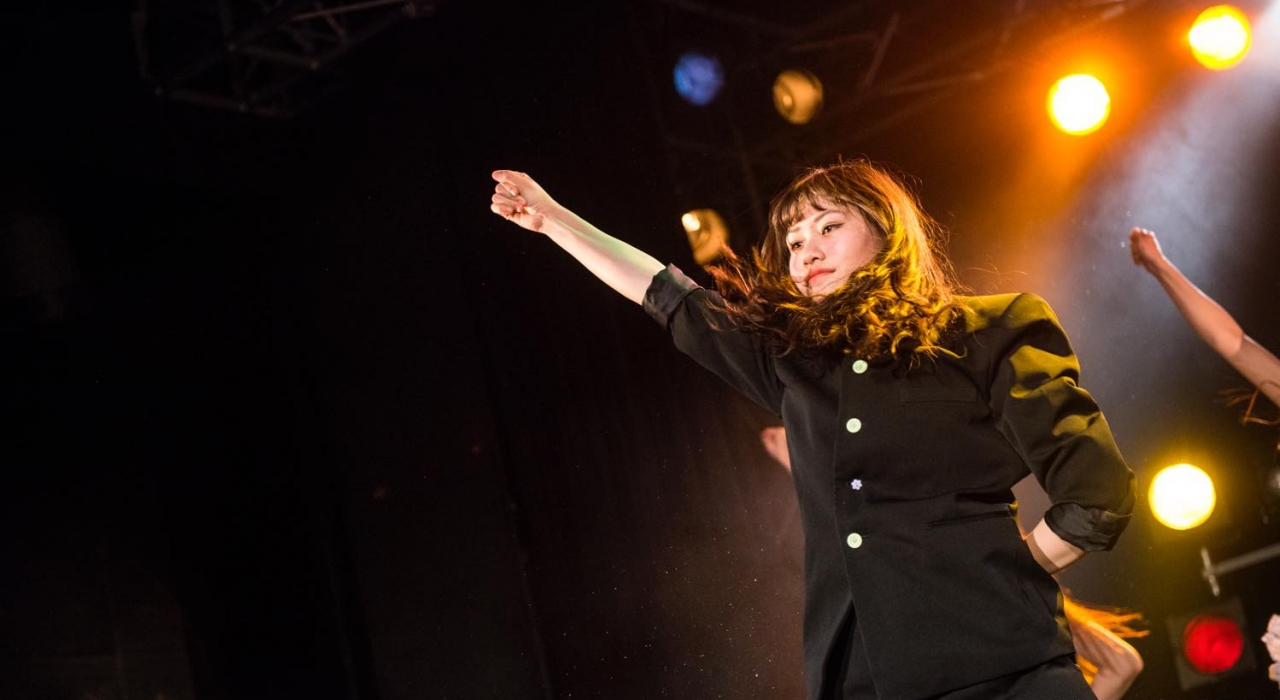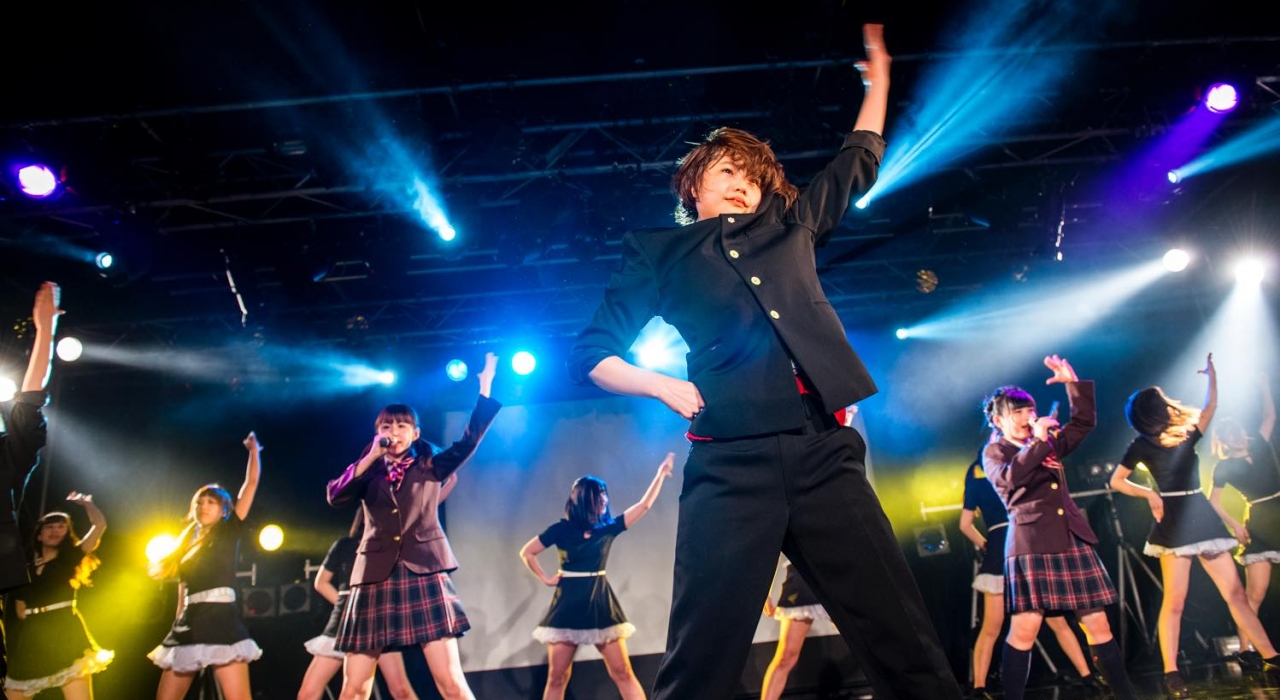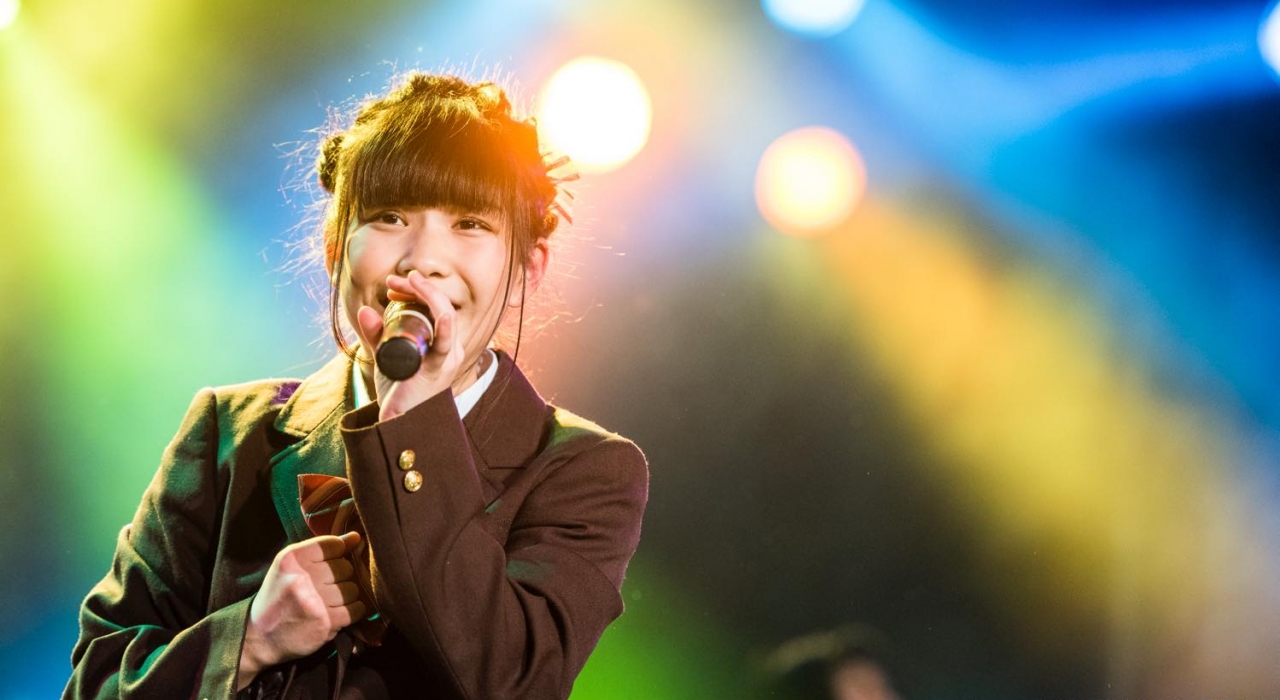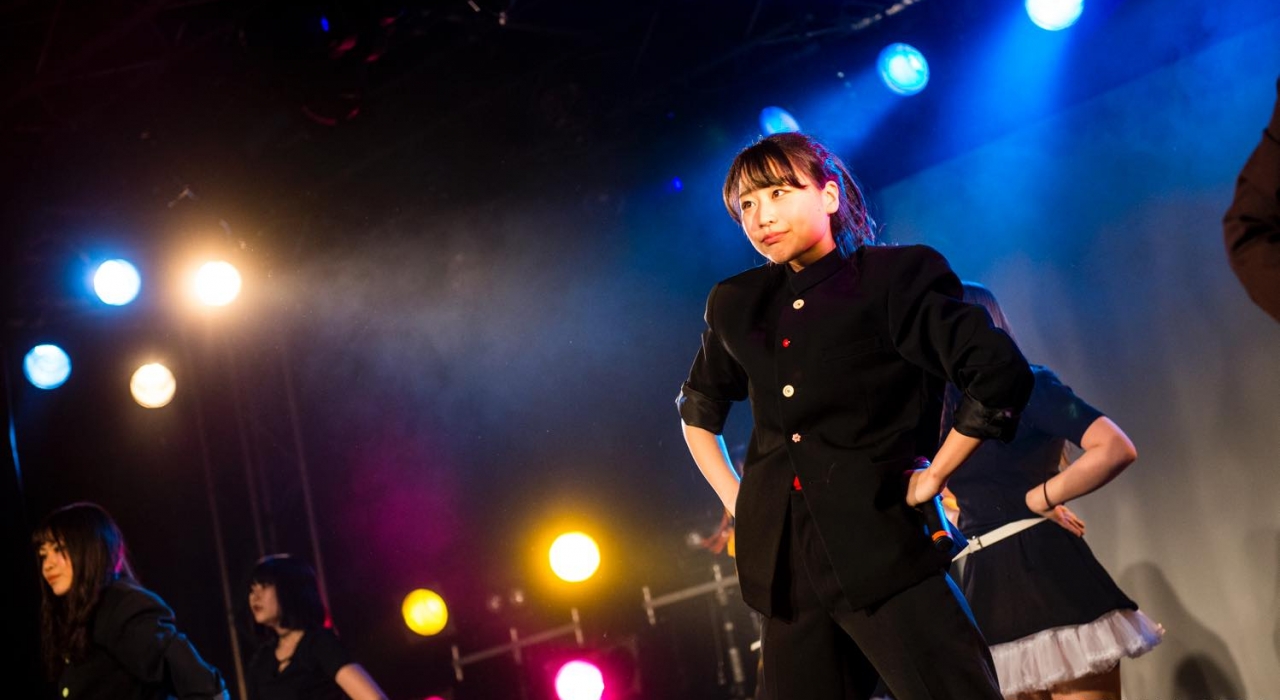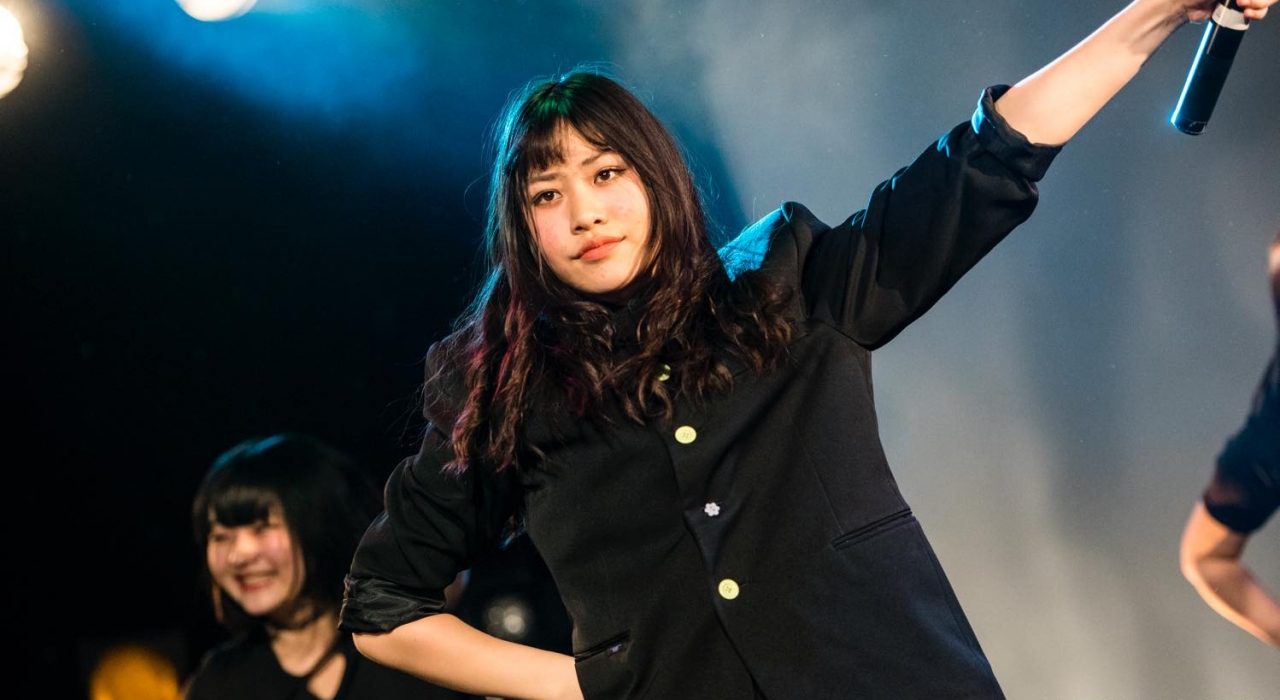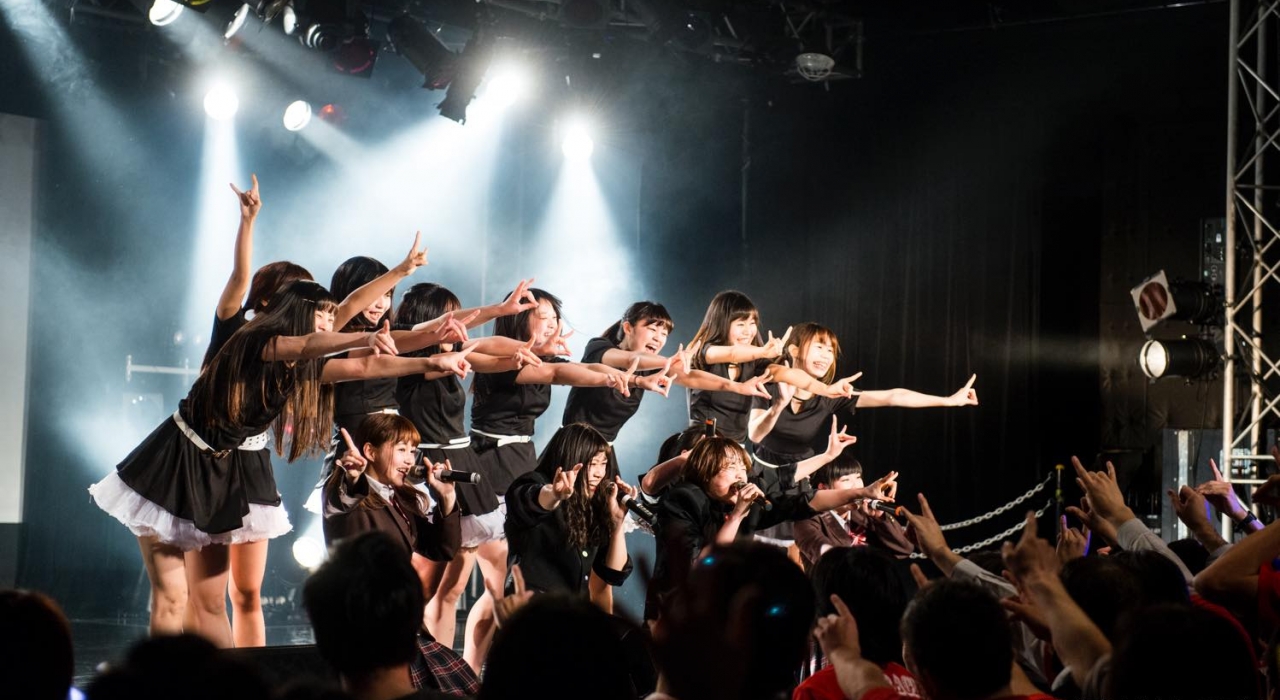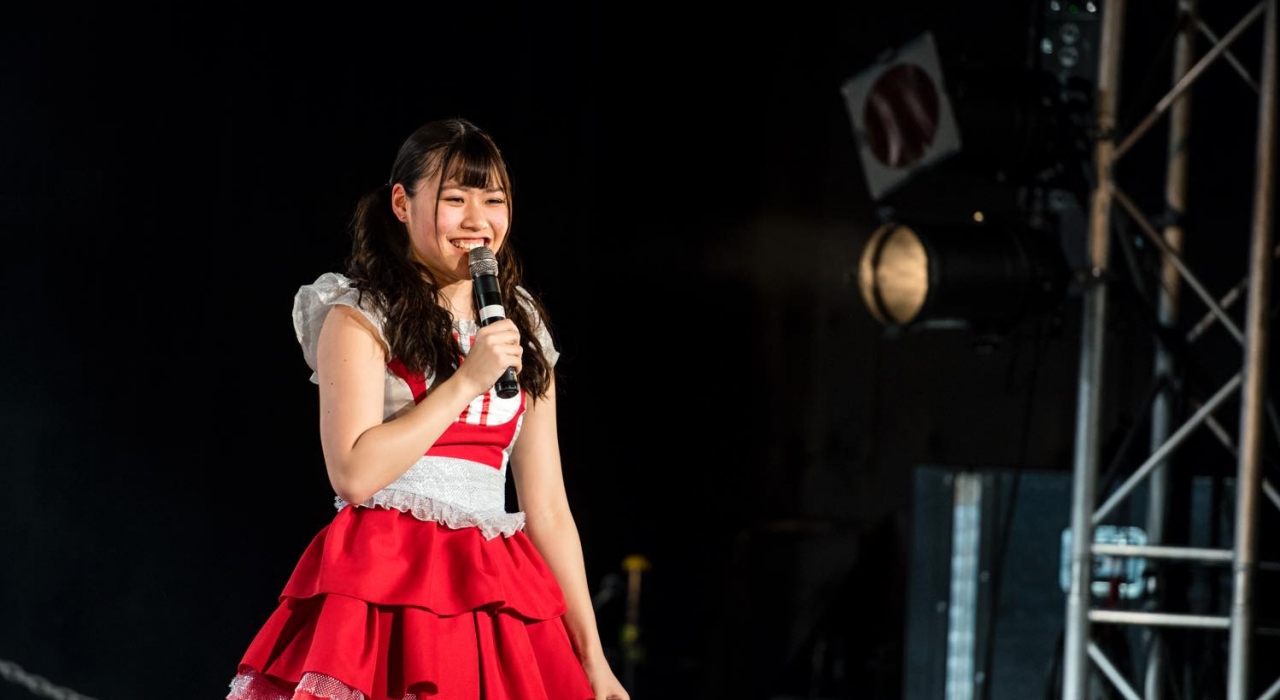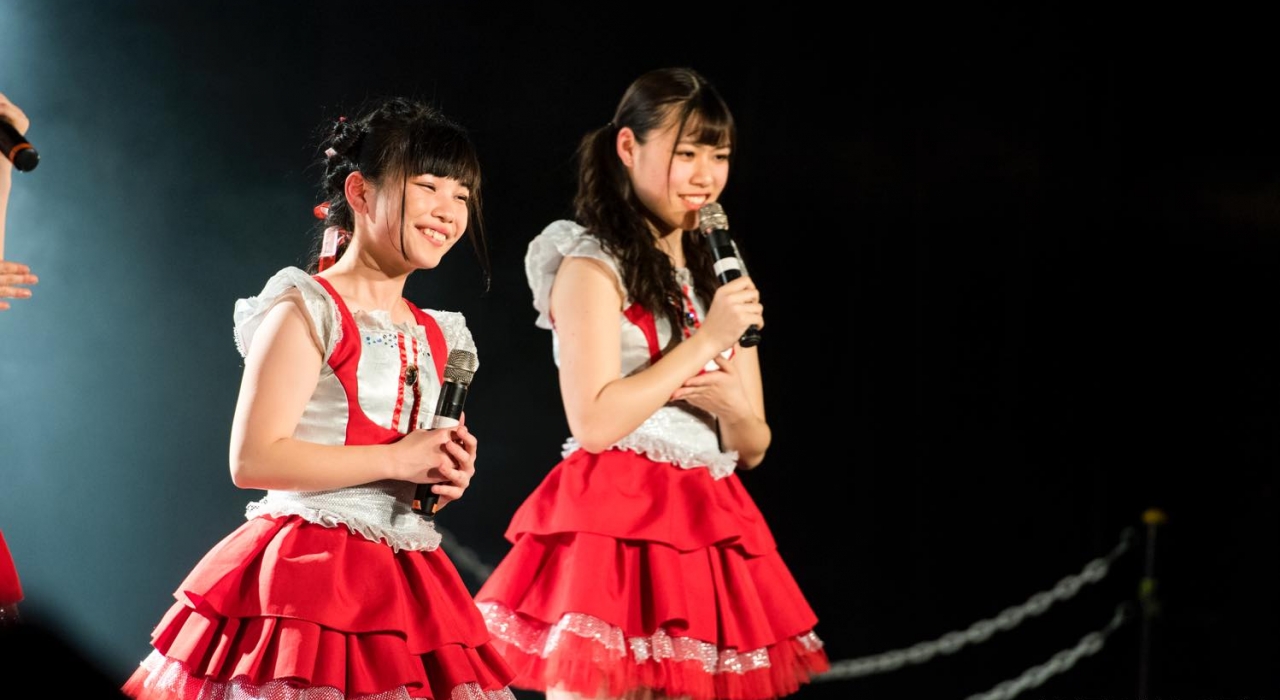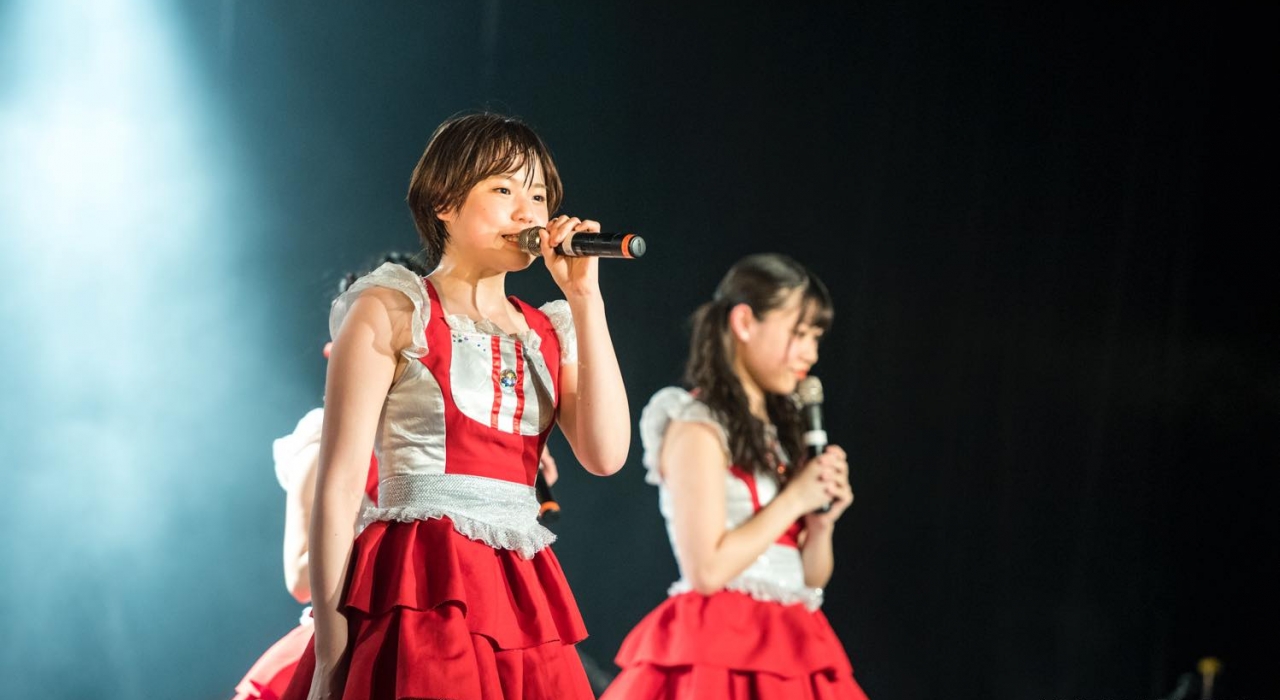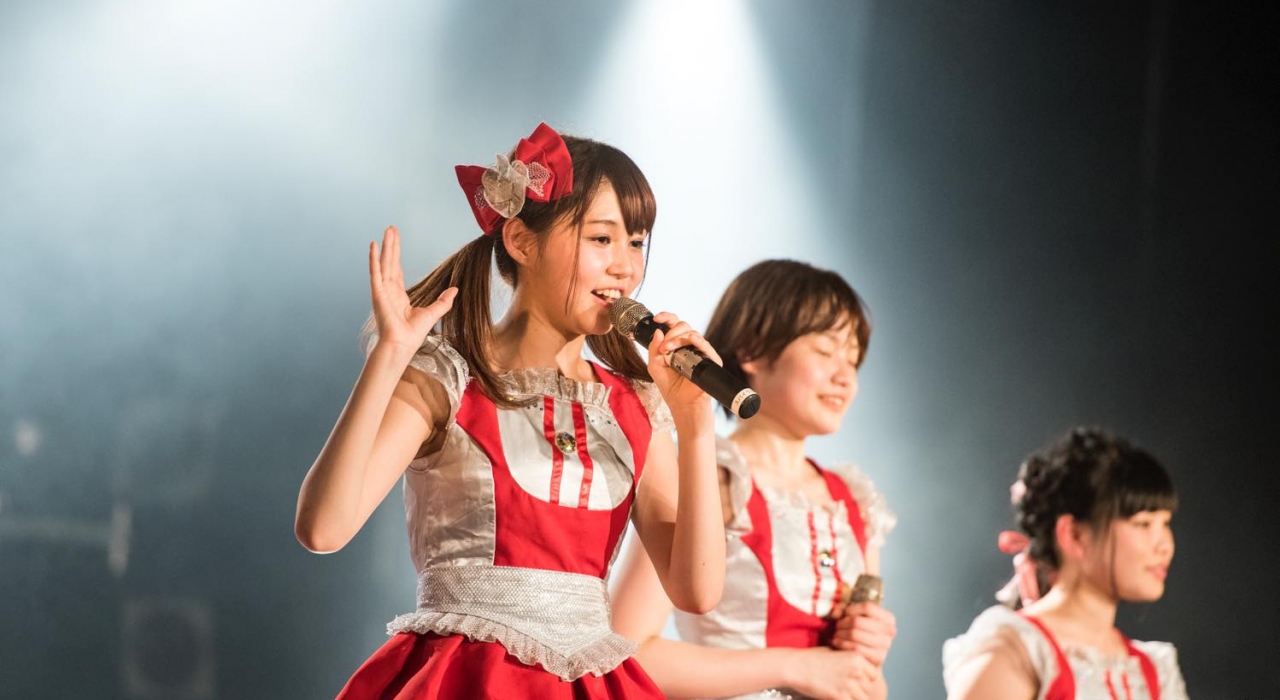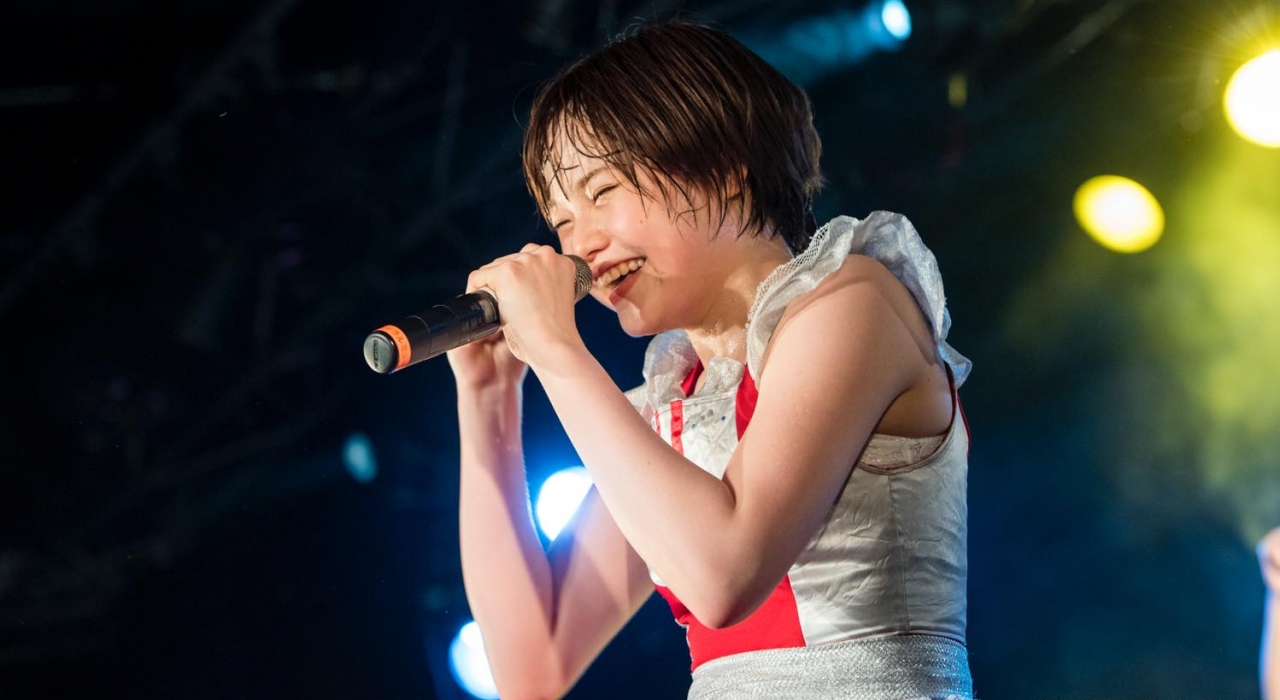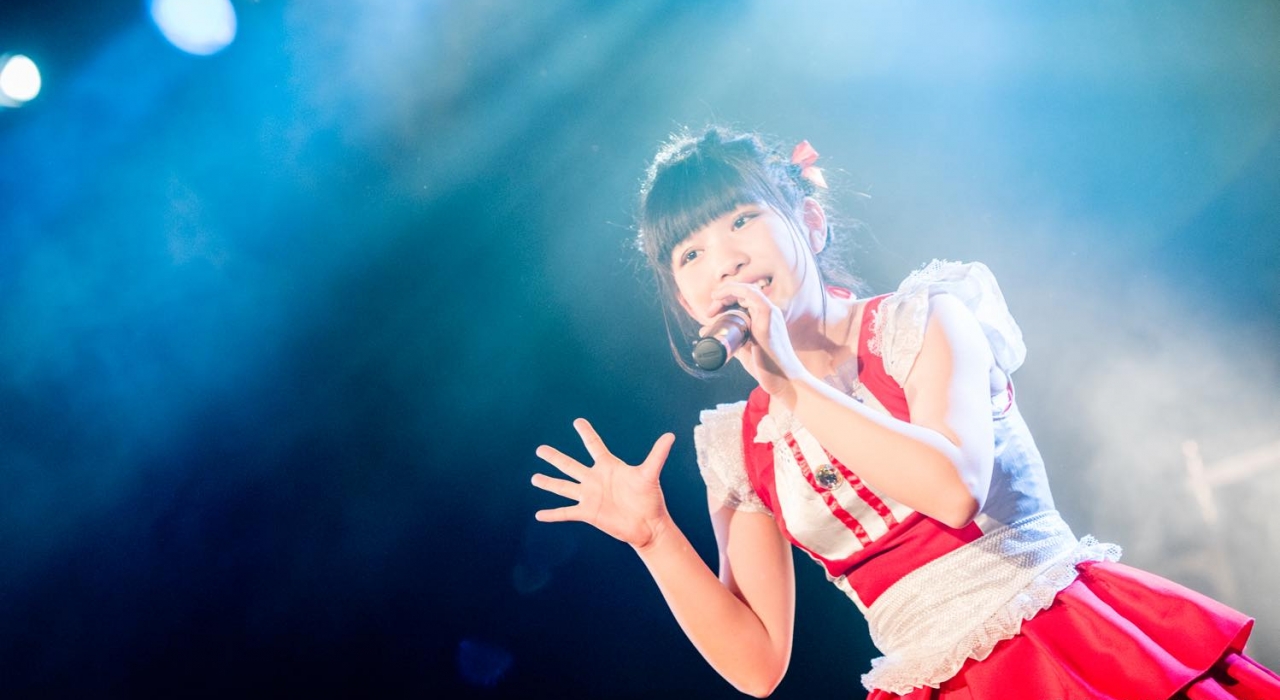 The show went on with major debut single "No.1", followed by two of their most upbeat songs. The girls waved towels up in the air on "Banjaai", throwing them in the audience as gifts at the end, then clapped their hands along with their fans in "888" (pronounced "pachi pachi pachi", the Japanese onomatopoeia for clapping). But all this excitement left place for emotions, and this segment ended with the very fitting-named ballad "Kimi ni arigatou" (« I thank you »).
Le show continue alors avec leur single de début en major, "No.1", suivi de deux de leurs chansons les plus énergiques. Les membres ont alors fait tourner leurs serviettes au-dessus de leurs têtes sur "Banjaai", pour ensuite les jeter dans le public en cadeau à la fin, puis ont pu taper des mains avec leurs fans sur "888" (prononcé « pachi pachi pachi », la prononciation du chiffre huit et onomatopée japonaise pour les applaudissements). Mais cette excitation a alors fait place aux émotions, et cette partie du concert s'est soldée sur une ballade très justement intitulée "Kimi ni arigatou" (« Je te remercie »).
The following MC was the moment for the girls to make fun of Hirose Miyuu for getting her towel stuck in a spotlight cable near the ceiling. Kawasaki Serina also remembered the fans to check out the venue lobby, where an exhibition of the group's outfits and tee-shirts over the past 5 years was held. "I think those of you guys who love collecting things will love it," she said. Unfortunately, it was then time for them to announce that the next segment would be the last one.
Le MC suivant était le moment pour les filles de se moquer gentiment de Miyuu Hirose pour avoir coincé sa serviette dans un câble de projecteur au plafond. Serina Kawasaki a ensuite rappelé aux fans d'aller jeter un oeil dans l'entrée de la salle de concert, où une exposition de tous les tee-shirts et costumes du groupe depuis ces cinq dernières années était installée. "Je pense que ceux qui aiment collectionner des choses adoreront voir ça," a-t-elle précisé. Malheureusement, ce fut également l'heure pour le concert de toucher à sa fin, annonçant que la portion suivante serait la dernière.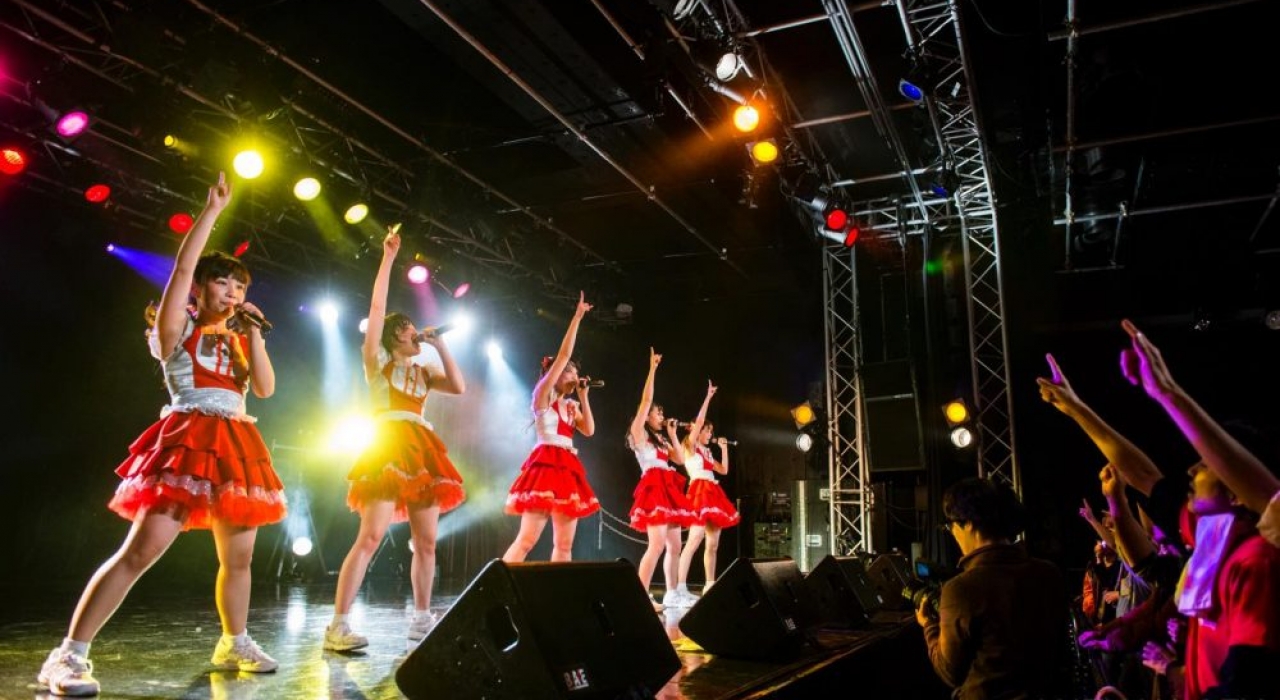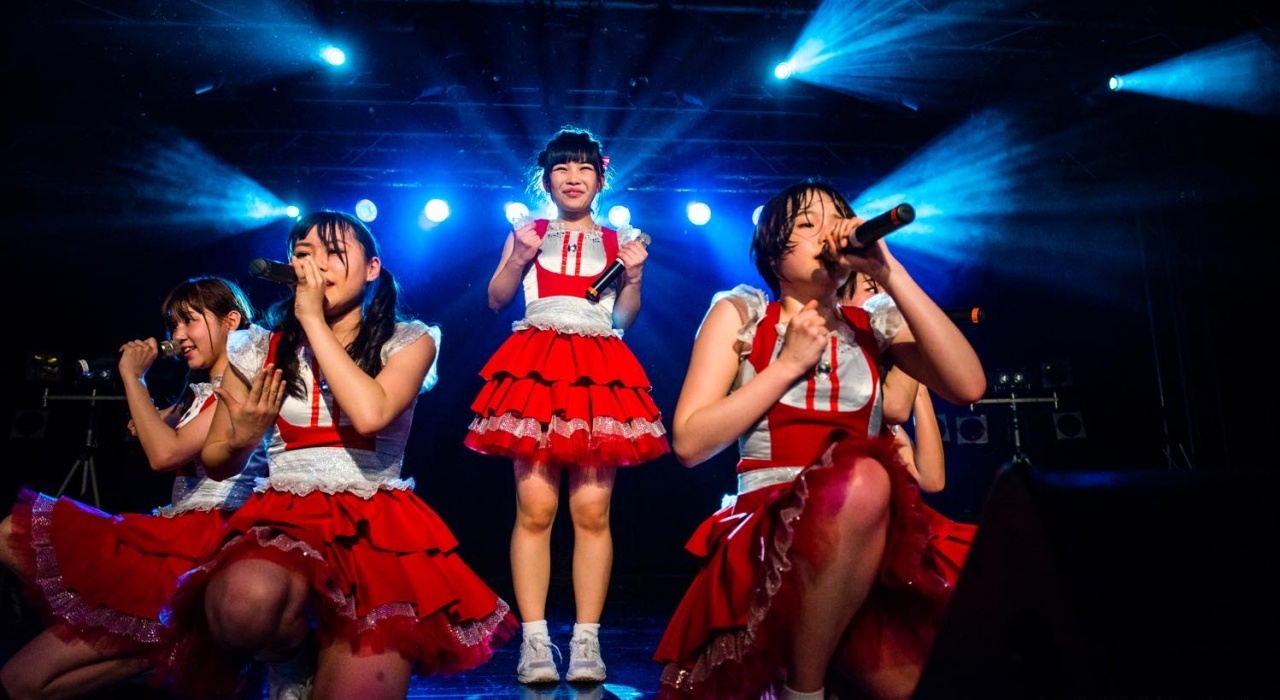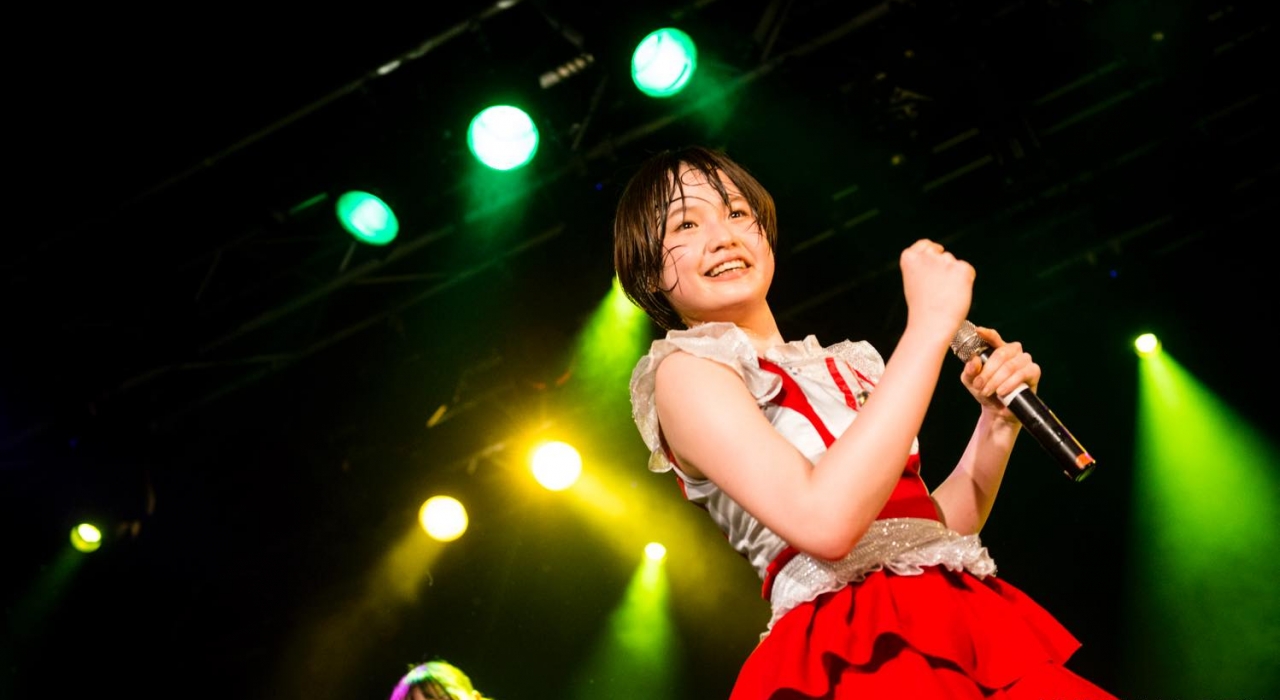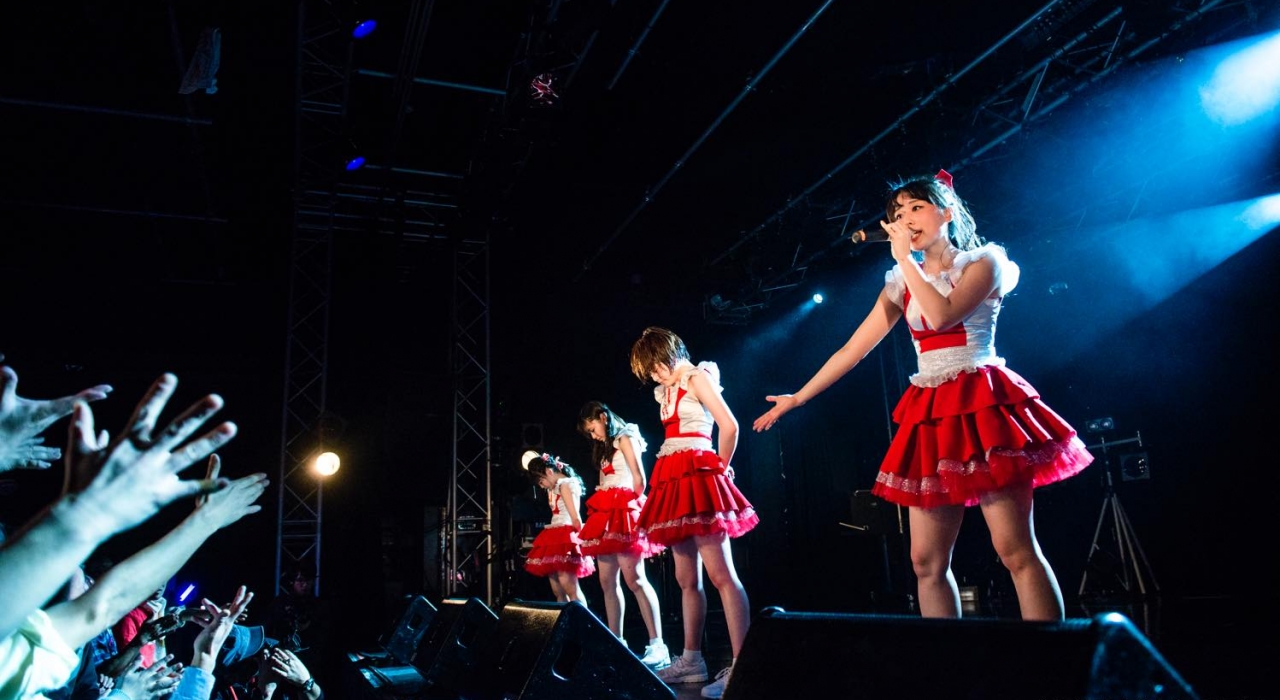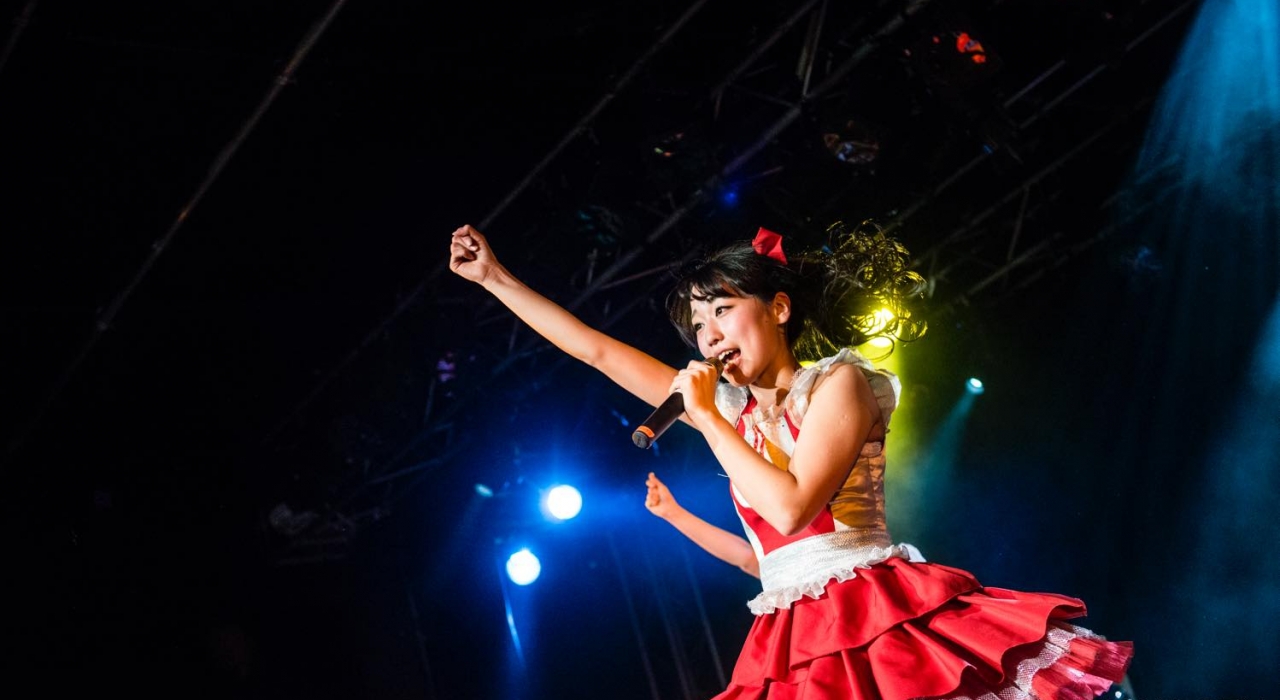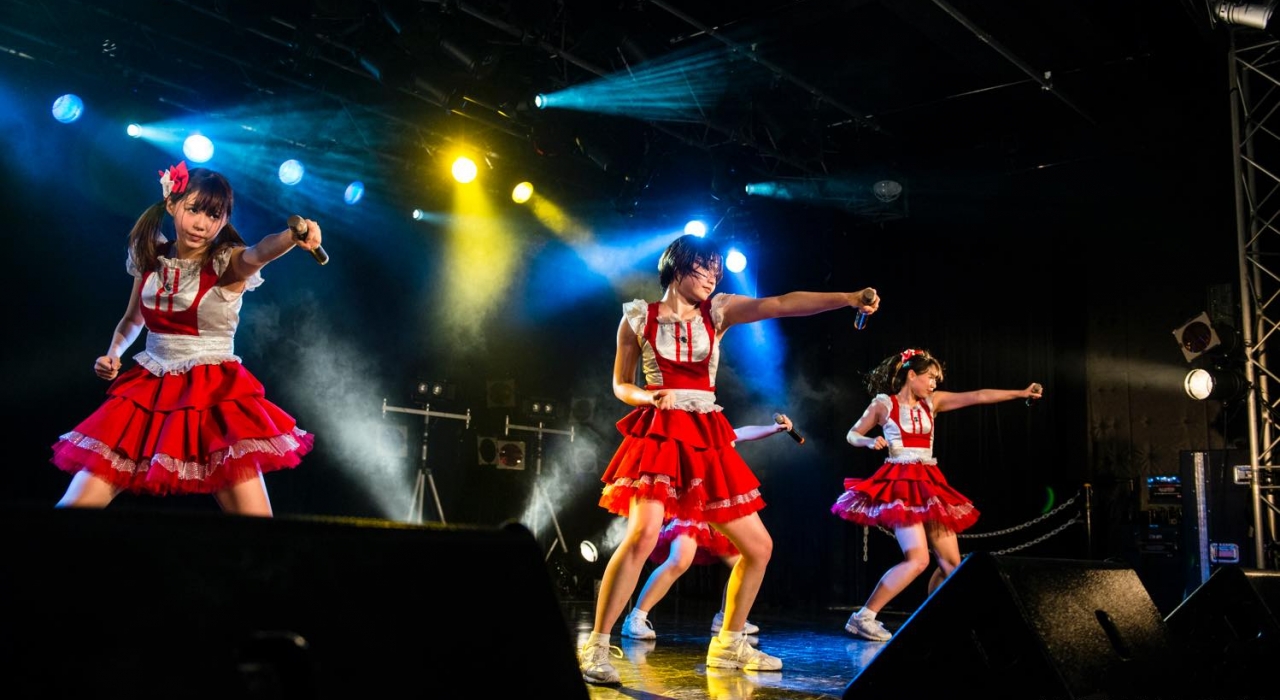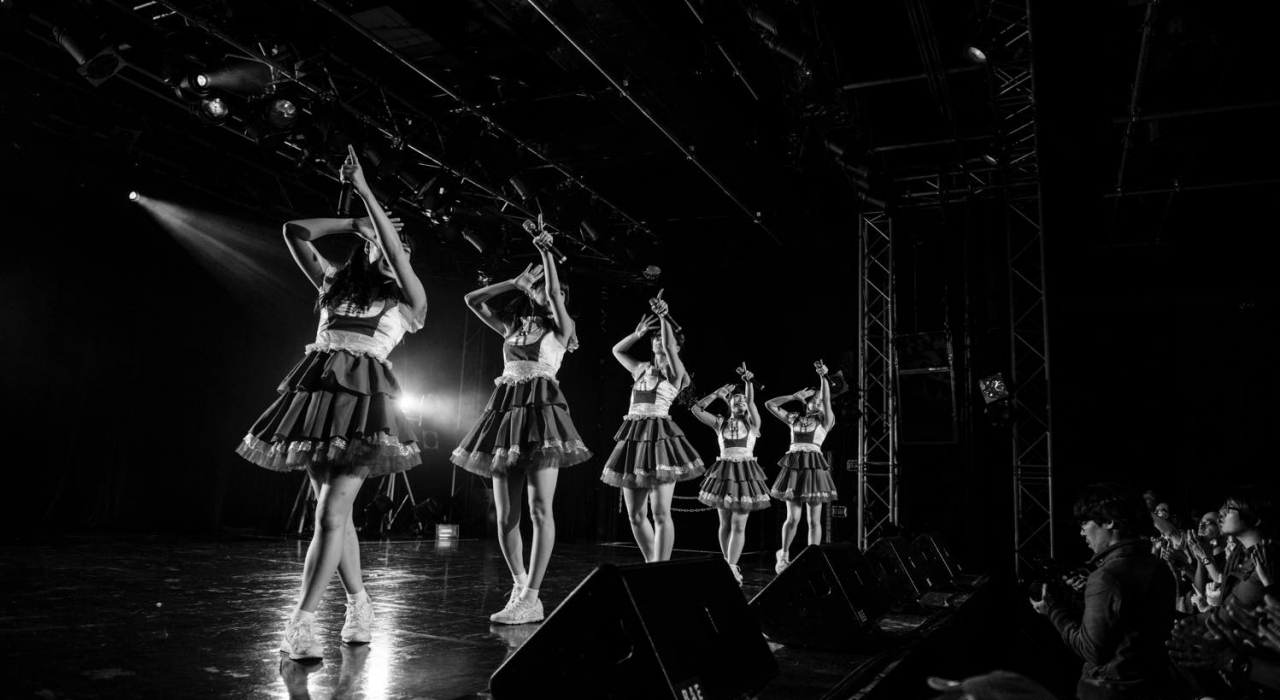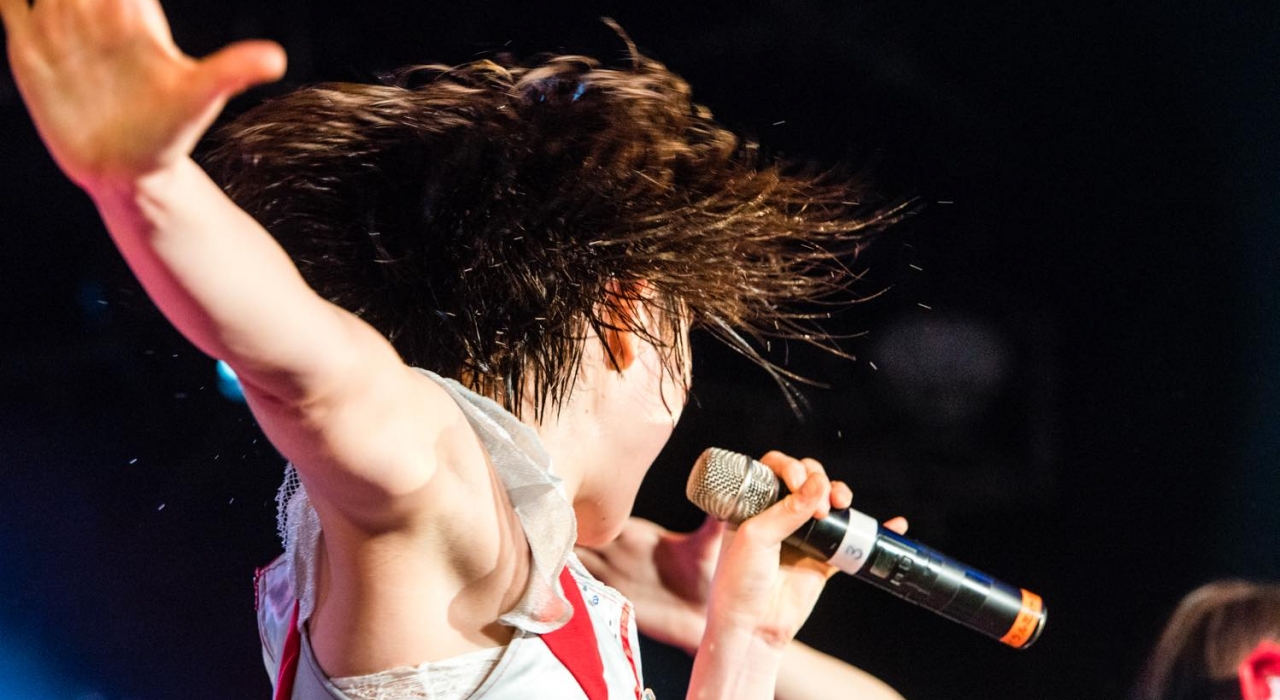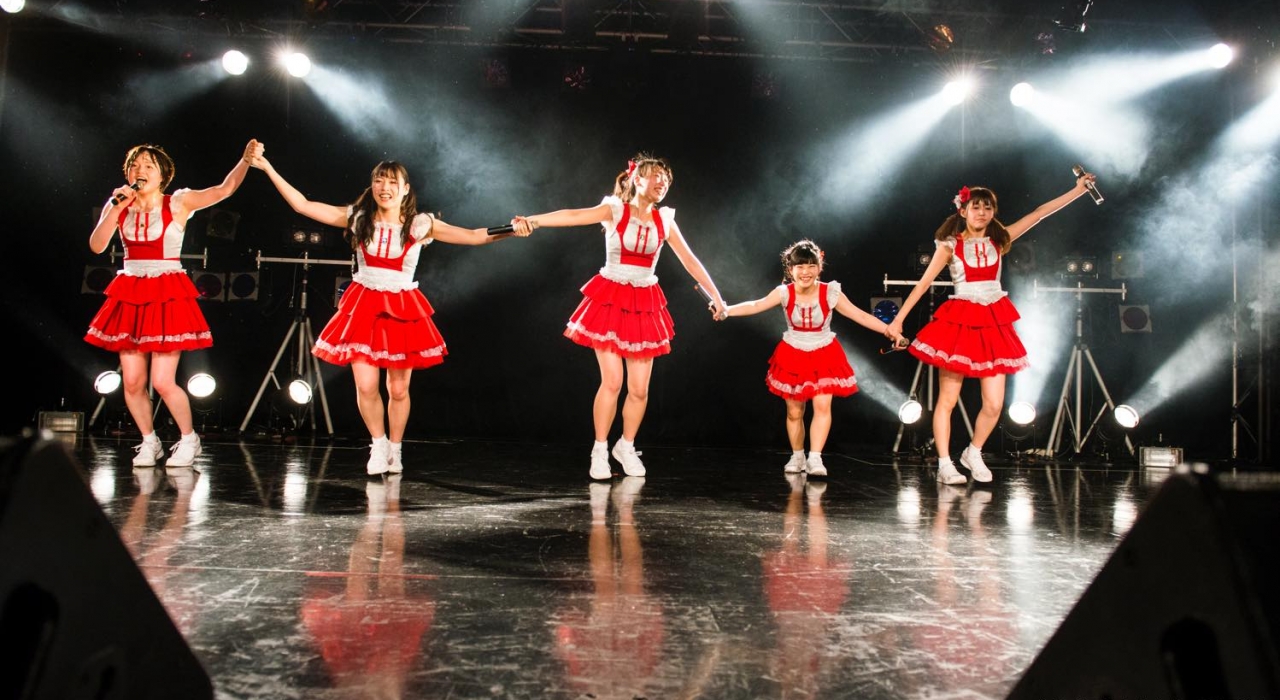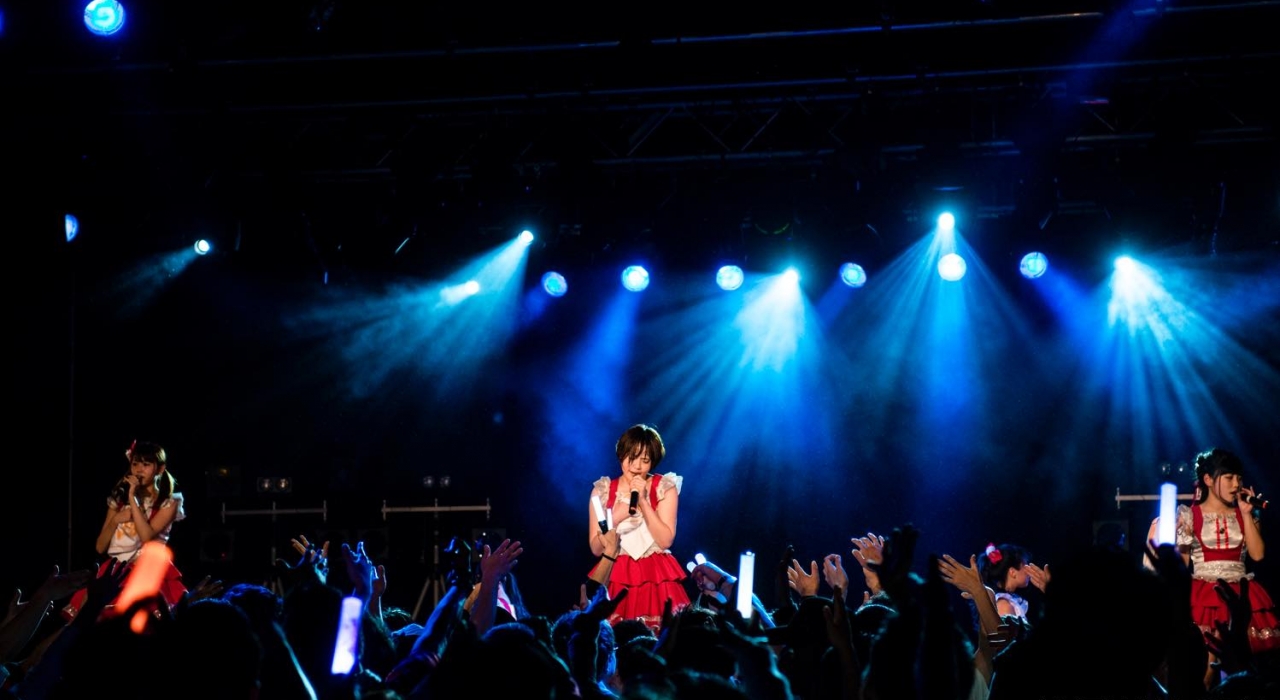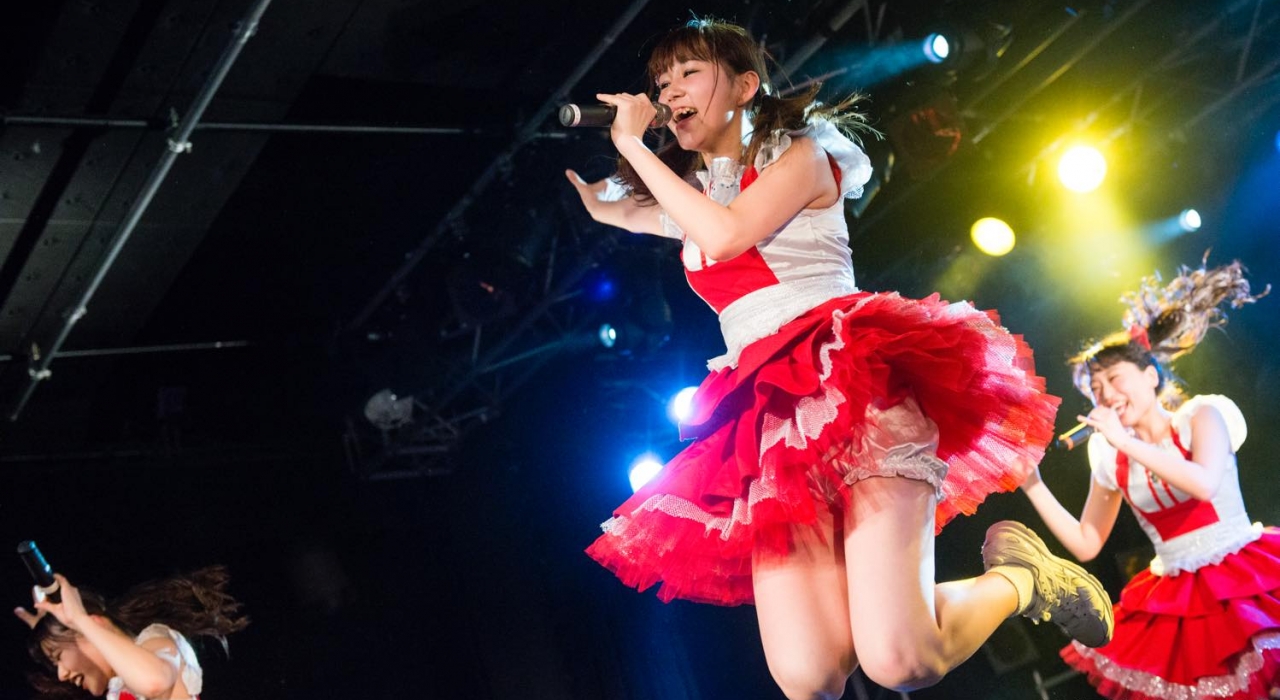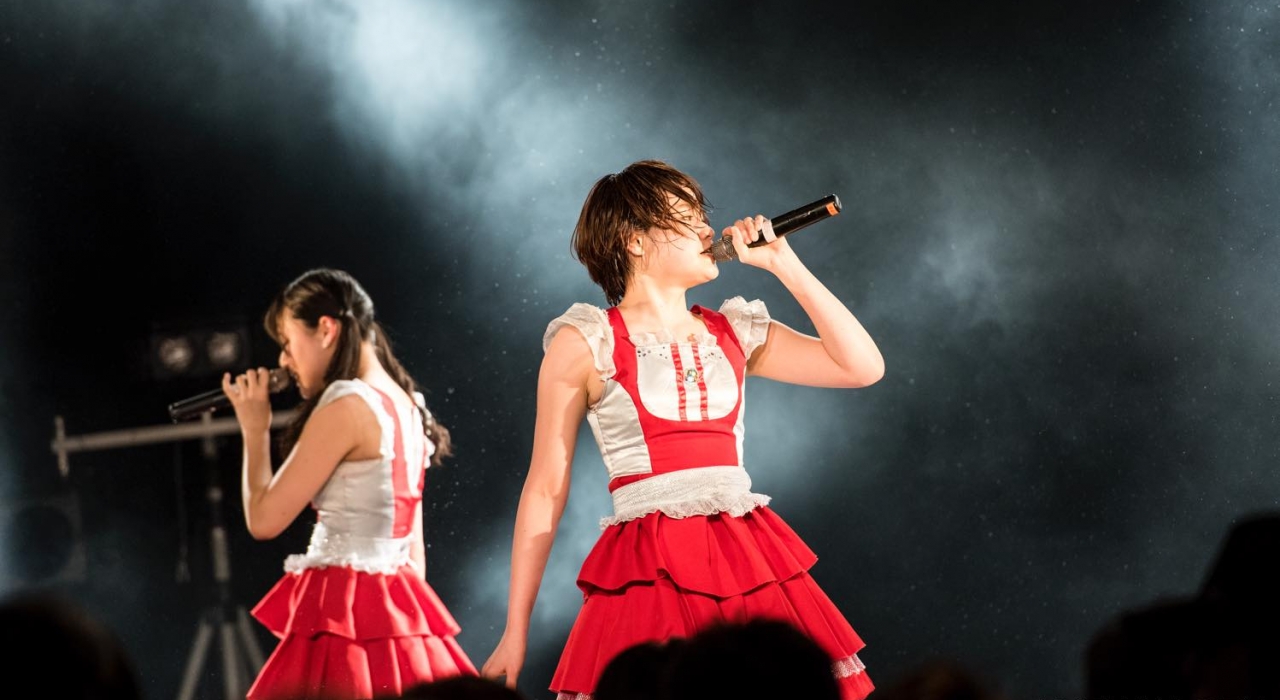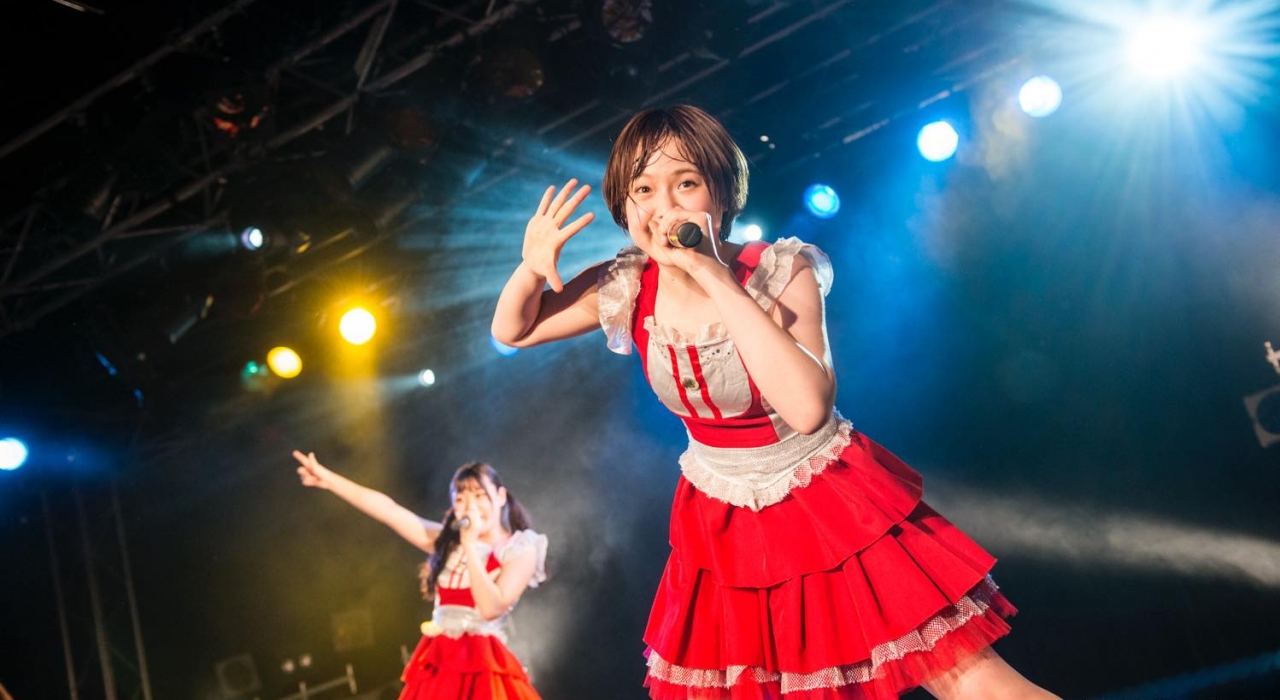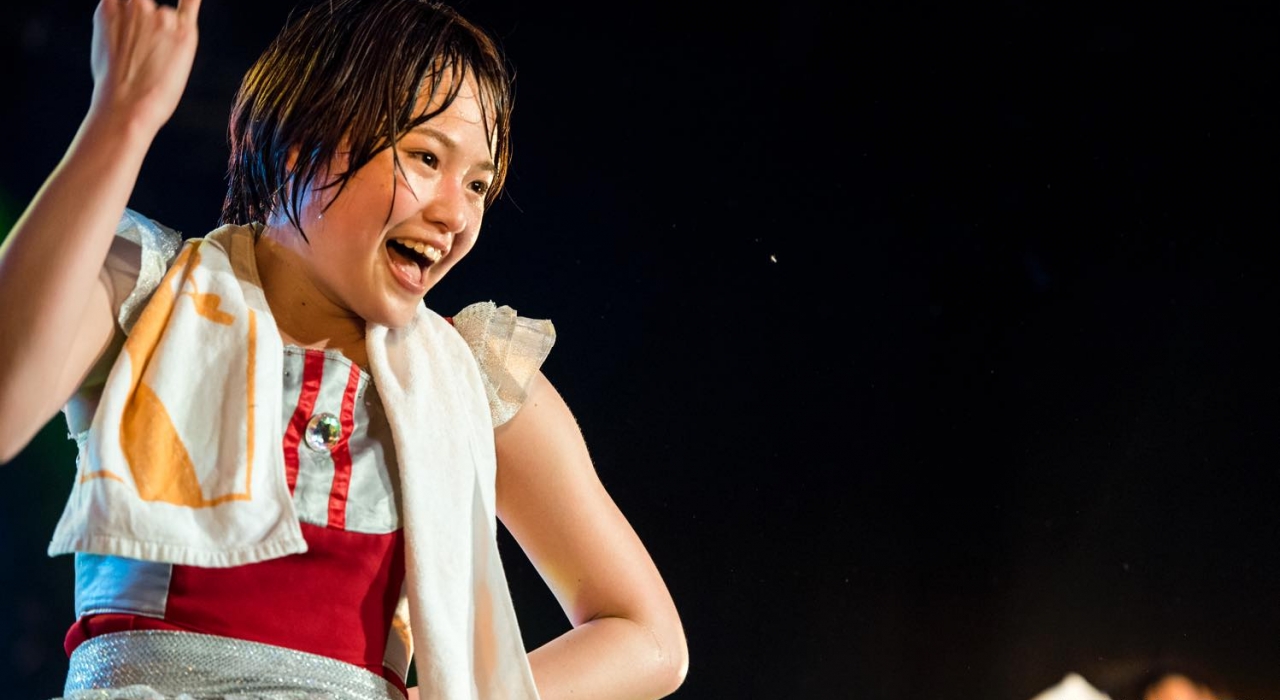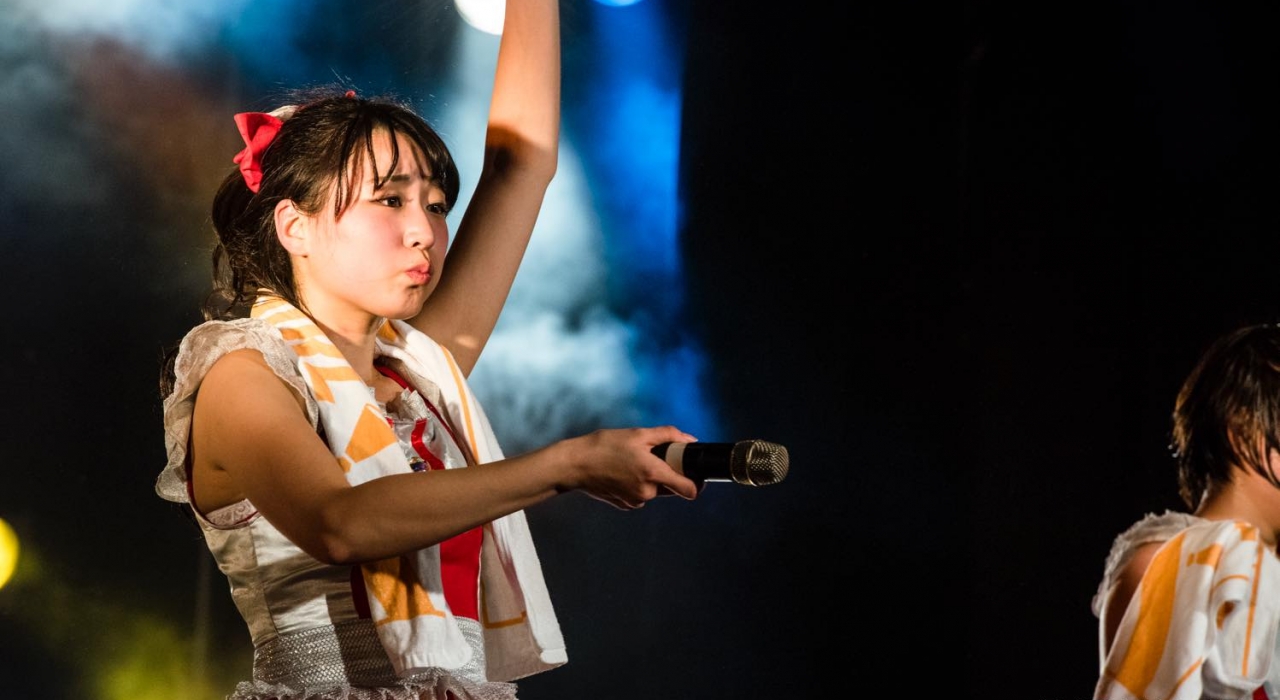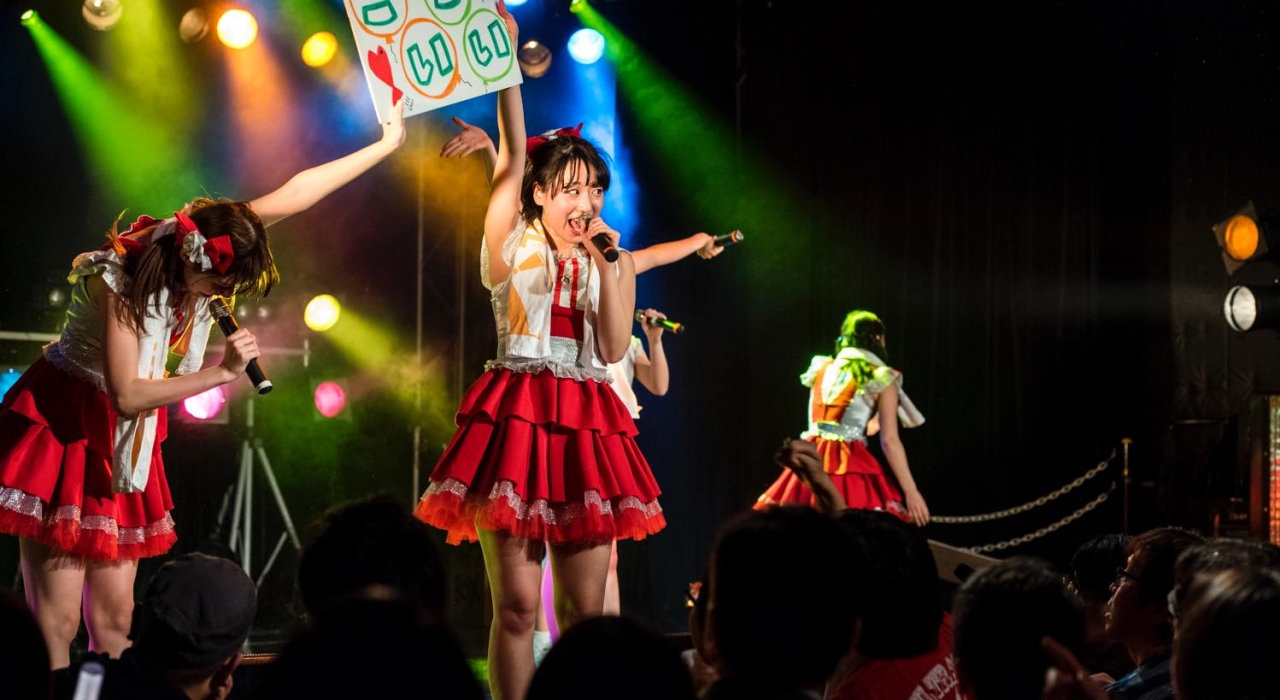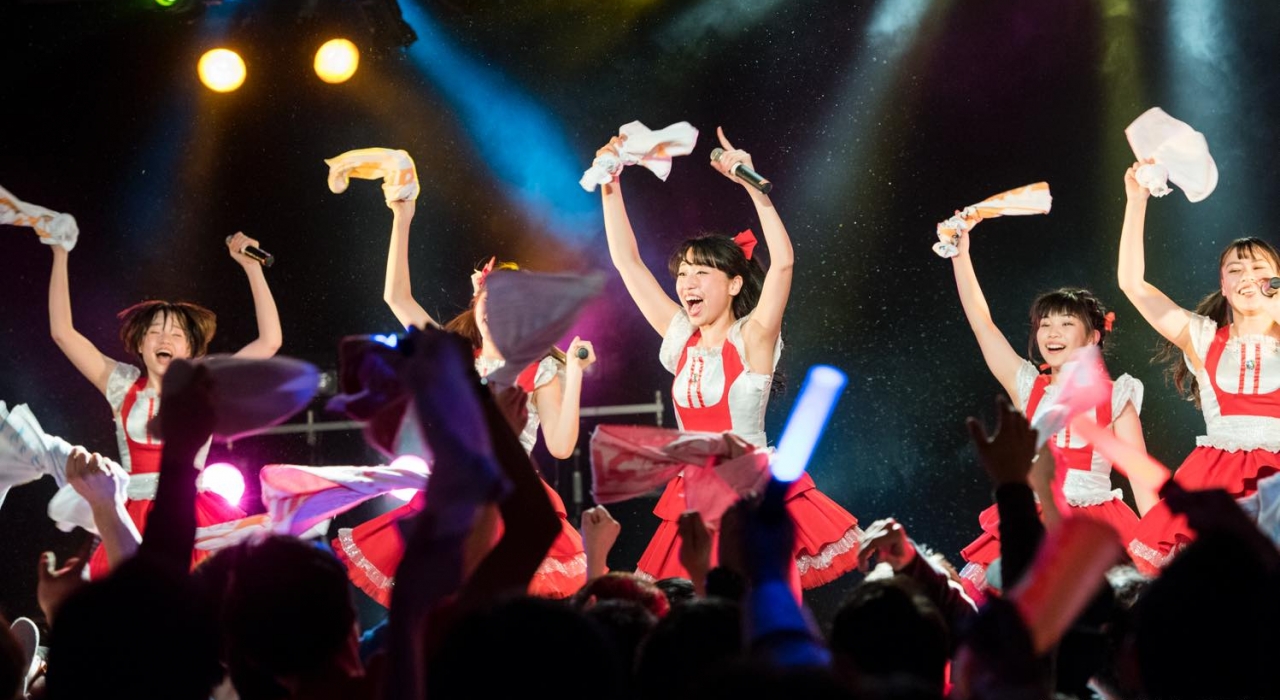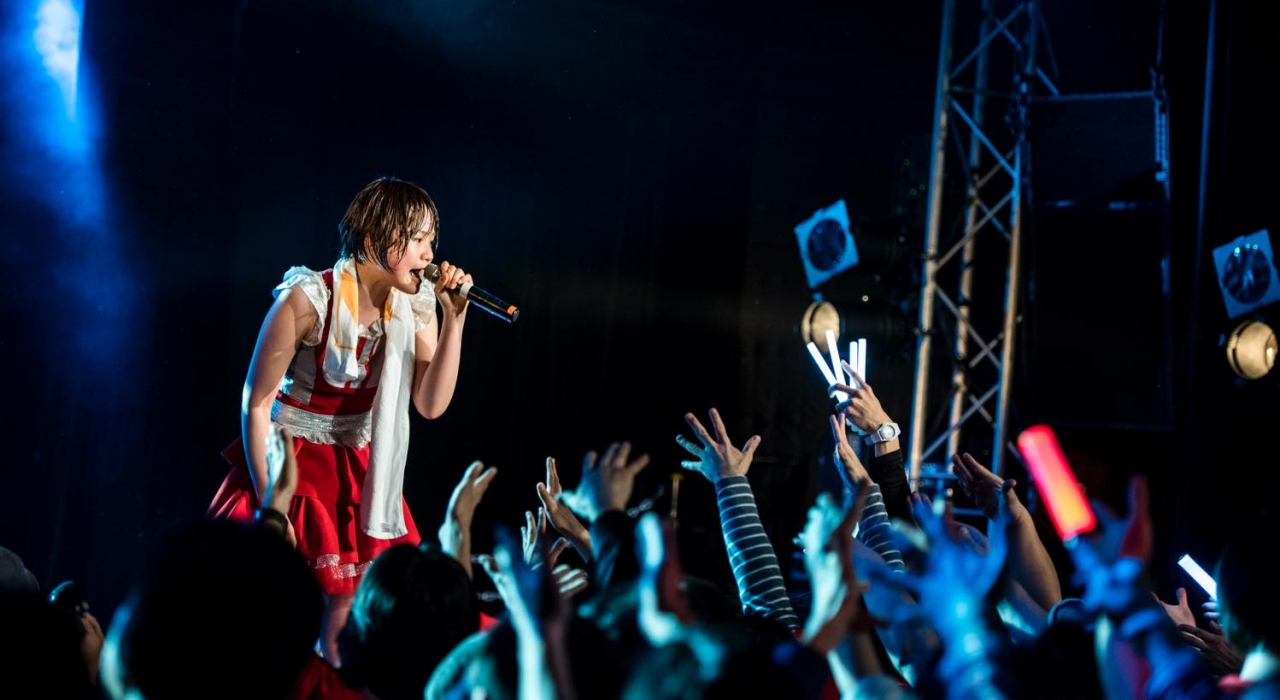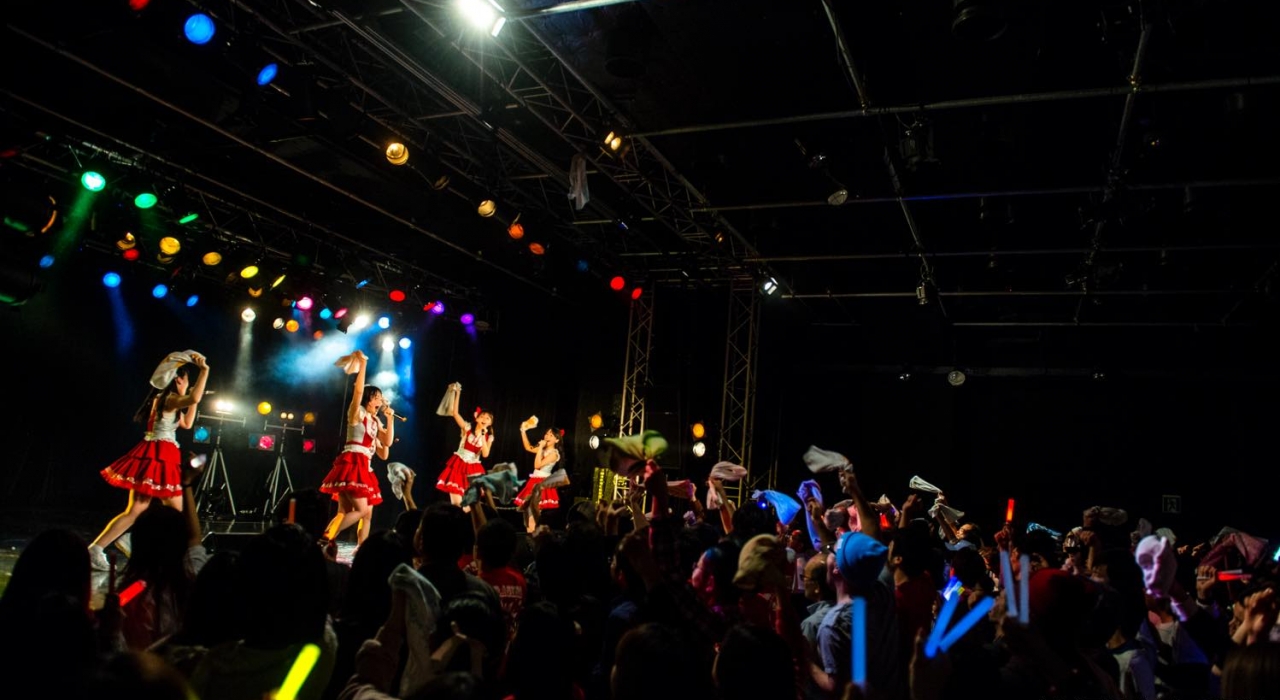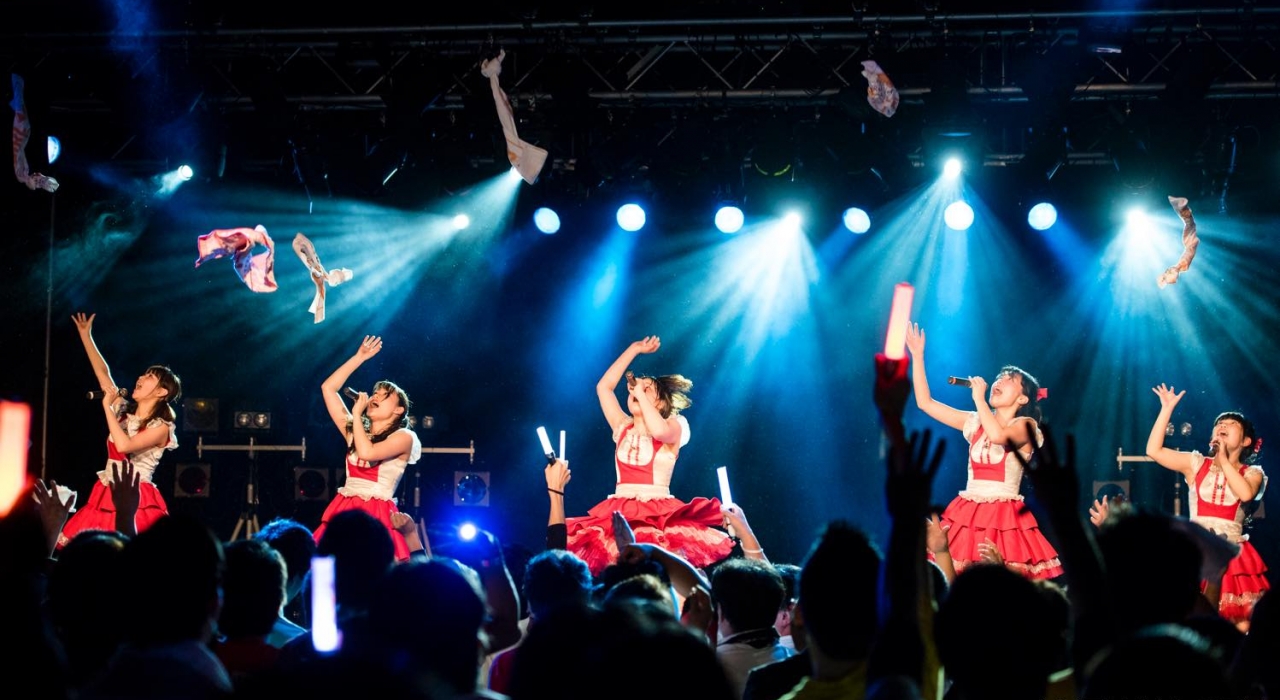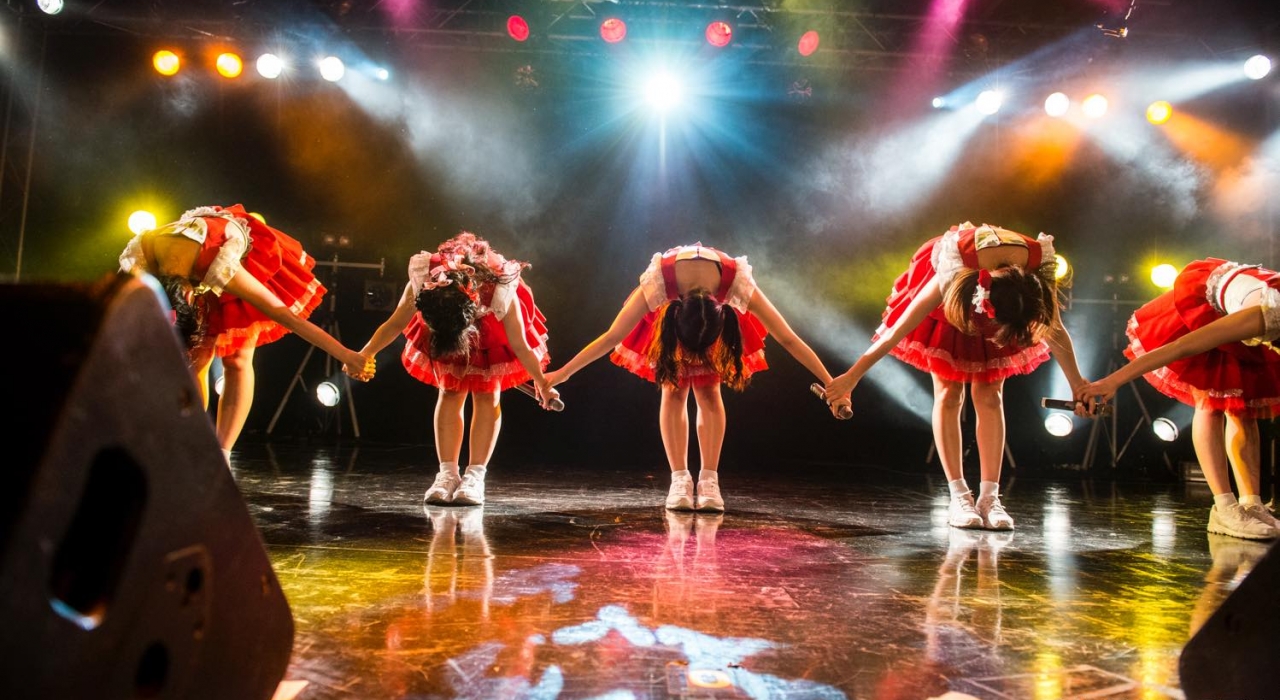 They started again with the second A-side of their major debut single, "Muga Muchuu", in which choreography all members strike karate poses, Asou Tomoyo even showing off her martial art kick skills. This final part of the main show quickly got the fans hyped, everyone dancing together along on the high tension "Chou Meccha Mecha".
The solo part for the next song, latest single B-side "Ano hi no jibun ni sayonara", was attributed randomly with the girls picking up long sticks out of a box: red stick was picked up by Hirose Miyuu, who then jumped to center position to sing her part. This was followed by the upbeat cutesy "Tenkyu!", and the segment reached its climax with towel-throwing anthem "Crouching Start", ending with the girls crossing the finish line of their musical marathon…
Ce fut alors reparti avec la deuxième piste de leur single de débus major, "Muga Muchuu", dans laquelle les filles dansent au rythme de poses de karaté, Tomoyo Asou allant même jusqu'à montrer ses talents d'arts martiaux avec des coups de pieds sautés. L'ambiance de cette dernière partie atteignit alors des sommets, les fans dansant tous ensemble sur le très énergique "Chou Meccha Mecha".
Le couplet solo de la chanson suivante, piste secondaire de leur dernier single, "Ano hi no jibun ni sayonara", fut attribué par un tir à la courte-paille, les membres piochant une perche chacune dans une boîte en carton : ce fut Miyuu Hirose qui piocha la perche rouge, et bondit alors au centre de la scène pour chanter ces quelques lignes de tout son coeur. S'ensuivit alors l'adorable "Tenkyu!", et cette partie atteignit son paroxysme avec l'hymne "Crouching Start", serviettes tourbillonnant dans la salle, se terminant sur les membres du groupe franchissant une ligne d'arrivée imaginaire de leur marathon musical…
But the party was still not over! The fans then proceeded to calling the members back on stage, and we were even able to hear a fair number of female fans screaming with all their might for their beloved idols.
ULTRAGIRL appeared on stage again, to perform "Yume no Michi". The lyrics were written by leader Asou Tomoyo, who was seen sobbing during the song to the point that she was unable to sing for a few seconds.
Mais la fête n'était pas finie! Les fans ont alors appelé les membres du groupe sur scène, et nous avons pu même entendre bon nombre de filles crier de toutes leurs forces pour leurs idols. ULTRAGIRL sont alors réapparues sur scène, pour la chanson "Yume no Michi". Les paroles de cette chanson ont été écrites par la leader, Tomoyo Asou, qui se mit alors à pleurer au milieu de la chanson, si bien qu'elle fut incapable de chanter pour quelques secondes.
All members gave a little speech one by one, starting by the younger generations. "I honestly didn't think we would be able to fill Shinjuku Blaze when the venue was announced," confessed Sasazawa Mayuka. She expressed her frustration to seeing her seniors leave, but truly wanted to send them off with a smile. Rukawa Runa gave a very original speech, staying true to her airhead and very my-pace nature. "I can see all of you guys' faces from up there, you all are smiling, is it fun? Why aren't you crying?" she jokingly said, falsely scolding the fans for not shedding tears over the triple graduation. "I enjoyed every single minute of being part of a 5-people ULTRAGIRL", Runa added more seriously, "it truly became my happy place."
Les membres du groupe ont alors donné un petit discours une par une, commençant par les dernières arrivées. "Je ne pensais sincèrement pas que nous pourrions remplir le Shinjuku Blaze quand la salle nous a été annoncée," se confie Mayuka Sasazawa. Elle a également exprimé son état de frustration de voir ses aînées partir, mais aussi son souhait de leur dire au revoir avec le sourire. Le discours de Runa Rukawa était pour le moins original, fidèle à elle-même, dans toute sa splendeur d'étourdie. "Je peux voir vos têtes de là où je suis, vous souriez tous, vous vous amusez bien ? Pourquoi est-ce que vous ne pleurez pas ?" blague-t-elle avec le public, faisant mine de les gronder pour leur manque de larmes à l'aube de ce triple départ. "J'ai adoré chaque minute passée dans ce ULTRAGIRL à cinq membres," ajoute Runa plus sérieusement, "c'est vraiment devenu mon petit endroit de bonheur."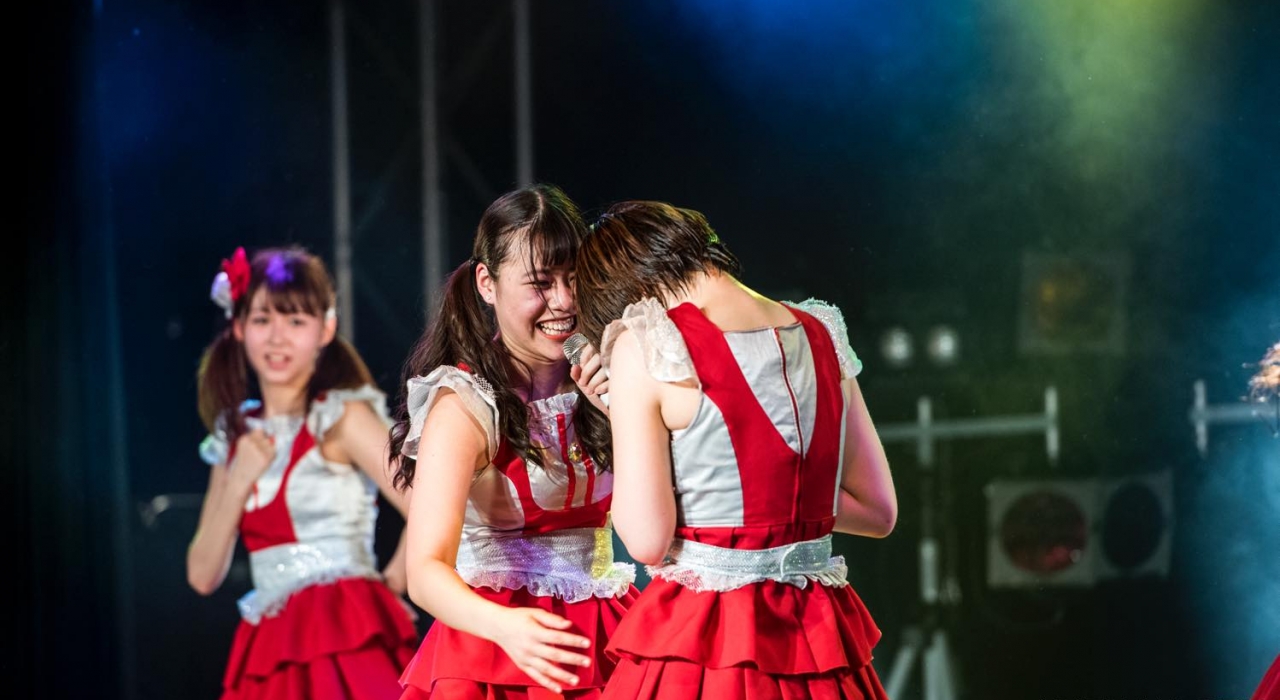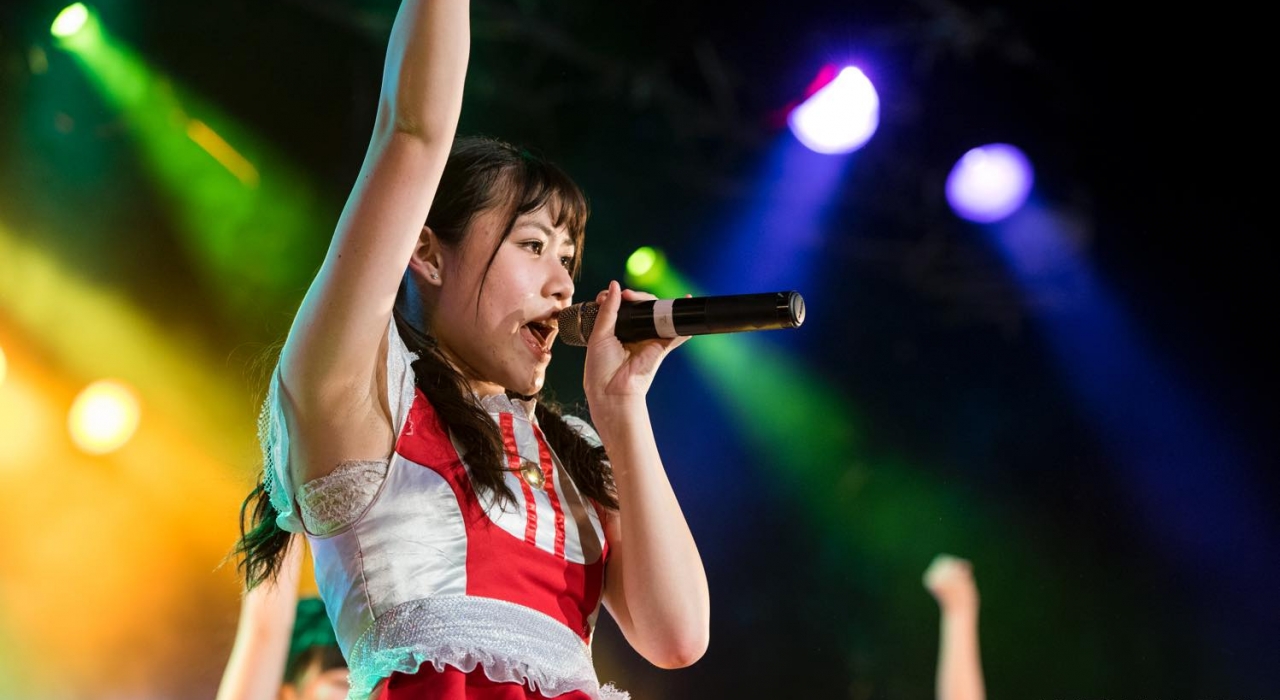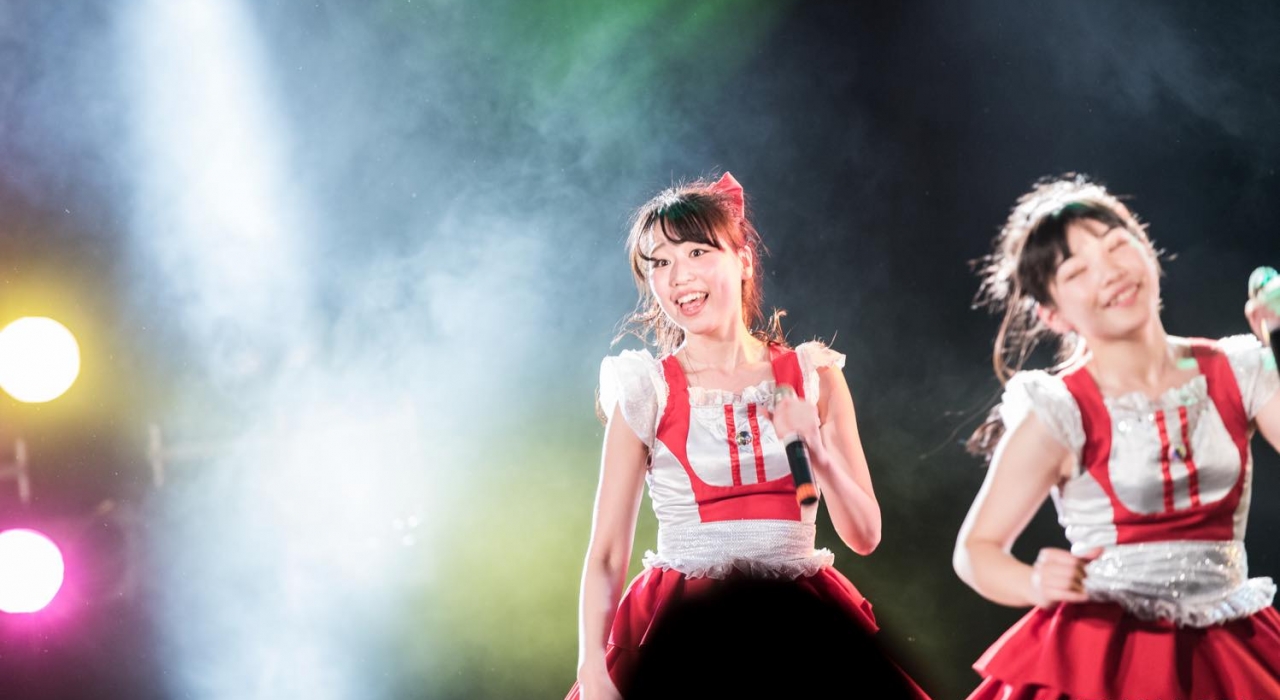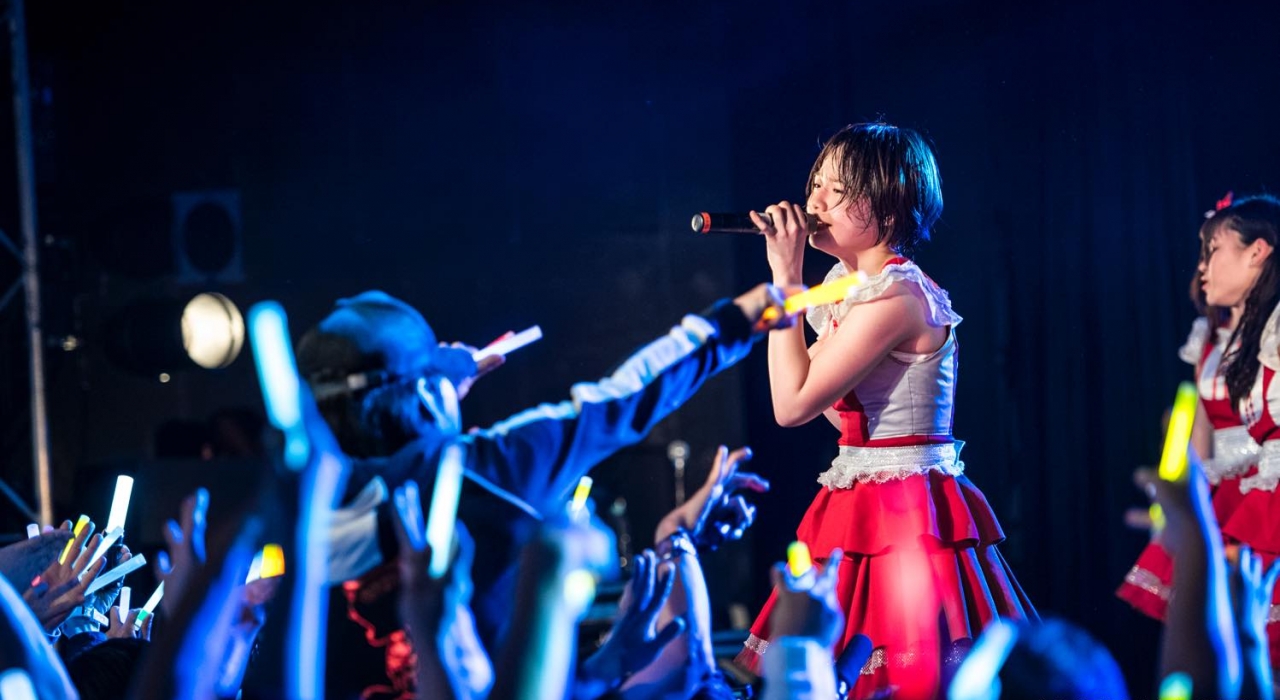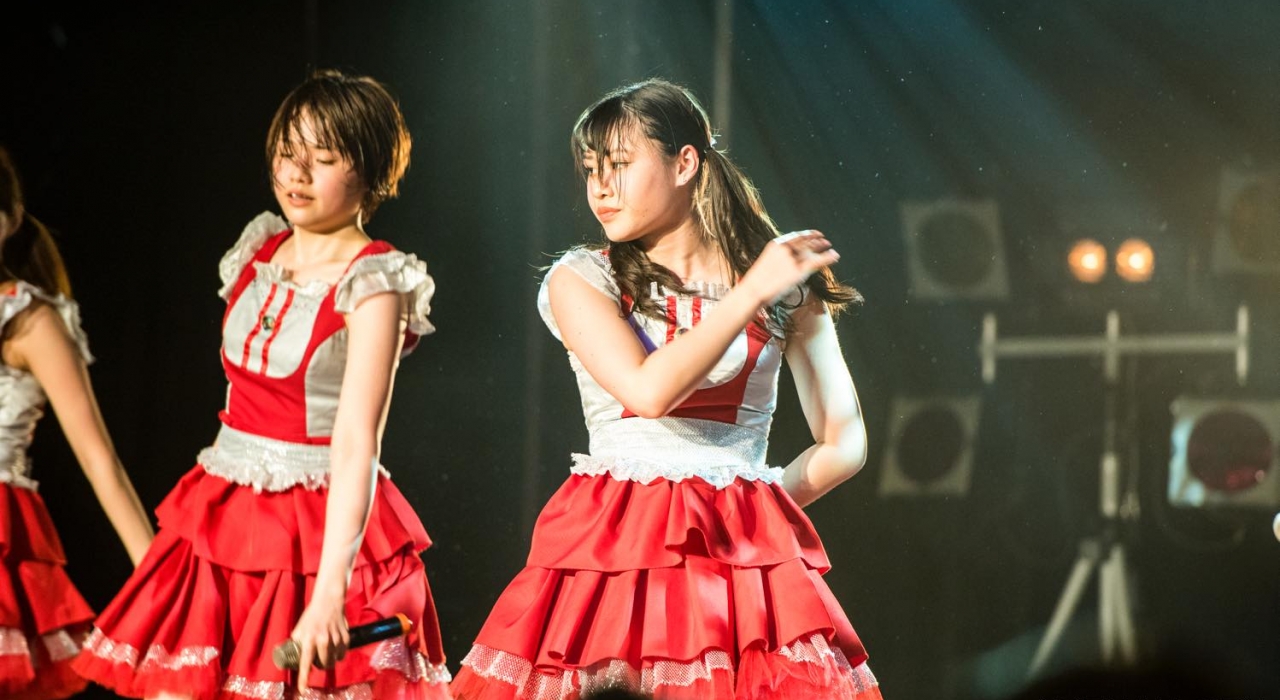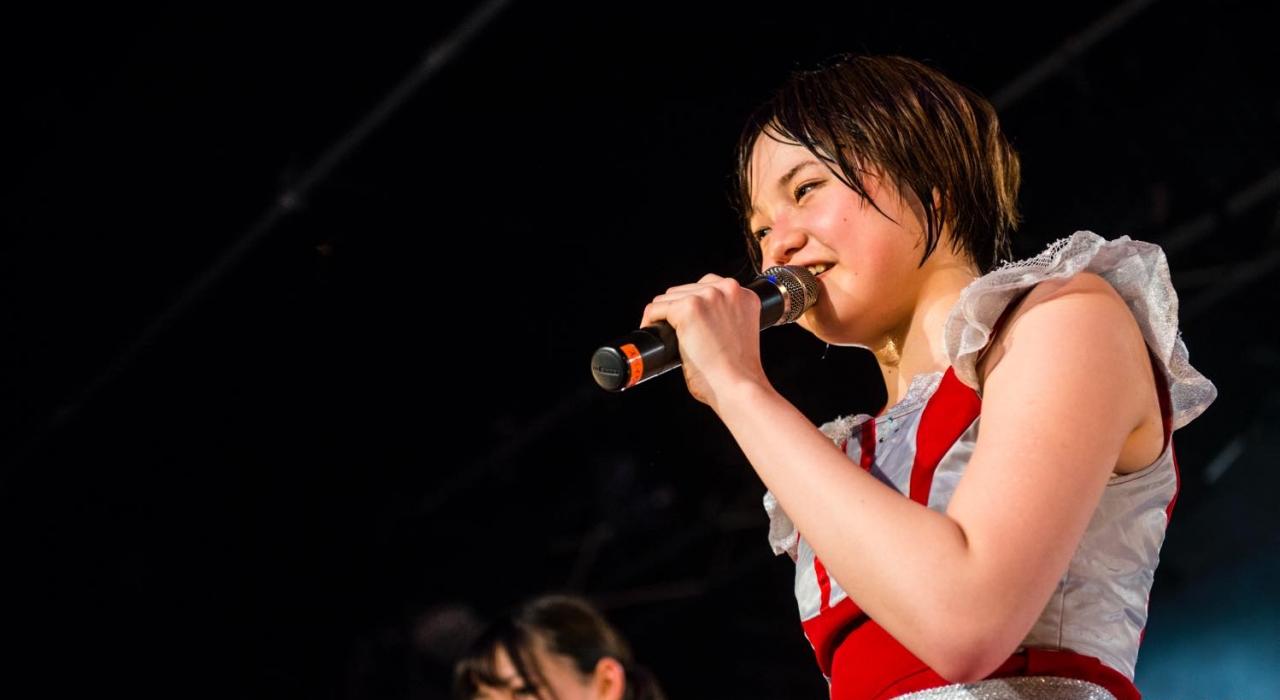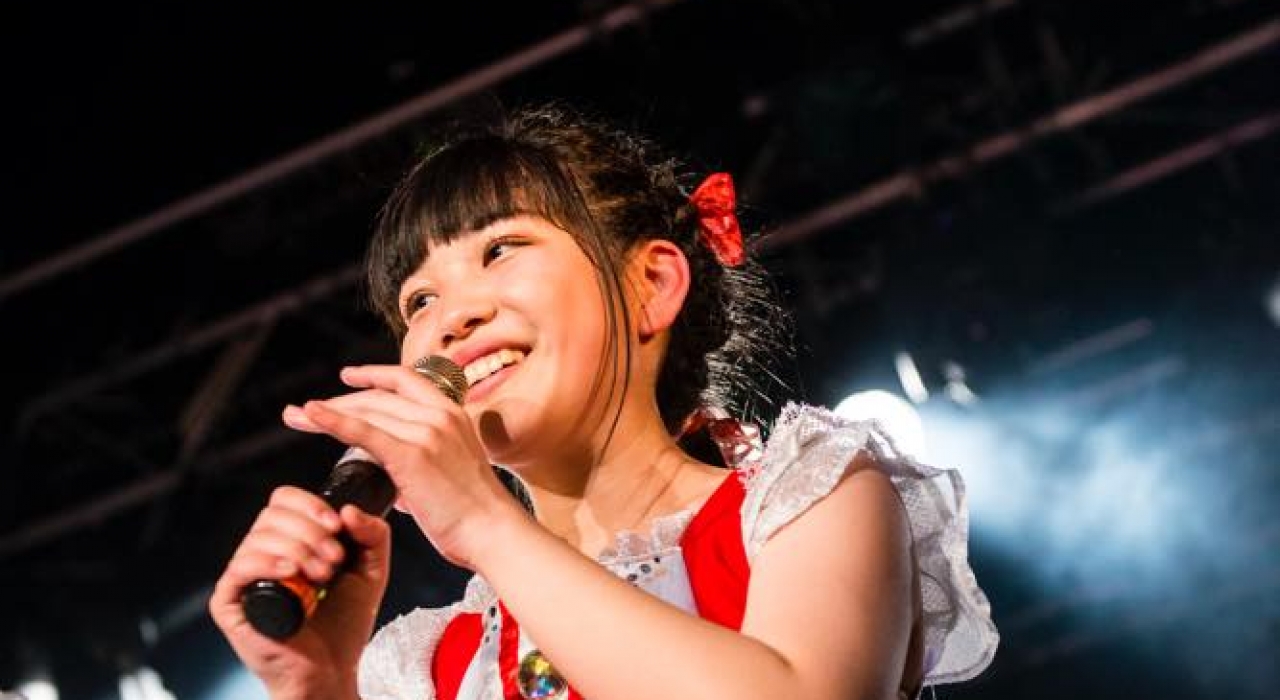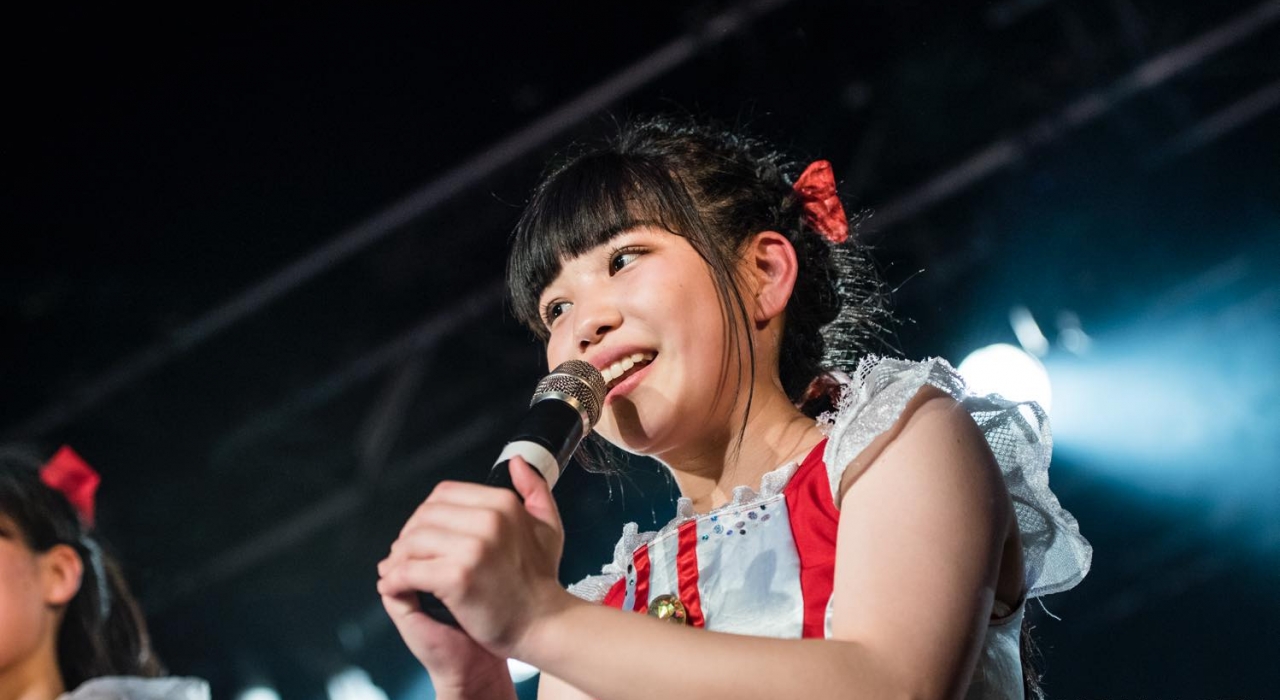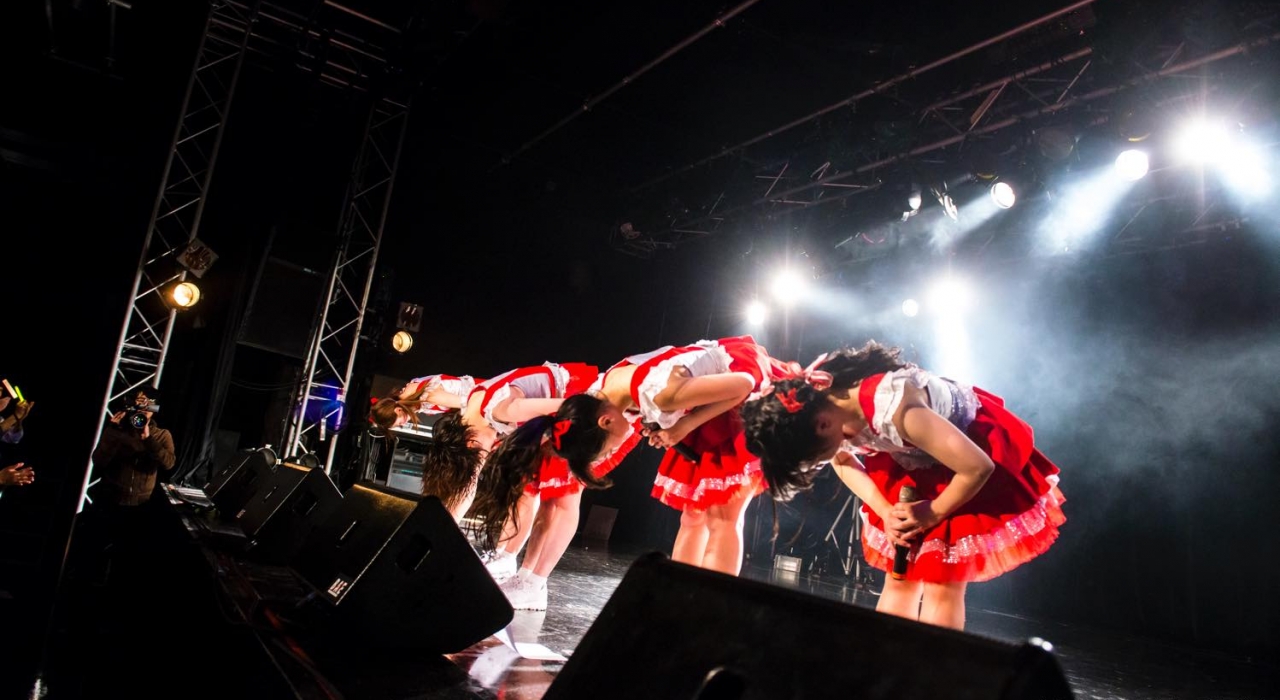 "I entered ULTRAGIRL when I was in middle school and it became such a huge part of my life," Hirose Miyuu said, starting the series of graduation speeches. Kawasaki Serina also thanked the fans for these four years, informing the audience of her desire to "make bigger things and perform on bigger stages", as she will move forward to a solo career as a singer. Asou Tomoyo ended on a darker note, confessing that it was her fellow original members' desire to leave that triggered her graduation announcement. "It was frustrating, but after 4 years and a half, I could not see myself in ULTRAGIRL without Serina and Miyuu," she said. She also confessed having been extremely worried about performing in front of an empty audience this night. "As a leader, I felt it was my responsibility to make sure people would come see us," she said. But Tomoyo added was she was able to turn this frustrating graduation into a positive thing, finding new goals to pursue, and that she now made peace with this big change in her life. "During all this time, I thought of ULTRAGIRL, I dreamt of ULTRAGIRL, I breathed ULTRAGIRL. My life was 100% around ULTRAGIRL and I am extremely happy that it was." All girls bowed and then exited the stage, thanking the audience again.
"J'ai intégré ULTRAGIRL quand j'étais encore au collège, et c'est devenu une part énorme de ma vie," dit alors Miyuu Hirose, ouvrant le bal des discours des futures diplômées. Serina Kawasaki remercie les fans pour ces quatre annnées et quelques mois, informant le public de son désir de "faire de plus grandes choses, et pouvoir chanter sur de plus grandes scènes", poursuivant sa carrière en tant que chanteuse solo. Tomoyo Asou termine ensuite sur une note moins optimiste, admettant que sa décision de quitter le groupe avait été déclenchée par l'annonce du départ de ses deux camarades. "C'était frustrant, mais après quatre ans et demi, je ne me voyais pas dans ULTRAGIRL sans Serina et Miyuu," dit-elle. "En tant que leader, j'ai aussi ressenti qu'il était de ma responsabilité de faire en sorte que la salle soit pleine ce soir," ajoute-t-elle. Mais Tomoyo ajoute alors qu'elle a enfin pu transformer cette frustration en un départ positif, se trouvant de nouveaux objectifs à atteindre, et qu'elle avait vite fait la paix avec ce grand changement dans sa vie. "Pendant tout ce temps, je pensais ULTRAGIRL, je rêvais ULTRAGIRL, je respirais ULTRAGIRL. Ma vie tournait autour de ULTRAGIRL à 100%, et j'en suis très heureuse." Les filles ont alors salué une nouvelle fois le public en remerciement, avant de quitter la scène.
It seemed like the fans found ending the concert on the graduation speeches a little too sad for their taste, and they decided to throw a second encore call! Everyone started screaming the girls' names one by one, and they finally showed up one last time.
As they expressed their gratitude again, the night ended on a final "Ultra Ouenka", led by Asou Tomoyo for the last time, screaming on the top of her lungs before the curtains closed, turning ULTRAGIRL from a 5-members unit into a duo.
Il semble alors que les fans ont trouvé le fait que le concert se termine sur ces discours un peu trop triste à leur goût, et ils décident alors d'appeler le groupe pour un second encore ! Tout le monde a alors hurlé les noms des filles un par un, et ULTRAGIRL est alors réapparu pour la dernière fois.
Après avoir remercié chaudement le public une nouvelle fois, la soirée s'est terminée sur un "Ultra Ouenka" final, mené pour la dernière fois par Tomoyo Asou, donnant toute son énergie en criant de toutes ses forces. Le rideau s'est alors refermé, transformant le ULTRAGIRL à 5 membres en un duo transmettant une belle histoire…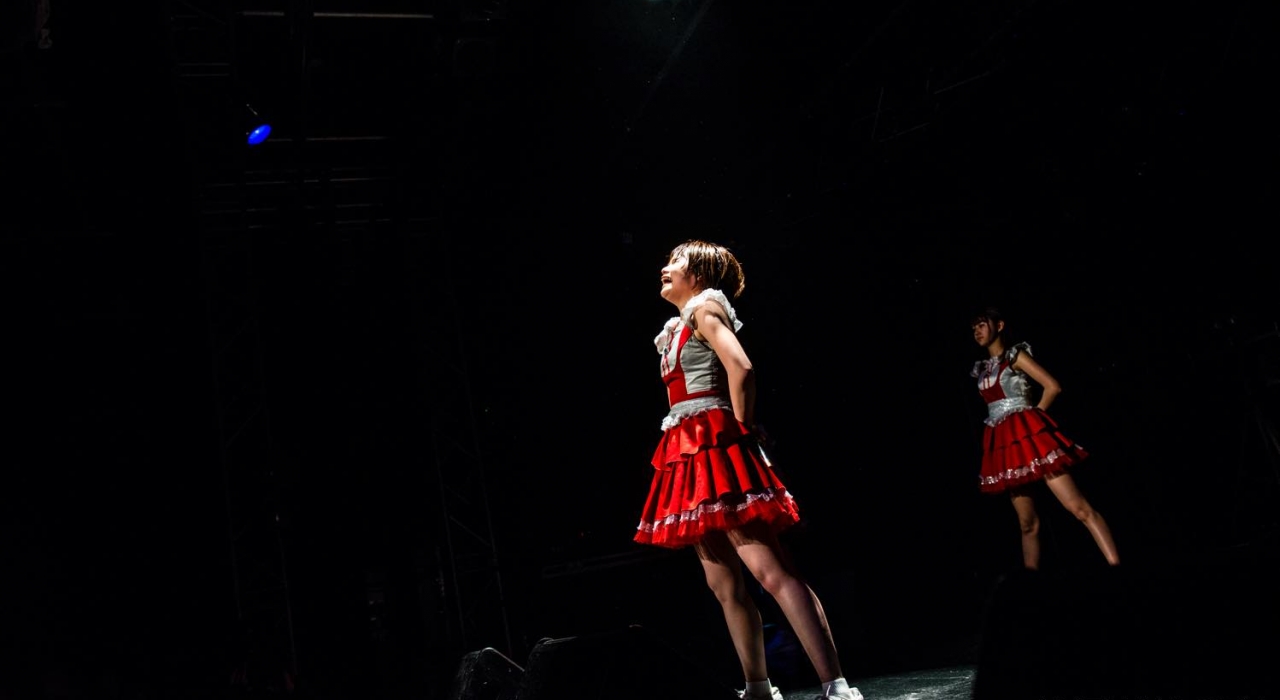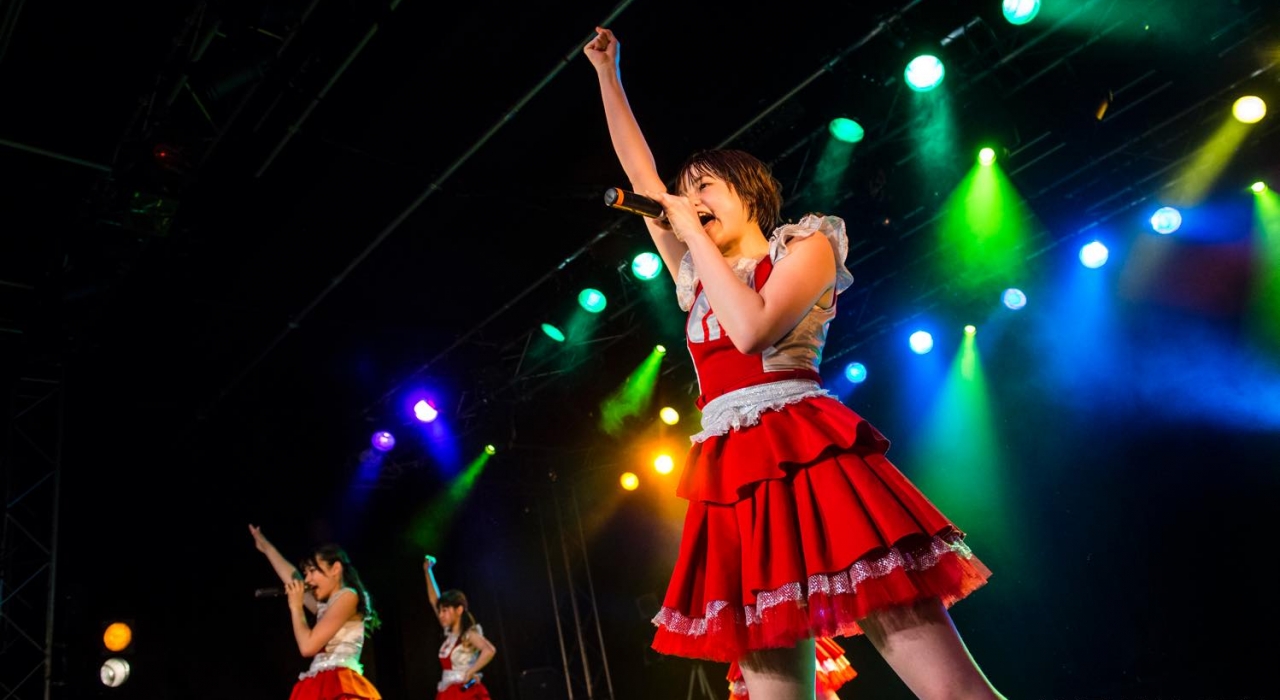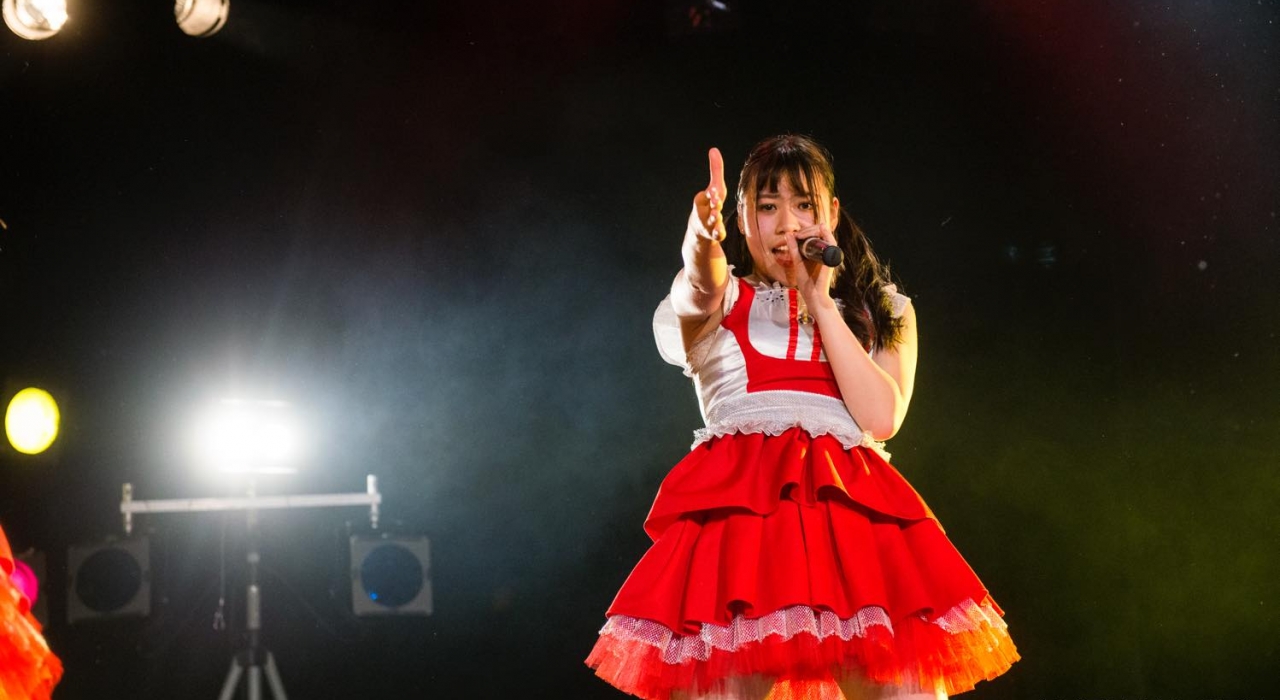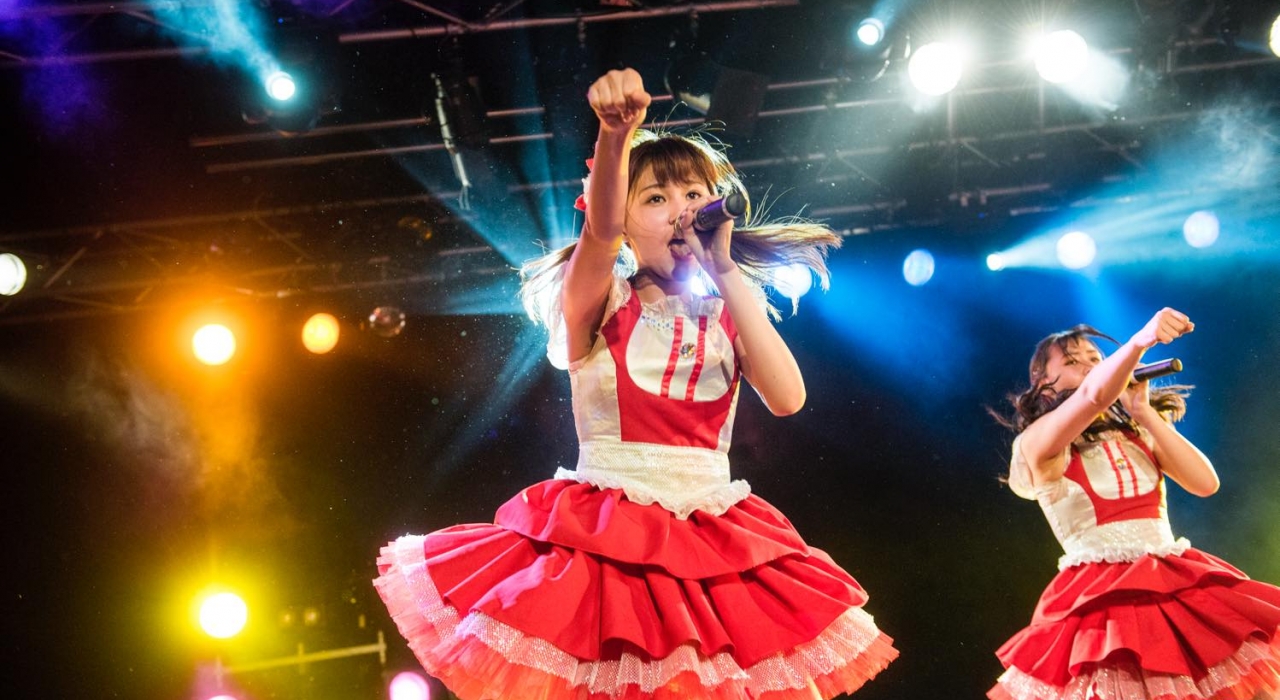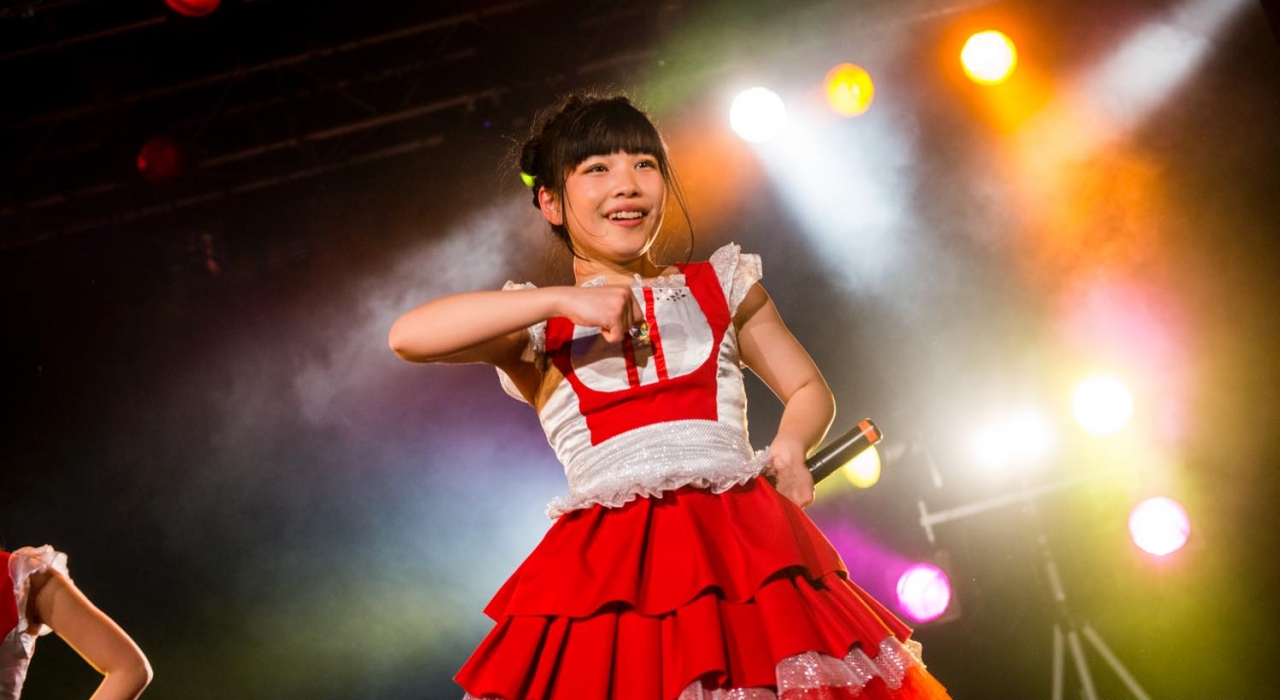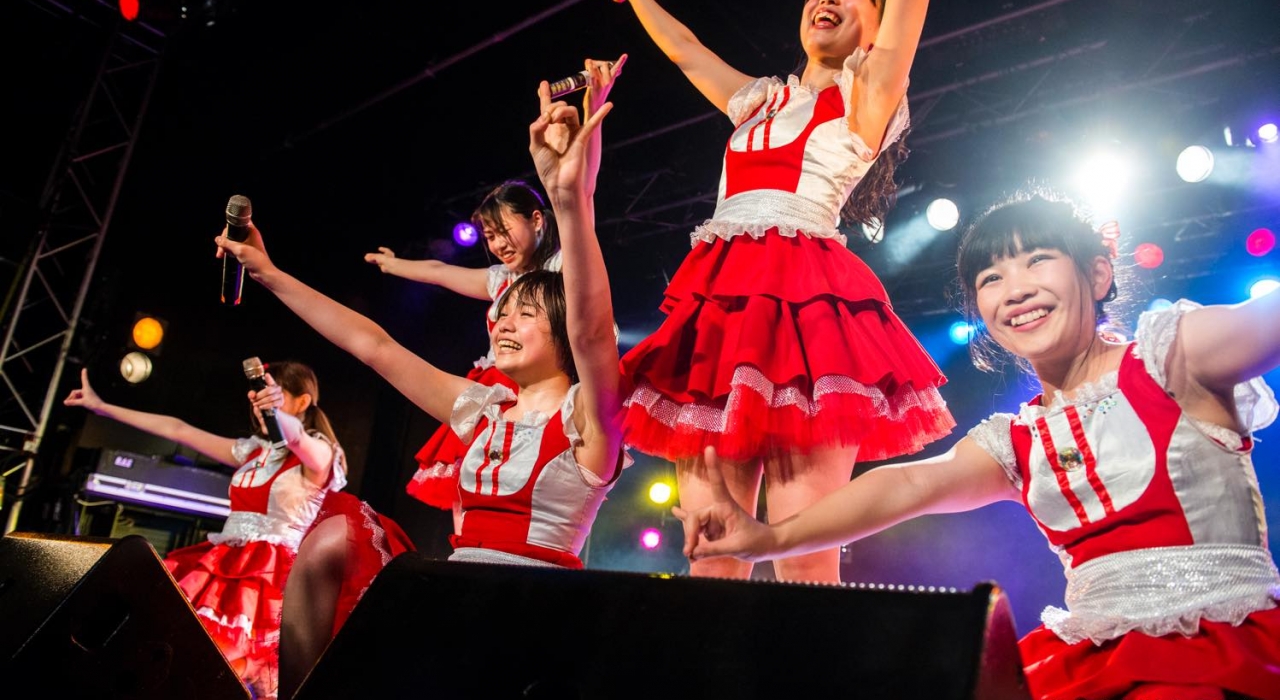 ---
Setlist
01. Ano tsukasa no ue made ~kirari namida koete~ (あの丘の上まで 〜キラリ涙超えて〜)
02. Kimi! Hero ni natte (君!ヒーローになって)
03. Toki no Kakera (瞬間のカケラ)
— VTR: Introduction —
"Our Life Calendar" (私たちの人生カレンダー) Short Play (narration by Pika☆Mai)
04. Ultra Ouenka (with Pika☆Mai) (ウルトラ応援歌)
— VTR: "Our Life Calendar" Making Of —
— MC —
05. No.1
06. Banjaai (バンジャー愛)
07. 888
08. Kimi ni arigatou (君にありがとう)
— MC —
09. Muga muchuu (無我夢中)
10. Chou Meccha Mecha (超めっちゃめちゃ)
11. Ano hi no jibun ni sayonara (あの日の自分にさよなら)
12. Tenkyu! (てんきゅ!)
13. Crouching Start (クラウチングスタート)
— ENCORE —
EN01. Yume no Michi (夢の道)
— MC: Graduation speeches —
— DOUBLE ENCORE —
WEN01. Ultra Ouenka (ウルトラ応援歌)
---
About the artist
ULTRAGIRL is an idol group formed in 2012 and currently active under Spiral Music. Their concept is to be "a cute ally of justice that will stand up to fill your heart with happiness", therefore their fans are called "heroes". They made their major debut on March 18th 2015 with double A-side single "No.1/Muga Muchuu". After the graduation of the last members of the original line-up, the group is now down to two members, Rukawa Runa and Sasazawa Mayuka.
ULTRAGIRL est un groupe d'idols formé en 2012 et actuellement actif sous le label et agence Spiral Music. Leur concept est d'être un groupe « d'alliées de la justice kawaii qui combattent pour remplir votre coeur de bonheur ». Le groupe a fait ses débuts en major le 18 Mars 2015 avec le single à double piste « No.1/Muga Muchuu ». Après le départ du line-up original, le groupe est désormais constitué de deux membres, Runa Rukawa et Mayuka Sasazawa.
---
Full gallery
---
Article & Translation by Melody
Photography by Nathan Gey
Special thanks to Spiral Music staff for allowing us to write this report and take pictures of ULTRAGIRL during this live.