Reportage photo pour le concert de départ de Yuno Yurano des Iketeru Hearts
June 7th marked the last performance for Iketeru Hearts' light blue member Yurano Yuno, after announcing her graduation a little less than a month beforehand. While the medical reasons for her departure left a bittersweet taste, the group and their fans did their very best to throw a memorable performance, turning the night into a happy celebration.
Le 7 juin dernier était l'ultime apparition sur scène de Yuno Yurano, membre du groupe Iketeru Hearts, après avoir annoncé son départ un peu moins d'un mois plus tôt. Bien que les raisons médicales de son retrait laissent un goût amer, le groupe et leurs fans ont fait de leur mieux pour faire de cette célébration un jour mémorable, la transformant en une joyeuse fête.
Iketeru Hearts showed up on stage wearing their pastel-color major debut outfits, and opened the show with nostalgia, as they started with four songs from their Stand-Up! Records trainees days. From sister group Afilia Saga's "NEXT STAGE" and "Sorairo Days", they then performed the cool "Tenbu no mai, akatsuki no mon". This set ended on the iconic "Triangle Wave", for which Afilia Saga member Momoko Little Berry showed up as a guest performer. Momoko Little Berry started as a Stand-Up! Hearts trainee at the same time as the entire Iketeru Hearts line-up, but was promoted to Afilia Saga a few months before their major debut.
Iketeru Hearts apparaissent sur scène vêtues de leurs costumes aux couleurs pastels de leurs débuts, et ouvrent le spectacle avec une touche de nostalgie, alors qu'elles commencent par quatre chansons de leurs jours en tant que débutantes pour Stand-Up! Records. De « NEXT STAGE » et « Sorairo Days » de leur groupe soeur Afilia Saga, elles chantent ensuite le sérieux « Tenbu no mai, akatsuki no mon ». Cette partie s'achève sur la très populaire « Triangle Wave », pour laquelle Momoko Little Berry, membre des Afilia Saga, les rejoint comme invitée.
Momoko Little Berry a débuté chez Stand-Up! Records au même moment que toutes les Iketeru Hearts, mais se vit promue au rang de membre des Afilia Saga quelques mois avant les débuts major de ses camarades.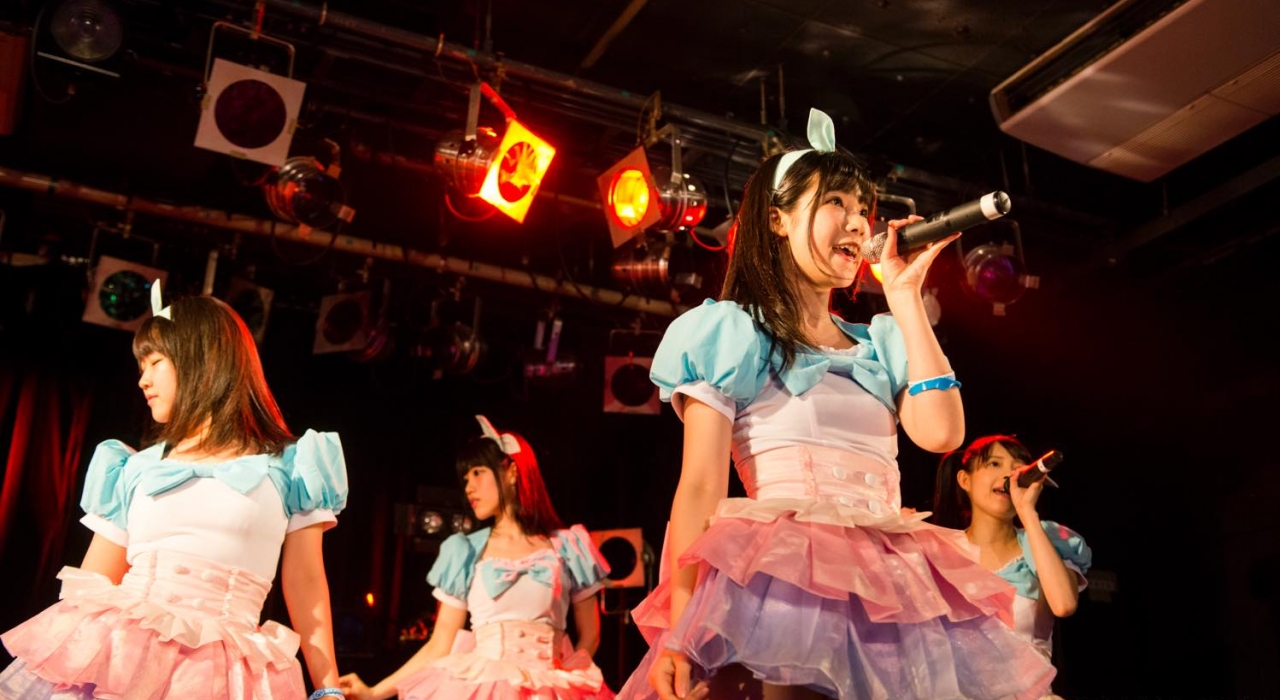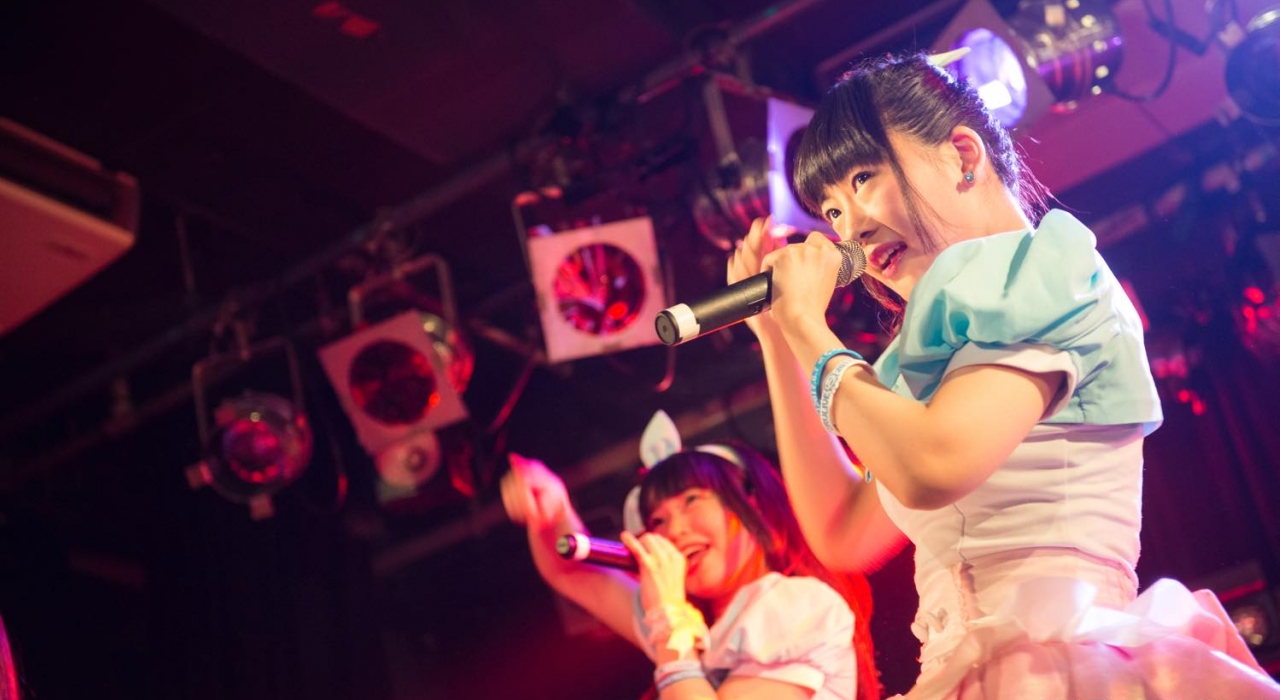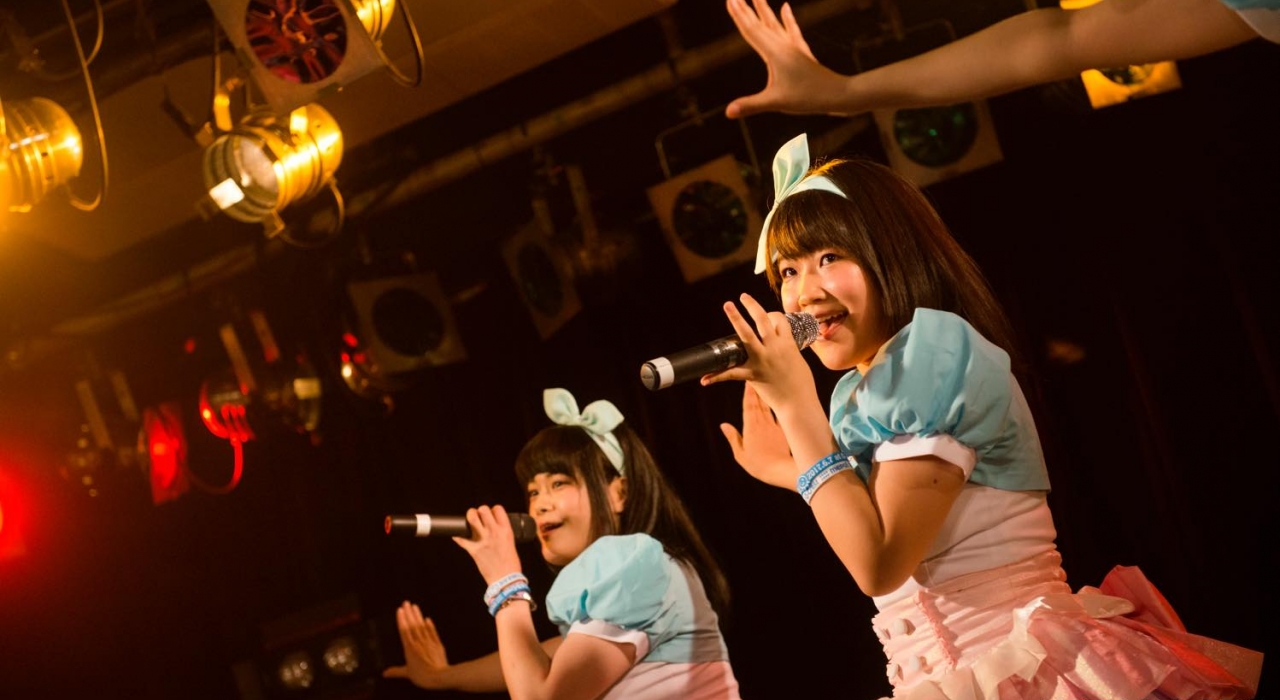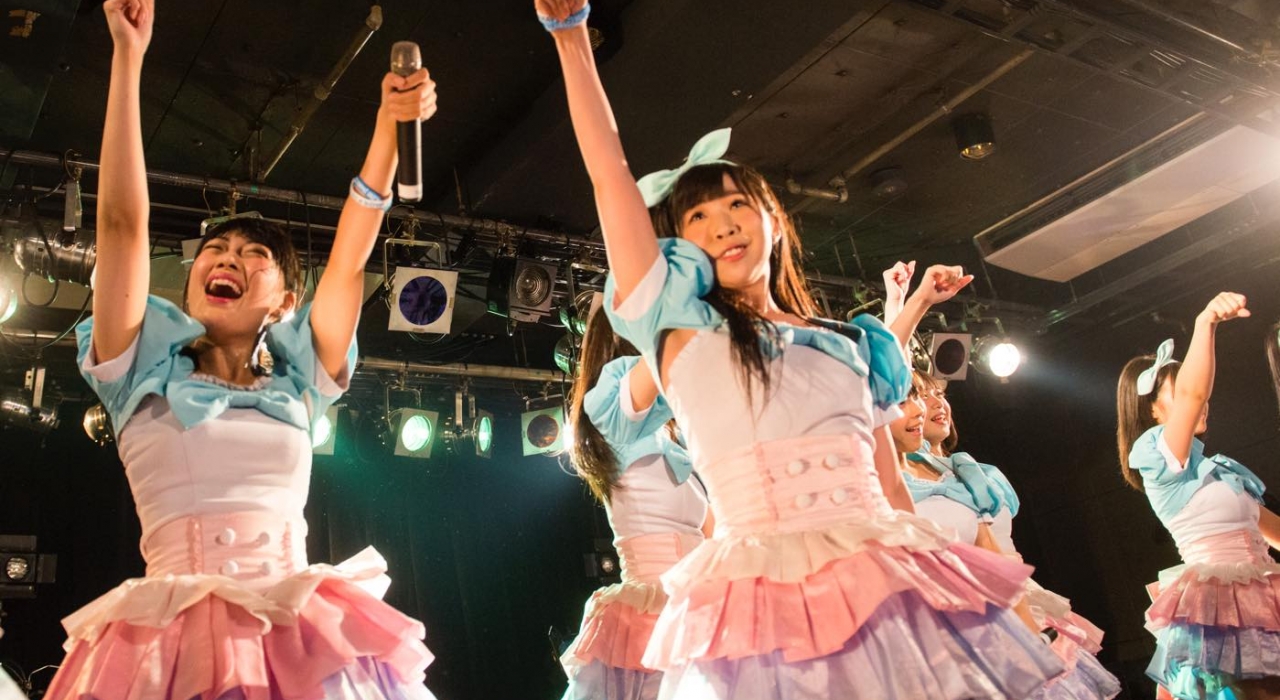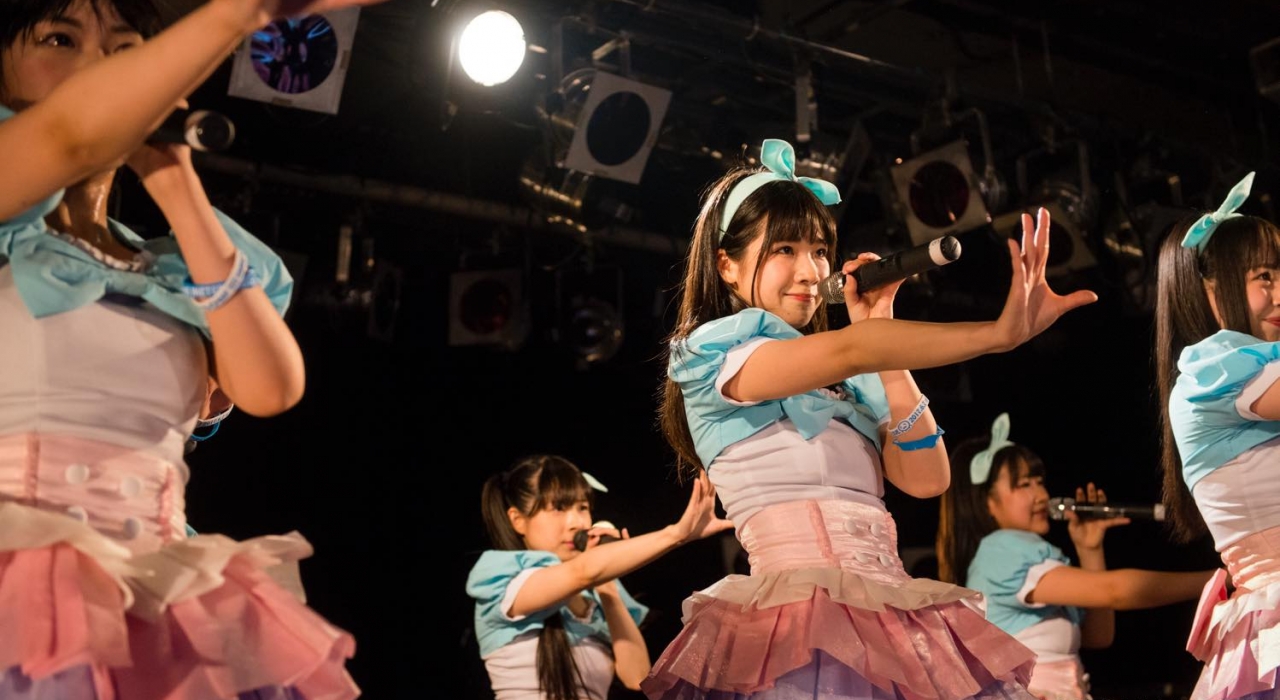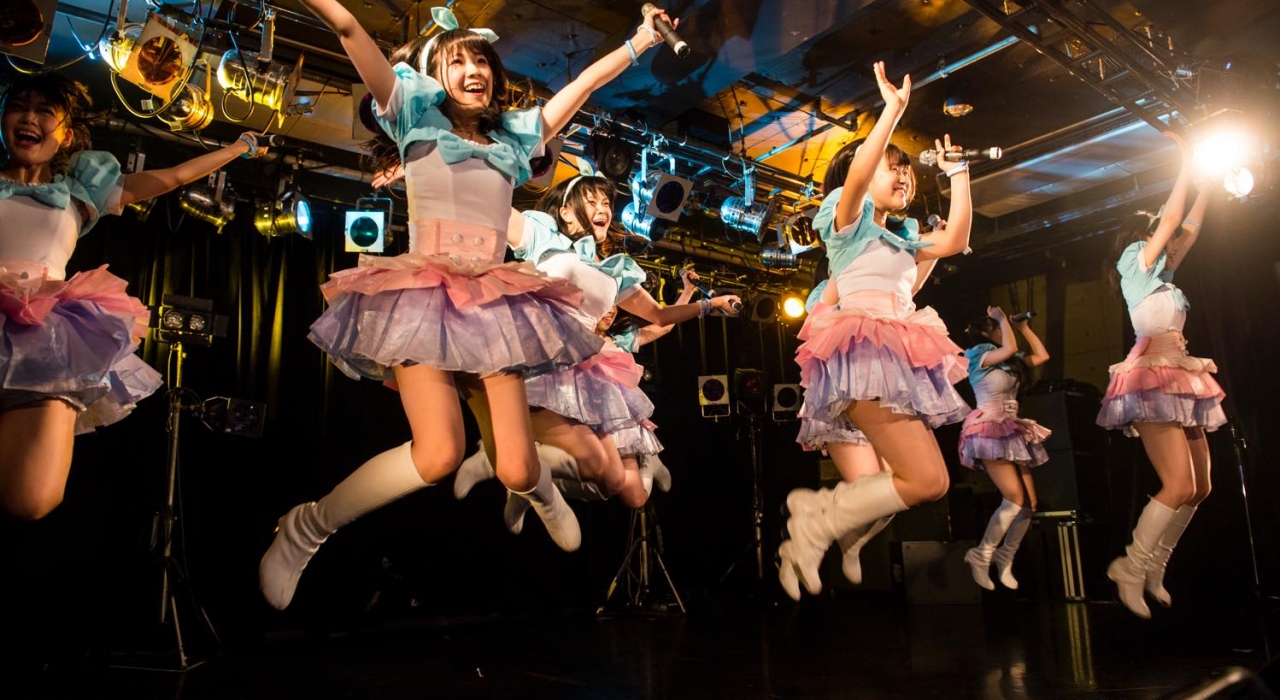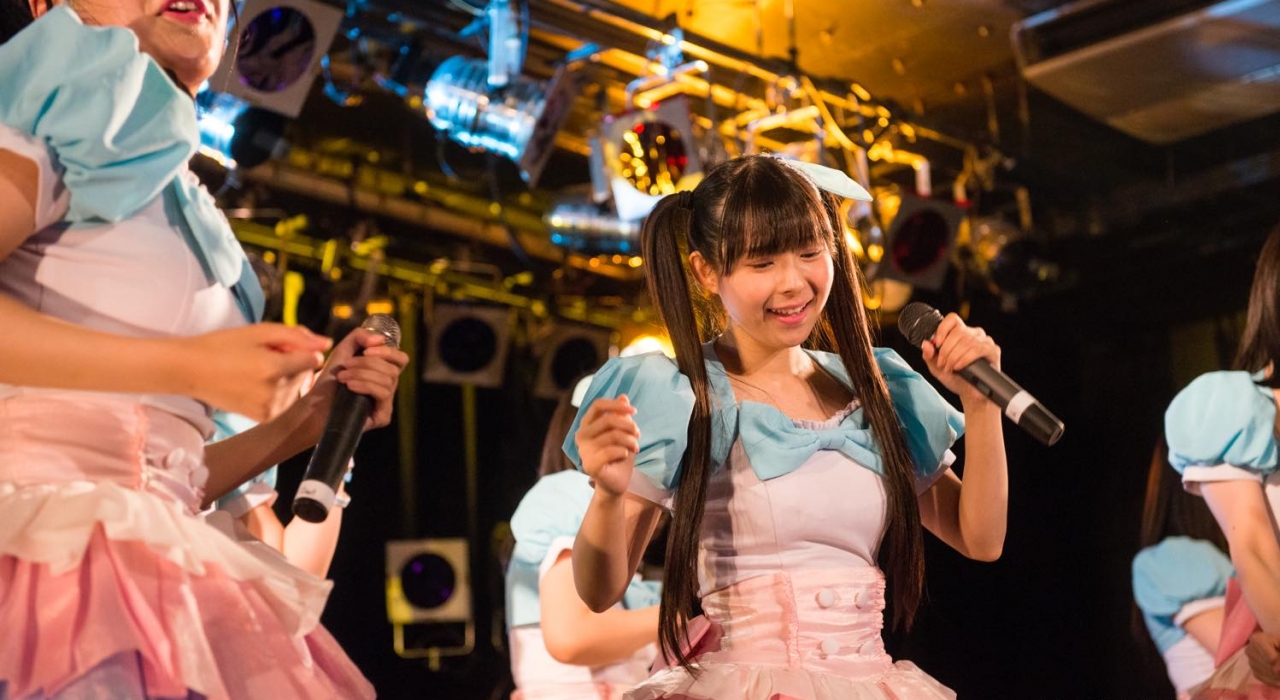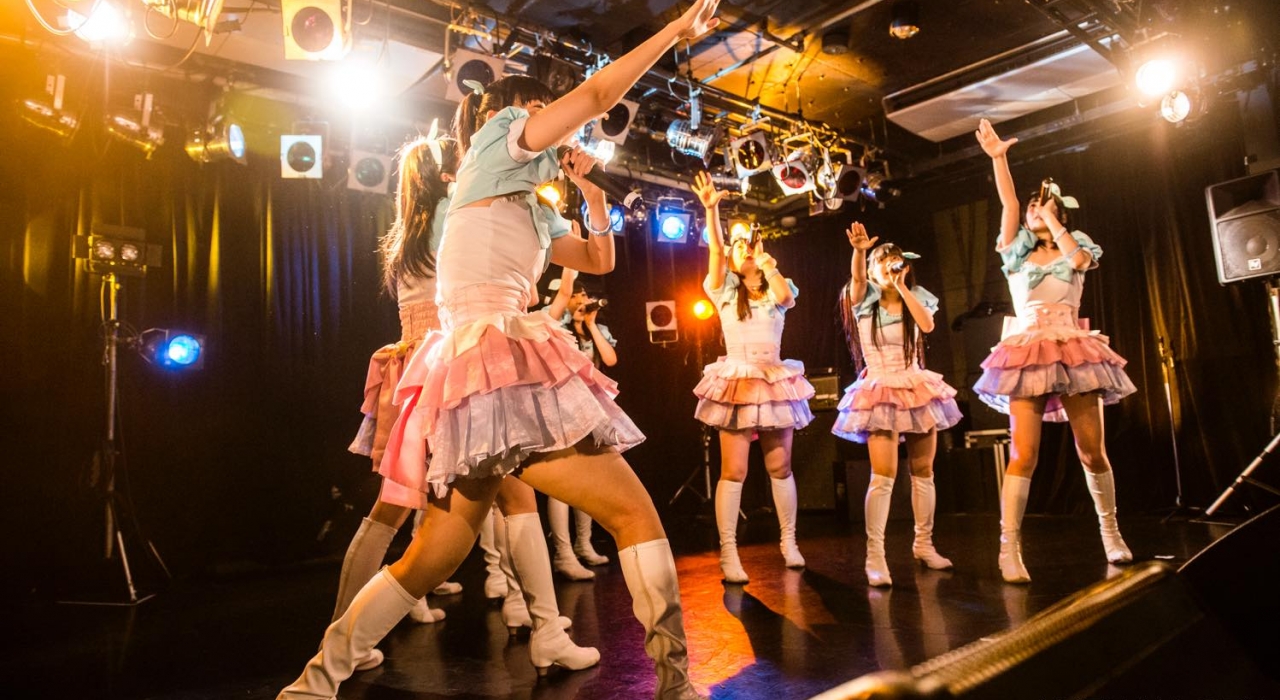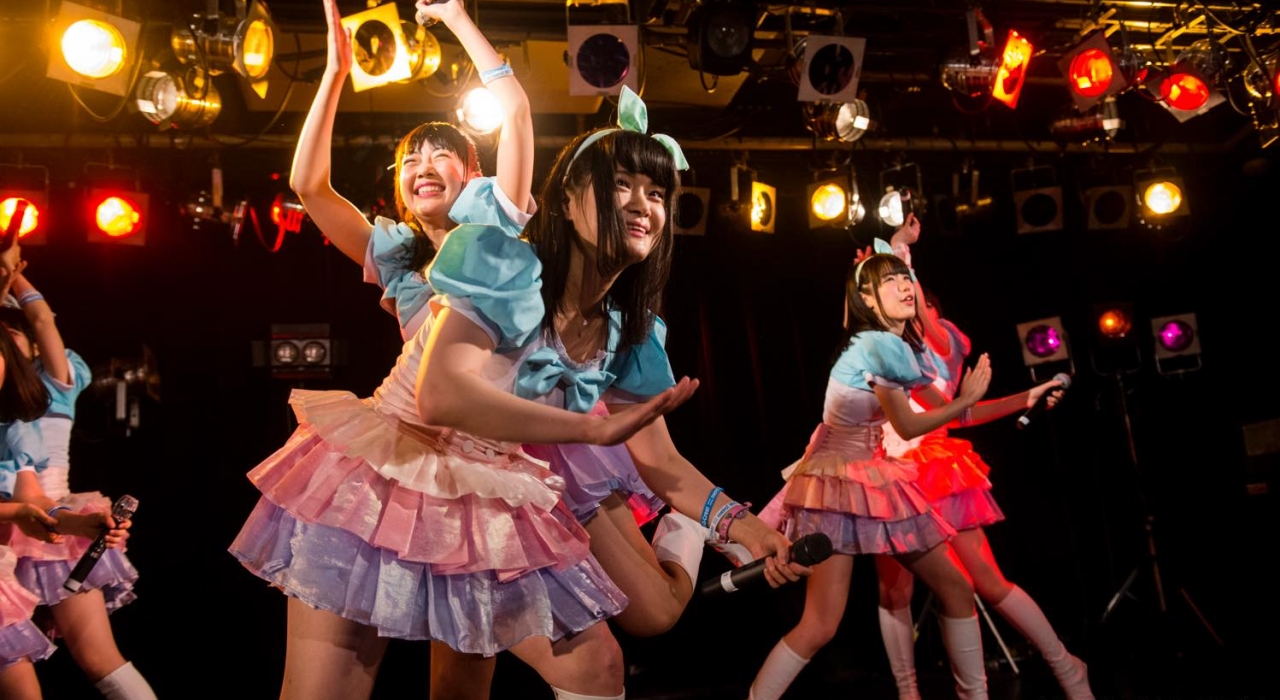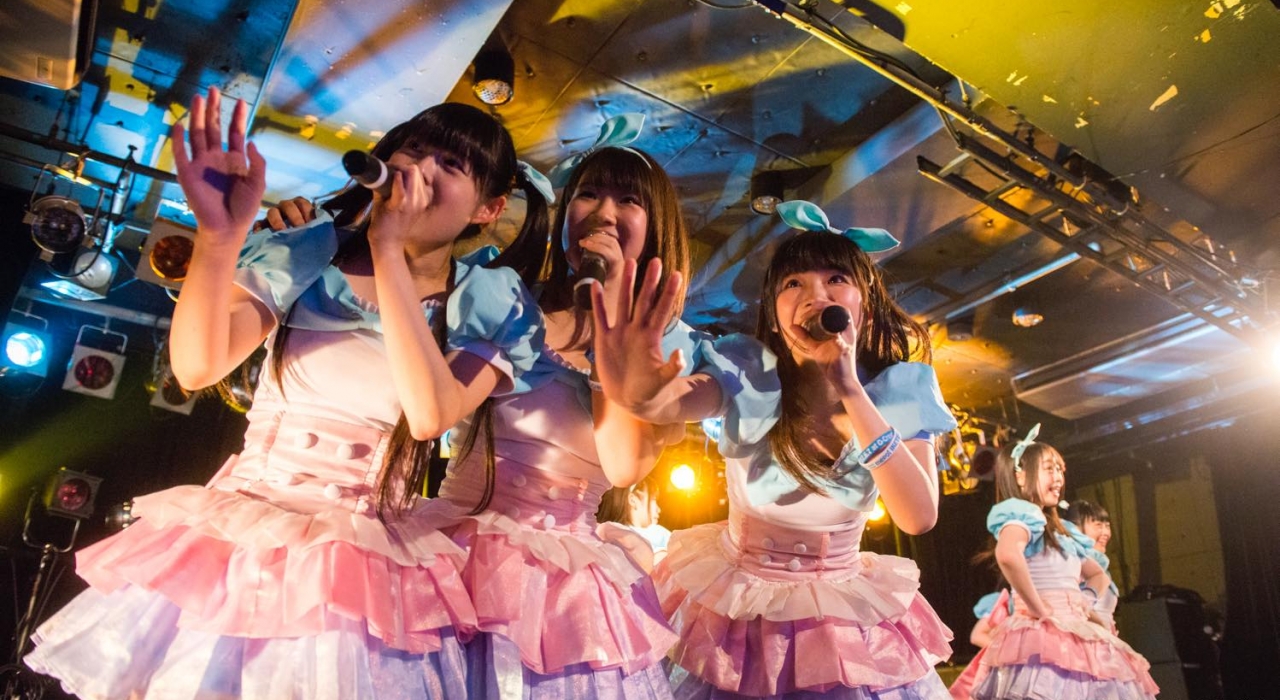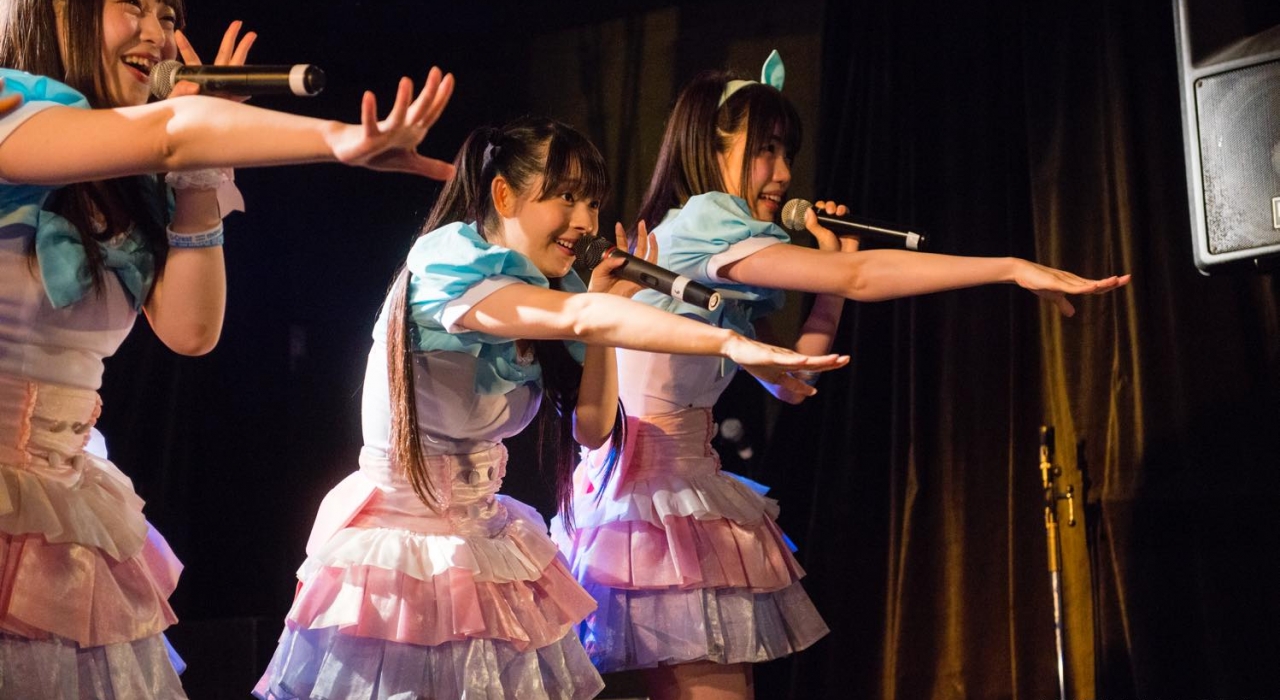 Without surprise, the introduction MC was punctuated by youngest member Nijika's tears, causing a general laughter among the group and audience, as Nijika has a reputation for crying easily. Leader Arata Yuyu asked the audience to give it all and be the most energetic they could for Yuno, who greeted everyone with her signature "Ohamepo!". "[Yuno] even signed her posters as "the 23 years-old twintails Yuno"," Ochi Karin jokingly added.
Sans surprise, les présentations sont ponctuées par les larmes de la plus jeune membre du groupe Nijika, déclenchant un rire général sur scène comme dans le public, fidèle à sa réputation de « pleureuse ».
La leader Yuyu Arata demande alors à leurs fans de donner toute leur énergie pour Yuno, qui salue tout le monde avec son sempiternel « Ohamepo ! ». « [Yuno] a même signé ses posters comme « la Yuno de 23 ans avec des couettes »,
 » dit alors Karin Ochi avec un rire.
The show went on with debut single "Let's stand up!", the energetic and silly "Shrimp Girl",
and single B-side "Otomegokoro". The group then disappeared backstage to leave Yurano Yuno by herself on stage, where she delivered a solo performance of "Soukoku no Spica", reminding everyone in the venue of her sleek singing talents.
Her comrades joined again for "Believe in my dreams", for which Yuno started with a solo part, and the group kept on giving all their energy for "Shishin kakutei", "ORIGAMI" and "GIRL, Me♥". The night peaked with the performance of two of their latest singles, "Lumica Jane", and the dark and catchy "Zaishou no Lucifer".
Le spectacle se poursuit avec leur single de débuts « Let's stand up! », le drôle et énergique « Shrimp Girl », et la piste B de « Lumica Jane », « Otomegokoro ». Le groupe a alors disparu en coulisses pour laisser Yuno Yurano seule sur scène, pour offrir à ses fans une performance solo de « Soukoku no Spica » – rappelant à tout le monde présent ses talents pour le chant.
Ses camarades la rejoignen alors pour « Believe in my dreams », pour laquelle Yuno ouvre le bal avec une partie solo,
et le groupe continue à donner leur énergie pour « Shishin Kakutei », « ORIGAMI » et "GIRL, Me♥". La soirée atteint son sommet alors que le groupe chante leur deux derniers singles, « Lumica Jane », et le sombre et accrocheur « Zaishou no Lucifer ».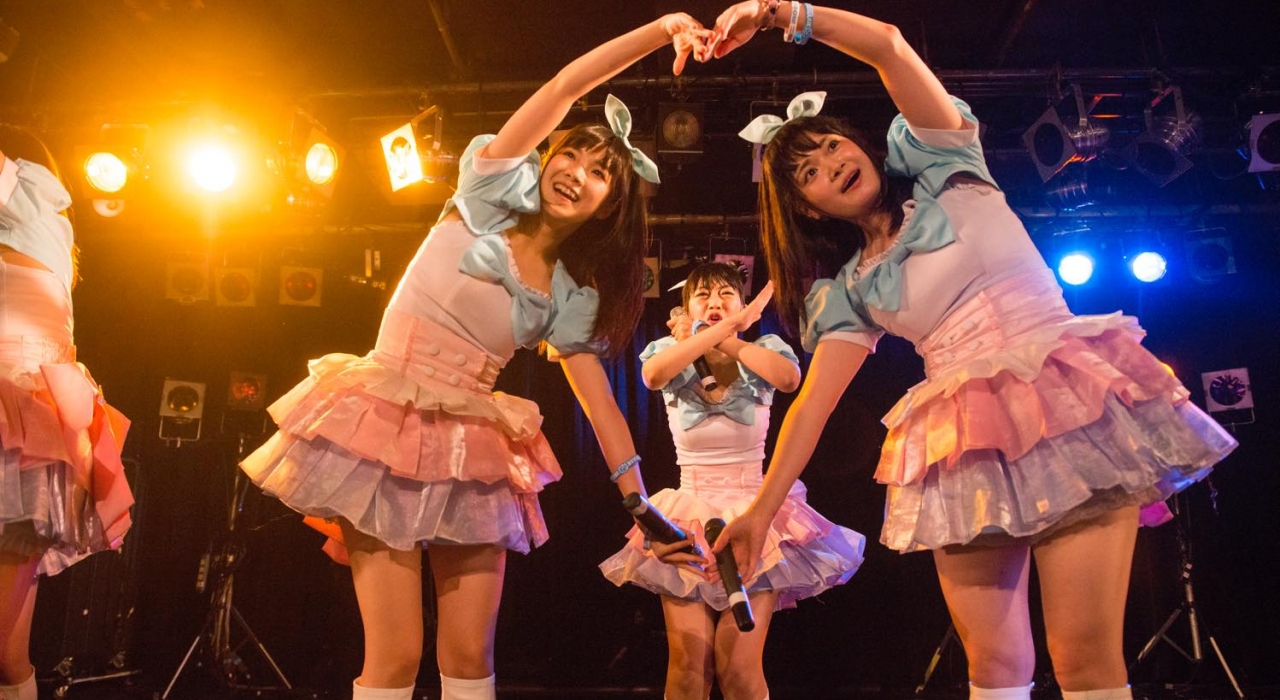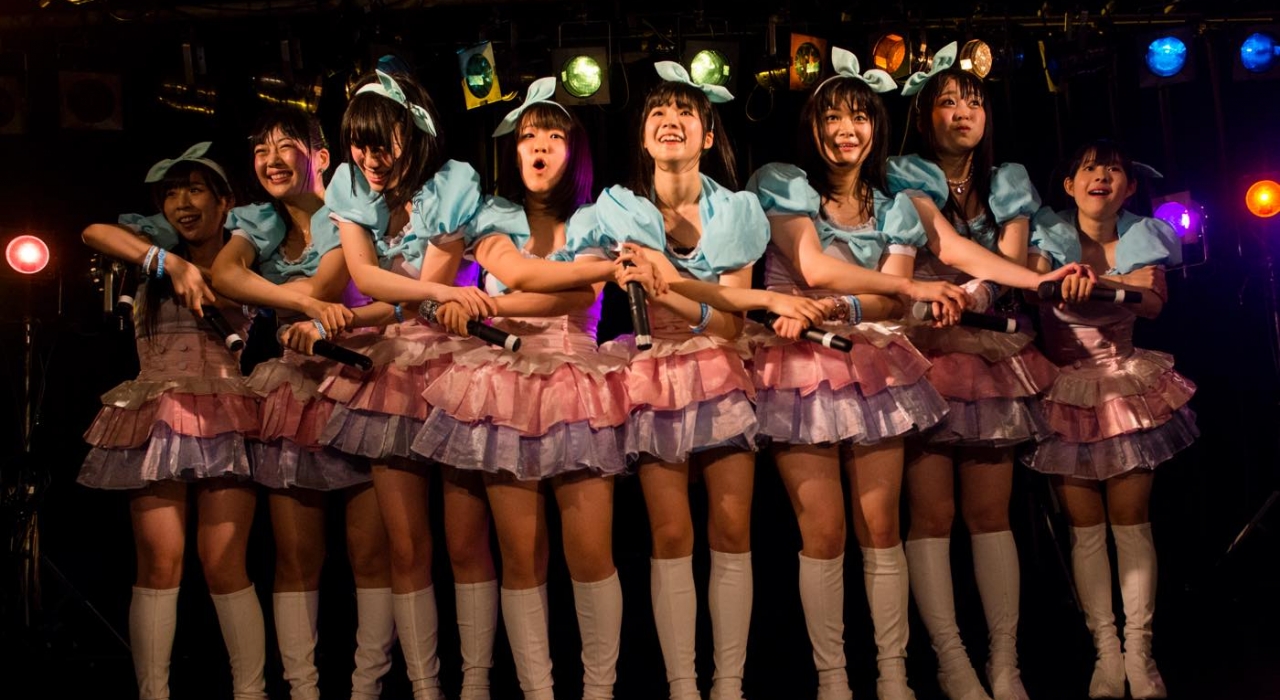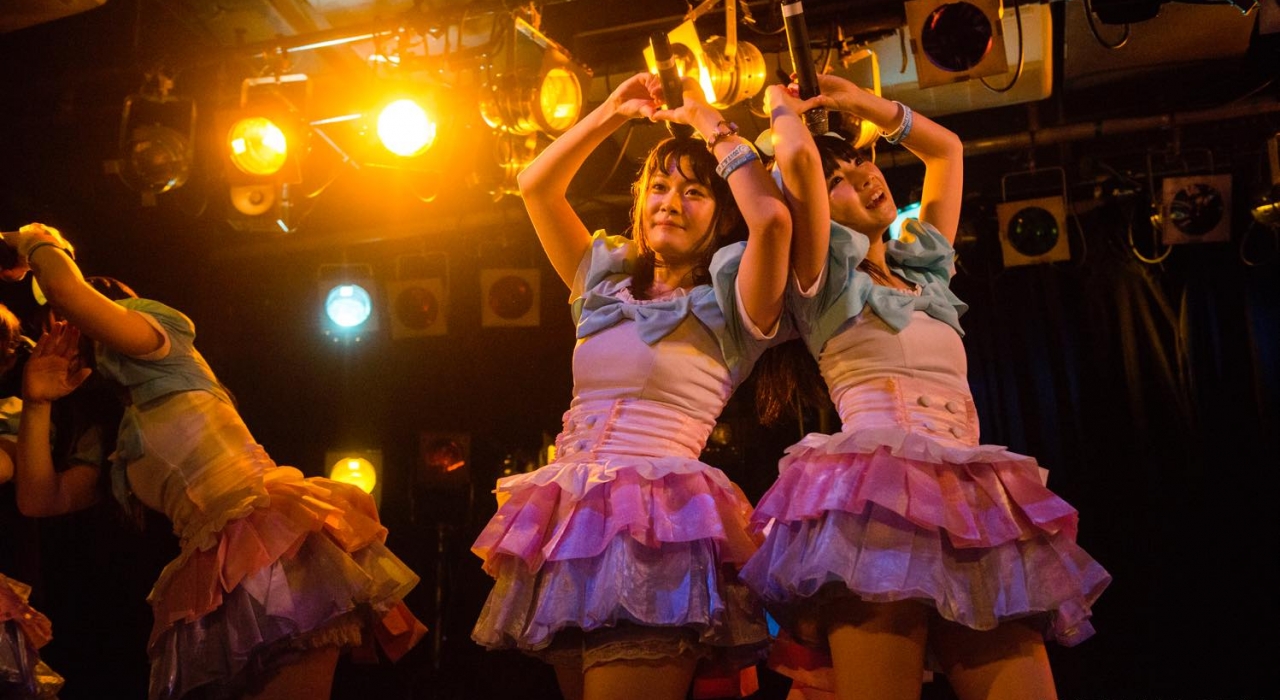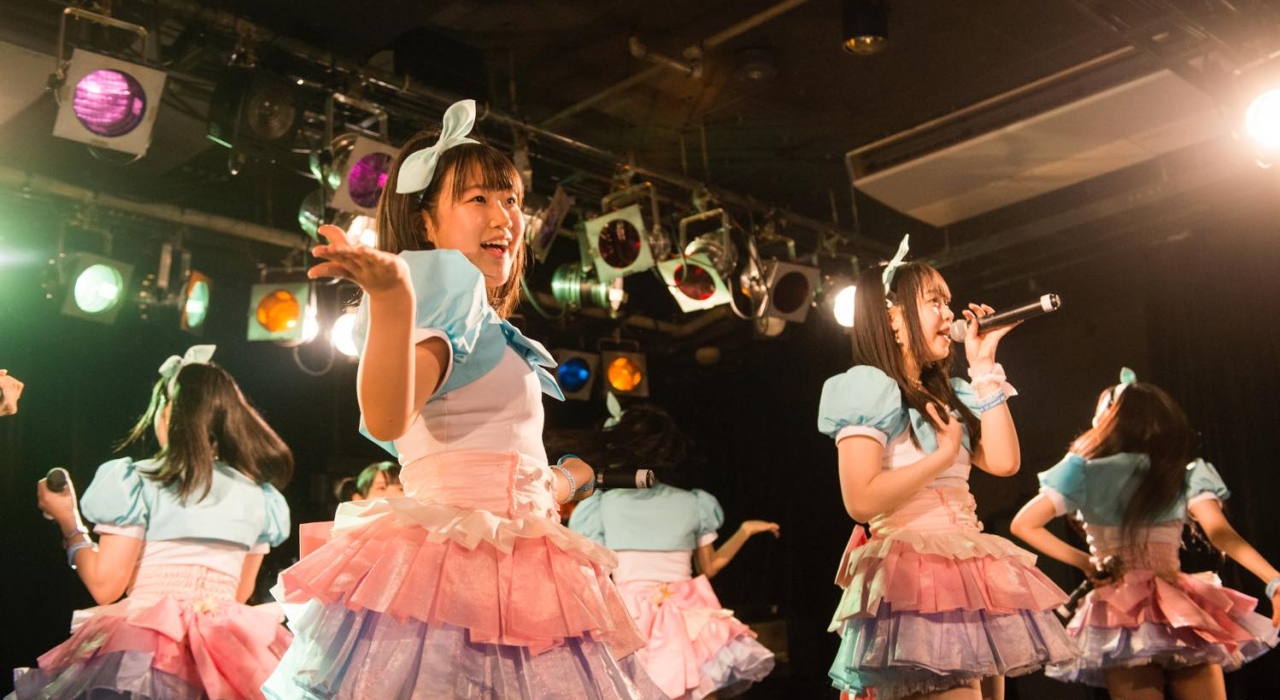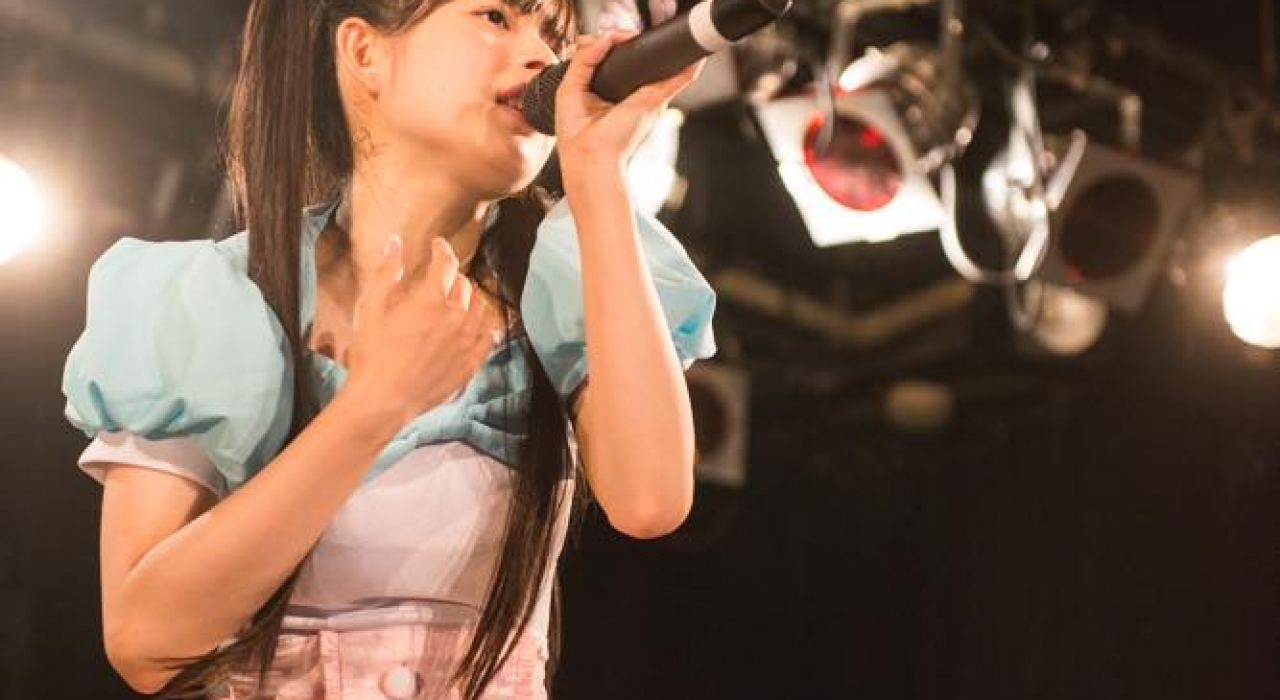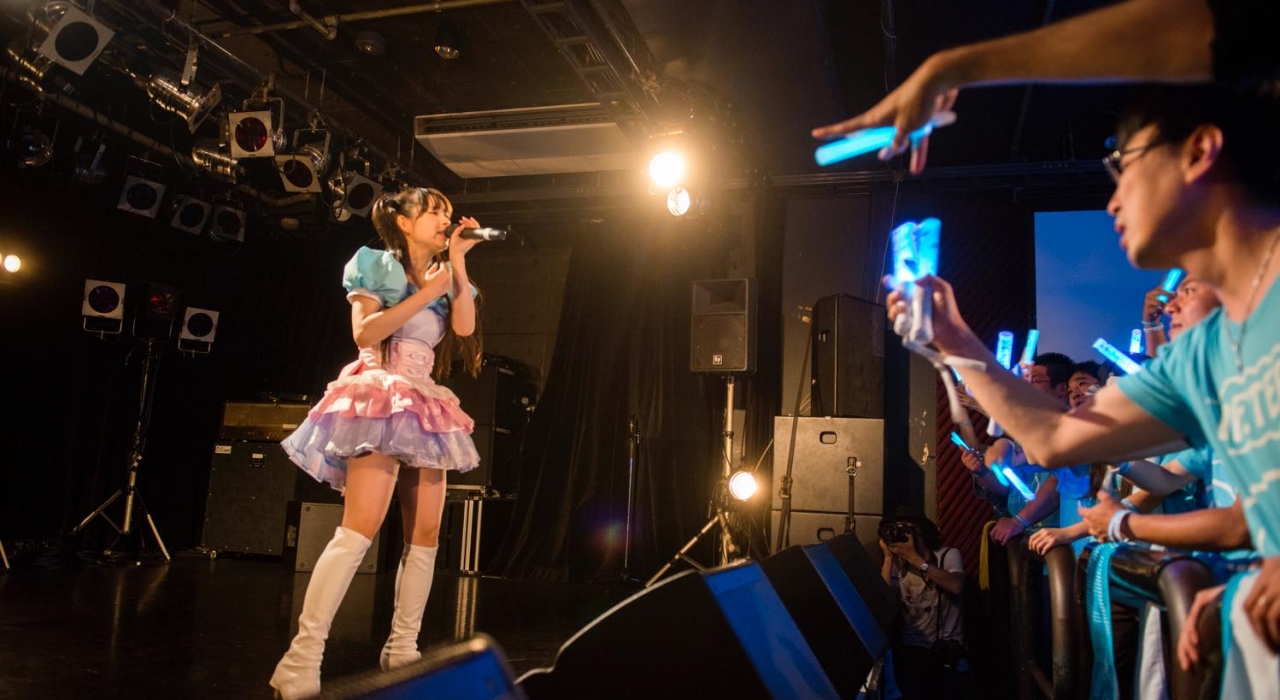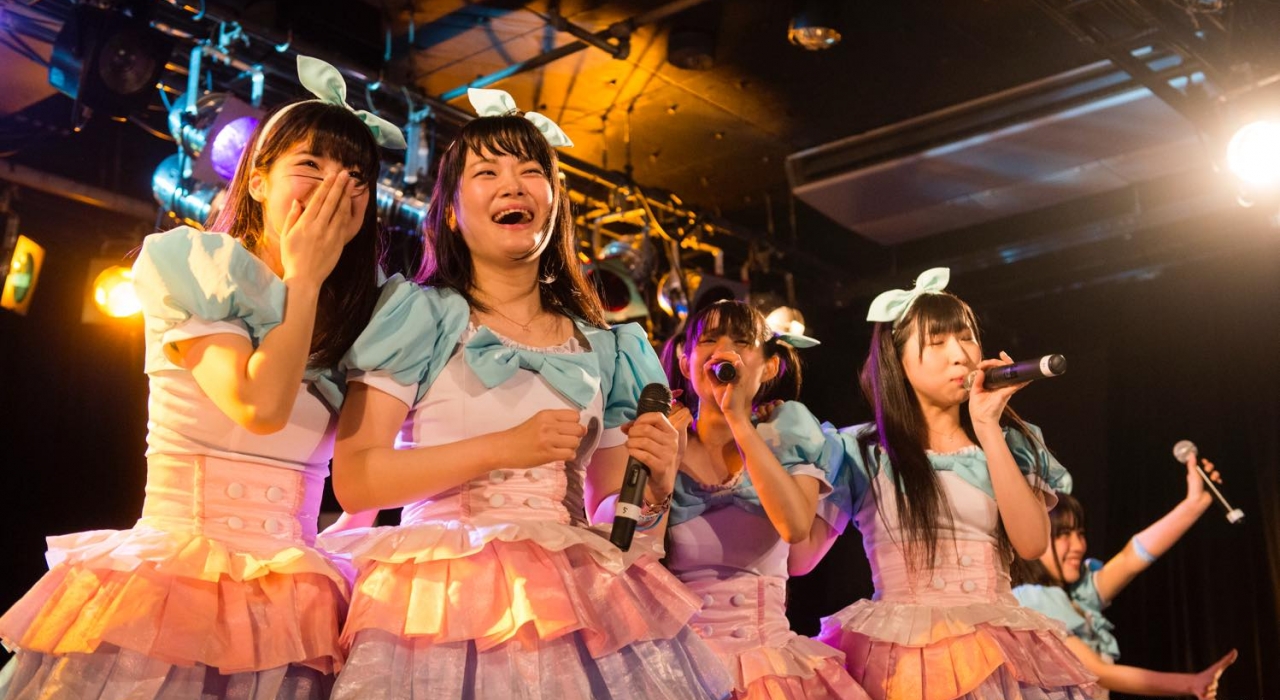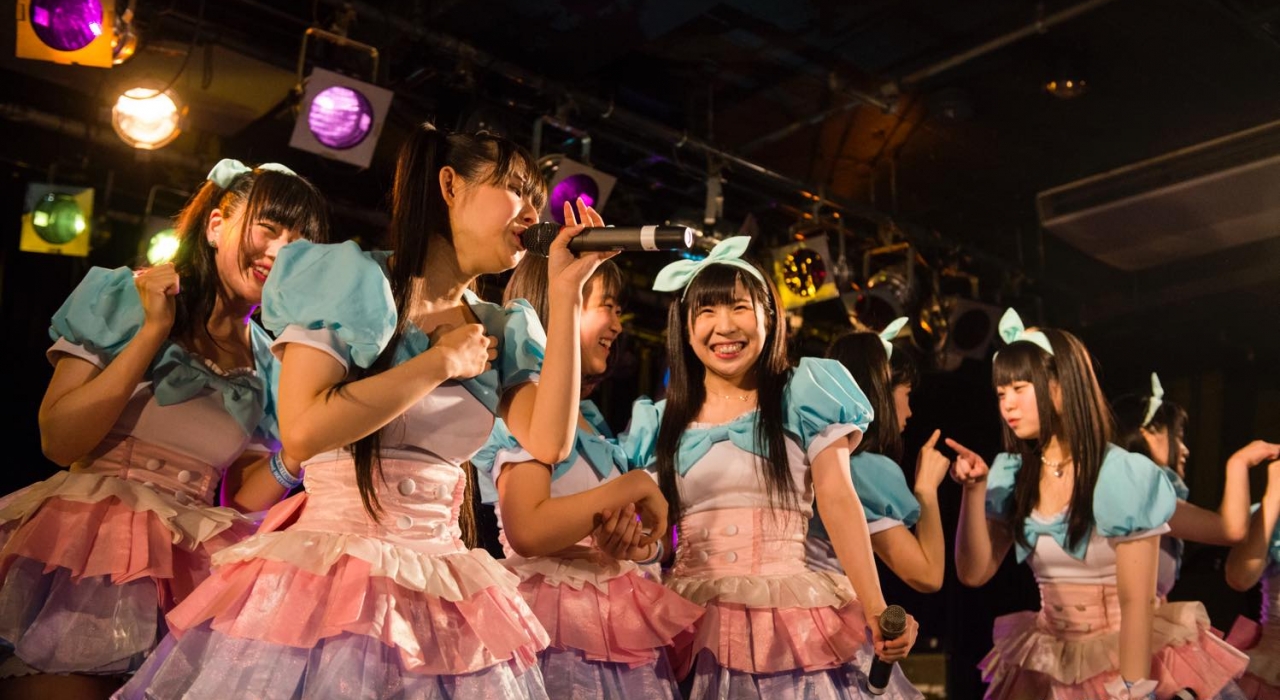 The following MC left some time for the members to talk more in details about Yuno's graduation goods she designed herself. "I was worried not many people would come today, since it was kind of a short notice, and I will do my best until the very end," Yurano said, "Yesterday was my last regular performance, and seeing the fans tearing up made me tear up as well… it's also okay to cry today if you want to, let's cry together! (laughs)".
The members then started to joke to lighten up the mood, to which Yuno added a little anecdote. "Even [Uchida] Kotone-chan kissed me earlier today and said "I love you" in a very deep voice, that was a bit scary," Yuno told everyone while laughing at the thought.
La discussion suivante laisse alors le temps aux membres du groupe pour parler des goodies à l'effigie de Yuno, qu'elle a pu réaliser elle-même. « J'étais très inquiète et je ne pensais pas que beaucoup de monde viendrait ce soir, comme mon départ a été annoncé il y a peu de temps, mais je ferai de mon mieux jusqu'au bout, » déclare Yuno, « Hier était ma dernière apparition pour nos concerts réguliers, et voir les fans pleurer m'a aussi donné envie de pleurer… mais aujourd'hui pleurer est autorisé ! Pleurons ensemble ! (rires) ».
Les autres membres du groupe ont alors commencé à rire et raconter quelques anecdotes pour alléger l'atmosphère.
« Même Kotone-chan [Kotone Uchida] m'a fait un bisou tout à l'heure, en me disant « Je t'aime ! » avec une grosse voix, c'était un peu flippant,  » raconte Yuno alors que le reste du groupe et le public éclatent de rire.
The members had a surprise ready, and a white screen was rolled down to show a short VTR featuring video messages from all Iketeru Hearts members, as well as female pro-wrestling star Nagayo Chigusa. Yuno was left in tears, as her friends brought a hand-made gift for her on stage: a wooden board, decorated with photos of the group with Yuno, and handwritten messages from each one of them. Manami Kazune took advantage of the situation to joke once more. "Look, Nijika didn't say anything interesting on the video, but she wrote the longest message!" she said, making Nijika laugh and tear up at the same time.
Les membres du groupe avaient une surprise pour Yuno, et un écran est alors déroulé pour diffuser une vidéo de petits messages pour la reine de la soirée, de la part de tous les membres de Iketeru Hearts,
ainsi que de la part de Chigusa Nagayo, catcheuse professionnelle réputée. Yuno est en larmes, et ses amies lui apportent alors un cadeau fait-main sur scène : un tableau de bois, décoré de photos du groupe avec Yuno, et de messages écrits à la main de la part de chacune d'enre elles. Kazune Manami tire avantage de la situation pour blaguer à nouveau. « Regarde, Nijika n'a rien dit d'intéressant sur la vidéo, mais c'est elle qui a écrit le plus long message ! » dit-elle, faisant pleurer et rire Nijika à la fois.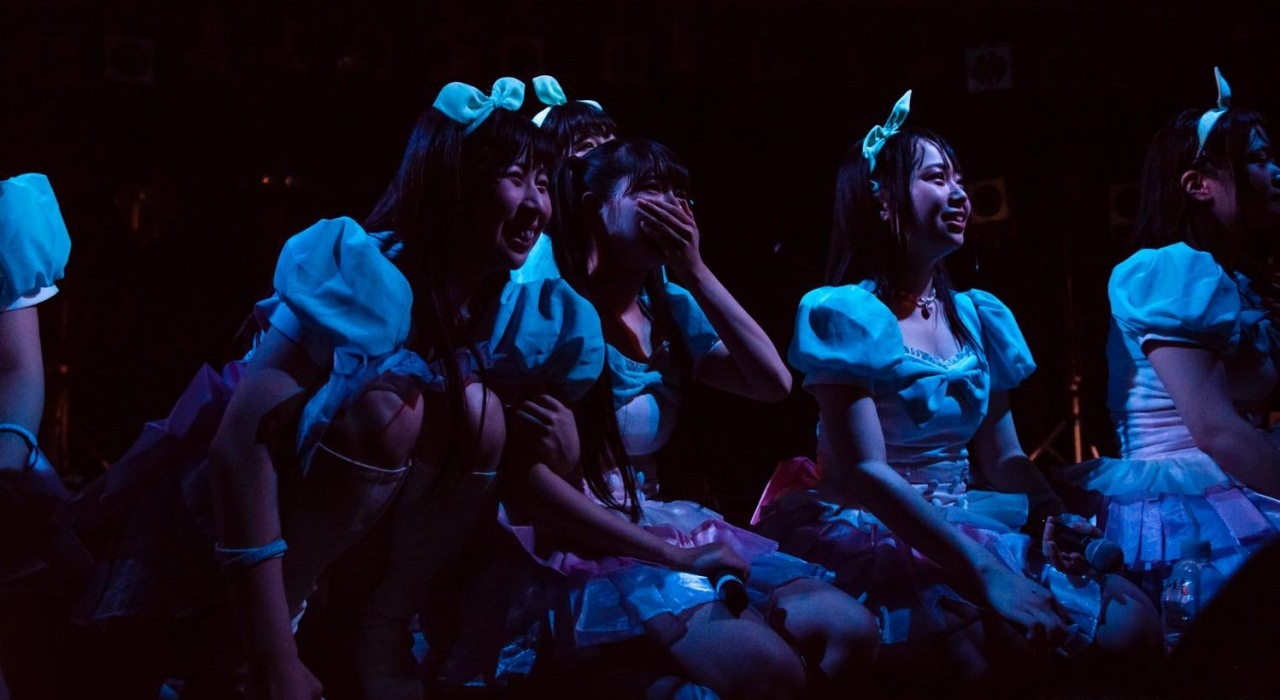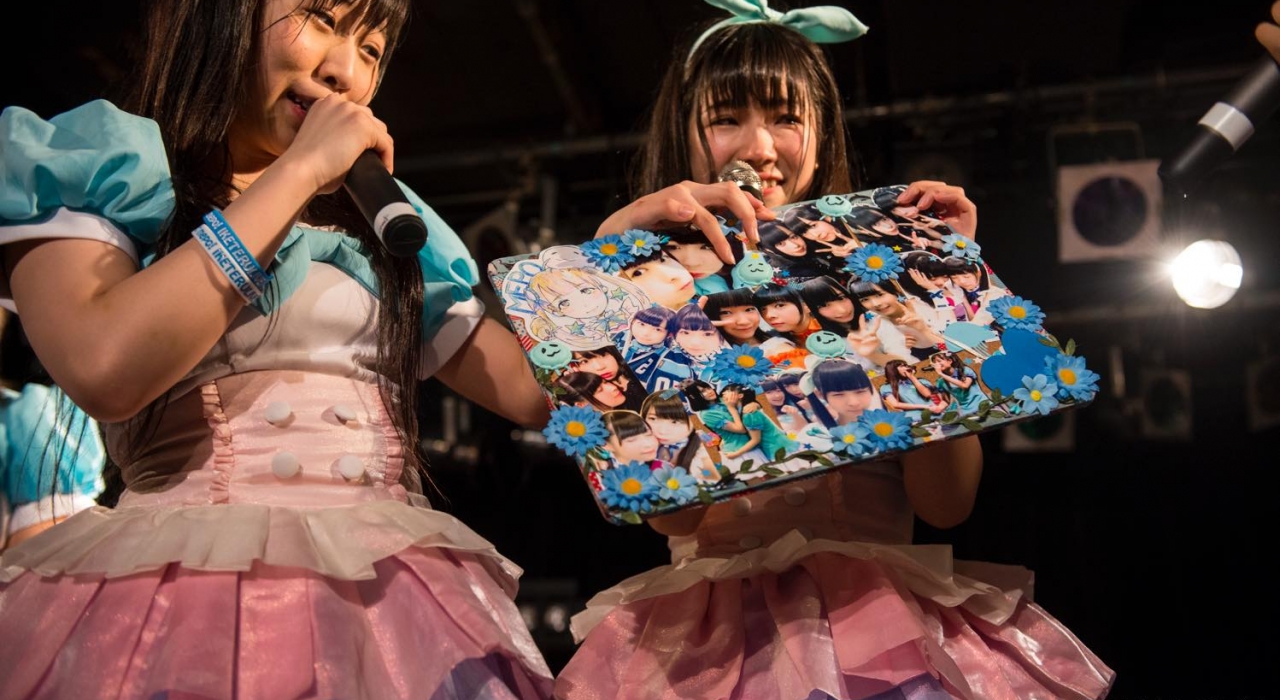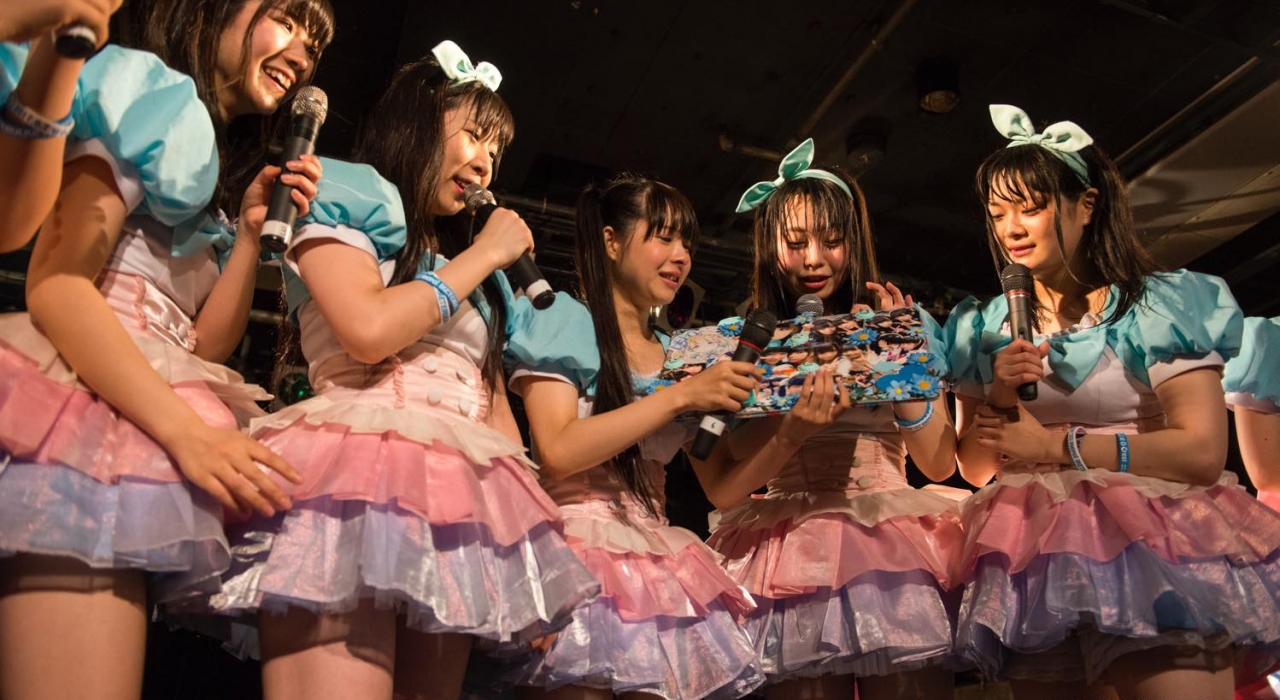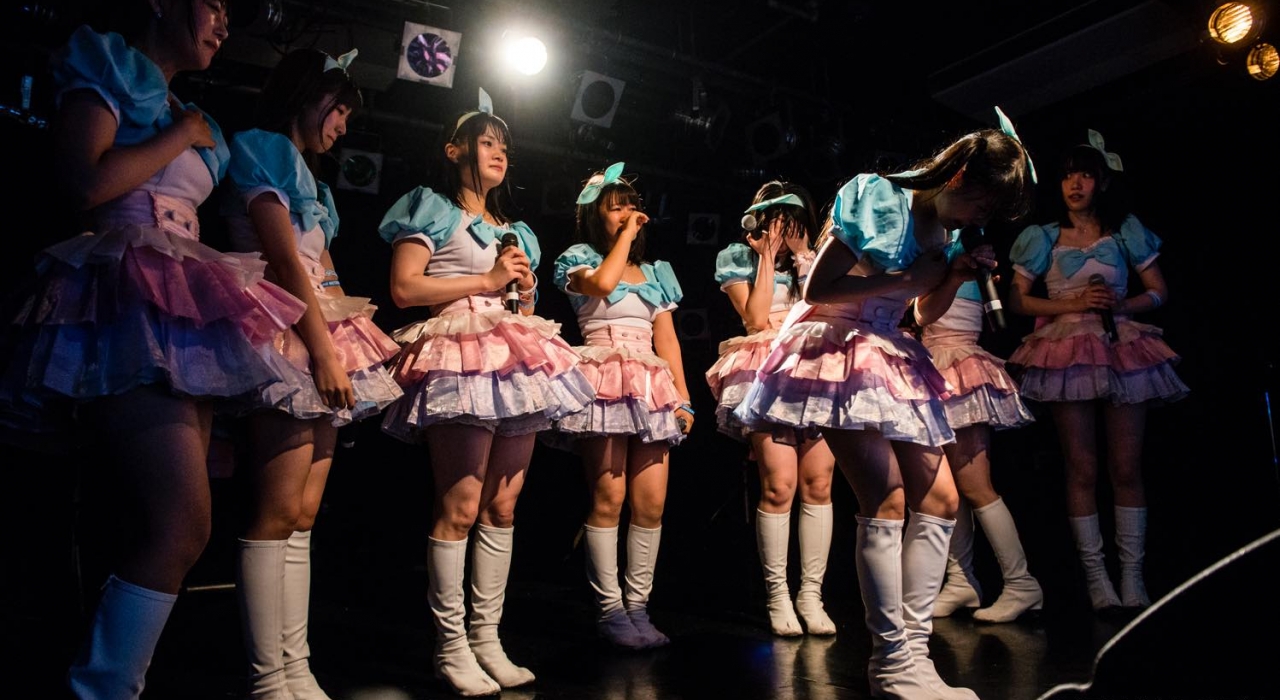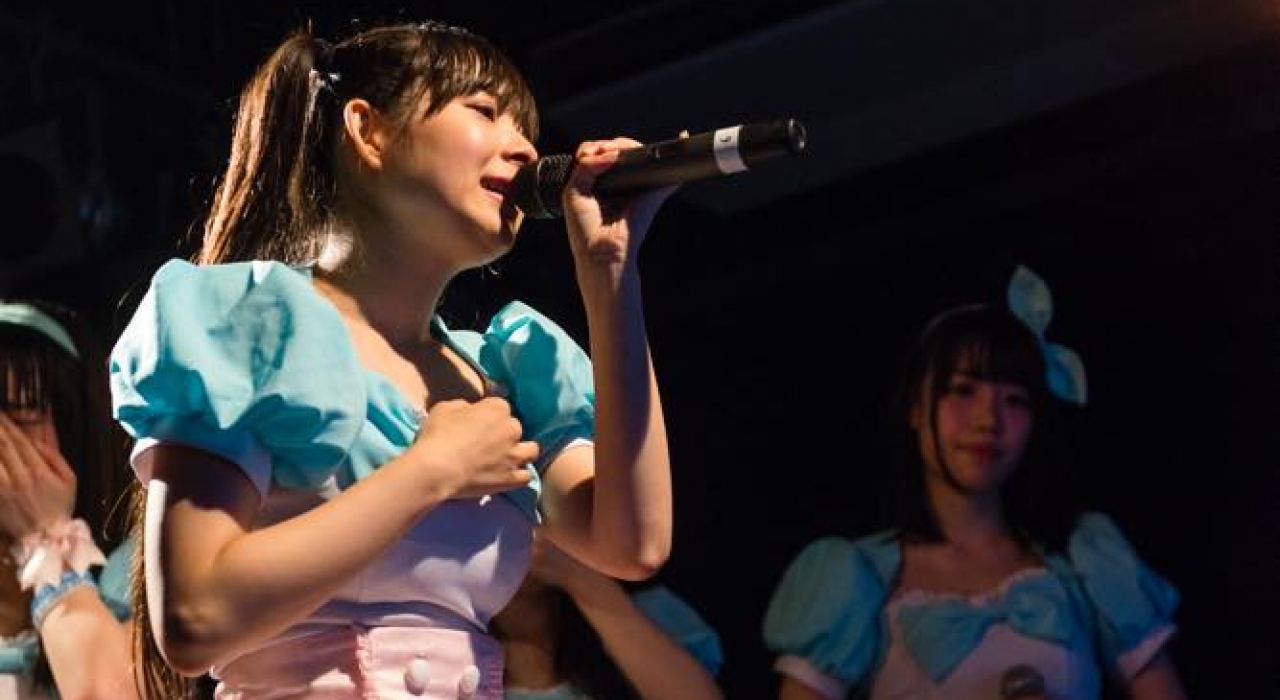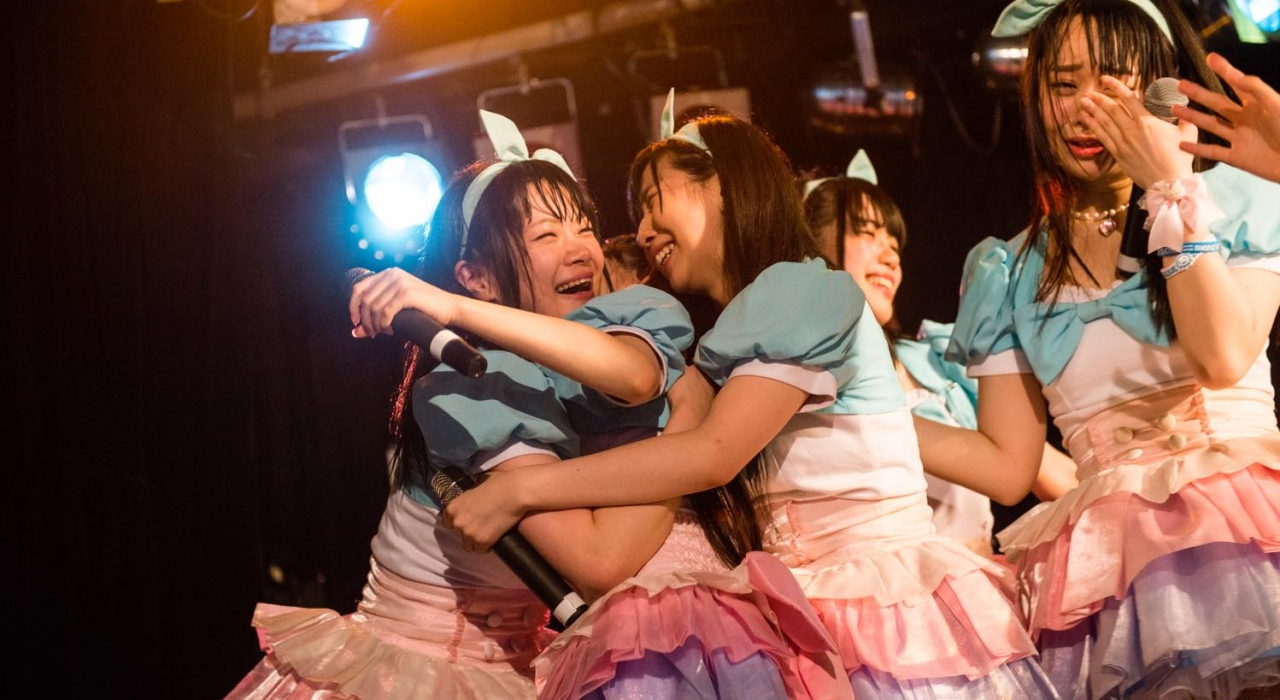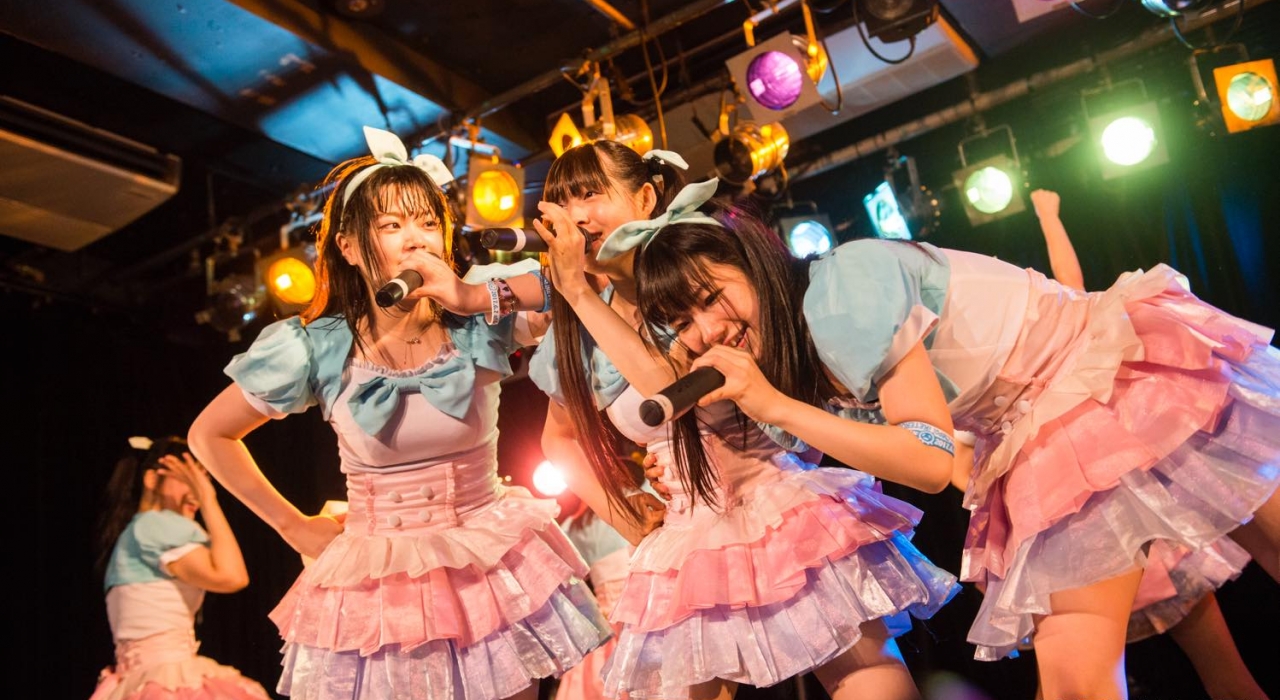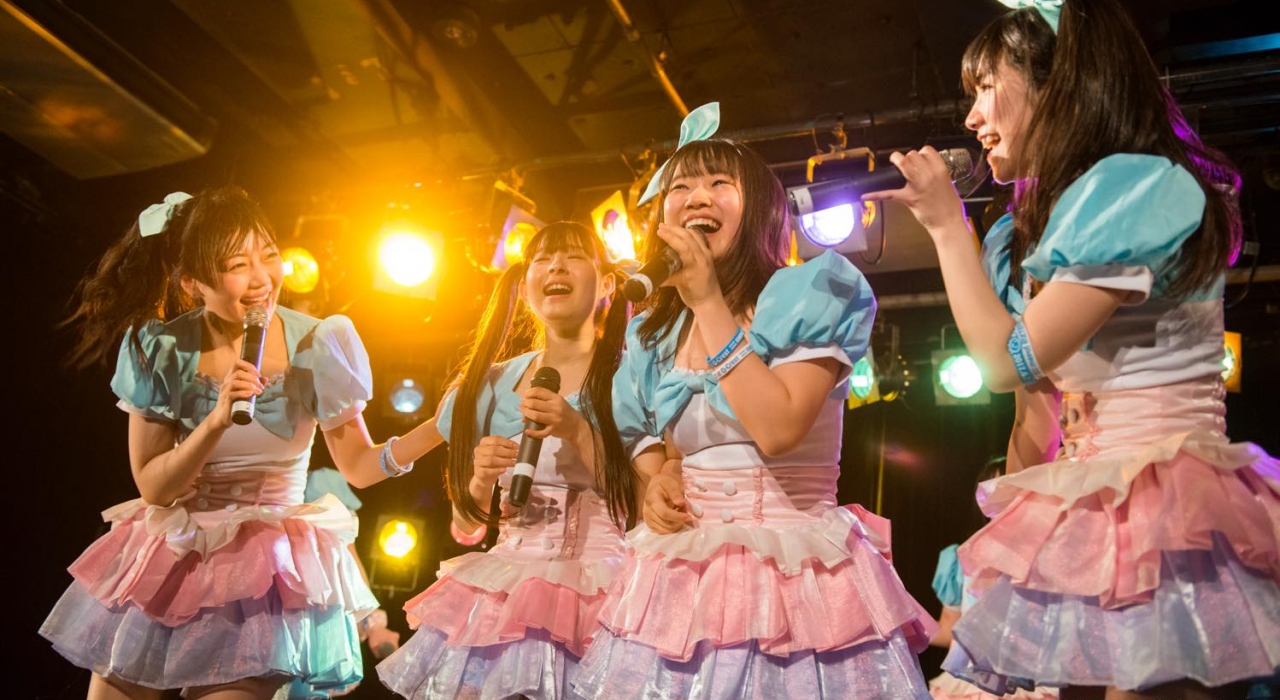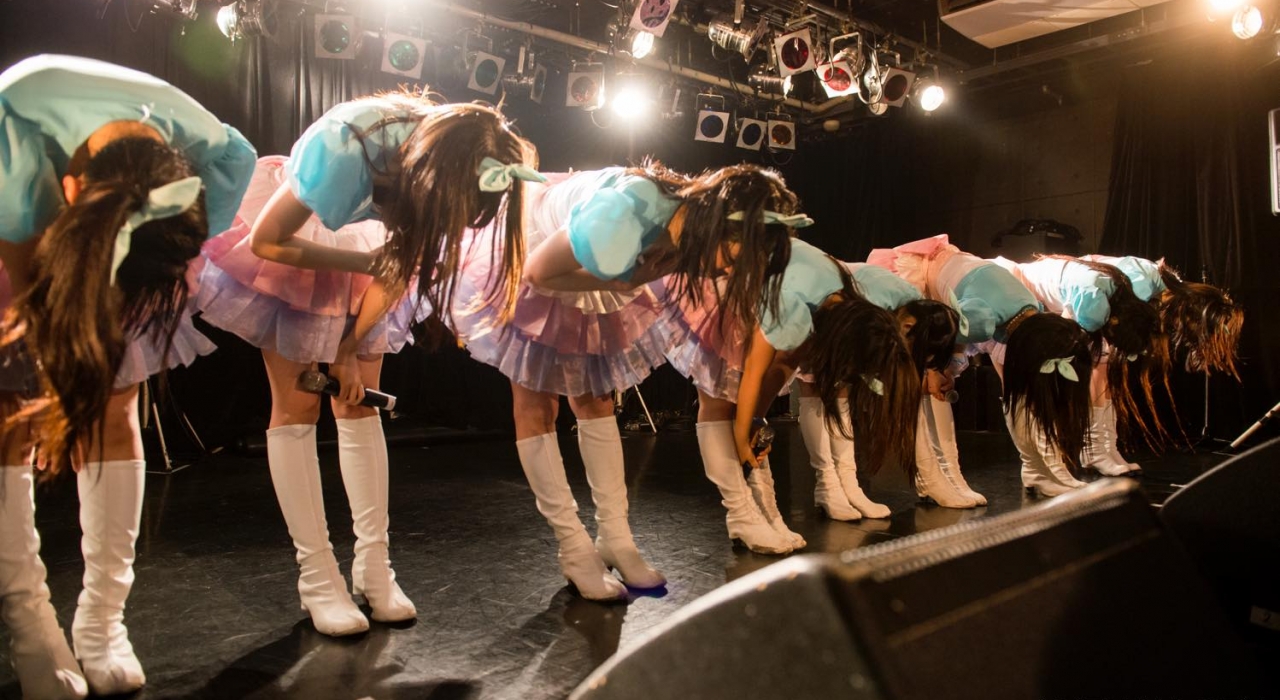 The night had to come to an end, with tear-jerking ballad "I will", on which all the members started sobbing when Yuno's solo line started. But it could not be over in such a gloomy atmosphere, and the group closed the main show on the upbeat "Happy End".
La nuit doit alors toucher à sa fin, avec la ballade « I will », durant laquelle toutes les membres ont alors commencé à pleurer alors que Yuno chante sa partie en solo. Mais cela ne pouvait pas se terminer ainsi, et le groupe achève le spectacle principal avec l'énergique « Happy End ».
The fans didn't want to leave right away, and immediately started yelling Yuno's name in a loud "Yurano! Yuno!" unison call. The group showed up once again, wearing the signature light blue Yuno tee-shirts, to perform the very lively "Sekai he habatake!", flapping their hands along with the fans, before giving a final speech.
"The idea of graduating still hasn't sunk in…" Yuno said, "maybe tomorrow, when I hear your voices in Take your Hearts (Iketeru Hearts' weekly radio show on Shibuya Cross FM), I will realize that I am not a member anymore… Thank you for giving me the best graduation live."
Leader Arata Yuyu closed the final speech greeting the fans. "We're becoming a seven-members unit, but in our hearts, we will always be eight of us. Thank you for everything," Yuyu said.
The group left the stage hugging Yuno and crying at the same time, showing once again the strong bonds tying the members together.
Yurano Yuno expressed her desire to pursue a career in the pro-wrestling industry before, and we wish her a prompt recovering and all the best luck in her new life!
Les fans n'ont alors pas encore l'intention de partir, et commencent à crier le nom de Yuno à l'unisson. Le groupe réapparaît alors, vêtues du tee-shirt bleu ciel dessiné par Yuno, pour offrir un dernier et très joyeux « Sekai he habatake! », bougeant leurs mains en rythme avec celles des fans, avant de donner un dernier discours.
« Je n'ai pas encore réalisé que je partais… » dit Yuno, « peut-être que demain, quand j'entendrai vos voix dans Take your Hearts (l'émission de radio hebdomadaire des Iketeru Hearts), je réaliserai que je ne fais plus partie du groupe… merci pour ce fabuleux dernier concert. »
La leader, Yuyu Arata, clôture cet ultime discours en remerciant les fans. « Nous devenons un groupe de sept personnes, mais dans nos coeurs, nous serons toujours huit. Merci pour tout, » déclare Yuyu.
Le groupe quitte la scène en enlaçant Yuno, pleurant et riant à la fois, prouvant encore une fois les liens solides qui se sont tissés entre les membres pendant ces années.
Yuno Yurano a exprimé son désir de poursuivre une carrière dans le catch professionnel, et nous lui souhaitons une bonne rémission et le meilleur pour sa nouvelle vie !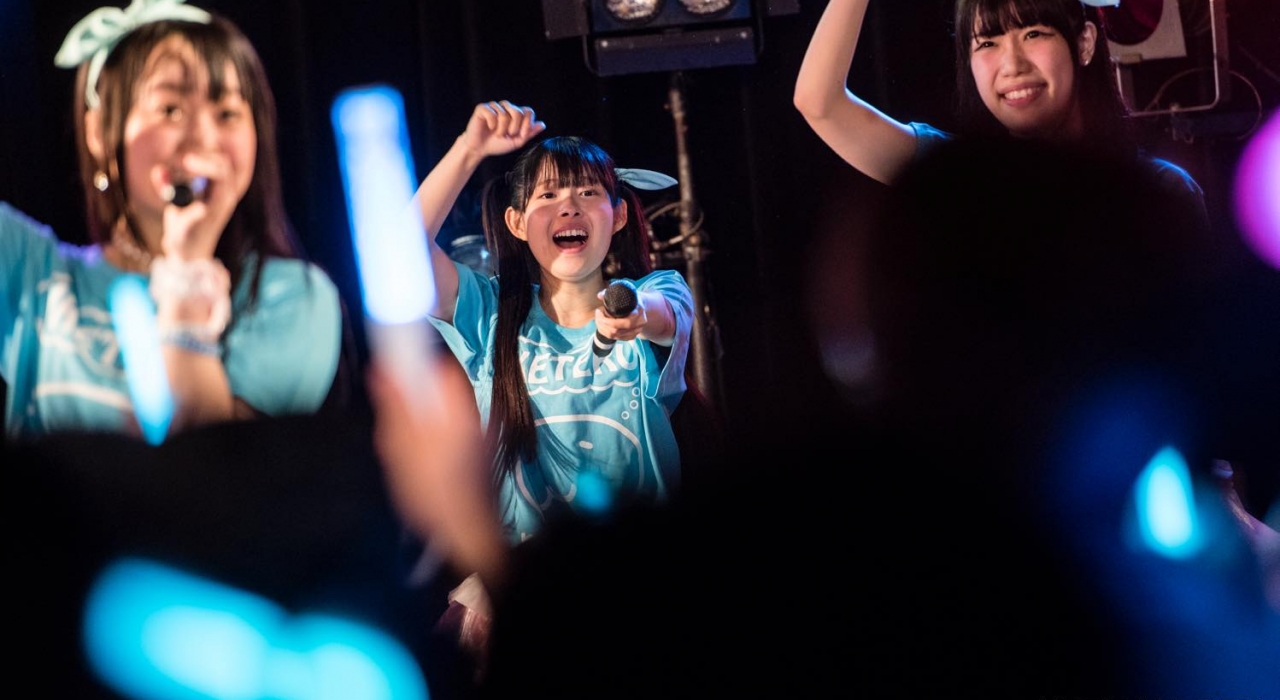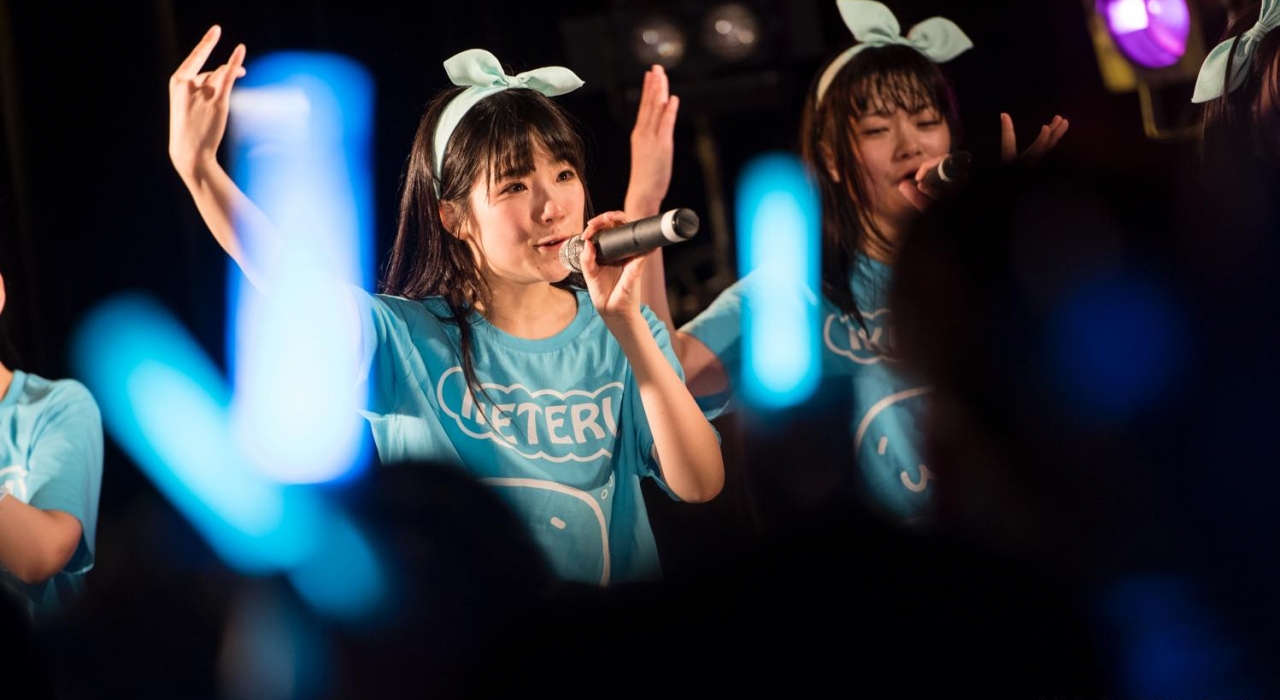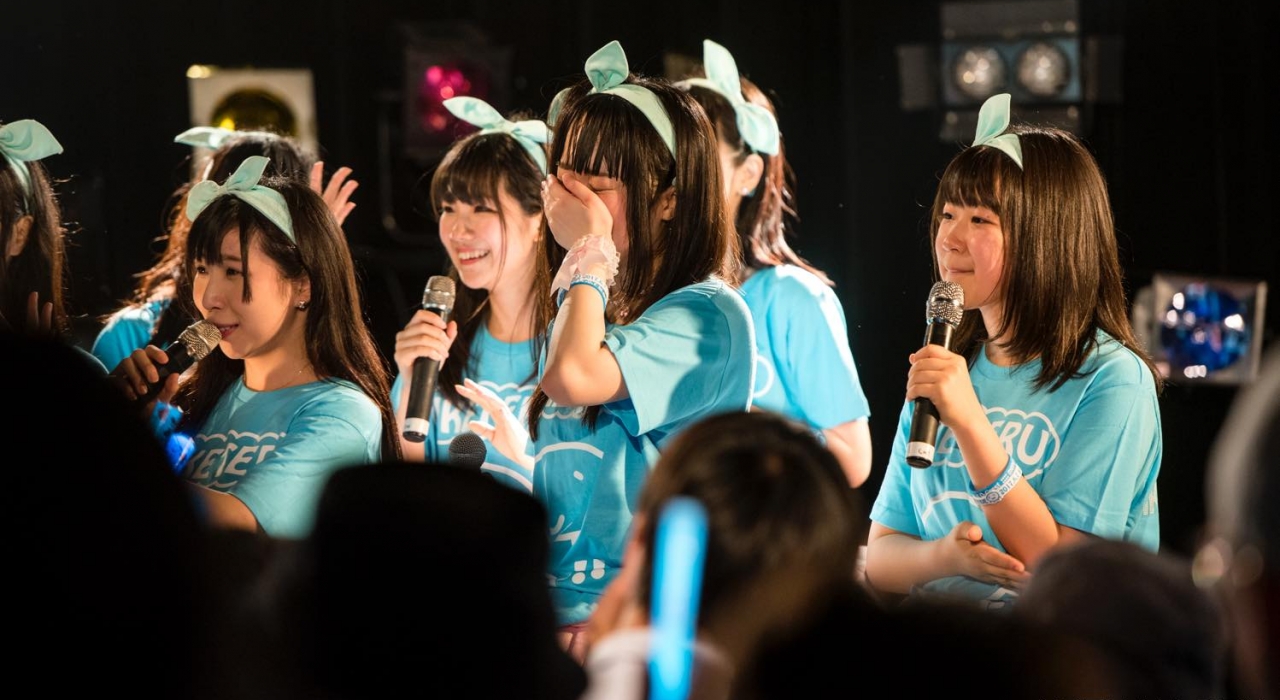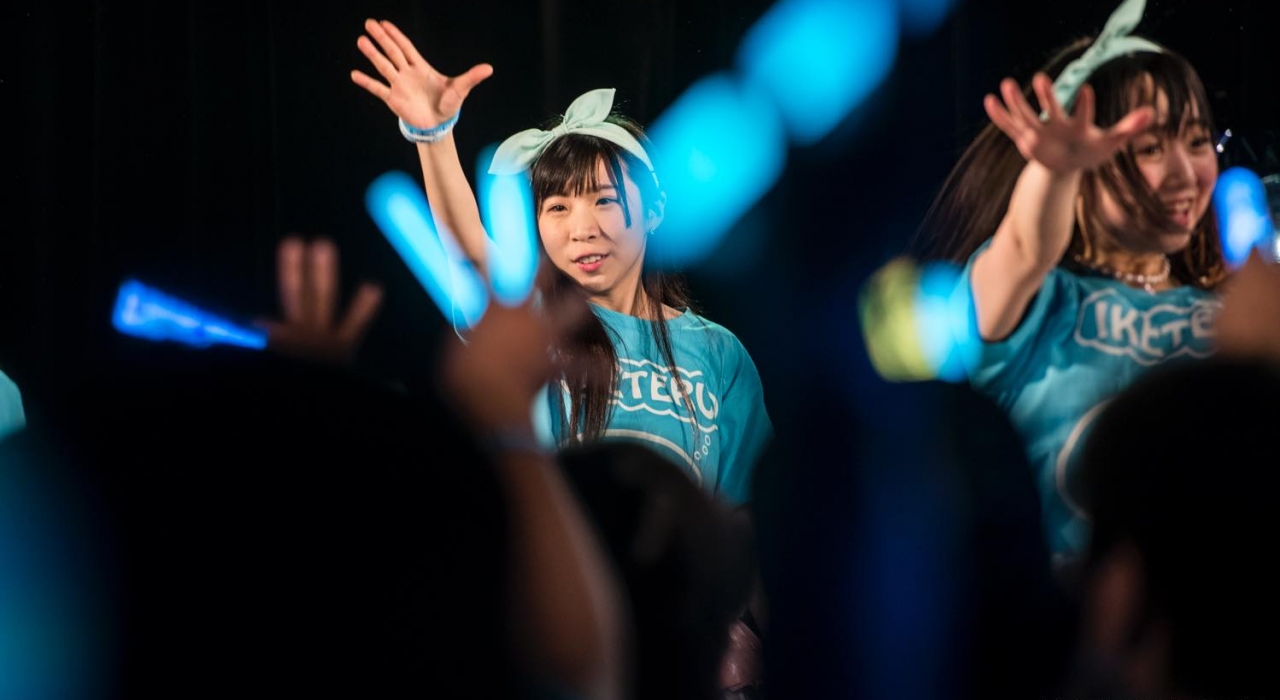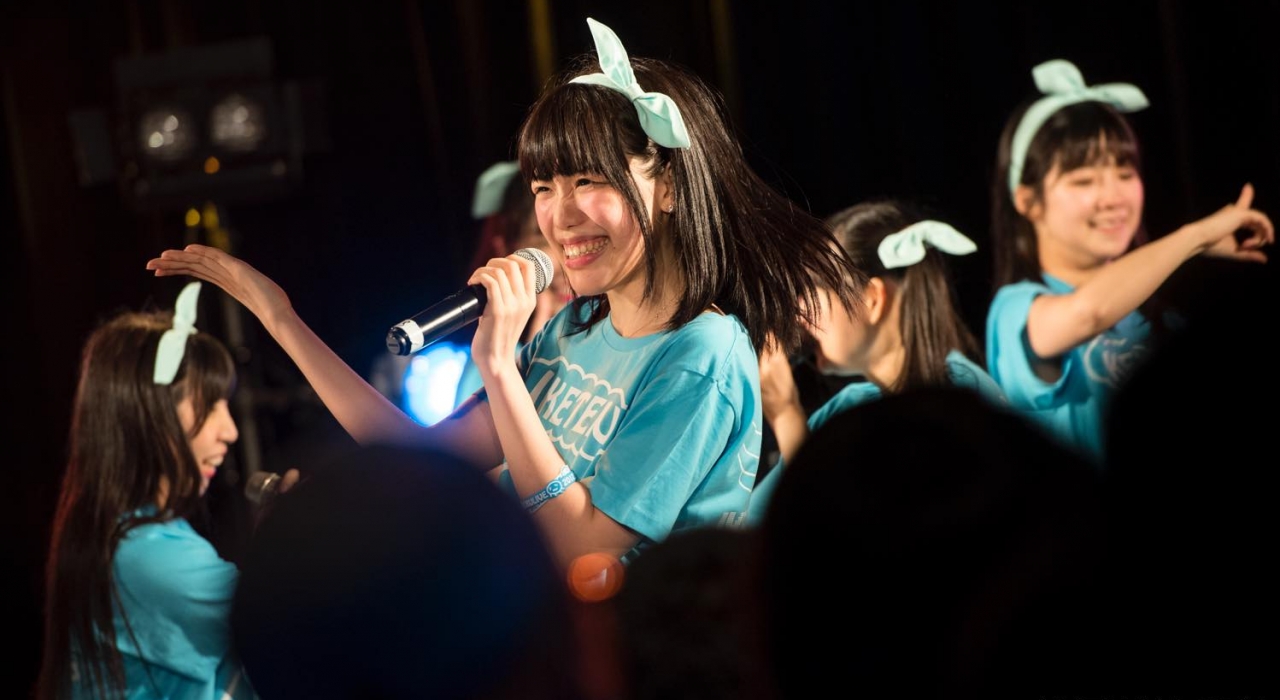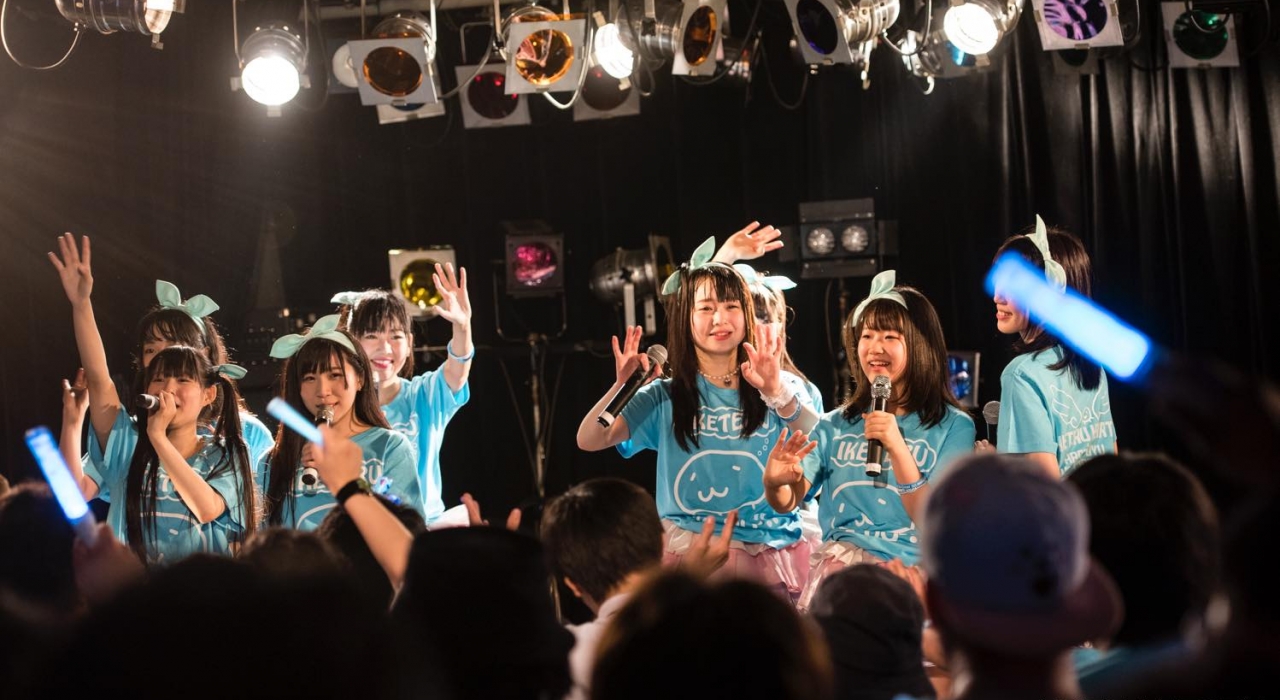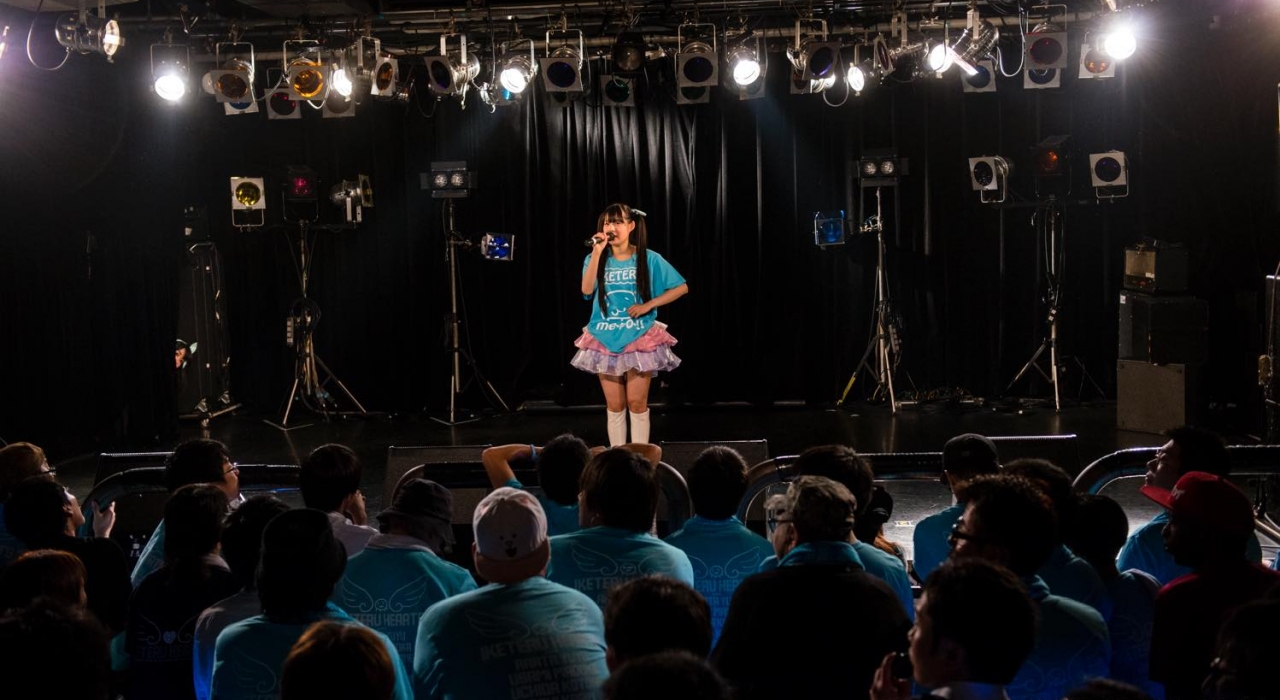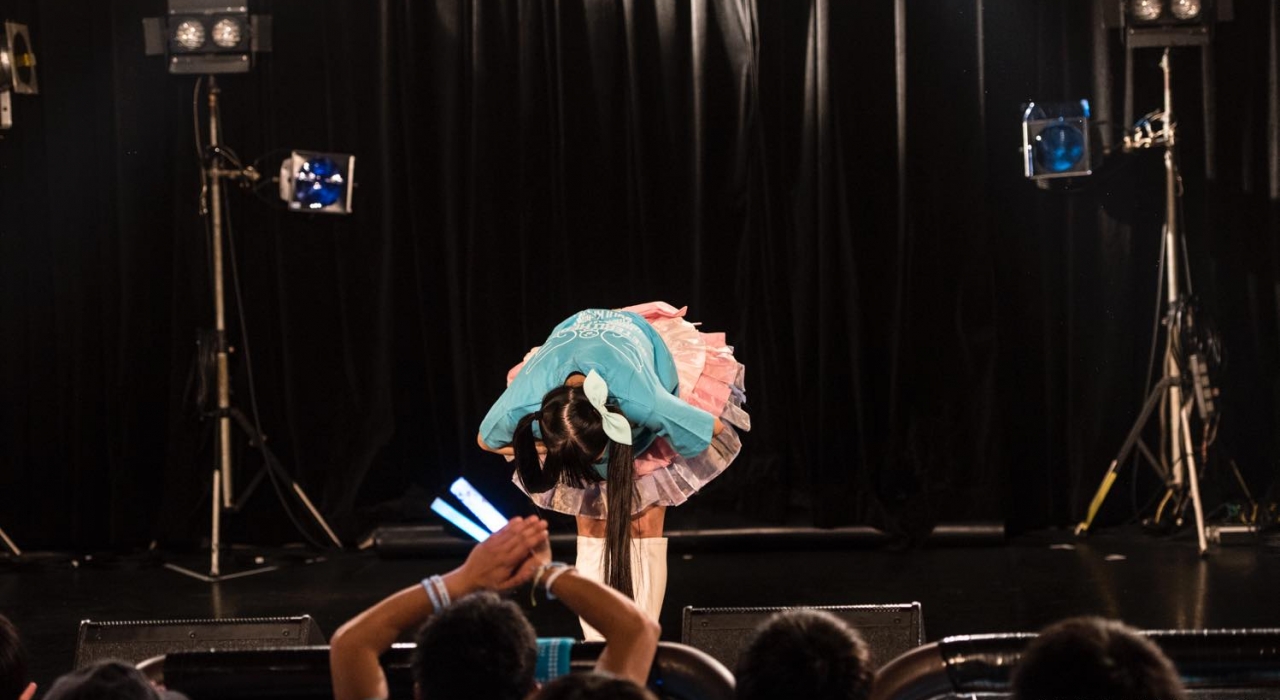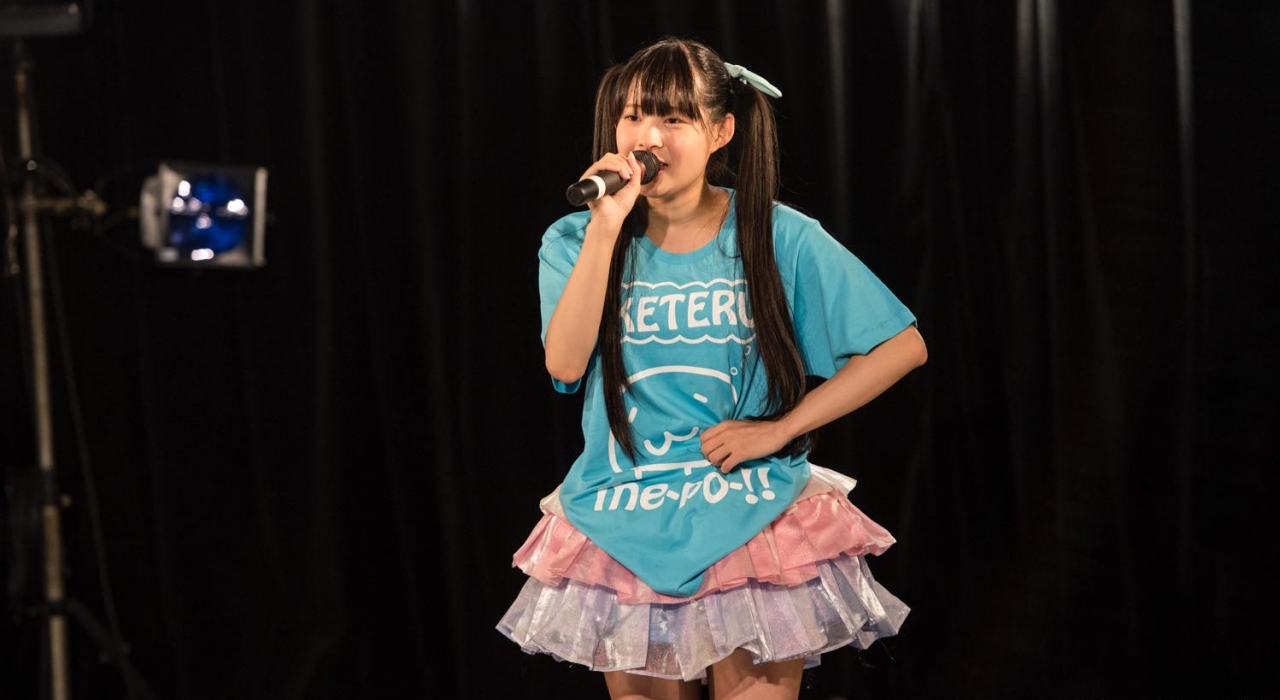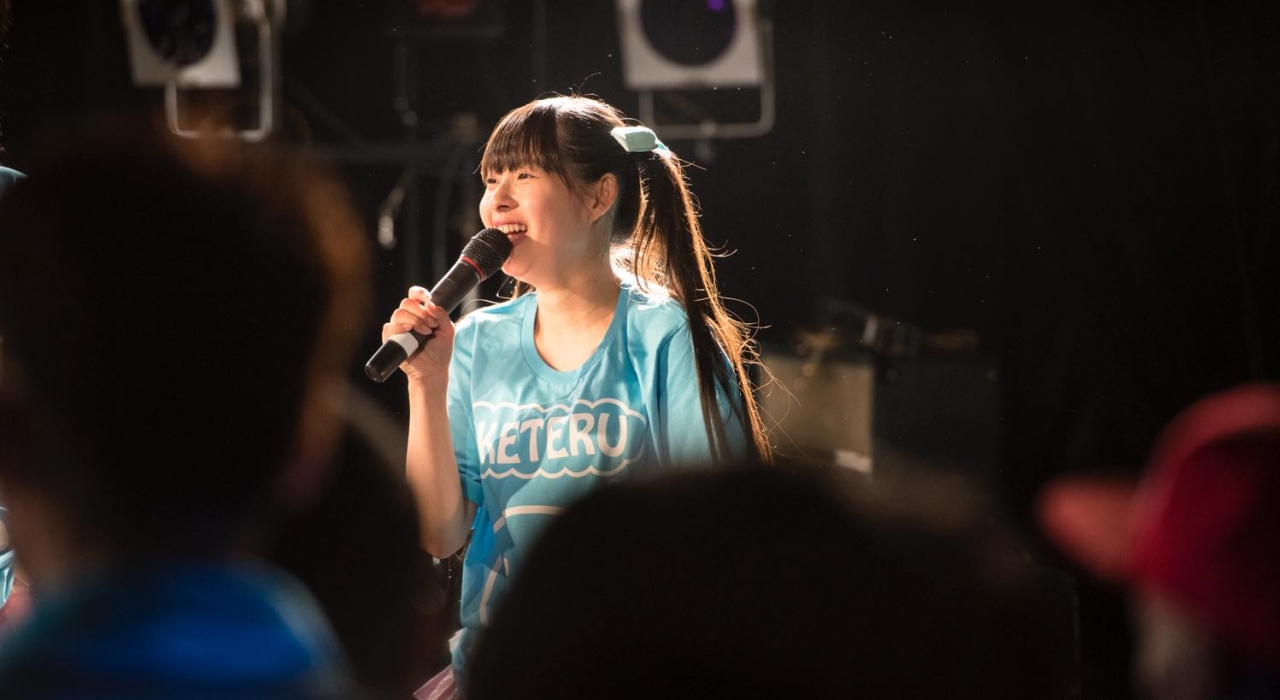 ---
Setlist
01. NEXT STAGE
02. Sorairo Days (空色デイズ)
03. Tenbu no mai, akatsuki no mon (天部の舞、暁の門)
04. Triangle Wave (guest: Momoko Little Berry from Afilia Saga)
— MC —
05. Let's stand up!
06. Shrimp Girl (シュリンプガール)
07. Otomegokoro (オトメゴコロ)
08. Soukoku no Spica (蒼黒のスピカ, Yurano Yuno solo)
09. Believe in my dreams
10. Shishin kakutei (私信確定)
11. ORIGAMI
12. GIRL, Me♥
13. Lumica Jane (ルミカジェーン)
14. Zaishou no Lucifer (罪障のルシファー)
— MC – Yurano Yuno graduation VTR —
15. I will
16. Happy End (ハッピーエンド)
— Encore call —
EN01. Sekai he habatake! (世界へはばたけ!)
---
About the artist
Iketeru Hearts was originally the trainees unit of agency Stand Up! Records under the name « Stand Up! Hearts », and started their activities in September 2014. They officially debuted as a full-time idol group in September 2015, changing the group's name to « Iketeru Hearts » a few months later, making it the official little sister group of the famous Afilia Saga. Iketeru Hearts had their major debut in February 2016 with first single « Let's Stand Up! », produced by Hello!Project leader Tsunku. The group counts now seven members supervised by leader Arata Yuuyu.
Iketeru Hearts fut à l'origine le groupe de débutantes de l'agence Stand Up! Records, sous le nom « Stand Up! Hearts », et commence leurs activités en Septembre 2014. Elles débutent officiellement en tant que groupe d'idols à part entière en Septembre 2015, changeant le nom du groupe pour « Iketeru Hearts » quelques mois plus tard, devenant le groupe soeur officiel des célèbres Afilia Saga. Iketeru Hearts débute en major en Février 2016 avec leur premier single « Let's Stand Up! », produit par le leader du Hello!Project, Tsunku. Le groupe compte aujourd'hui sept membres, menés par leur leader Arata Yuuyu.
---
Full gallery
---
Article & Translation by Melody
Photography by Nathan Gey
Special thanks to Stand-Up! Records staff and Yamamoto-san for inviting us to the filming and letting us take pictures of Iketeru Hearts.