Fly to a new step! Iketeru Heart's nationwide tour final performance
After travelling to Osaka and Nagoya as part of their Kanto and Kansai area summer tour, Iketeru Hearts ended their trip with a double performance in Tokyo on August 19. Fans gathered for both afternoon and night shows at Shibuya duo Music Exchange and everyone was extremely excited to see what the group had in store for this special day. We attended the final night time performance and will tell you all about the surprises that were announced for Iketeru Hearts' future!
Après avoir voyagé jusqu'à Osaka et Nagoya pour leur tournée des régions du Kanto e du Kansai cet été, les Iketeru Hearts ont terminé leur route avec une double performance à Tokyo le 19 Août. Les fans se sont rassemblés pour les concerts de l'après-midi et de la soirée au Shibuya duo Music Exchange, et tous étaient extrêmement impatients de voir ce que le groupe leur réservait pour ce dernier jour. Nous étions présents pour le dernier concert en soirée, et voici toutes les surprises que les Iketeru Hearts ont en stock pour leur futur !
After their usual exciting introduction tune, the seven members appeared on stage wearing the pastel dresses from their debut single. They opened the day with their very first and latest single songs, Tsunku produced "Let's Stand up!" and the dark "Zaishyou no Lucifer", the youngest member, Nijika, already crying happy tears after a few seconds into the performance.
The group introduced themselves one by one in their usual first MC, and leader Arata Yuyu mentioned it being their last one-man live as a 7 people unit, as four new members were announced to be introduced on that final day!
Après leur musique d'introduction habituelle, les sept membres du groupe arrivent sur scène, portant leurs robes pastel de leur single de débuts. Elles ouvrent le bal avec leur tout premier et tout dernier single en date, « Let's Stand Up », produit par Tsunku, et le sombre « Zaishyou no Lucifer ». La benjamine du groupe, Nijika, commence alors à pleurer des larmes de joie à peine quelques secondes après le début de leur première chanson.
Le groupe se présente ensuite lors de leur premier MC, leur leader, Yuyu Arata, mentionnant qu'il s'agit là de leur dernier concert solo en tant que groupe composé de 7 personnes. En effet, quatre nouvelles membres ont été annoncées la veille du concert !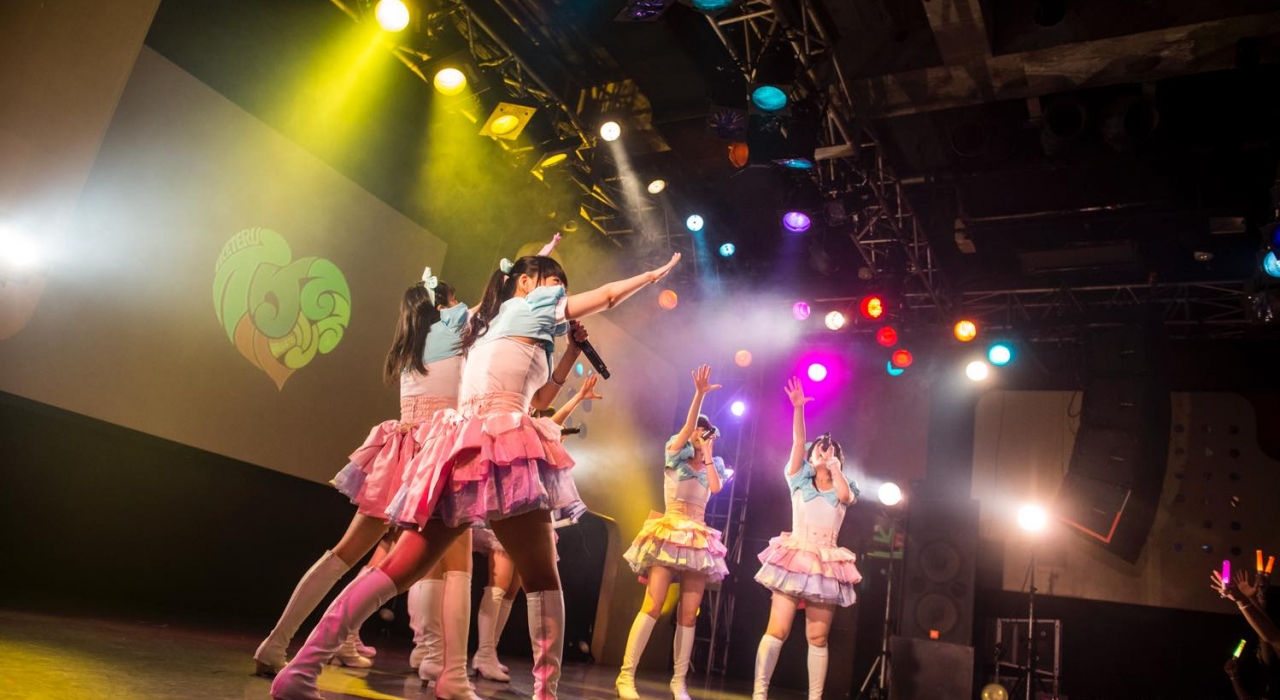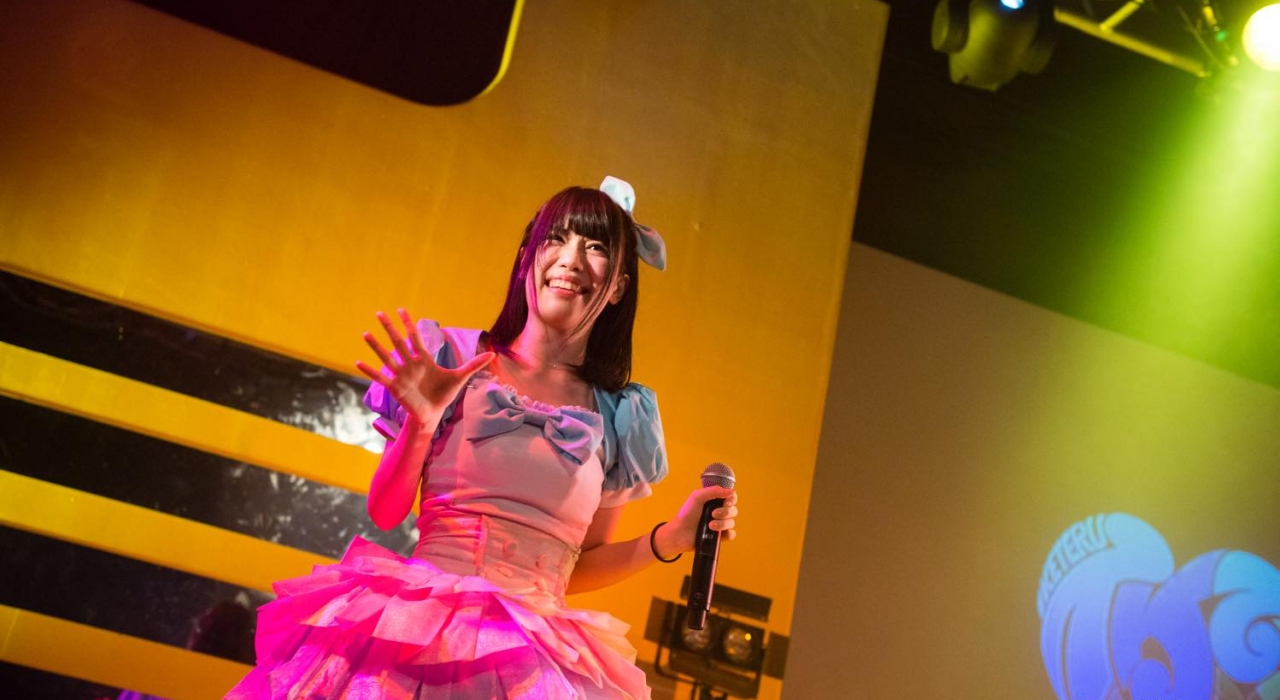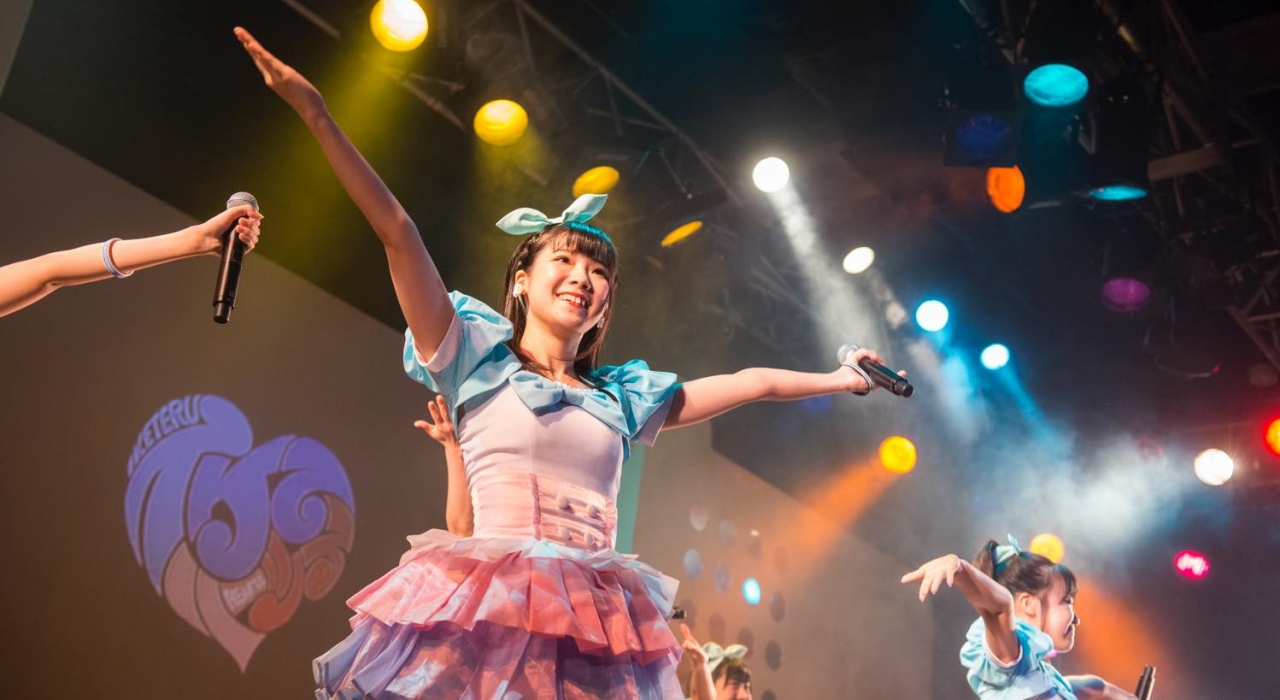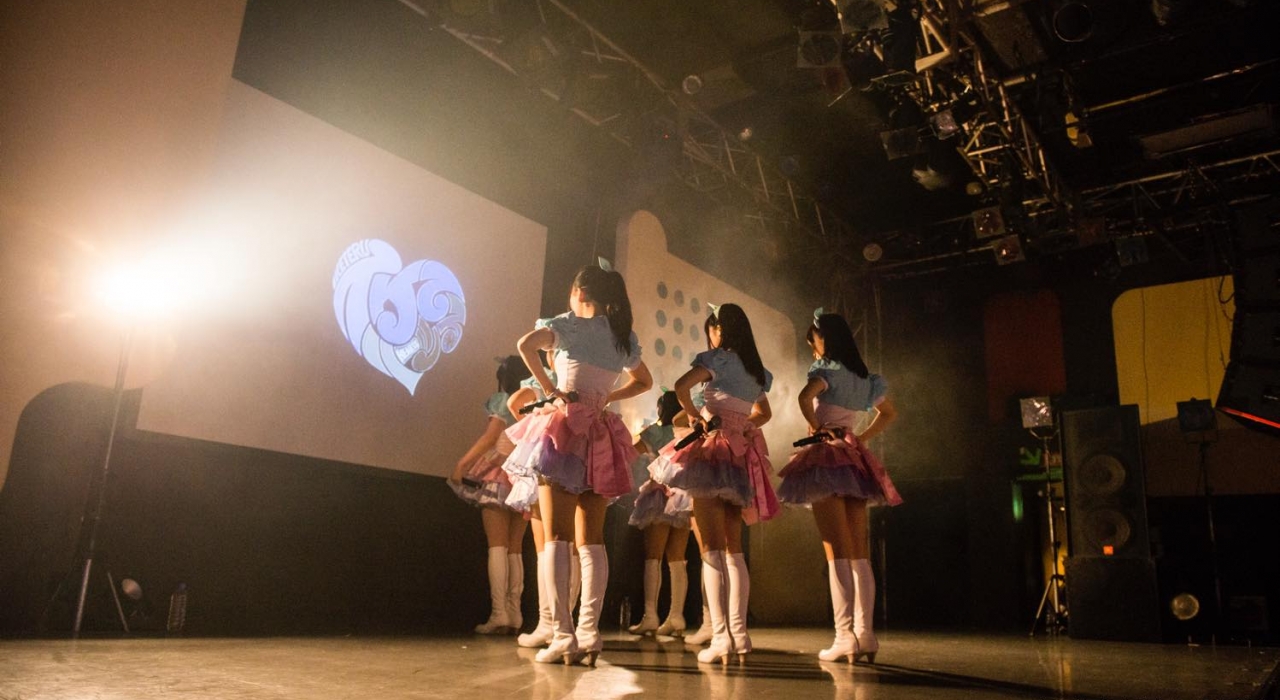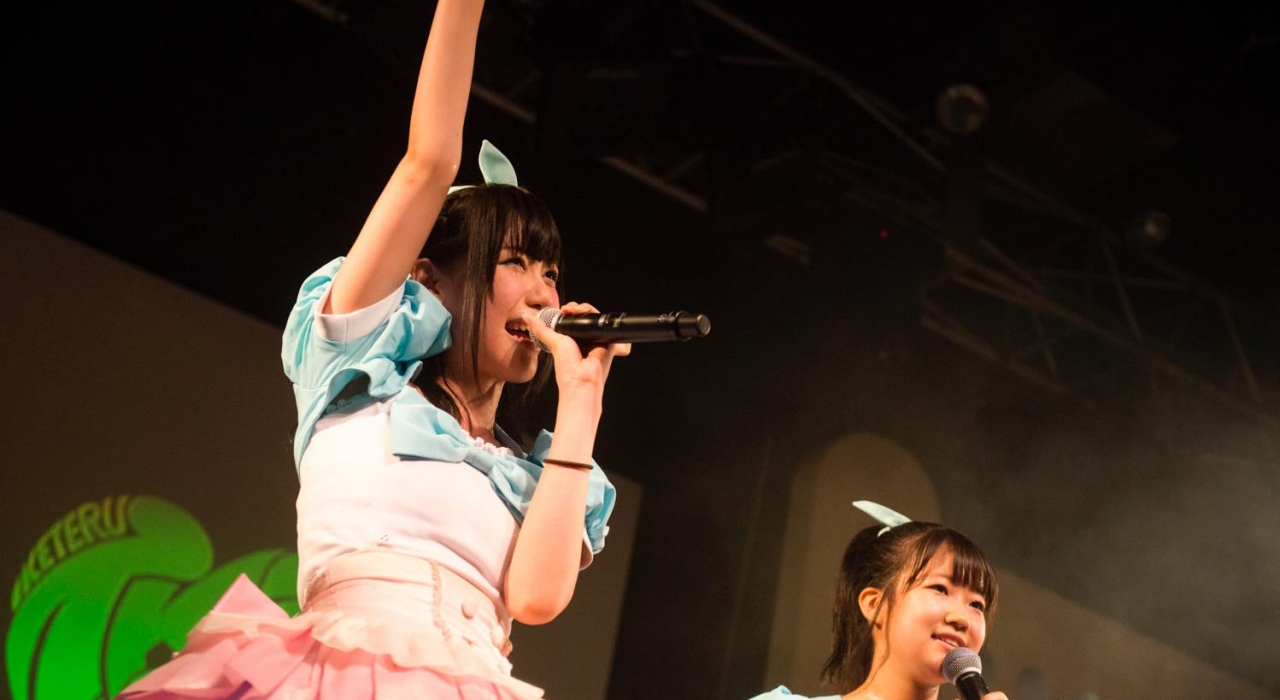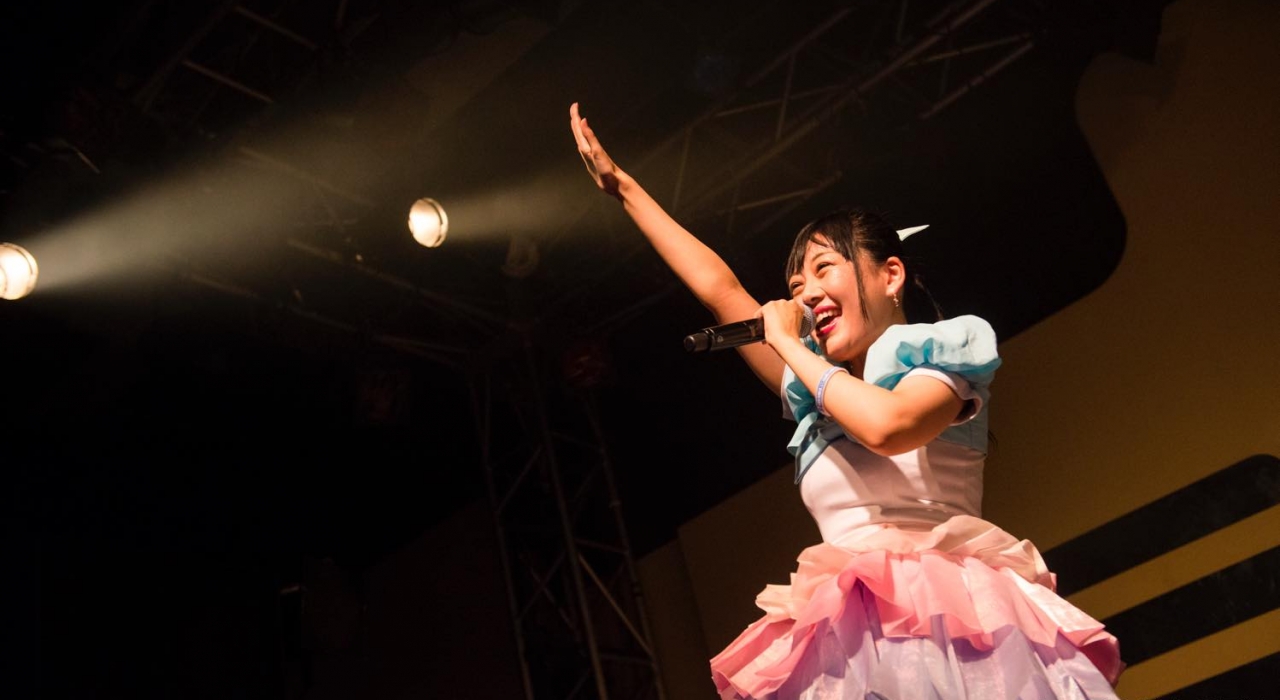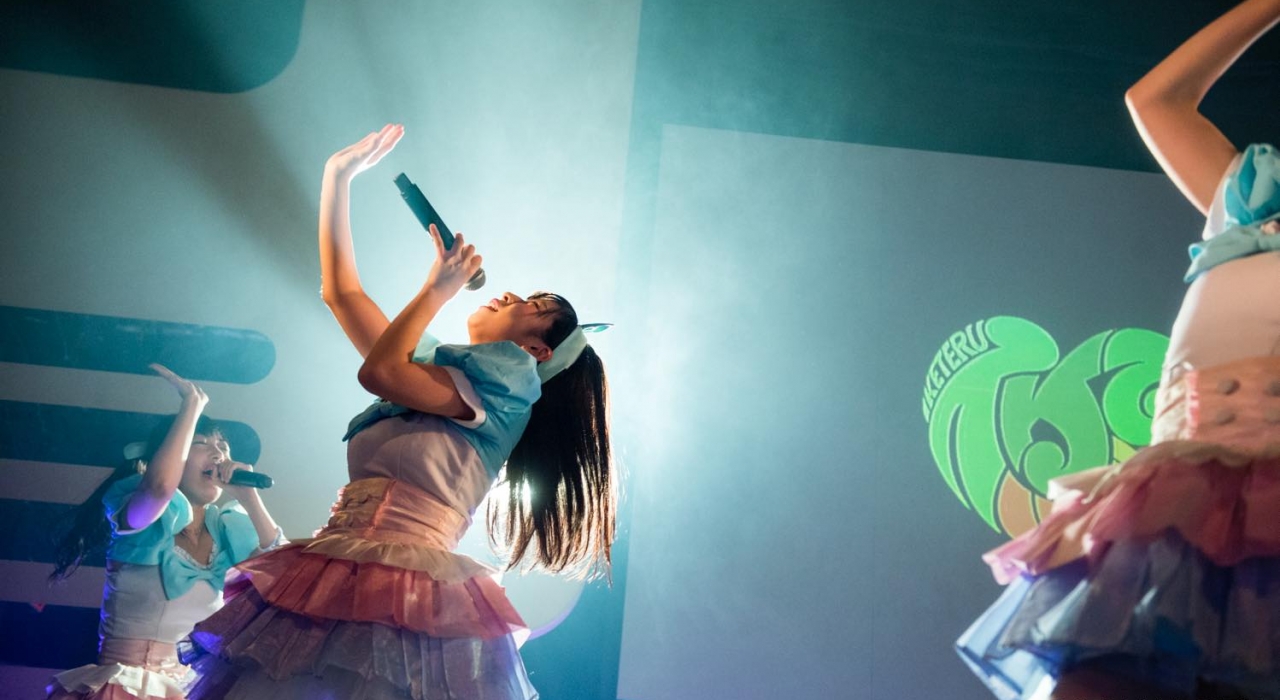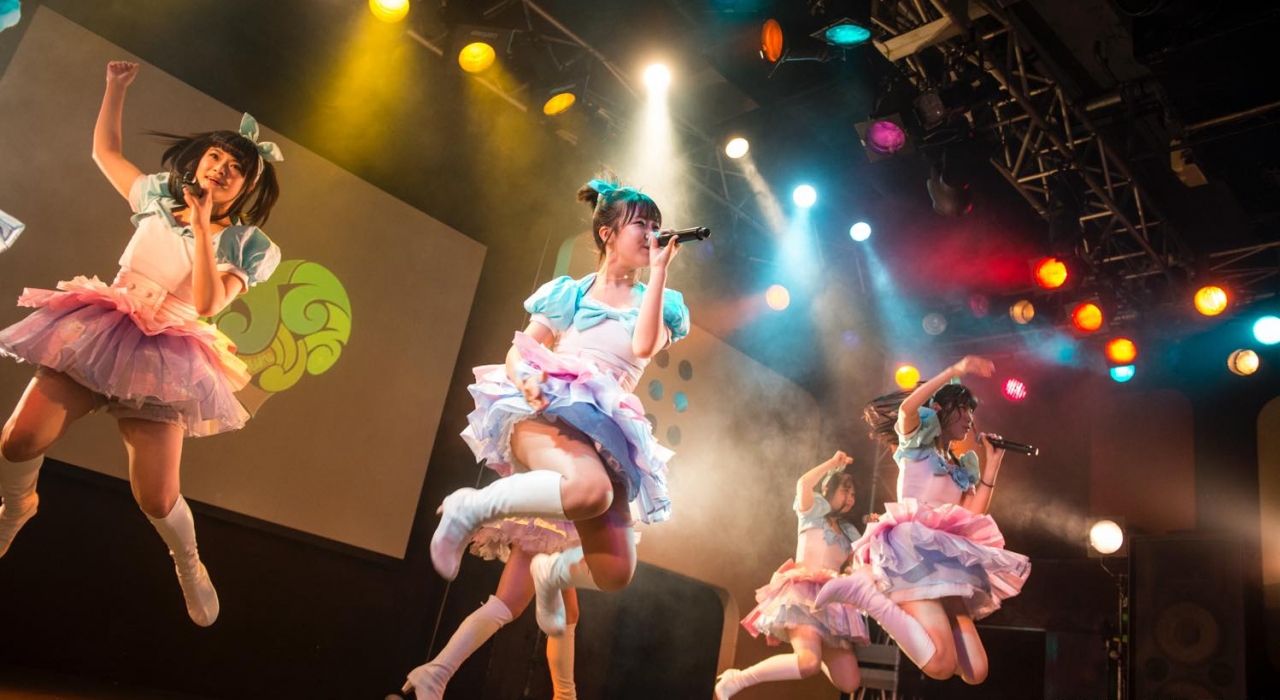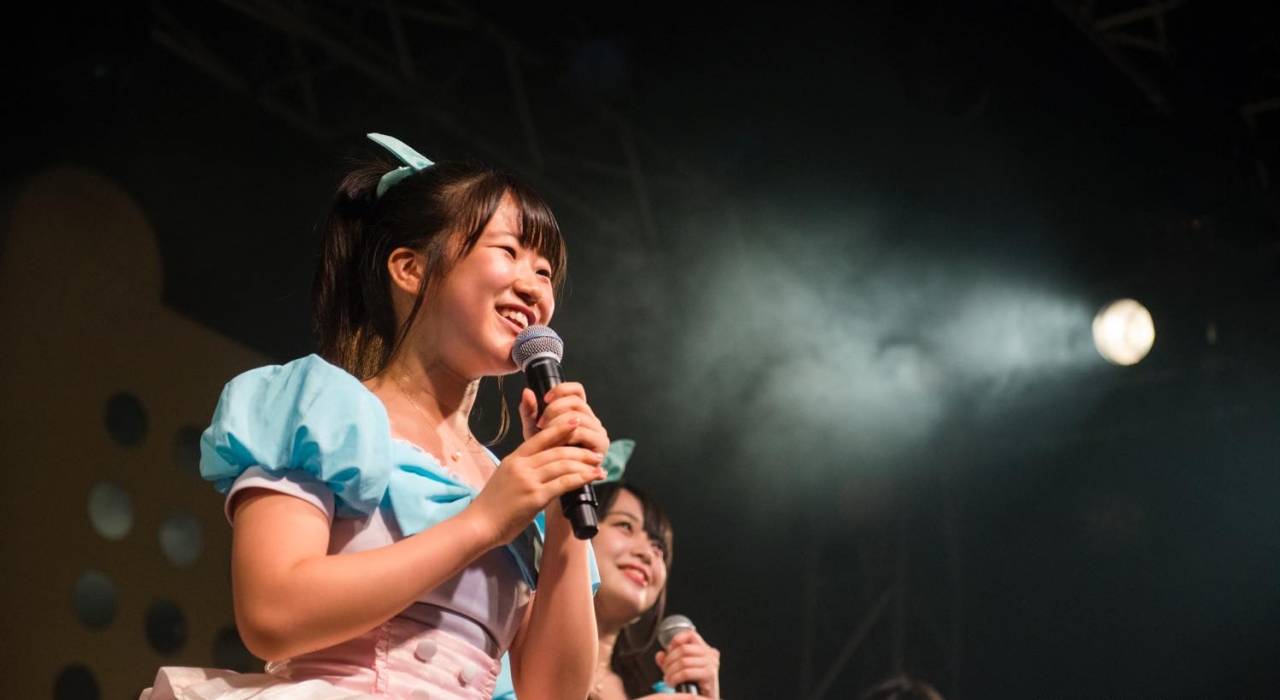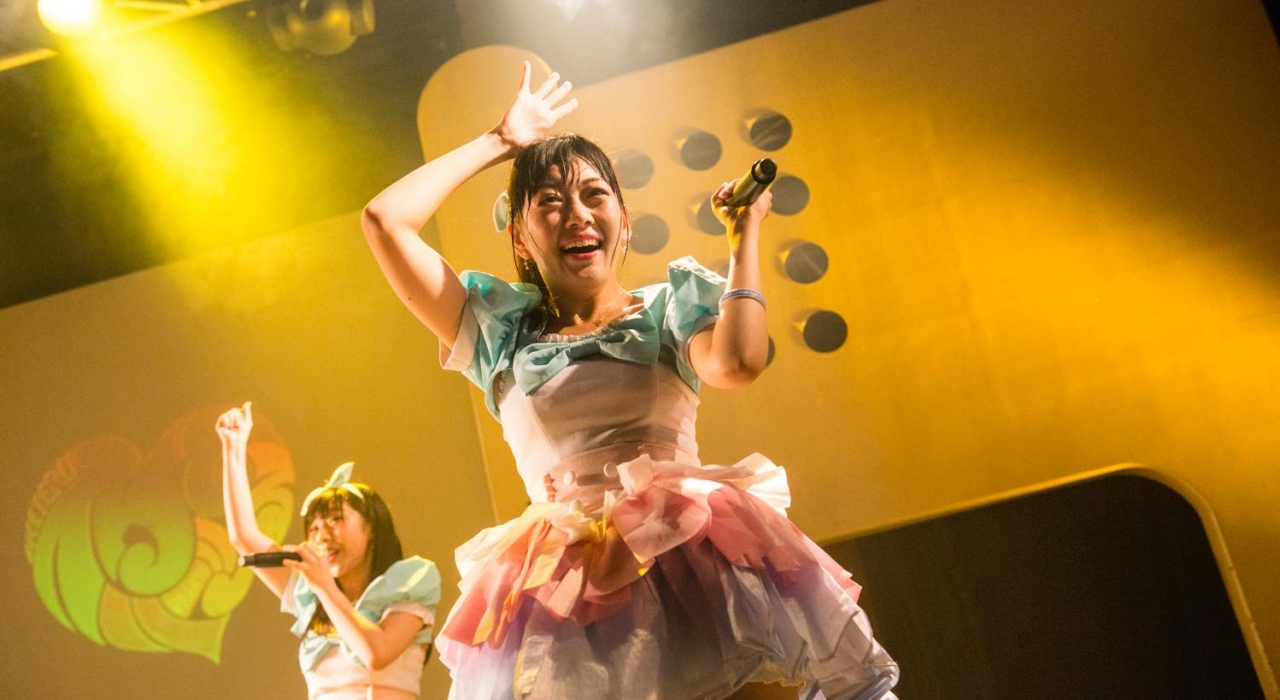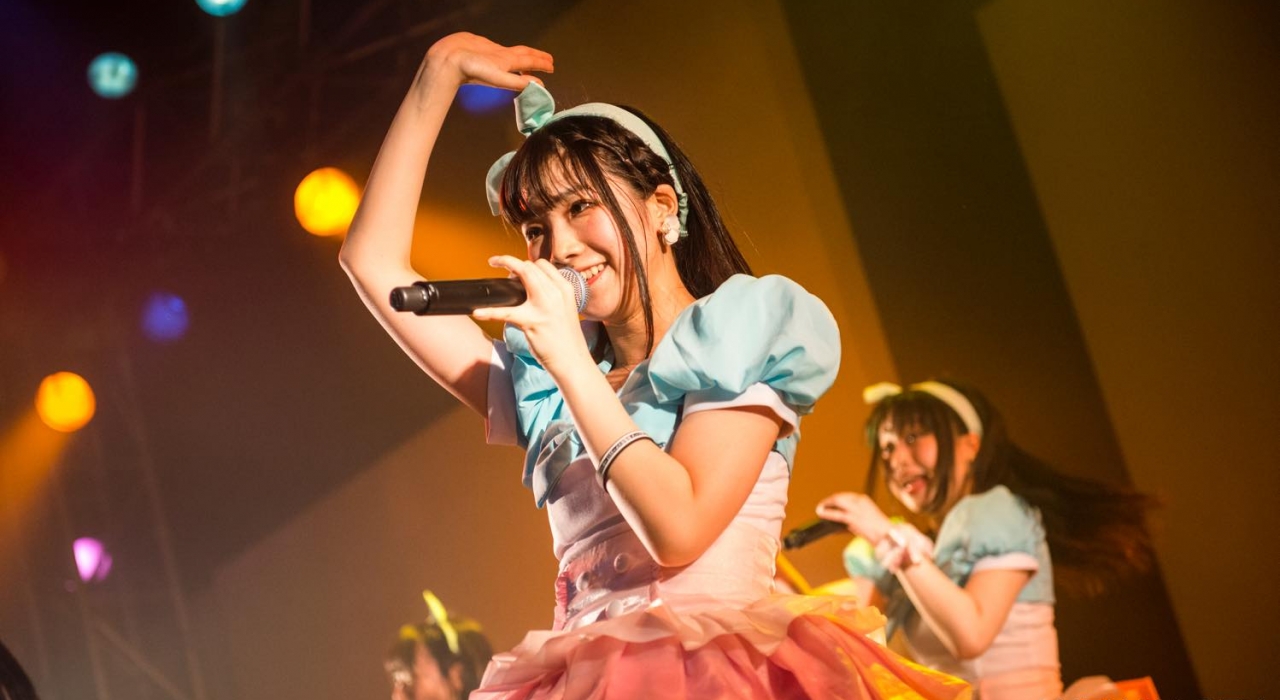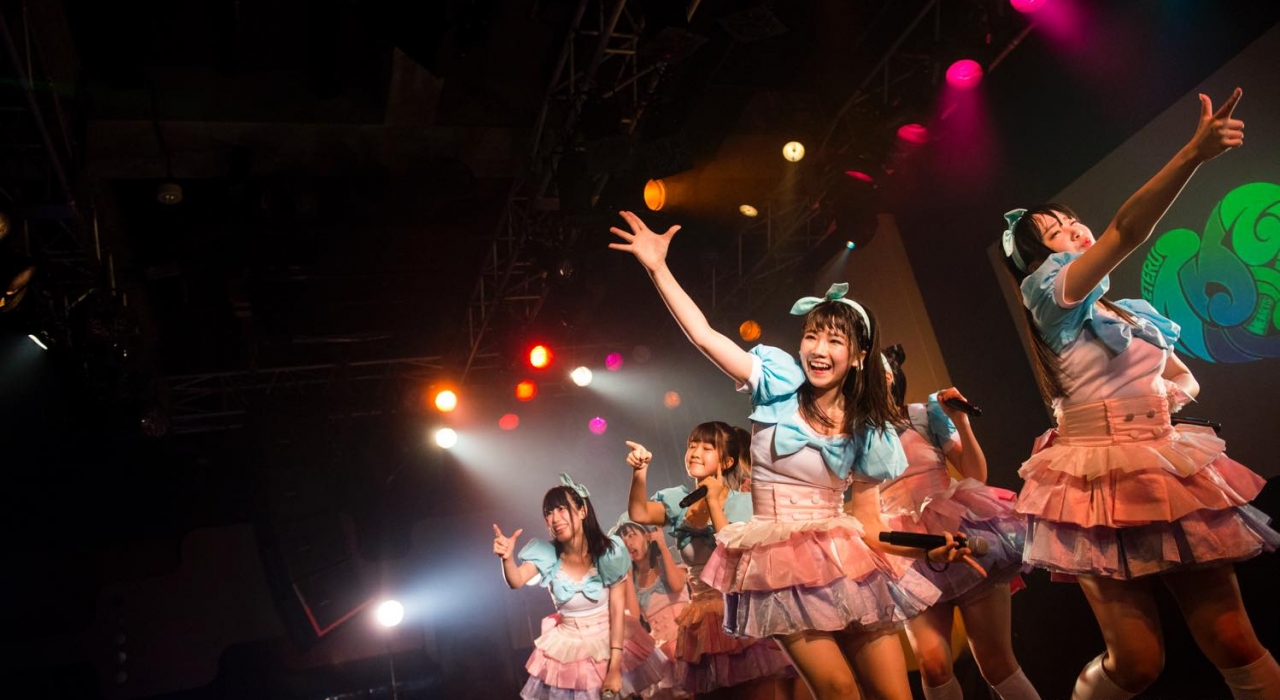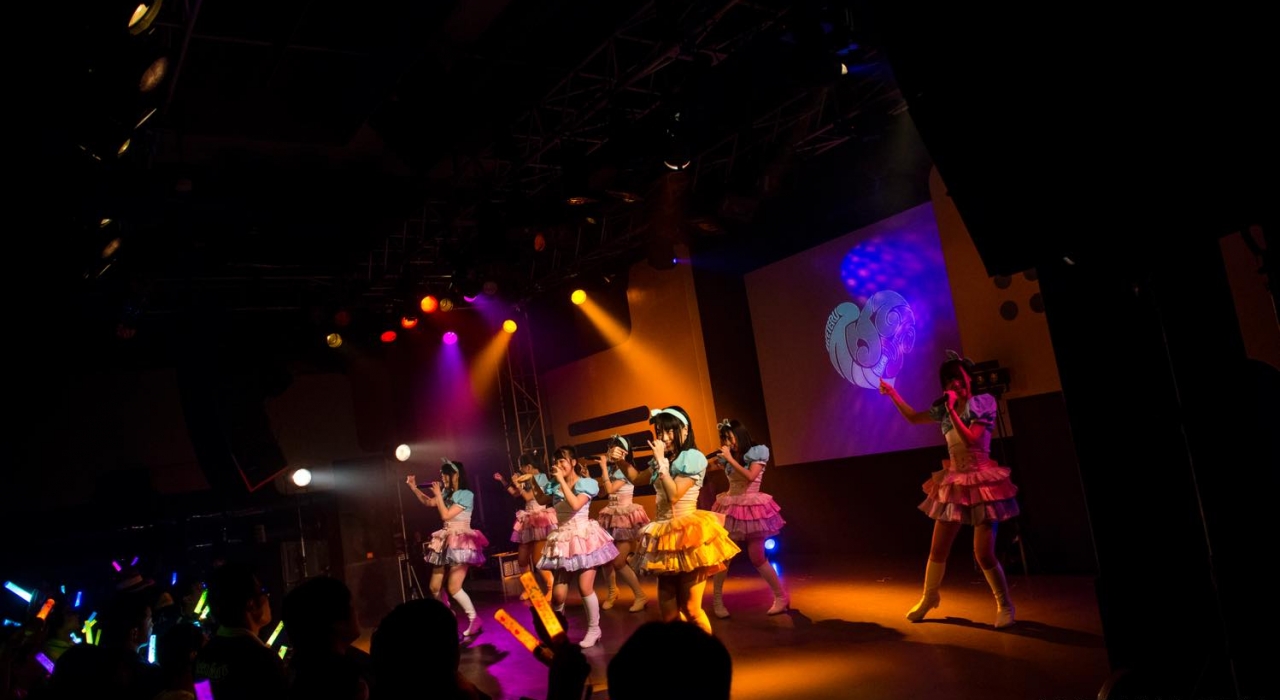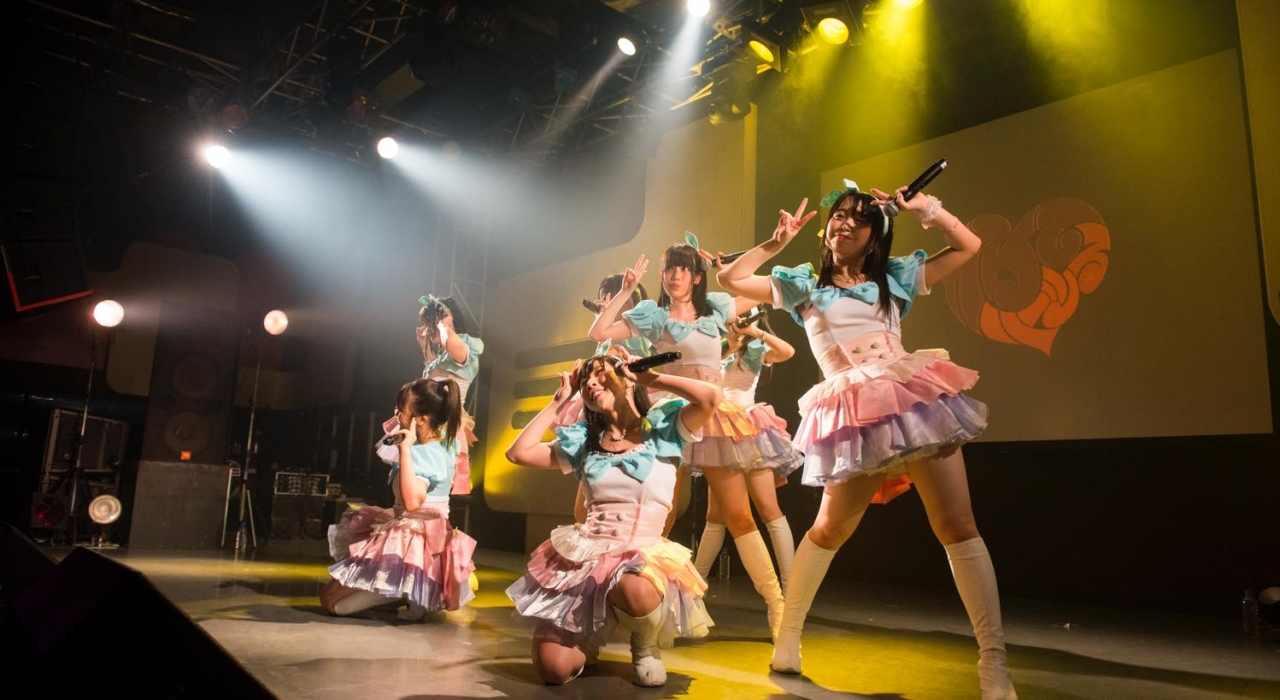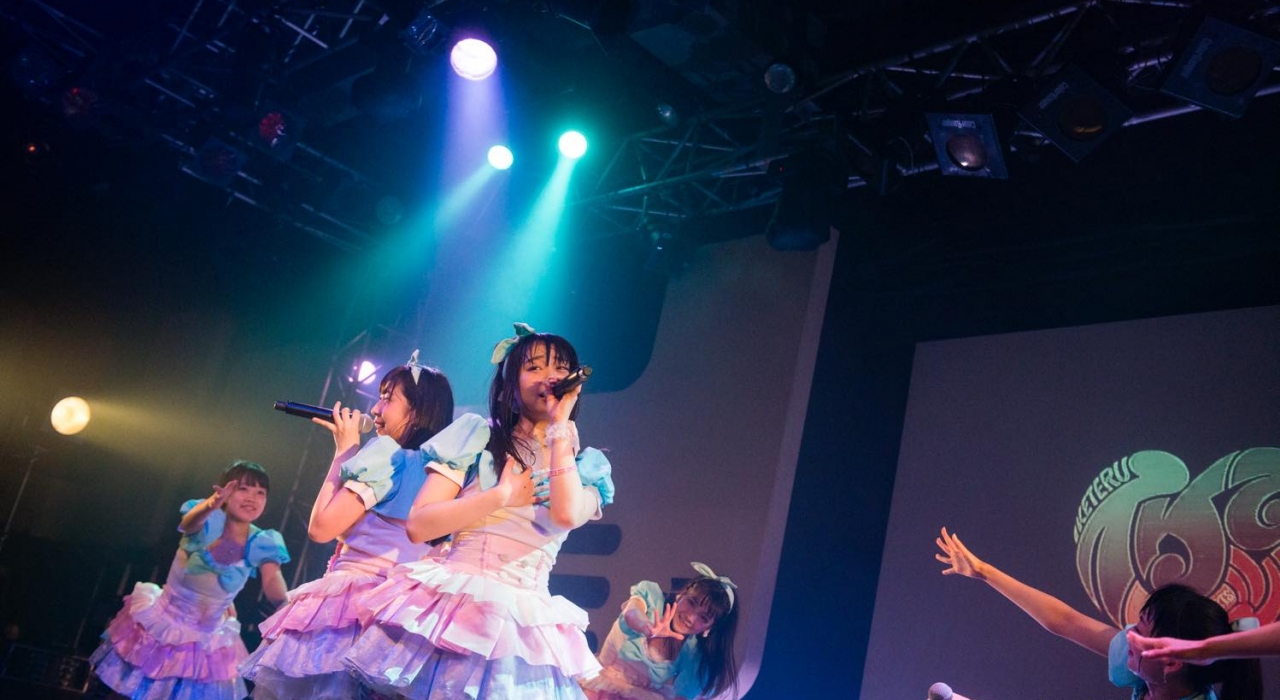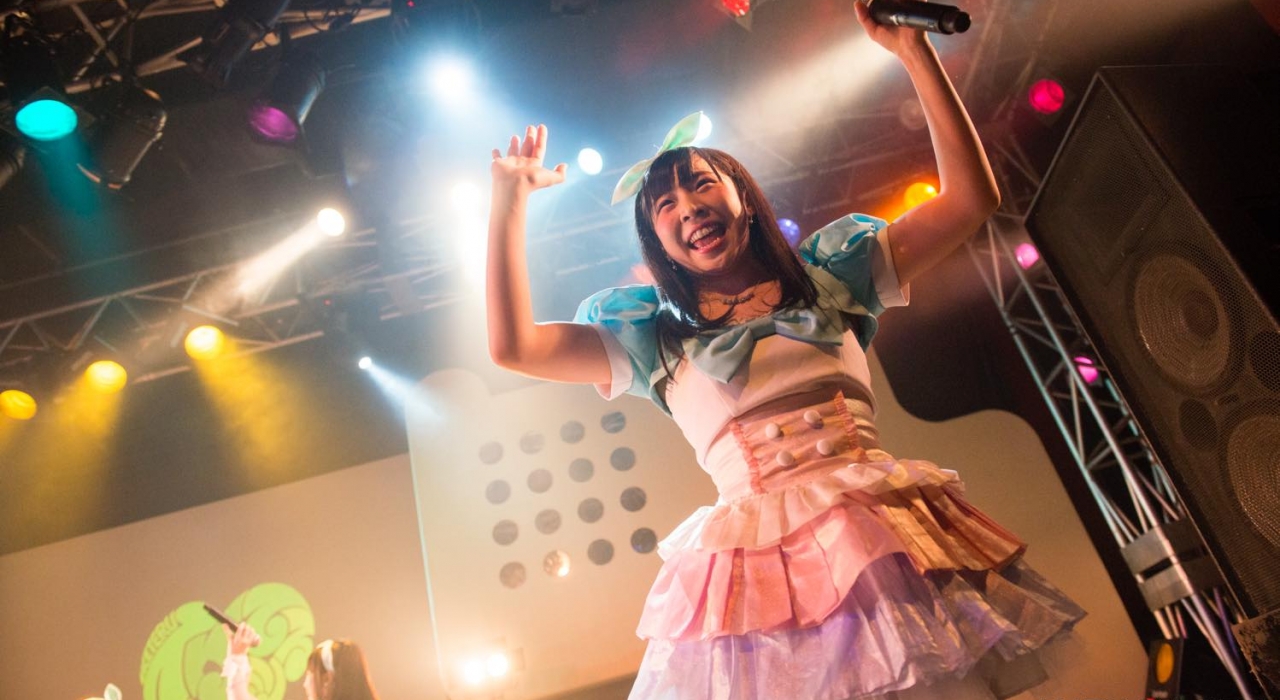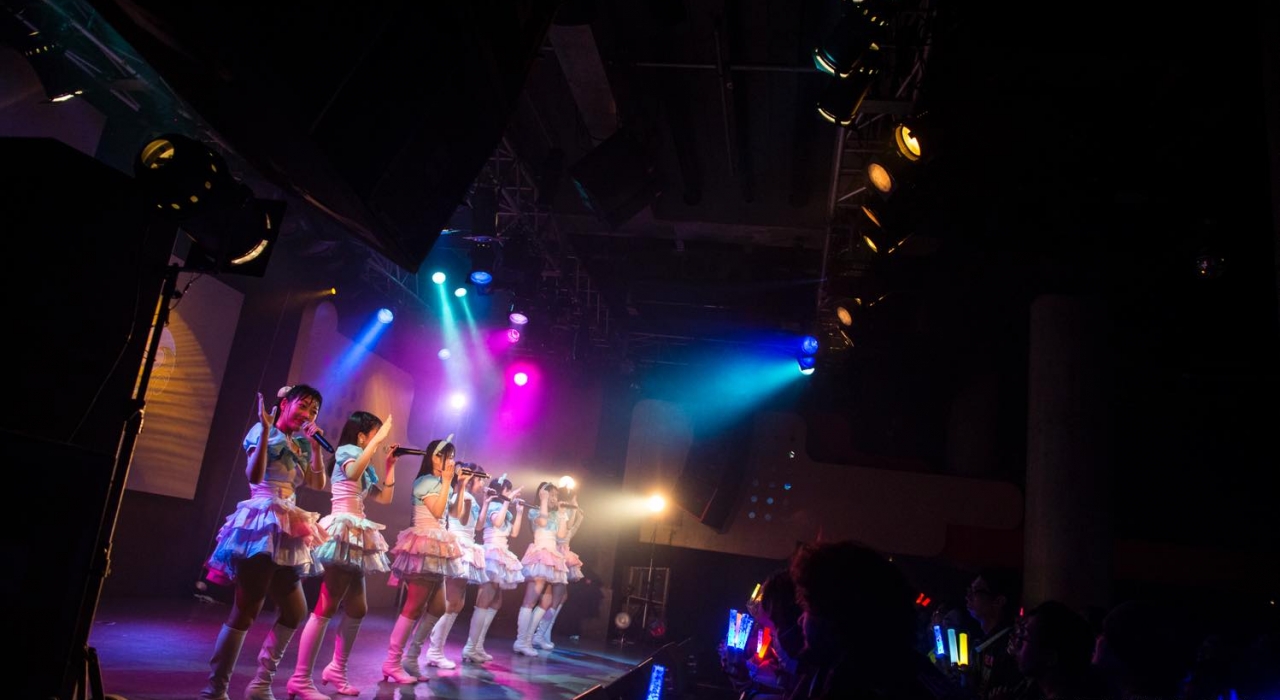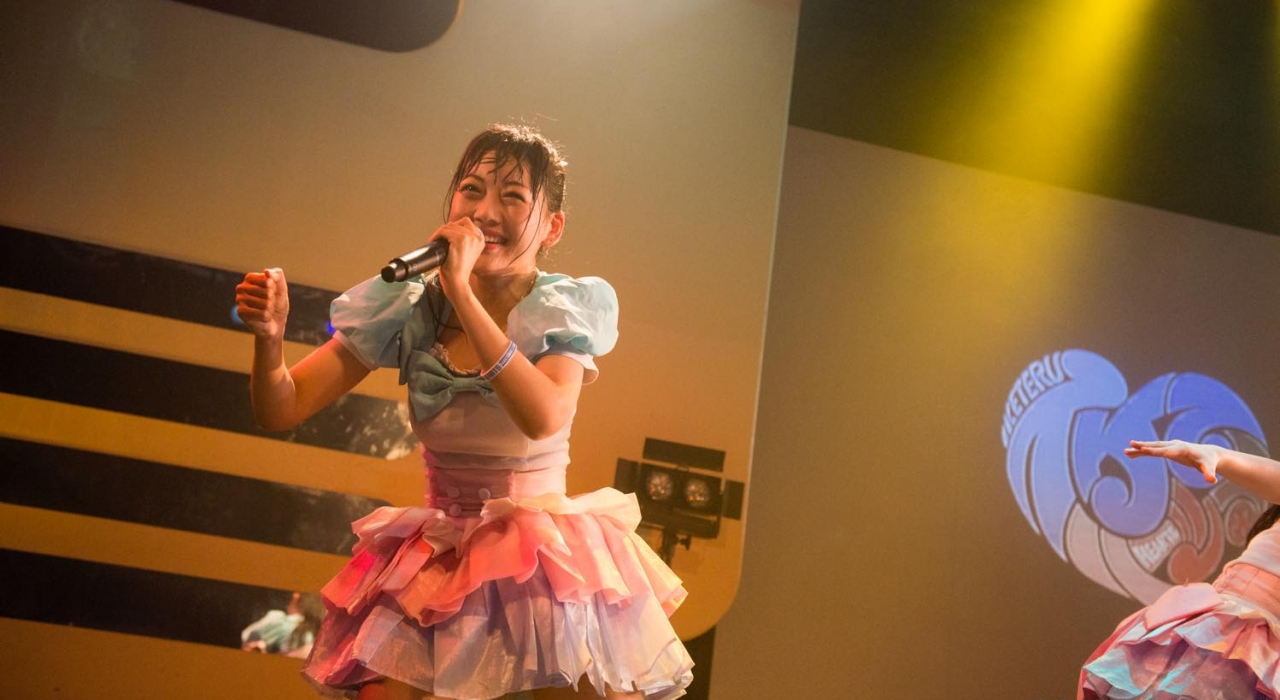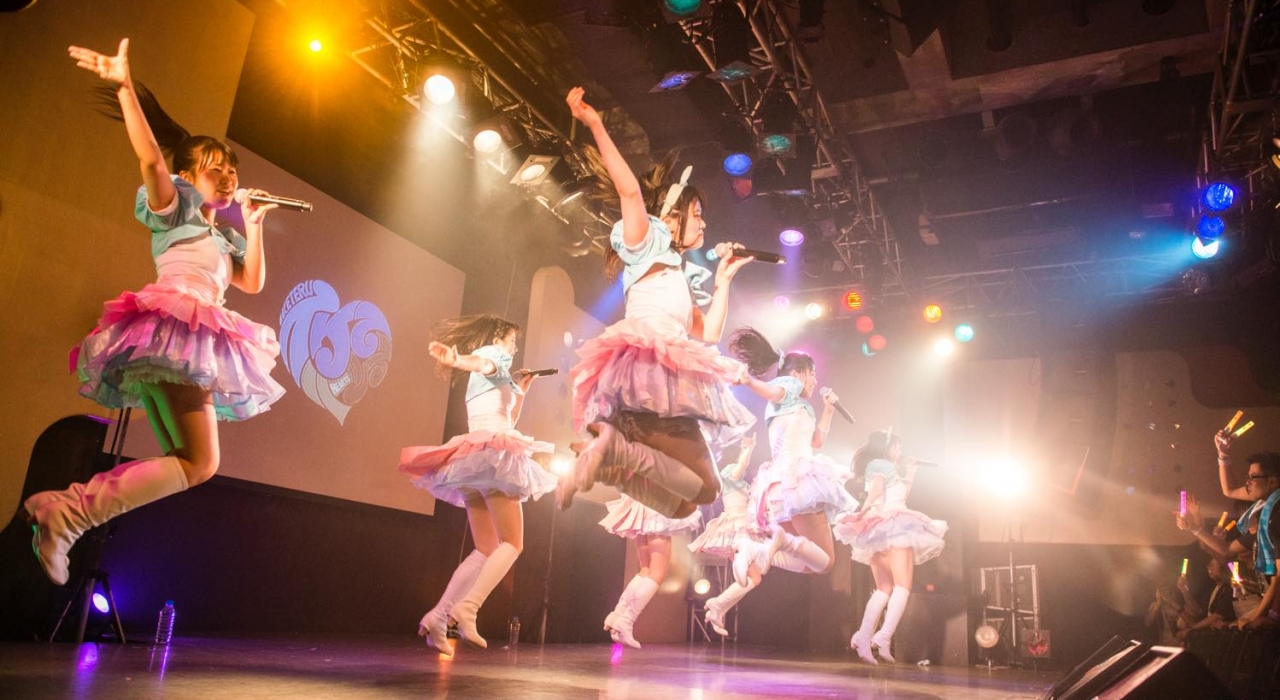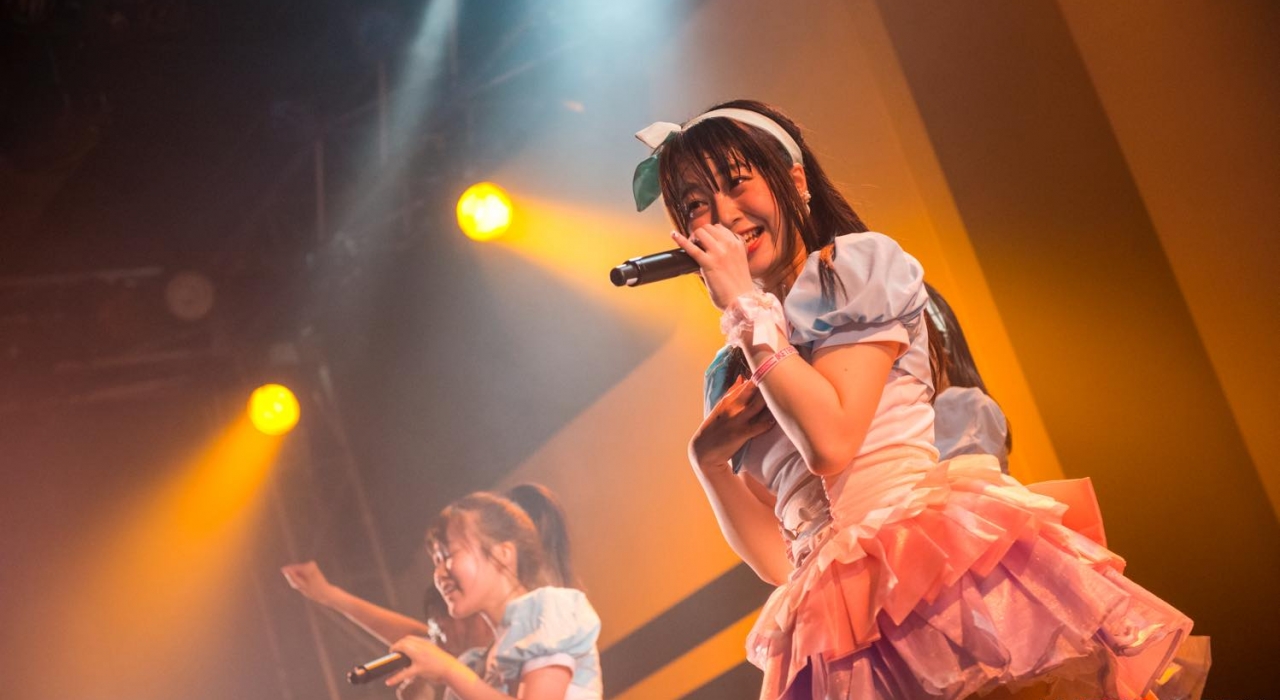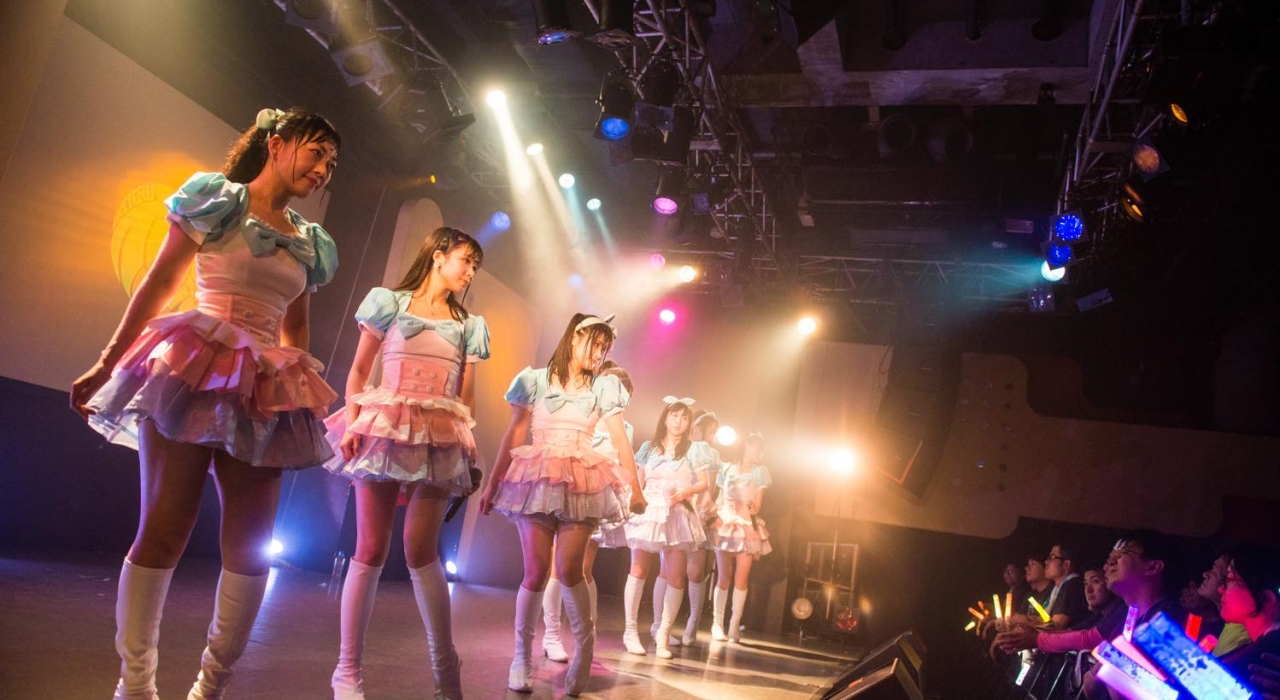 Once the introduction over, the group went on a seven songs non-stop marathon, performing their most upbeat and happy tracks with all their energy. Manami Kazune especially seemed to be extremely excited as she was seen prancing on Otomegokoro, putting a smile on everyone's faces! The segment ended with the group's only ballad, "I will".
As four members disappeared off the stage, Arata Yuyu, Usami Madoka and Tachibana Rie then led a small MC to introduce their final selection corner as a 7 people unit. After getting Yuyu to speak in Kansai dialect to please the fans who came straight from Osaka for this day, the three girls went on running left and right on stage to make a giant wave with the audience. "We were able to create such a cool wave because so many people came to cheer for us," Tachibana said, before thanking the fans for their support.
Nijika, Uchida Kotone, Ochi Karin and Manami Kazune showed up again, wearing their newest costumes from the tour, and as they took position for their unit songs, their three comrades disappeared as well. For this corner, the four-people unit performed "Opera Fantasia", and the three "wave" girls chose Afilia Saga's "NEXT STAGE".
Une fois les présentations faites, le groupe entame un marathon non-stop composé de setp chansons, enchaînant les plus joyeuses et énergiques pistes de leurs single. Kazune Manami avait l'air tout spécialement surexcitée, bondissant sur scène lors de « Otomegokoro », faisant sourire tout le monde ! Cette partie se termine avec la seule ballade du groupe, « I will ».
Alors que quatre membres disparaissent de la scène, Yuyu Arata, Madoka Usami et Rie Tachibana en profitent pour introduire leur dernier « coin des sélections » (le moment du concert lors duquel le groupe se divise pour chanter des chansons en petits groupes) à sept membres. Après avoir réussi à faire parler Yuyu en dialecte du Kansai pour faire plaisir aux fans venus tout droit de Osaka, les trois jeunes filles se mettent à courir de droite à gauche de la scène pour créer une vague géante avec le public. « Nous avons pu faire de si belles vagues parce que vous êtes venus nombreux ce soir ! » dit alors Rie, avant de remercier les fans encore une fois pour leur soutien.
Nijika, Kotone Uchida, Karin Ochi et Kazune Manami réaparaissent alors, portant leurs tous derniers costumes créés à l'occasion de leur tournée, et leurs trois camarades quittent la scène. Le groupe de quatre décide alors de chanter « Opera Fantasia », et les trois autres membres choisissent « NEXT STAGE » de leur groupe soeur Afilia Saga.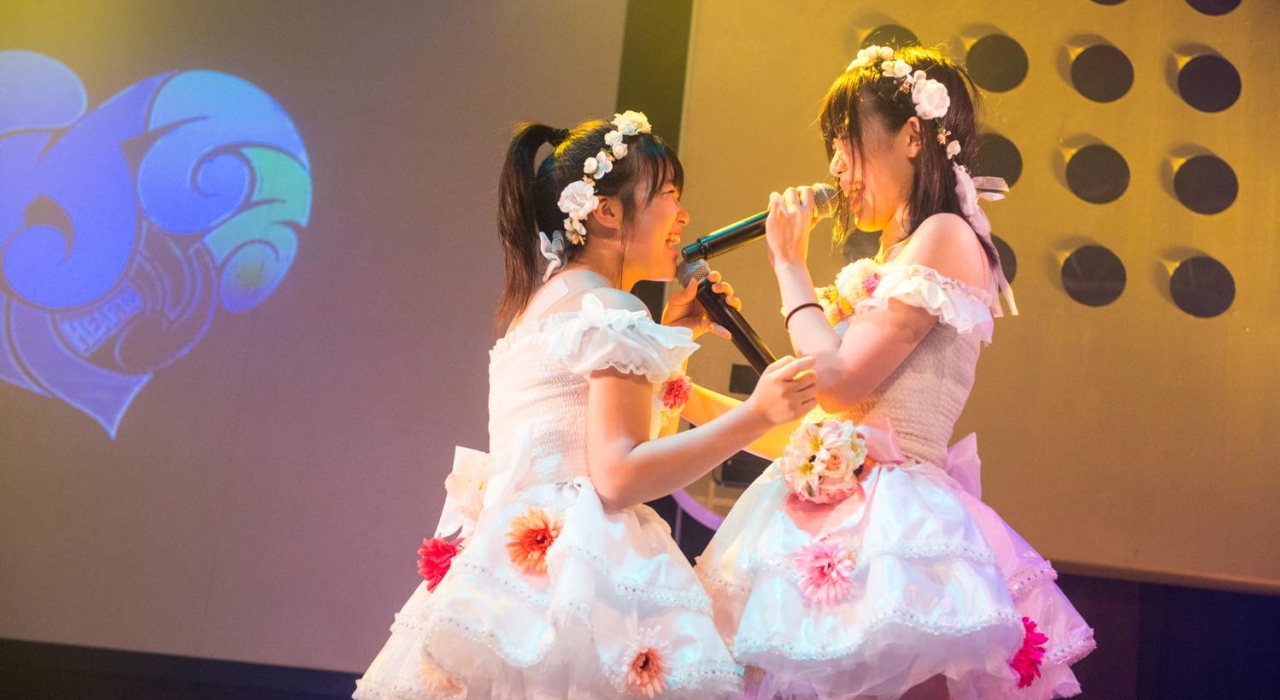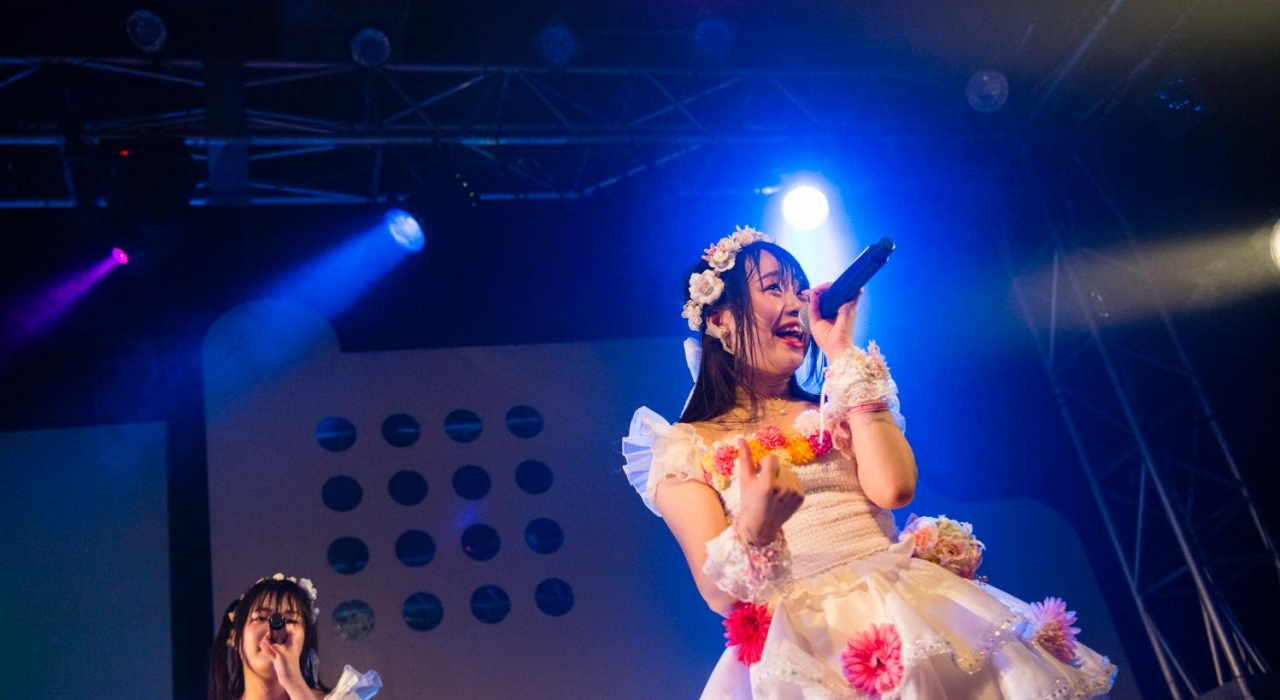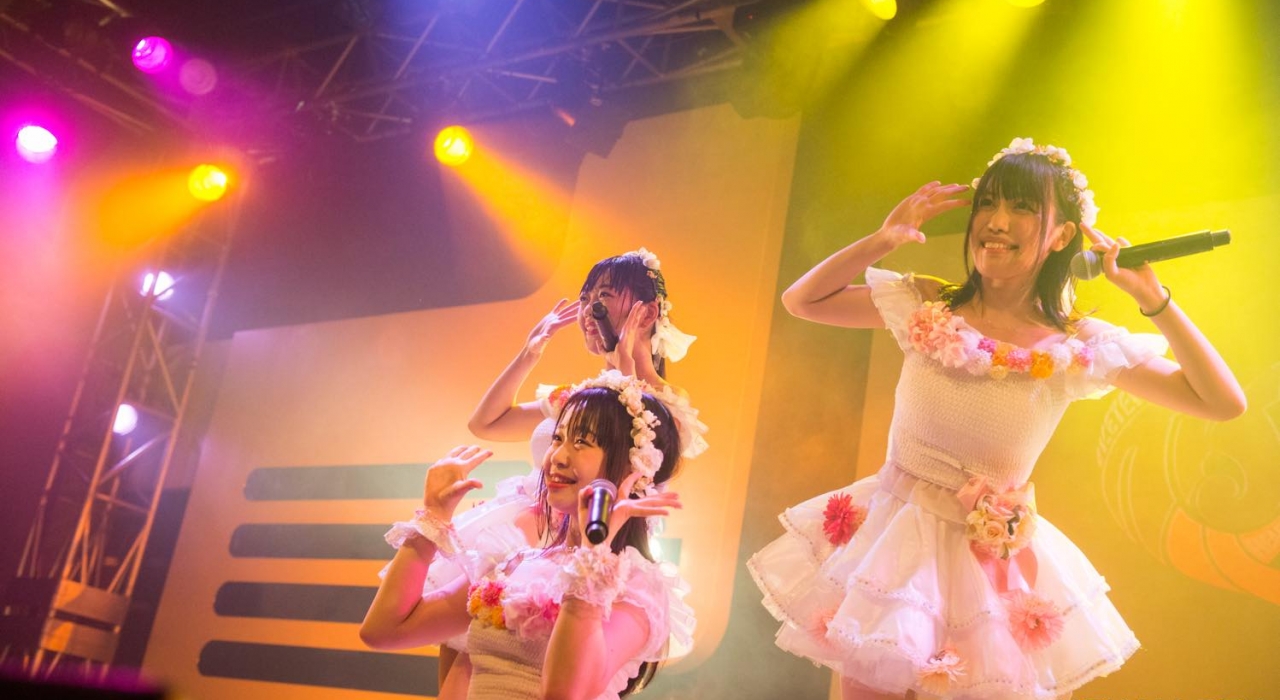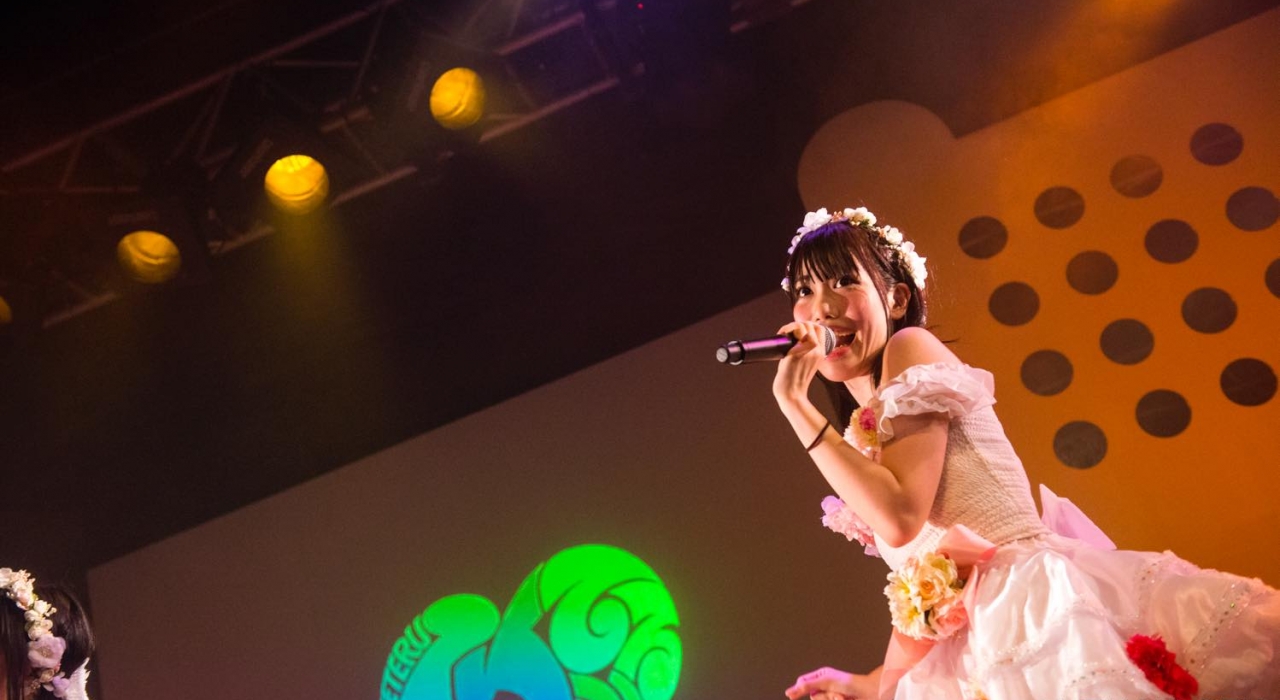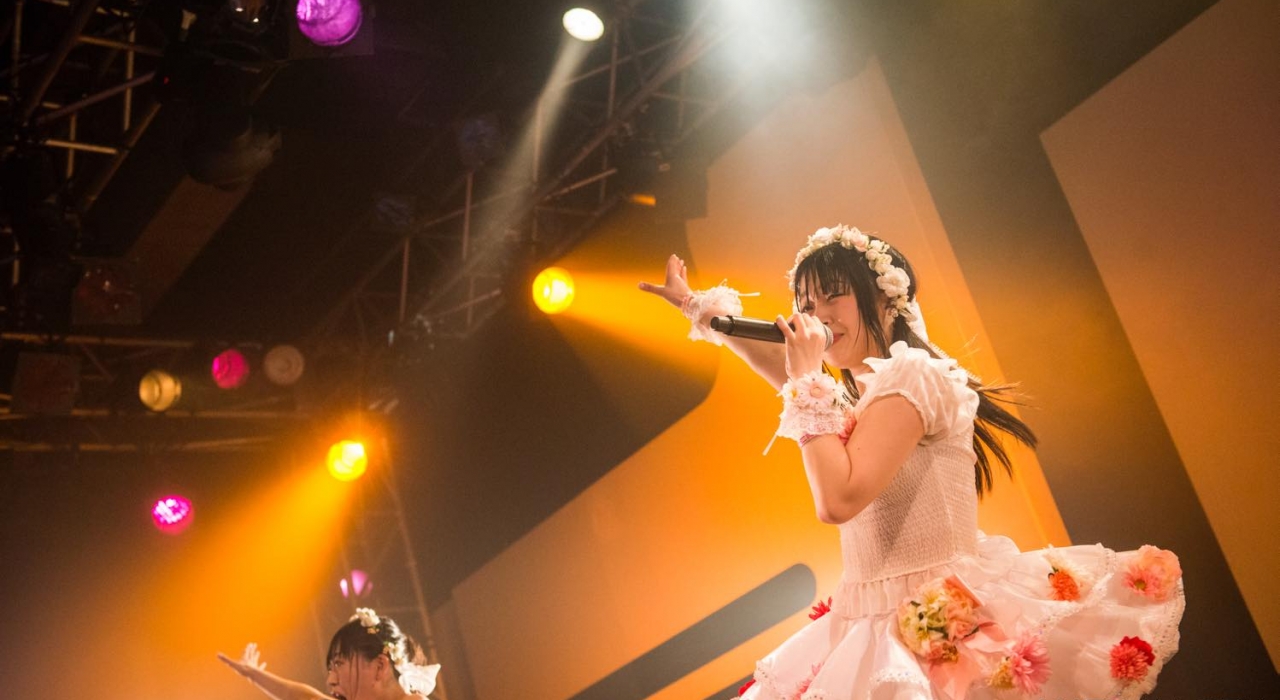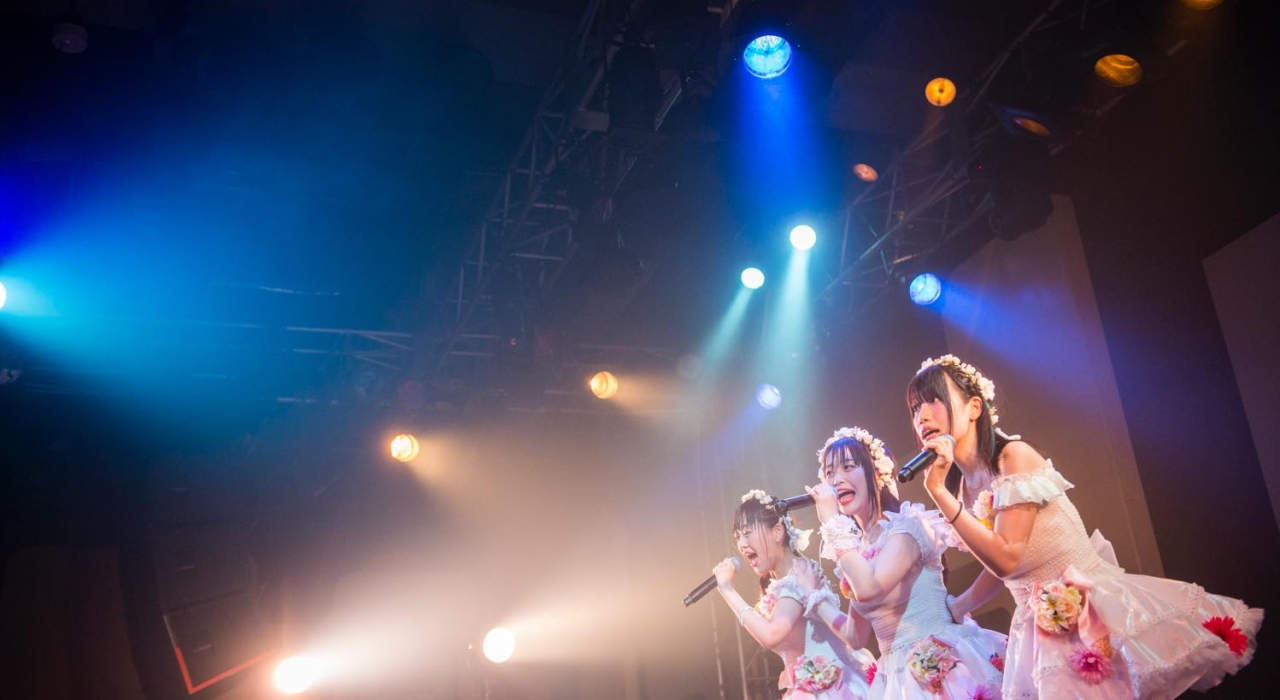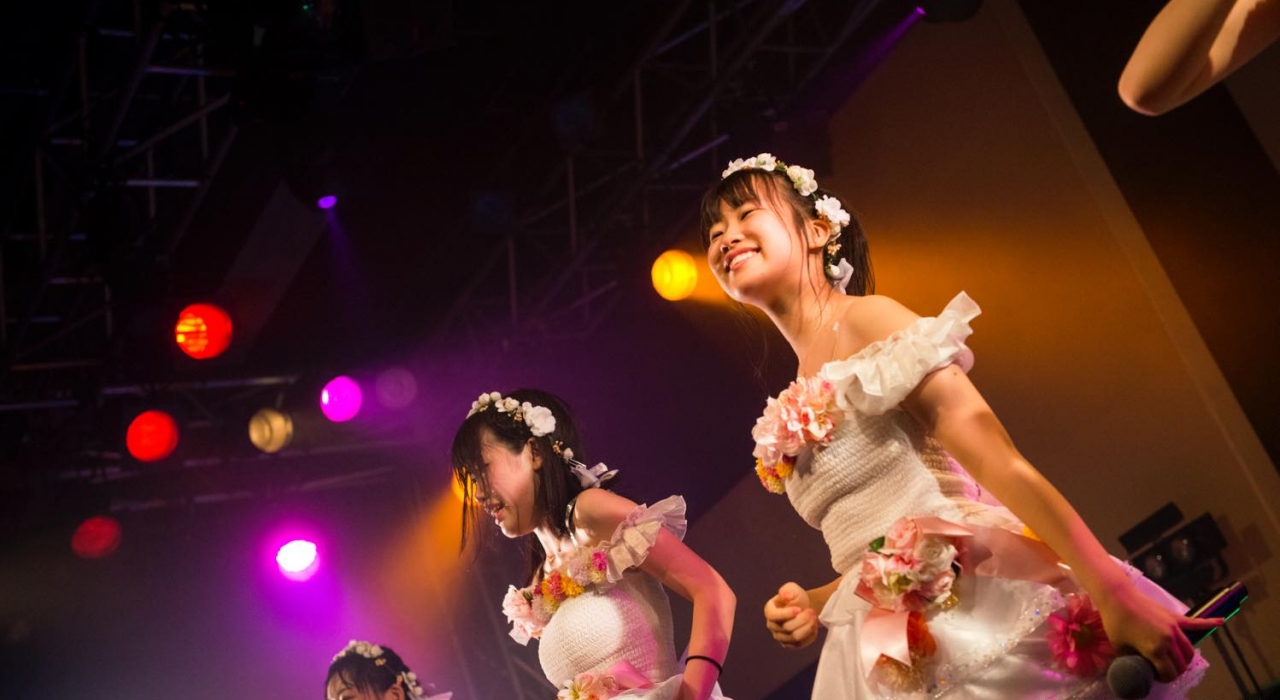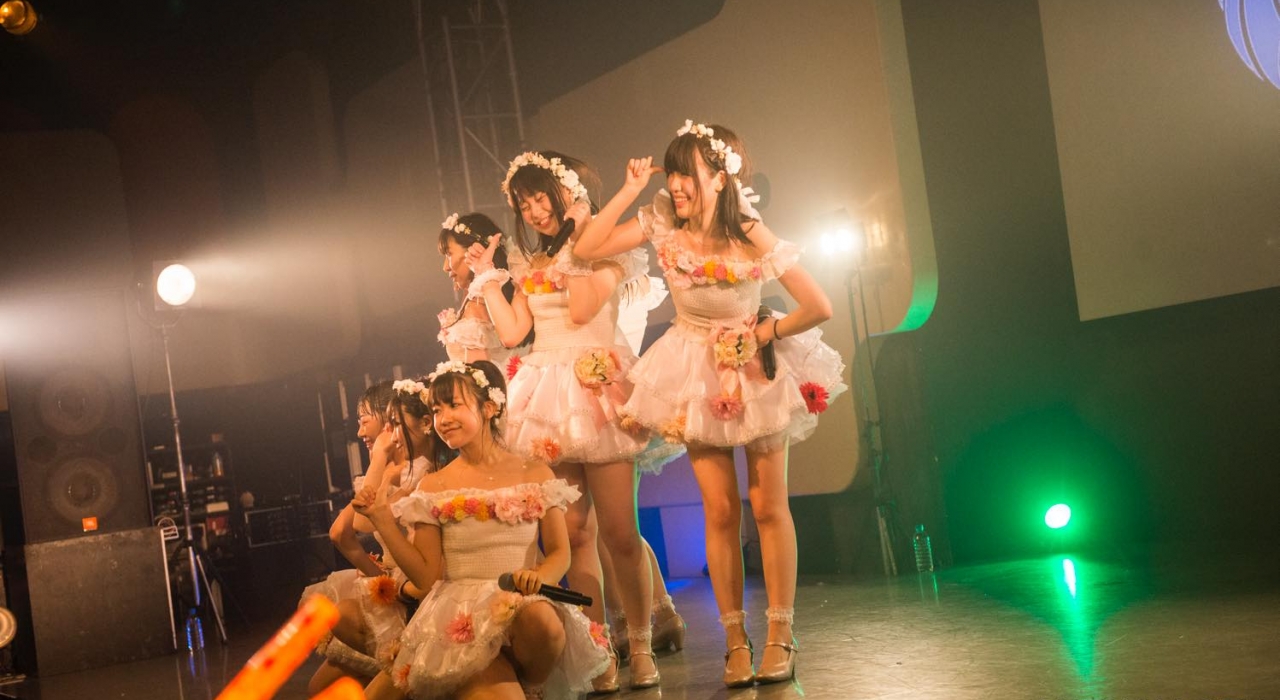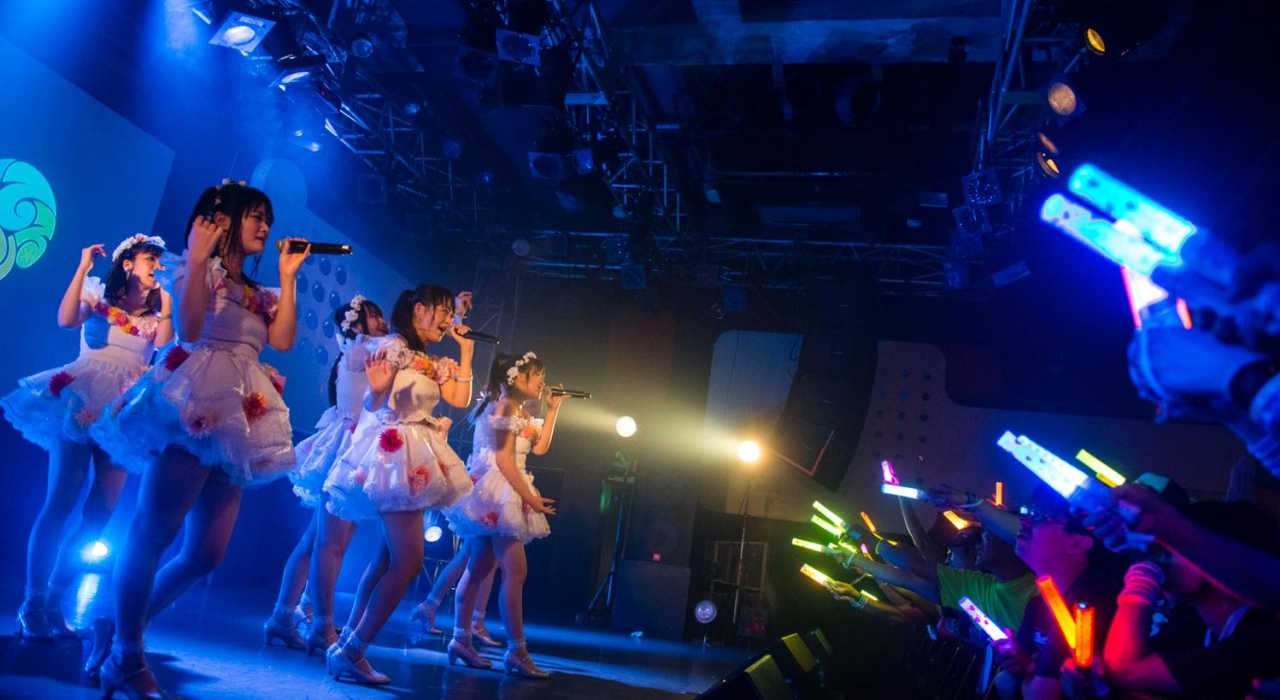 For the following MC, the girls took some time to talk about the unforgettable memories they were able to create during this nationwide tour. "I have been thinking about the tour a lot, and travelling to meet fans in other cities made me realize how loved we are, and how happy I am right now," Usami Madoka said, before bursting into happy tears, Tachibana Rie following soon after, and the rest of the group laughing. Yuyu followed with a little speech as well. "The path from trainees to being full-fledged idols has been very fun until now, everyone of us was granted amazing opportunities ever since we debuted," she said, thanking the fans and staff, asking them to keep supporting the group for this next step.
Lors du MC suivant, les filles prennent un peu de temps pour parler des souvenirs créés lors de cette tournée. « J'y ai beaucoup réfléchi, et voyager pour aller à la rencontre des fans dans d'autres villes m'a fait réaliser combien nous sommes aimées, et à quel point je suis heureuse maintenant, » déclare Madoka Usami, avant de pleurer de joie, suivie par Rie Tachibana, le reste du groupe leur riant au nez. Yuyu offre également un court discours. « Le chemin de débutantes à idols à temps plein a été vraiment amusant, chacune d'entre nous s'est vue offrir des fabuleuses opportunités depuis nos débuts officiels, » dit-elle, remerciant les fans et le staff, leur demandant de continuer à soutenir le groupe dans leur nouvelle étape.
The last segment of the main show was another song marathon, featuring the cooler side of the group, with both original songs and covers from their trainee days, and ending with the iconic "Sekai he habatake!", the audience flapping their arms along with their idols.
The group then disappeared, to let the fans call for the usual encore…
La dernière partie du concert est un nouveau marathon non-stop, composé des chansons plus matures du groupe, avec à la fois des chansons originales et des reprises de leur période en tant que débutantes, se terminant avec leur hymne, « Sekai he habatake! », les fans tentant de s'envoler avec leurs idoles…
Le groupe disparaît ensuite, laissant place aux fans, appelant leur groupe favori sur scène une nouvelle fois.
This final part started with a video message, announcing the surprises promised by the members and staff a few days prior to the performance!
Starting from the group's third anniversary live on September 7th, Iketeru Hearts will go through big changes! The group will from then on be produced by former Afilia Saga member Yukafin. Legendary music producer Shikura Chiyomaru will officially lead the group's creative direction, with the help of musician, composer and songwriter Tom-H@ck (SuG, K-on!).
On the members side, it was announced that Arata Yuyu, although not graduating any time soon, would step down as the group's leader, and the new leader would be confirmed in the near future. Finally, the most anticipated surprise was probably the four new members added to the current line-up, making Iketeru Hearts a 11 people unit starting from September! Imai Aki, Aise Risako, Shiroki Leia and Koizumi Shiika are the new fresh faces for the group, and are all working as cast members for the Afilia maid cafe franchise, just like the rest of their comrades (aside from Nijika).
The announcements ended with the release date for the group's 5th single and first single with all 11 of them, to be out on October 25th.
L'ultime partie du concert commence alors avec un message vidéo, annonçant les surprises promises par les membres et le staff quelques jours plus tôt !
A partir du concert célébrant le troisième anniversaire du groupe le 7 Septembre, les Iketeru Hearts vont subir quelques gros changements ! Le groupe sera officiellement produit par l'ancienne membre du groupe Afilia Saga,
Yukafin. Le producteur de musique légendaire Chiyomaru Shikura prendra officiellement le titre de directeur créatif, avec l'aide du musicien et compositeur Tom-H@ck (SuG, K-on!).
Côté membres, il est annoncé que Yuyu Arata, ne quittant cependant pas le groupe, renonce à son titre de leader du groupe, la nouvelle capitaine devant être annoncée bientôt. Enfin, l'annonce la plus attendue était probablement la présentation des quatre nouvelles membres s'ajoutant au groupe actuel, montant les effectifs des Iketeru Hearts à 11 personnes ! Aki Imai, Risako Aise, Leia Shiroki et Shiika Koizumi sont les nouveaux visages du groupe, et font actuellement toutes partie de la chaîne de maid cafés Afilia, tout comme le reste de leurs camarades (à l'exception de Nijika).
Les annoncent se terminent sur la date de sortie du cinquième single du groupe, et premier single à 11 personnes,
sortie prévue le 25 Octobre prochain.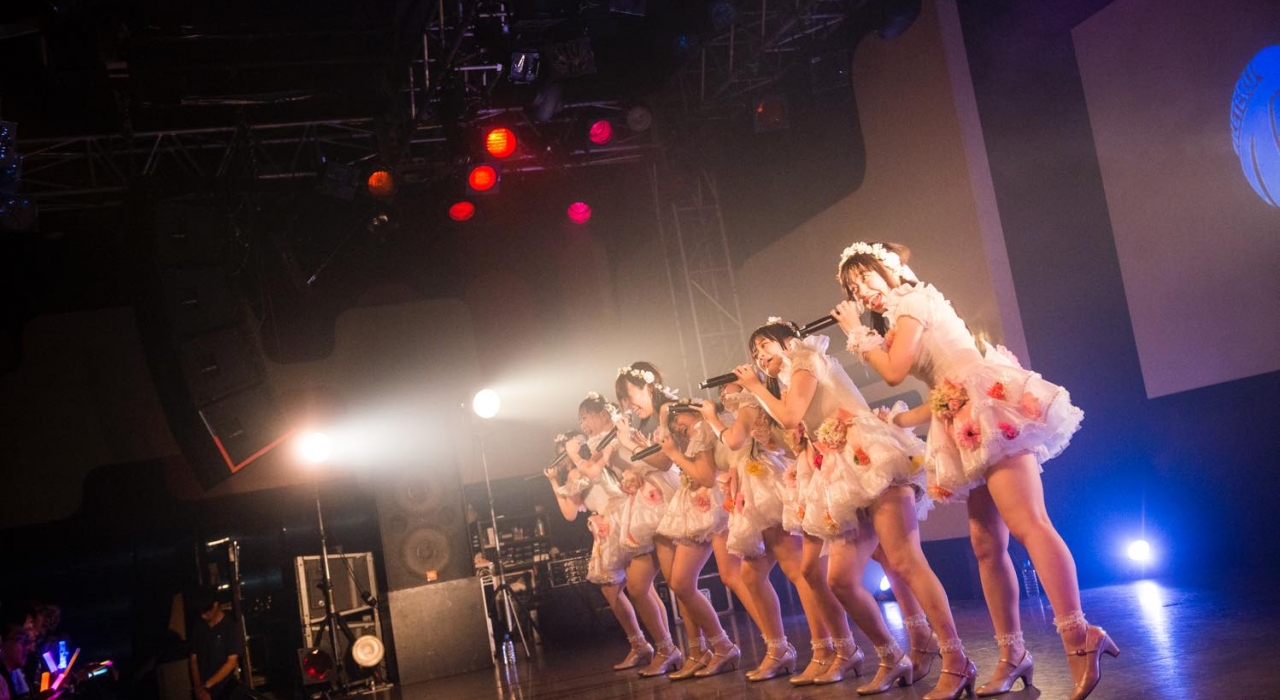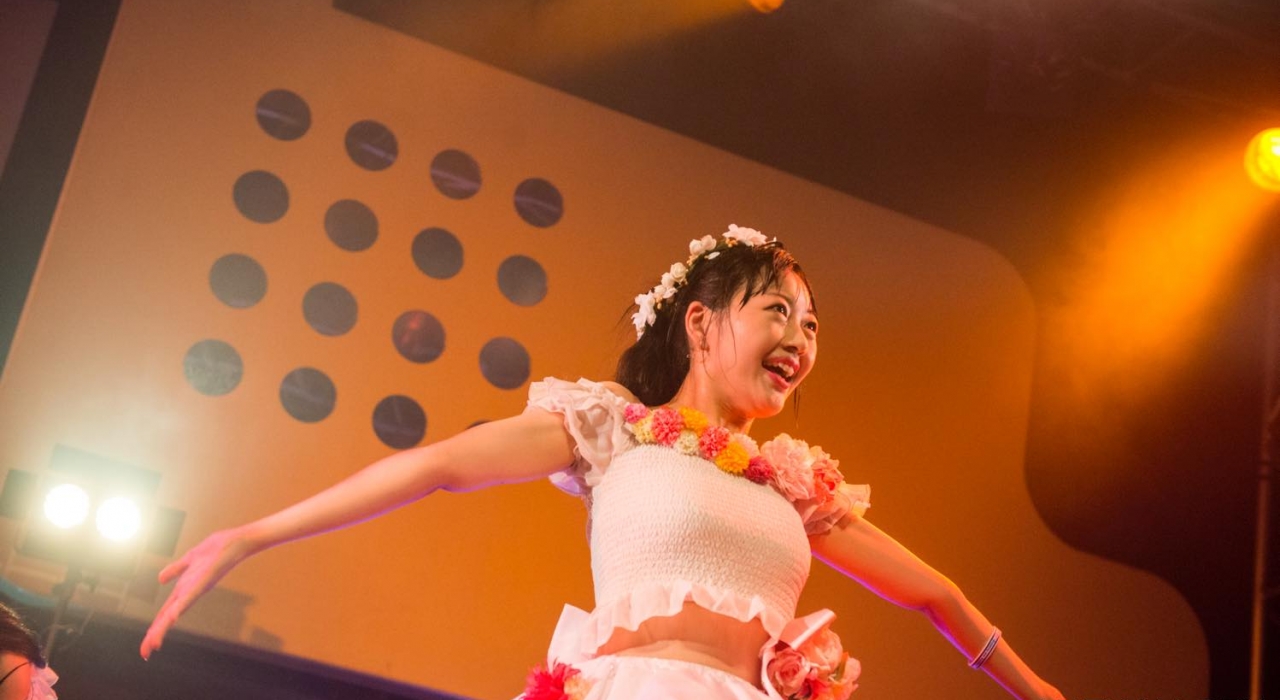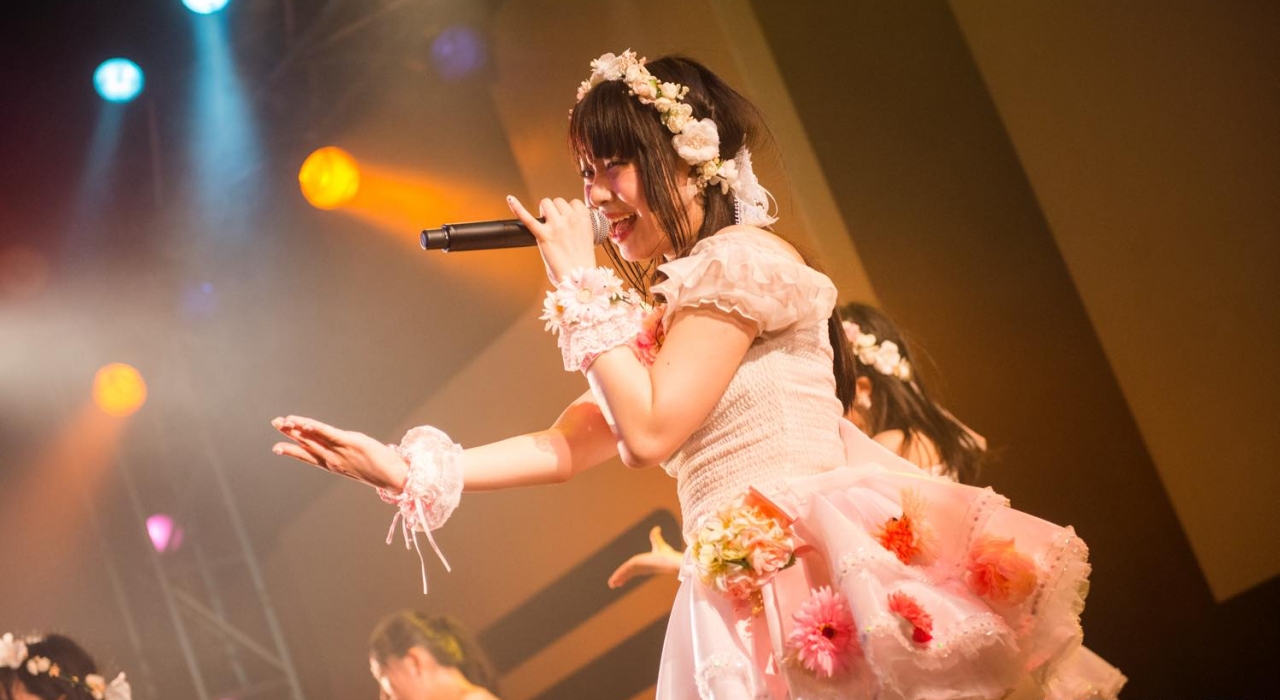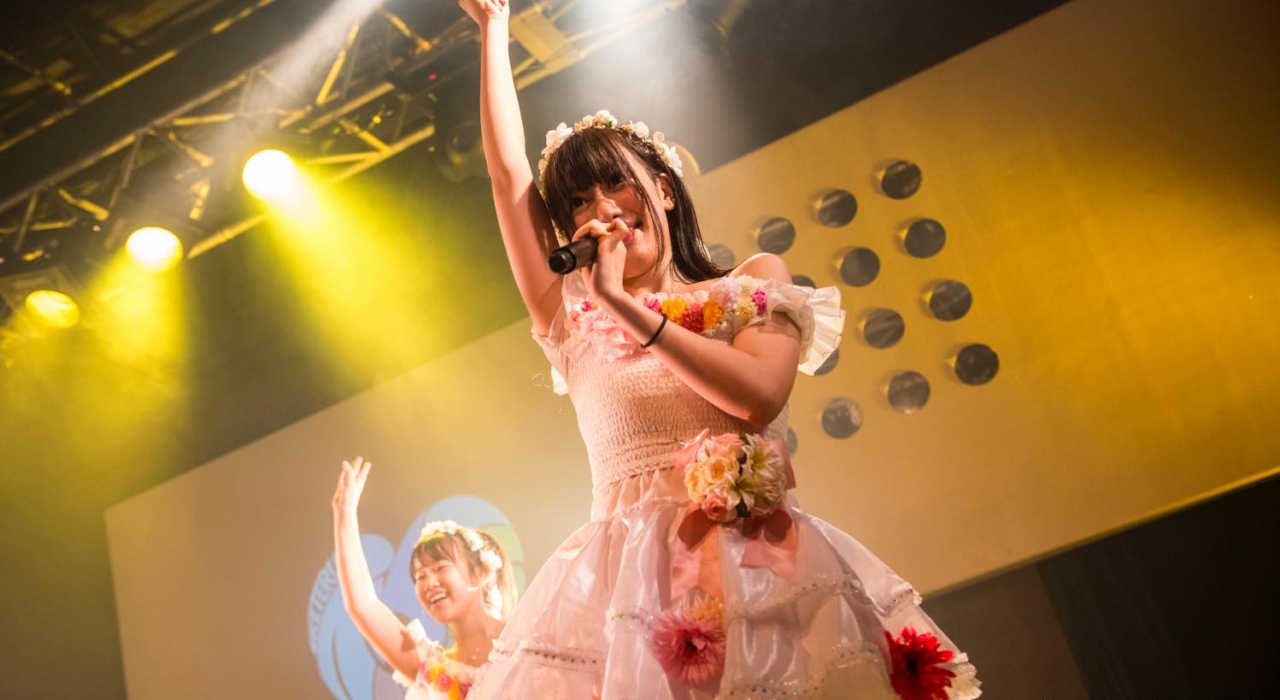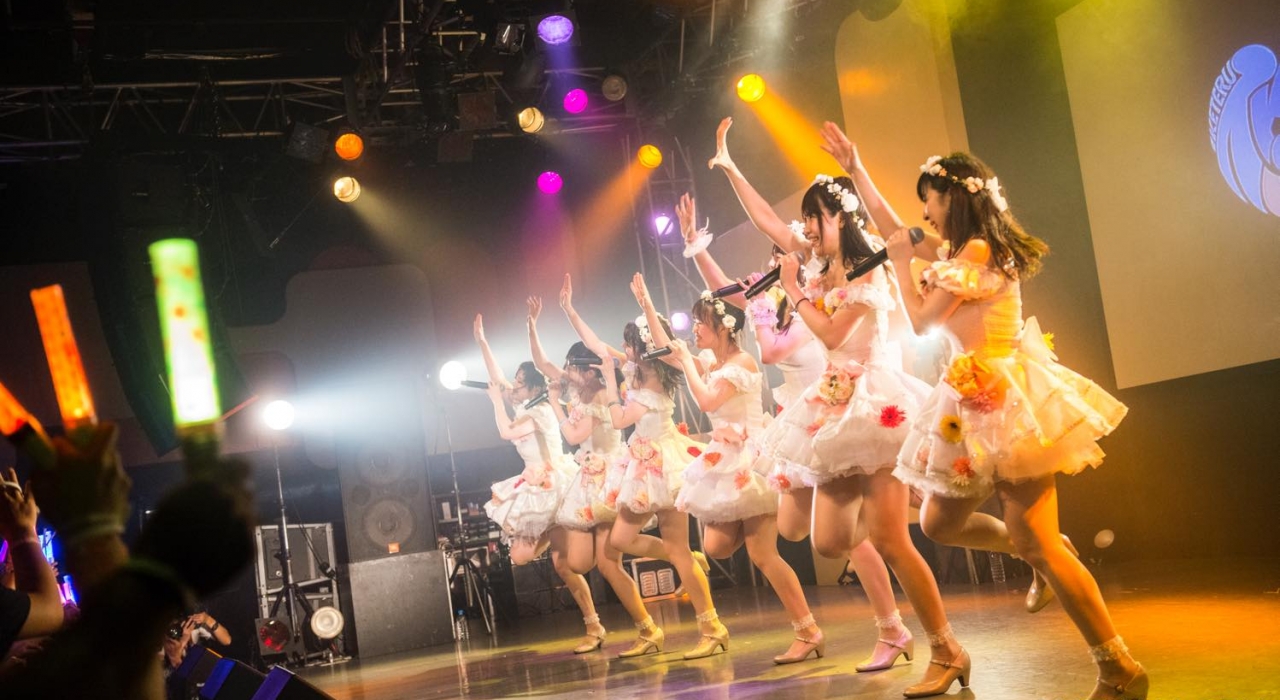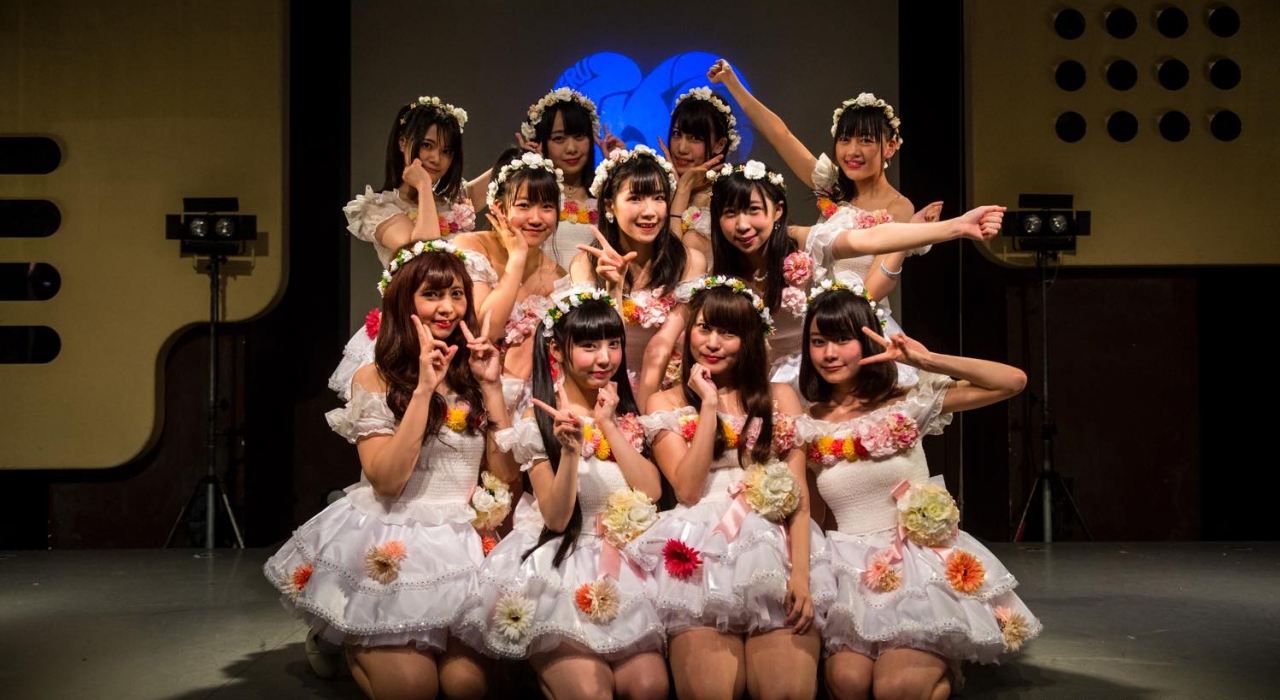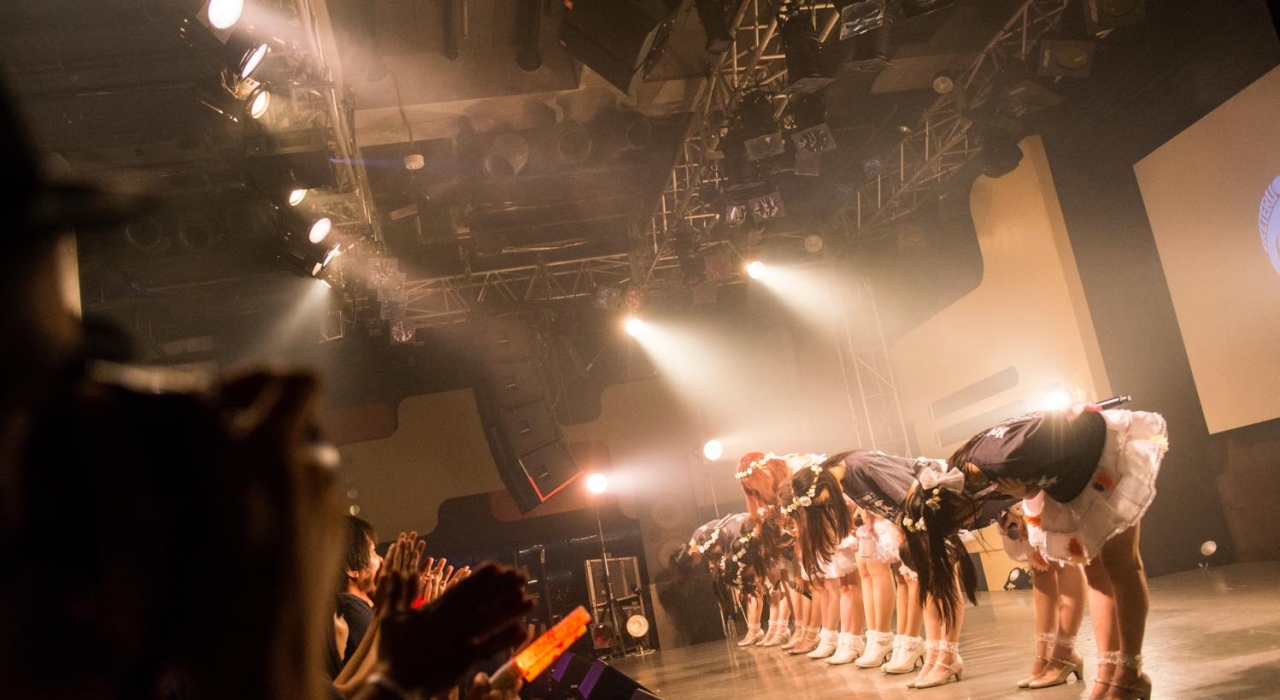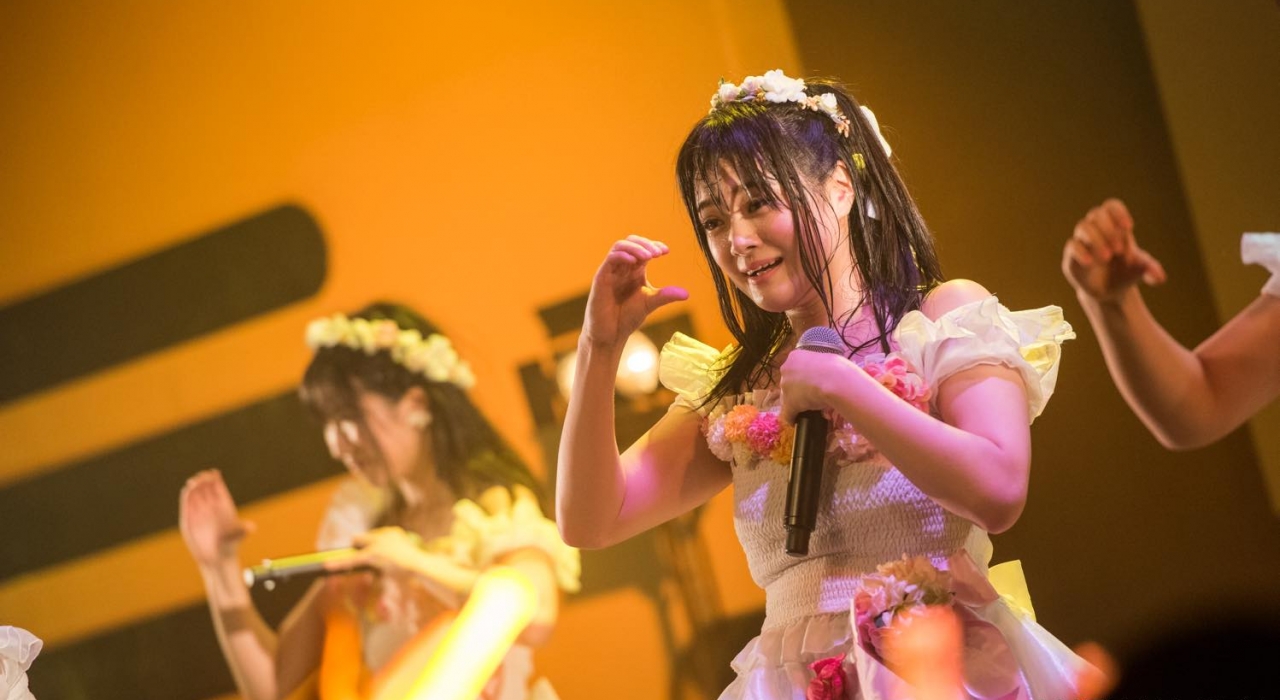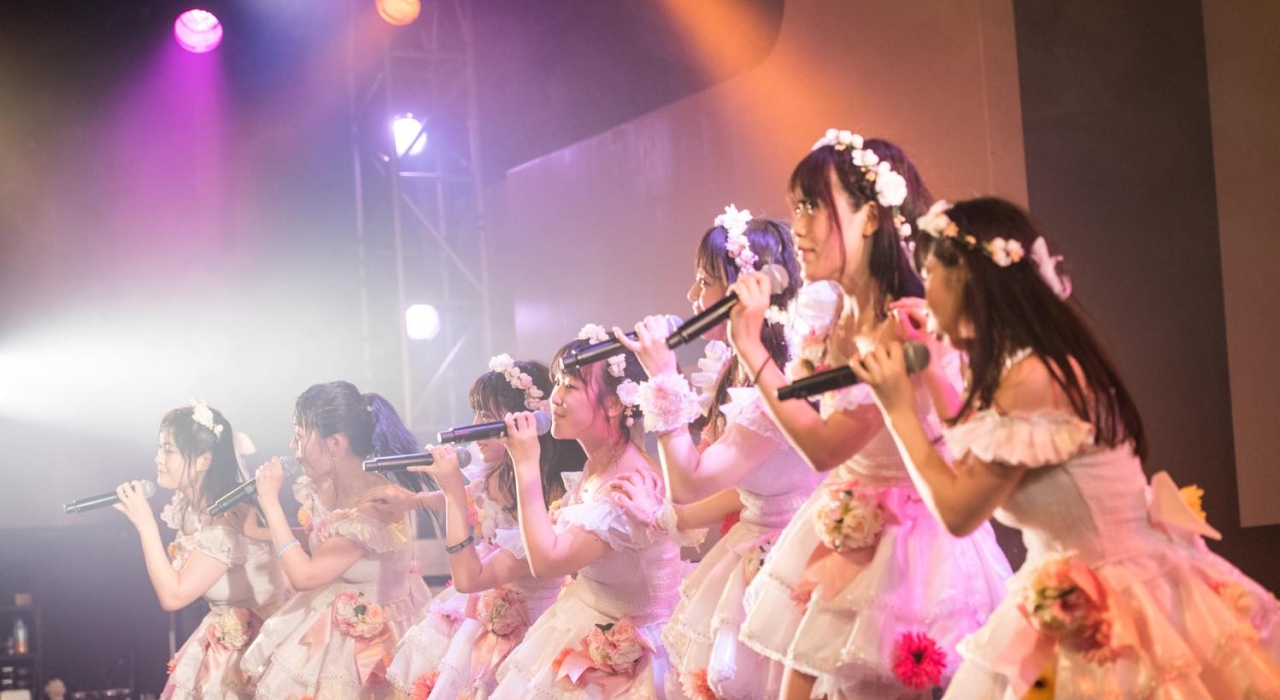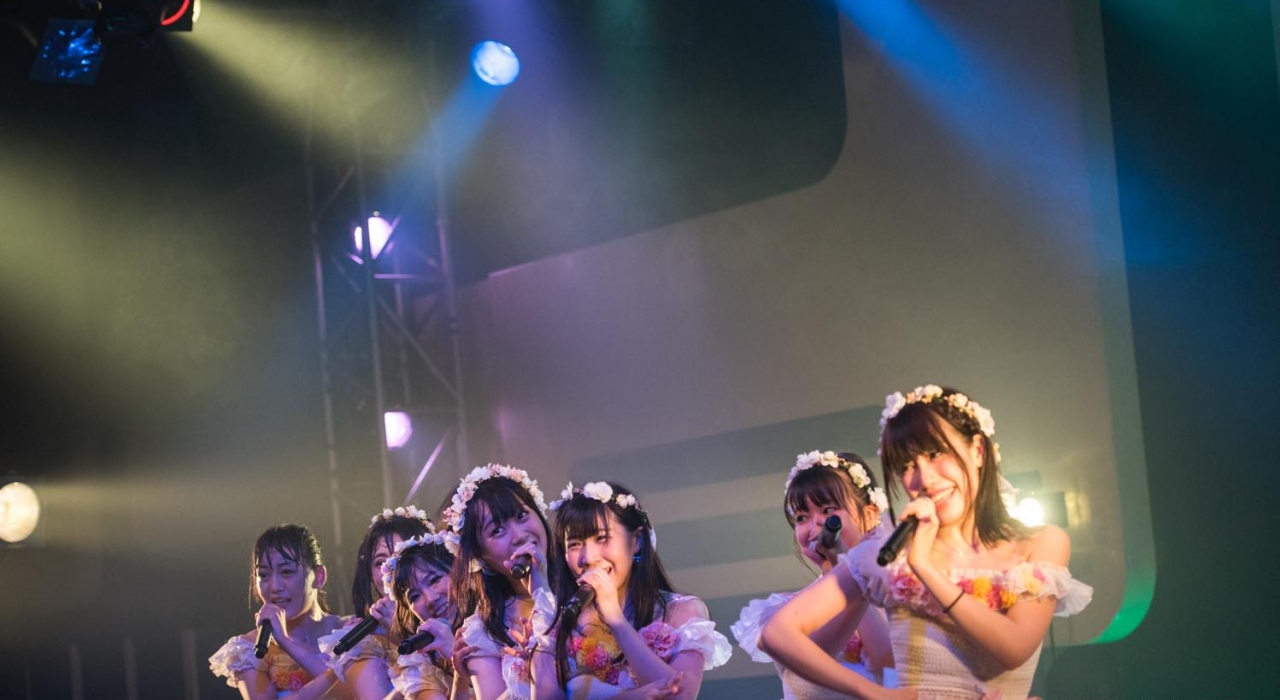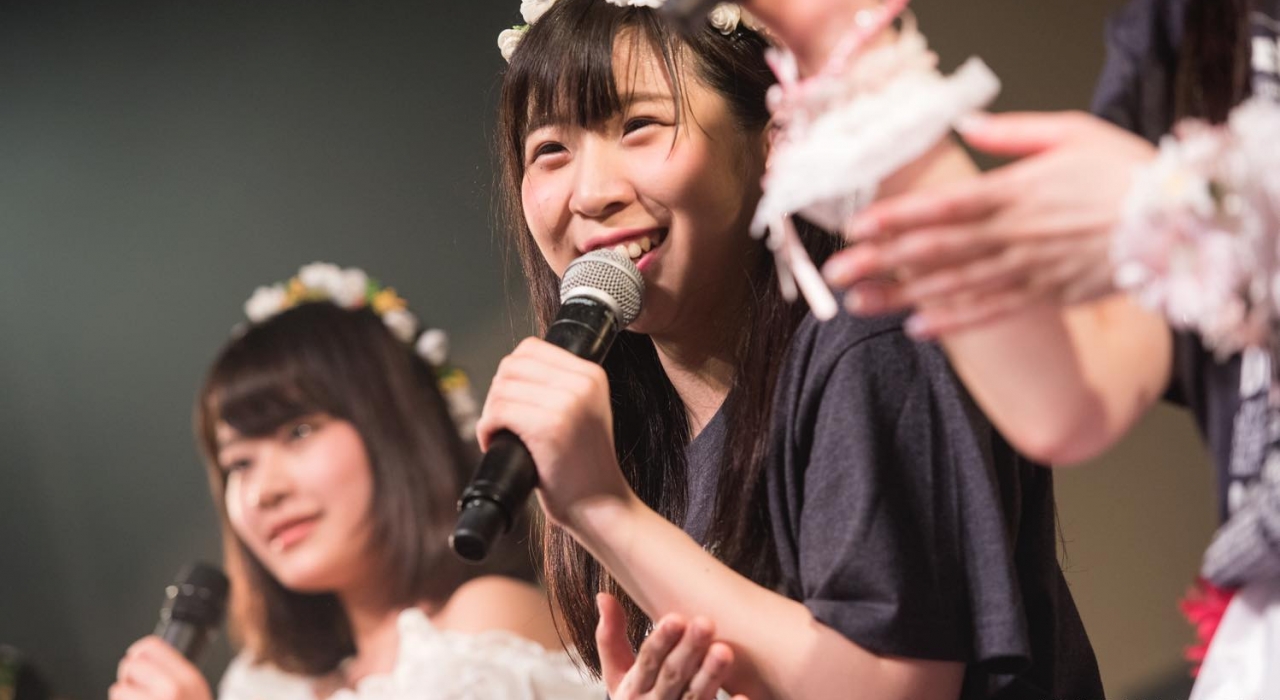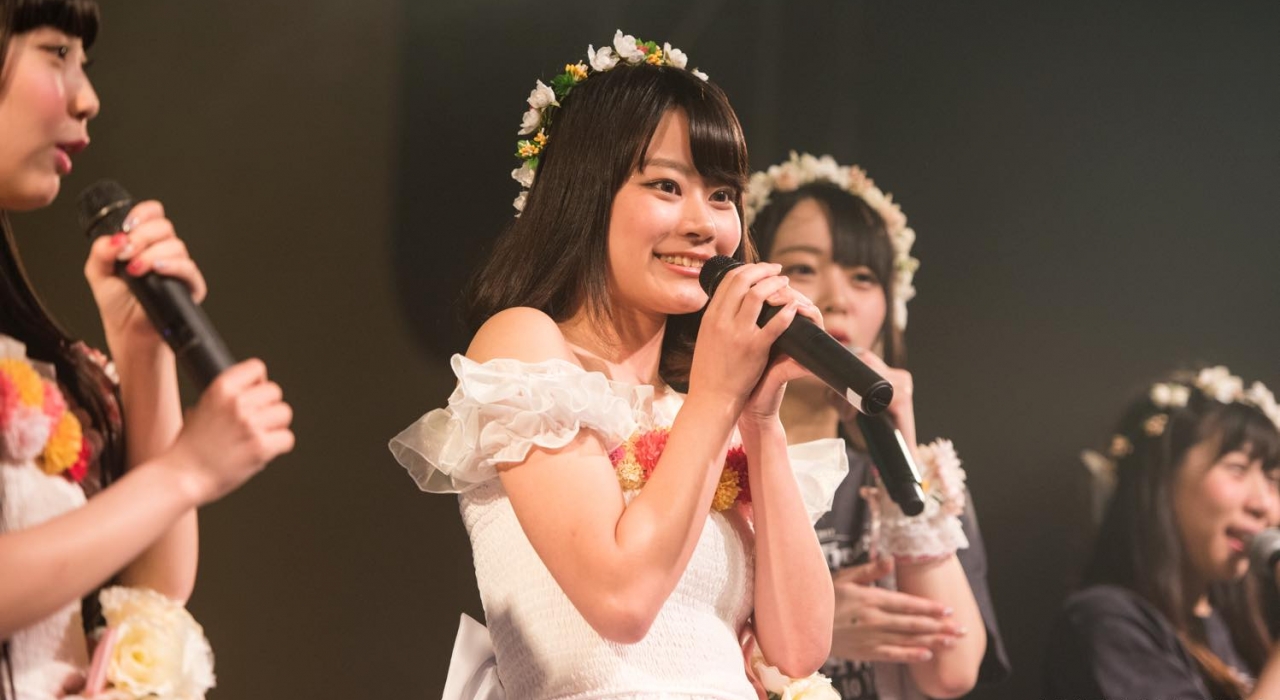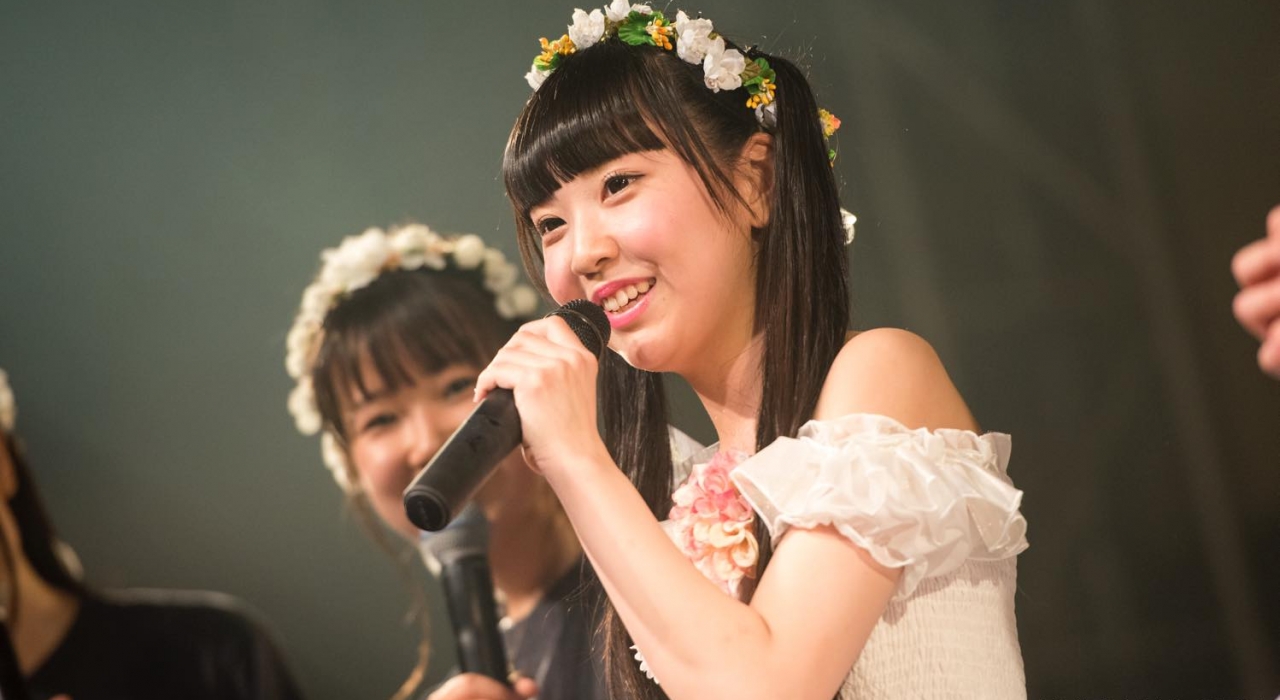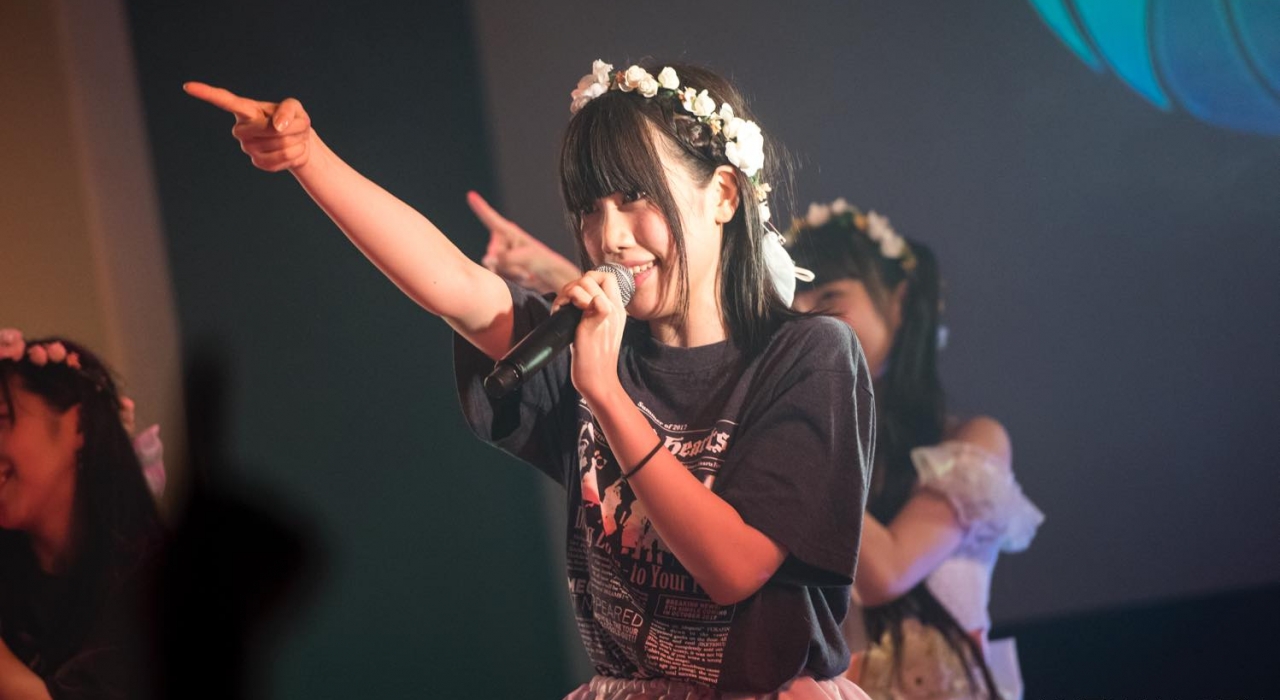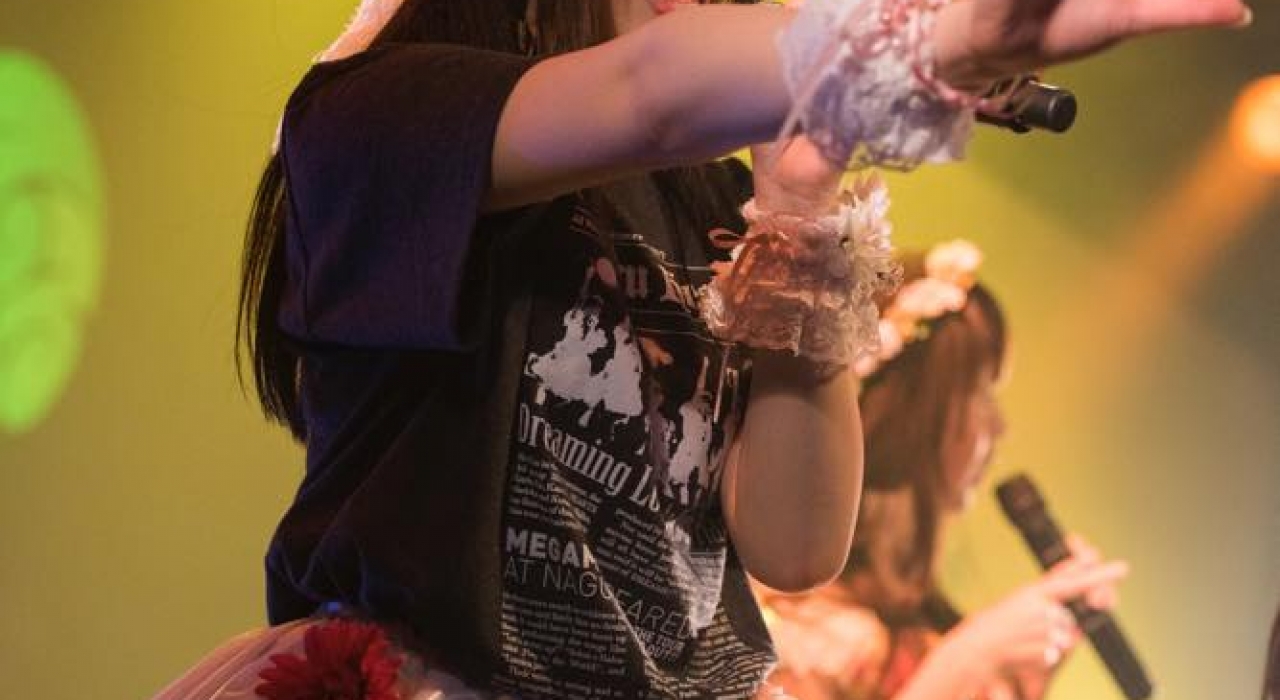 As new members Leia and Shiika joined the group on stage, they then sent the audience off with a special 9 members version of single "Lumica Jane"! Or so they thought…
Alors que les nouvelles membres Leia et Shiika rejoignent le groupe sur scène, les 9 membres présentent clôturent le concert avec une version spéciale de « Lumica Jane »! Ou bien, c'est ce qu'elles pensaien…
…because the fans didn't seem to have enough and started an unplanned double encore call!
…parce que les fans ne semblent pas en avoir eu assez, et commencent alors un double encore, totalement improvisé !
As the girls came back on stage, looking happily confused, they thanked their fans for being so eager to see them perform. After an amusing improvised MC trying to figure out what song to perform last, the fans asked for the new members to join as well, making it the very first 11 members performance of "Sekai he habatake!" as the ultimate send off for this tour!
Alors que les filles reviennent sur scène, confuses mais heureuses, elles remercient leurs fans de les avoir rappelées. Après un divertissant MC improvisé, essayant de décider d'une dernière piste à chanter, les fans appellent les deux nouvelles membres manquantes, qui rejoignent le groupe, offrant au public la toute première performance à 11 personnes de « Sekai he habatake! » comme dernière chanson !
September 2017 will be the start of a big new step for Iketeru Hearts, as the unit is slowly picking up and living up to their status of Afilia Saga's sister group. We will not miss this memorable anniversary live and are looking forward to seeing what's next for Iketeru Hearts!
Septembre 2017 sera le début d'une nouvelle étape pour les Iketeru Hearts, le groupe gagnant lentement mais sûrement une certaine popularité, ne manquant pas à leur titre de groupe soeur des Afilia Saga. Nous ne manquerons pas ce concert anniversaire qui s'annonce déjà mémorable, et sommes impatients de voir ce que le futur réserve aux Iketeru Hearts !
---
Setlist
01. Let's Stand Up!
02. Zaishou no Lucifer (罪障のルシファー)
— MC —
03. ORIGAMI
04. Otomegokoro (オトメゴコロ)
05. Shrimp Girl (シュリンプガール)
06. GIRL, Me♥
07. Jumping!
08. Megamisama no Point Card (女神様のポイントカード)
09. I will
— MC —
10. Opera Fantasia (Manami, Ochi, Uchida, Nijika)
11. NEXT STAGE! (Arata, Usami, Tachibana)
— MC —
12. Dreaming love
13. Believe in my dreams
14. Shishin kakutei (私信確定)
15. Soukoku no Spica (蒼黒のスピカ)
16. Drawing again
17. Triangle Wave
18. Happy End (ハッピーエンド)
19. Sekai he habatake! (世界へはばたけ!)
— Encore call —
EN01. Lumica Jane (ルミカジェーン – 1st generation + Shiroki, Koizumi)
— Double Encore call —
EN02. Sekai he habatake! (世界へはばたけ! – 11 members version)
---
About the artist
Iketeru Hearts was originally the trainees unit of agency Stand Up! Records under the name « Stand Up! Hearts », and started their activities in September 2014. They officially debuted as a full-time idol group in September 2015, changing the group's name to « Iketeru Hearts » a few months later, making it the official little sister group of the famous Afilia Saga. Iketeru Hearts had their major debut in February 2016 with first single « Let's Stand Up! », produced by Hello!Project leader Tsunku. The group counts now seven members and will be welcoming 4 new girls on September 7th 2017.
Iketeru Hearts fut à l'origine le groupe de débutantes de l'agence Stand Up! Records, sous le nom « Stand Up! Hearts », et commence leurs activités en Septembre 2014. Elles débutent officiellement en tant que groupe d'idols à part entière en Septembre 2015, changeant le nom du groupe pour « Iketeru Hearts » quelques mois plus tard, devenant le groupe soeur officiel des célèbres Afilia Saga. Iketeru Hearts débute en major en Février 2016 avec leur premier single « Let's Stand Up! », produit par le leader du Hello!Project, Tsunku. Le groupe compte aujourd'hui sept membres, et accueillera 4 jeunes filles de plus à partir du 7 Septembre 2017.
---
Full gallery
---
Article & Translation by Melody
Photography by Nathan Gey
Special thanks to Stand-Up! Records staff and Yamamoto-san for inviting us to the filming and letting us take pictures of Iketeru Hearts.